Autonomous Region in Muslim Mindanao
The
Autonomous Region in Muslim Mindanao (ARMM)
is in the southern
Philippines
.
Regions
The ARMM includes the three provinces of the
Sulu Islands
:
Mindanao
Island:
Other areas, such as the
Zamboanga Peninsula
, have a Muslim majority and some, such as
Palawan
, have substantial Muslim minorities. When the ARMM was formed these regions were offered the chance to join it, but voted not to.
Cities
is the capital of the ARMM, but is not included in the region
, on Sulu Island
Understand
The region has a distinctive Muslim majority and a colorful culture different from the rest of the Philippines; however, it is also the least developed region of the country, despite being given more autonomy. Muslims, Christians and indigenous peoples lived peacefully, but deep-running resentment by Islamist militants have resulted to the ongoing conflict that affected Mindanao as well. Skirmishes continued to occur on many areas of the region, and terrorist attacks have spilled over into the nearby regions, especially
SOCCSKSARGEN
.
The original Autonomous Region of Muslim Mindanao was formed in response to hostilities led by the Islamic nationalist Moro National Liberation Front (MNLF), which flourished during the 1970s. The provinces of Lanao del Sur, Maguindanao, Sulu, and Tawi-tawi joined the new region, which was formally inaugurated in 1990. The capital is proposed to be in Parang, but no government buildings have been built, and Cotabato City is made the
de facto
capital instead. Another plebiscite expanded the region to include
Marawi
and
Basilan
(except Isabela city). The ARMM is scheduled to be replaced by the Bangsamoro region, which will have a parliamentary government, and will include areas outside the original; a plebiscite is scheduled in January 25 and February 6, 2019.
Get in
By plane
Most visitors will enter via the
de facto
capital at
Cotabato City
. There is only one major airport, the
Cotabato Airport
(
CBO
), which serves Cotabato City but is found at the town of Datu Odin Sinsuat. PAL Express and Cebu Pacific has flights from Manila, while Cebgo has flights from Zamboanga City. The island provinces have smaller airports more catered to small aircraft. You may be asked if you work for any non-governmental organization if you come by plane.

By bus
The region is less served by buses; Mindanao Star provides bus service from Davao City to Cotabato City, while Husky Tours has buses from General Santos.

By car
The ARMM is served by the Pan-Philippine Highway (Route 1 or AH26), but is unnumbered except for a short segment in Cotabato City. Other highways are Route 76 from Digos and Kidapawan, and Route 940 from Tacurong, which bypasses the Pan-Philippine Highway to the east. All highways become unnumbered as they enter the ARMM, and there are military and police checkpoints at entry points.

Get around
Roads in the region are poorly maintained; there are more motorcycles and tricycles than cars. Boats are the only way to get around the island provinces of Basilan, Sulu and Tawi-tawi. There are few to no jeepneys; UV Express (minivan share taxi) or habal-habal are the only practicals way to get between towns.

See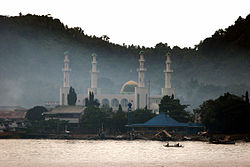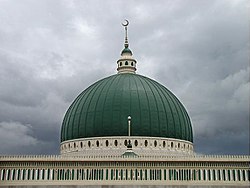 Stay safe
There remain significant risks for travel in the region; the political situation has been unstable for many years and remains dangerous. Most foreign governments advise tourists to avoid unneccessary travel to the region because of ethnic-religious tension. In some cases, foreigners who visited the region have been abducted or killed by separatist insurgents, including two Canadians beheaded by the Islamic separatist group Abu Sayyaf. Military presence and operations prevail in many areas, and there are chances of being an unintended victim of insurgent attacks.

Respect
Most local laws in this region are based on Sharia: alcoholic drinks, pork and homosexuality are banned. Also, do not forget to dress conservatively. Women may need to wear a hijab, but this is not required for non-Muslims. Legs and arms may need to be covered completely. Dressing like a tourist can not only call unwanted attention; it may expose you also to the danger of kidnap for ransom by rebel groups.