Auvergne
The
Auvergne
is an extensive region of central
France
, belonging to the larger region of
Auvergne-Rhône-Alpes
. A large part of the Auvergne region is covered by the volcanic Massif Central mountain range, a region of vast green open spaces, dotted with lakes, forests and extinct volcanoes, plus some of the best hiking territory to be found in
France
. The region is home to two Regional Natural Parks - the Livradois-Forez Park and the Auvergne Volcanoes Park, more than 500 Romanesque churches, over 50
châteaux
to visit along the 'Route des Châteaux d'Auvergne' and 10 spa towns (with all the charm of the 'Belle Epoque').
Cities
- the capital of the former Auvergne region
- A spa town located at the head of the Dordogne river, just beneath Puy de Sancy. An excellent location for hiking.
Thiers - Industrial town tipped down steep ravine; prominent manufacture is cutlery: buy your sets of knives here!
Montluçon
Vichy
Le Puy-en-Velay
Other destinations
- Stunning rock pinnacle surmounted by antenna, often hidden in clouds. Look out for eagles.
Get in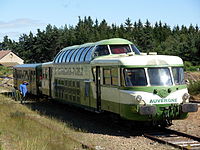 By car
The Auvergne region can be reached from
Paris
on the A71 motorway (3 hrs), from
Lyon
on the A72 motorway (2 hrs) and from
Beziers
on the A75 Méridienne motorway (no toll).
By train
There are trains from Clermont Ferrand and
Toulouse
to Aurillac, which pass through the small towns and villages of the Auvergne. They are slow! For a full timetable of the two routes go to sncf Cantal
See
The Auvergne Historical Châteaux Route is an excellent basis to discover the Auvergne by road, taking in dozens of characteristic châteaux across six distinct colour-coded itineraries. Use the website's handy photo gallery to pick out your favourites.
The Upper Allier Valley is a listed 'Art and History area' with a magnificent natural environment and a musical programme in the summer.
Auvergne is liberally sprinkled with fascinating Romanesque churches, often dating to before 1000 AD. Visit, and you will quite likely hear some beautiful music, and definitely see a lot of gorgeous stained glass, set in stone dripping with history. Many parish churches have their pillars painted the way they were when they were built.
Vulcania is an interactive theme park that offers attractions along the same lines as Futuroscope, with a focus on volcanism and geology.

phone: +33 4 70 58 27 99, +33 6 89 25 05 88

address: 11 rue du Bourg, 03260 Magnet

Quirky local museum about France's first electrified village. Visit is by guided tour in French only.
Do
Music Valley
- France's "hidden music festival" in the Upper Allier valley offers an annual programme of classical and folk music from June to September. Most concerts are in small venues, and the performers of international quality, though tickets are not quite the 'bargains' the organisers would have you believe.
Eat
Lots of possibilities, in the whole price range, in St-Nectaire, known throughout France for its cheese.
Same goes for the sprawling village of Champeix, down the valley from St-Nectaire. Look out for the tasty, filling dish of truffade, a local speciality made from sliced potatoes and melted local cheese, served with ham. Similar to this is aligot, which uses mashed potato and thus is closer to a purée, and can act as an accompaniment to local sausages or charcuteries - French bangers and mash!

Hotel Du Centre

phone: +33 4 7041 5023

address: Randan

If you happen to travel from Vichy to Clermont Ferrand you can stop in Randan and experience the delicious food of Alain and the smile of Liliane
Drink
The local wine comes from Roanne, in the east of the region, and is called Roannaise. Red is fruity and light; rosé lighter still and tasty; white also available. NB: Volume of production seems limited.