Auyuittuq National Park
Auyuittuq National Park
is a
national park
in
Nunavut
,
Canada
.
Understand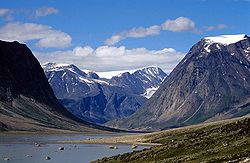 Auyuittuq covers 19,707 km², so it's a bit smaller than Israel. It lies almost entirely within the Arctic Circle.
Auyuittuq, in the Inuktitut language, means "the land that never melts". If, despite that, you're still interested in visiting, you will experience many terrains of Arctic wilderness, such as fjords, glaciers, and ice fields.
phone: +1 867 473-2500 (Pangnirtung), +1 867 927-8834 (Qikiqtarjuaq)
History
Auyuittuq was established in 1976 as a national park reserve, and was upgraded to a national park in 2000.
Landscape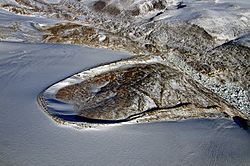 The park's landscape has been entirely glacier-formed. It includes scenic fjords, glaciated mountains, rushing rivers, huge glaciers, and the Penny Ice Cap. The Penny Ice Cap is believed by many to be the birthplace of the last ice age.
Flora and fauna
Little vegetation can be found in Auyuittuq Park, although the plants found there range from flowers such as mountain avens, campion, Papaver, and saxifrage to shrubs like dwarf birch, Arctic willow, and heather. Many of the plants in Auyuittuq Park grow in clumps to create their own warmer "microclimate" to survive the harsh Arctic conditions.
Because of the exceptionally low vegetation supply, wildlife is very scarce. Species that live in Auyuittuq Park include the North American brown lemming, the northern collared lemming, red foxes, snowy owls, peregrine falcons, ermines, rough-legged hawks, gyrfalcons, beluga whales, snow geese, polar bears, wolves, narwhals, Canada geese, Arctic foxes, Arctic hares, and some barren-ground caribou.
Climate
The dates below are approximate and will vary from year to year. Ice, wind, tide and weather conditions may also affect your access plans.
March-early May
The fiords are frozen, so you can to travel from Pangnirtung or Qikiqtarjuaq to the park by snow machine, dog team, or skis to start your trip. Skiers beginning in Qikiqtarjuaq should travel with an outfitter to the park boundary to reduce their risk of encountering polar bears.
June-July
Ice break-up usually occurs near the end of June in Pangnirtung, and by the middle of July in Qikiqtarjuaq, so neither oversnow nor boat travel is possible on the fiords.
Late July-September
The fiords are normally ice-free, so you can travel by boat to the head of the fiords. Wind can be very localised. The head of the fiord can be calm while high winds are blowing at Pangnirtung. Under these circumstances, outfitters will not go out in boats.
October-February
Travel to the park is not advisable: cold temperatures, near-constant darkness and access difficulties in early winter make winter travel unpleasant, dangerous and, often, impossible.
Get in
There is no intercity road network in Nunavut. The park is accessible by boat from
Pangnirtung
in the south and
Qikiqtarjuaq
from the north.
First Air
and
Canadian North
fly from
Iqaluit
to these communities.
By boat
A boat ride to and from the park can be arranged with a local outfitter. Contact the park office in Pangnirtung () for a list of operators who provide transportation and/or guiding services.
phone: +1 867 473-4060

address: Box 365, Pangnirtung X0A 0R0

The boat ride from Pangnirtung north to Auyuittuq National Park is about 45 min long and tide-dependent; a day trip from Pangnirtung to Qekerten Territorial Park and the old Whaling Station is the other way and takes 6-8 hours. Other day trips are run for fishing or for visits to the Cumberland Sound. Kilabuk is a former Park Warden of Auyuittuq National Park, served a term as Speaker of the Nunavut legislature (2006) and is a member of the Canadian Rangers. Airport transportation is available if requested prior to arrival.

phone: +1 867 927-8518

address: Box 96, Qikiqtarjuaq X0A 0B0

Nunavut Experience Outfitting is the only outfitter offering boat rides out of Qikiqtarjuaq, which are 3-5 hours long depending on sea conditions.
Fees and permits
Fees for 2018
:
Nightly $24.50
Annual $147.20
Fishing permit:
Daily $9.80
Annual $34.30
(The Parks Canada passes do not cover backcountry camping/excursions to the park.)
See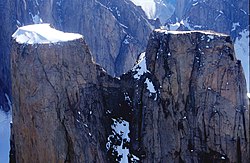 Mount Thor (the largest uninterrupted cliff face in the world, and a popular destination for rock climbers: the world's highest vertical drop 1,250 m (4,100 ft), 105° face).
Mount Asgard (shown in the James Bond film The Spy Who Loved Me) with an 800 m (2,600 ft) face.
Penny Ice Cap
Glaciers and tundra
The Arctic Circle passes through the park and is marked by an inukshuk that has been in many tourists' photographs.
Schwarzenback Falls
Do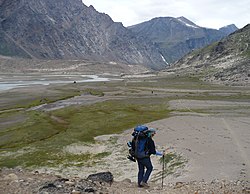 The most common backpacking route in the park is known as Akshayuk Pass, and follows the Weasel and Owl rivers via Summit Lake. In 2008, heavy rain and warm weather caused Summit Lake to burst through its banks, flooding the Weasel River and washing away the Windy Lake bridge (see photo below). As a result, the hiking routes in the pass are limited to either side of the Weasel River.
Buy
Inuit carvings and prints in Pangnirtung.

Drink
Some of the cleanest water in the world fresh from the glaciers. However, the north side of the pass is a bird nesting area and as such, water must be purified no matter how clean it looks.

Sleep
Camping
There are emergency shelters every 15 km or so but they're not for sleeping, a tent is required.

Stay safe
There are many river crossings which can be quite dangerous towards the evenings. The best time to cross is between 4AM and 8AM when rivers are at their lowest levels. Some rivers including Turner River and Halfhour Creek are particularly dangerous in the late afternoon. Hikers have died in the past trying to cross rivers too late in the day. There is a risk of polar bears on the north side of the park near Qikiqtarjuaq. Always carry deterrents as rifles are not allowed in the park. And never leave food near your campsite. The north side of the Pass (Thor side) is prone to rock falls and is not a recommended route for this reason.