Avila Beach
Avila Beach
is a town in
San Luis Obispo County
in the
Central Coast
region of
California
. Port San Luis is a working fishing port two miles west of downtown Avila Beach.
Get in
Avila Beach is about 10 miles (16 km) south of
San Luis Obispo
off Highway 101.
See
Avila Beach PierThe main pier was built in 1908 and extends from the center of Avila Beach for out into the ocean. It is used primarily for recreational fishing and strolling. There are three piers in Avila Beach.

The Point San Luis LighthouseThe Point San Luis Lighthouse is the only surviving Prairie Victorian on the West Coast. It began operation in 1890 with a light that generated alternating red and white lights, visible for 17 nautical miles. Tours are offered on Wednesday and Saturday and are docent-led. Tours last 1 hour and 45 minutes, including travel time on a trolley that departs from a staging area on Avila Beach Dr. Reservations are required and can be made by calling 24/7. Hiking tours are also offered on Wednesday and Saturday and last from 9AM-1PM, traversing a moderately strenuous path that is 3.75 miles one-way. Hiking is limited to 20 participants on Wednesdays and 40 on Saturdays, and reservations must be made at least two weeks in advance.
Do

Outdoor activities include swimming in the gorgeous but frigid Pacific Ocean and basking in the sun. Golf and tennis are readily available at the Inn at Avila Beach.
Avila BeachThe beach that gives the town its name is approximately a half mile long. It is protected from northwesterly winds by Point San Luis, creating a warmer climate than neighboring beaches, with water temperatures reaching the 70s (F) during the summer. Amenities at the beach include bathrooms, outside showers, six BBQ pits & picnic tables, a volleyball court, a basketball court, and a playground with swings & slide. Dogs are not permitted on the beach between 10AM and 5PM (during the day head down the coast to Fisherman's Beach where dogs are allowed).

address: 250 Avila Beach Dr

Discovered in 1907, the mineral hot springs bubble up at between 130-140°F and are cooled to 104°F with the addition of fresh water. The hot spring pool is 20 ft by 20 ft and 2 ft deep. The property also offers a heated swimming pool (not mineral spring water), cabin rentals and camping, a game arcade, picnic facilities, laundromat, showers, and massage facility.

Bob Jones City to Sea Bike TrailThis 3-mile (one-way) trail is a paved, mostly-flat path that follows the Pacific Coast Railroad right-of-way along the San Luis Obispo Creek. The trail begins near Highway 101 and ends at the beach/promenade in downtown Avila Beach. Bike rentals are available at both ends of the trail from nearby businesses.
Buy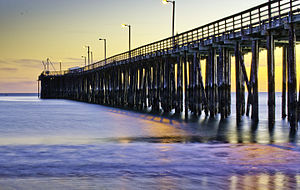 Avila Valley Barn

phone: +1 805-595-2816

address: 560 Avila Beach Dr

For local produce on your way in.
Eat
phone: +1-805-595-7555

address: 404 Front St
Sleep
phone: +1-805-595-1700

address: 101 San Miguel St

An upscale inn featuring spa suites, fireplaces in every room, complimentary gift baskets for all guests, and a daily wine reception. The building suffers from its location - there are no ocean views and the rear rooms offer an overlook of a large parking lot - but the staff makes every effort to cater to guests' needs and cover all of the little things that other hotels might miss.

phone: +1-805-595-2300

address: 256 Front St

Sycamore Mineral Springs Resort

phone: +1-805-595-7302

address: 1215 Avila Beach Dr
Go next
San Luis Obispo - 10 miles north of Avila Beach and almost exactly half way between Los Angeles and San Francisco, this small college town and its neighboring communities boast extraordinary resources for hiking, mountain biking, sea kayaking, swimming and surfing, outstanding natural beauty, a carefully preserved and thriving 19th-century downtown centered around a meticulously restored 18th century mission, a small but thriving art gallery scene, and a large and growing collection of top-quality wineries.
Pismo Beach - Avila Beach's neighbor to the southeast is a tourism-focused coastal town that has more than 65 restaurants and 30 lodging options, and draws visitors with its beautiful coastline, annual clam festival, and the thousands of monarch butterflies that gather to spend the winter in a grove at the edge of town.