Ayr (Scotland)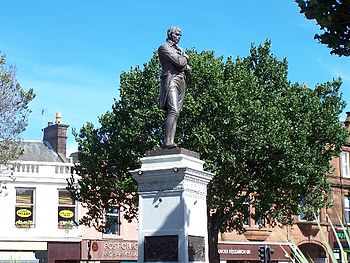 Ayr
is a town in
Ayrshire
, in
South West
Scotland
. Its chief attraction for visitors is the nearby village of Alloway, birthplace of Robert Burns. Ayr is also a good base for exploring South West Scotland, e.g. Culzean Castle, and for reaching the islands of Arran and Great Cumbrae.
Get in
Ayr is on the main road and rail route between Glasgow and Stranraer, the ferry port for Belfast.
By road
With your own car from Glasgow follow A77. From England take M6 then A75 to Dumfries, A76 to Cumnock, then A71 into Ayr. The X77 bus runs between Glasgow Buchanan and Ayr every 20 minutes, taking one hour.
By train
Trains run to Ayr from Glasgow Central every 15 mins, taking 50-60 mins via Irvine, Troon and Prestwick. Every two hours, this is a through-train from Edinburgh via Motherwell.
Ayr is also on the line between Kilmarnock and Stranraer, with trains every couple of hours.
From London, Birmingham and Manchester it's usually quickest to take a fast train via Carlisle to Glasgow Central then change. Another route is to change at Carlisle for the train towards Glasgow via Dumfries - get off at Auchinleck south of Kilmarnock and take the local bus to Ayr. This is Stagecoach Bus 42, running hourly between Ayr and Cumnock, taking an hour.
is central by the main square.
By plane
The best-connected airport is
Glasgow (GLA)
, west of central Glasgow on the M8. This has flights to many UK and European destinations, especially to the Hebridean islands. There are regular direct flights to Canada (all those emigrant cousins to visit) but other long-haul destinations will usually involve changing planes in London or Amsterdam. There is a pre-bookable shuttle bus to GLA from Ayr, otherwise travel via central Glasgow.
Prestwick Airport (PIK)
is from the centre of Ayr, but only has Ryanair flights to holiday destinations such as Barcelona and Tenerife; nothing within the UK. The Ayr – Glasgow trains call here, as does the X77 bus. Or take a taxi from town centre, or you could even walk.
By boat
Ayr is not a ferry port itself, but if your sailing times allow, it's a pleasanter place to stop over than Ardrossan (for Arran) or Stranraer/Cairnryan (for Belfast). The Glasgow – Cairnryan – Belfast bus calls at Ayr three times a day for pre-booked passengers only: note that the Belfast ferry now sails from Cairnryan not Stranraer harbour.
Get around

Bus 57 runs hourly to Alloway (ten min), and Ayr is a transport hub for the other villages and small towns of Ayrshire.
The area is lowland in nature and well-suited to cycling.

See
In the town of
Ayr
, the main sights are the Auld Kirk where Burns was baptised, the old river bridge commemorated in his poem
Twa Brigs
, and St Johns Tower: yes, Mary Queen of Scots slept here; where didn't she? Oliver Cromwell built a stout wall around the town, which here and there survives. There's a beach and promenade with a grand view over the islands of Arran and Ailsa Craig.
The stand-out local attraction is
Burns National Heritage Park
(see below) in the village of
Alloway
south, where Robert Burns was born on 25 Jan 1759. He was prolific and famous even within his short lifetime, and is now revered as Scotland's national poet. You're bound to know
Auld Lang Syne
, but if you don't know his other works, essential reading is
Tam O'Shanter
(and you'll need a Lallans glossary to translate the dialect.) On a dark dreary night, Tam is riding home from Ayr market, drunk as usual, when he sees strange lights in the derelict old church of Alloway. Creeping closer, he beholds witches dancing in a satanic party, and there's one very fit young witch clad only in a skimpy shirt - a "cutty sark". Tam's ribald shout to her is the biggest mistake of his prattish life, and it may well be his last.
The Heritage Park comprises the museum, the cottage where Burns was born, the Auld Kirk (that spooky derelict old church), the Burns Monument and Gardens, and the ancient bridge Brig o'Doon. You'll know you're there when you see lots of coaches in the parking lot: summer in Alloway can be very congested.
The main attractions beyond Ayr & Alloway are the great mansions of Culzean (say Cull-ane) Castle and Dumfries House, listed below.
phone: +44 1292 443 700

Start your visit at the museum itself then explore the adjacent cottage; these are the only ticketed areas. Free access to the Monument, Kirk and Brig.

phone: +44 1292 443 700

address: Murdoch's Lone, Alloway KA7 4PQ

Thatched cottage where Burns was born and lived until he was 7, plus adjacent museum.
When Burns was 7, the family outgrew the cottage, and they tried to make a living on a series of nearby farms: at Mount Oliphant, Tarbolton, Mauchline and Maybole. Not much to see there except a few plaques, and graves of his family, drinking cronies, and lovers. Burns moved to Edinburgh but couldn't afford it (so no change there, then) and spent his later years in
Dumfries
.
address: KA7 4NQ

Mainly for the grounds, but the small mansion is also interesting.
is a botanical garden at the south edge of town, open daily 10:00-16:00.
Greenan Castle is the remains of a tower house teetering on the cliffs west of Belle Isle.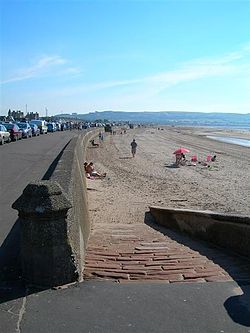 Culzean Castle

address: Maybole KA19 8LE

Magnificent 18th-century mansion designed by Robert Adam, and a park.

phone: +44 1290 421742 (to book tours)

address: Cumnock KA18 2NJ

18th-century Palladian mansion with extensive collection of Chippendale furniture, and grounds.

Scottish Industrial Railway Centre

address: Dunaskin, Patna KA6 7JF

Celebrating "pugs", the stubby steam and diesel locomotives that for decades chugged up & down factories and collieries. And you can even have one pull you along in the brake van. No, not very far.

address: Kirkoswald KA19 8HQ

A rambling 13th-century ruin.
is a scenic stump on the coast off the A719 five miles south of Ayr.
on the A719 south of Ayr (between Dunure and Croy Brae) is an optical illusion: a car going "uphill" can glide in neutral, since it's actually going downhill. However these days most motorists won't notice the effect.
Do
The big sport here is
golf
.
Troon
, north, has the Royal Troon golf course, and Dundonald Castle. Turnberry golf course and resort is miles south of Ayr.
Entertainment & leisure facilities in town include:
Gaiety Theatre on Carrick St has regular shows.

phone: +44 1292 269793

address: South Harbour Street, KA7 1JB

Swimming pool and variety of sports including bowling.

phone: +44 1292 283833

address: 1 Highfield Drive KA8 9SH

Fitness and leisure centre.
Odeon Cinema in Burns Statue Square by the railway station shows mainstream releases.

Ayr RFCThey play rugby union at Millbrae, Alloway, in the Scottish Premiership.

Watch football ie soccer at

phone: +44 1292 263435

address: Somerset Park, KA8 9NB

They play in the Scottish Championship, the second tier of Scottish football.

Ayr RacecourseHas regular flat-race and National Hunt meetings. The Scottish Grand National is held here in April, with the next on Sat 22 April 2020.

Ayr County Show is held mid-May on the racecourse. The next event is Sat 9 May 2020.
Buy
Ayr's two shopping centres are the Kyle Centre and Ayr Central.
Alex Begg is a knitware factory outlet at 17 Viewfield Rd, Ayr KA8 8HJ, open M-F 09:30-16:30. Factory tours are available mid-week, tel +44 1292 293365 or email outlet@alex-begg.co.uk
Eat
Ayr has the usual selection of eat-in and carry-out places with fast food, Indian, Chinese, fish & chips, and of course haggis.
phone: +44 1292 261136

address: 92 Sandygate KA7 1BX

Good food & ambiance.

phone: +44 1292 280444

address: 12 Carrick St KA7 1NU

Reliable good food.
Splurge at Enterkine House Hotel ten miles east, see "Sleep".
Drink
Ayr has lots of bars, mostly around the bus station. Agreeable pubs include Tam O'Shanter at 230 High St and Rabbie's Bar in Burns Statue Square.

address: 58a Sandgate KA7 1BX

Wetherspoon's pub in the former free church, built in 1845.
Try the products of the Ayr Brewing Company, a micro-brewery producing some 60 casks a week. They don't do tours.
Madisons Night Club is by Gaiety Theatre on Carrick St. Open Tu-Su 22:00-02:00 but the place is up for sale in Sept 2019.
Furys Night Club on High St is open W-Su 23:00-02:30.
Sleep
There are many B&Bs situated in and around Ayr and several chain hotels. Small family-run hotels are mostly near towards the racecourse. There's not much in Alloway.
phone: +44 1292 294990

address: 2-6 Whitletts Road KA8 0HA

Main building is best accommodation; "Courtyard" rooms are modern but ordinary.

Travelodge

phone: +44 871 984 6321

address: Highfield Drive KA8 9SH

Clean welcoming chain hotel.

phone: +44 1292 269331

address: Dalblair Road, Ayr KA7 1UG

In town centre with sea views, sauna, fitness centre & indoor heated pool. Good staff but the premises are tatty.

phone: +44 871 527 9416

address: Wheatpark Place, Ayr KA8 9RT

Good reliable chain hotel.

phone: +44 1292 520580

address: Annbank, Ayrshire KA6 5AL

Four-star country house hotel in extensive woodlands, with excellent restaurant.
Go next
If you're not sated with Burns, Dumfries is where he spent his later years.
South and east of Glasgow are several small towns (Kilmarnock, East Kilbride, Coatbridge, Hamilton, Motherwell and Lanark) that most travellers pass by. And so should you. If however you can't avoid them, because your Great Aunt Morag would be most upset if you didn't visit her, don't despair, there are several things worth seeing. These include New Lanark Industrial Village and Chatelherault country park near Hamilton.
For destinations in Ireland, take the direct bus for Belfast.