Ayutthaya
Ayutthaya
(อยุธยา), full name
Phra Nakhon Si Ayutthaya
(พระนครศรีอยุธยา), is an ancient capital and modern city in the
Central Plains
of
Thailand
, 85 km north of
Bangkok
.
Understand
Founded around 1350, Ayutthaya became the second capital of Siam after
Sukhothai
. Throughout the centuries, an ideal location between China, India, and the Malay Archipelago made Ayutthaya the trading capital of Asia and even the world. By 1700 Ayutthaya had become the largest city in the world with a total of 1 million inhabitants. Many international merchants set sail for Ayutthaya, from diverse regions as the Arab world, China, India, Japan, Portugal, the Netherlands, and France. Merchants from Europe proclaimed Ayutthaya as the finest city they had ever seen. Dutch and French maps of the city show grandeur with gold-laden palaces, large ceremonies, and a visiting flotilla of trading vessels from all over the world. All this came to a quick end when the Burmese invaded Ayutthaya in 1767 and almost completely burnt the city to the ground.
Today, only a few remains give a glimpse of the impressive city they must have seen. Its remains are characterized by the prang (reliquary towers) and big monasteries. Most of the remains are temples and palaces, as those were the only buildings made of stone at that time. The great cultural value of Ayutthaya's ruins was officially recognized in 1991, when the historic city became a
UNESCO World Heritage Site
. Its proximity to Bangkok make it a popular day-trip destination for travellers from that city.
Orientation
Ayutthaya is an island at the confluence of three rivers: the Chao Phraya river, the Lopburi River, and the Pa Sak River. As the train station is on the east bank off the island, most visitors will need to cross the river by ferry boat. Navigating your way around the island is not particularly hard:
U Thong Rd
is a ring road that circles the island completely. Most temple ruins can be found at the northwest corner of the island, while accommodation and night life is clustered around the northeast. As non-Siamese peoples were not allowed to live inside the city walls, the remains of foreign nations can be found off of the island.
Get in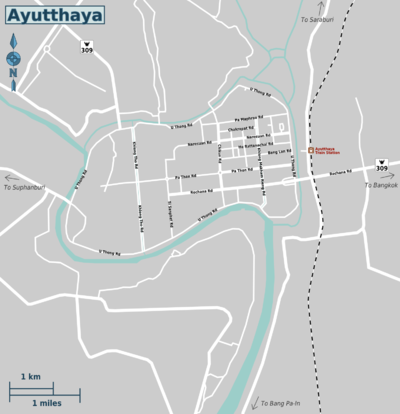 By car
From Bangkok, one can get to Ayutthaya by various routes:
Take Hwy 1 (Phahon Yothin) via Pratu Nam Phra In and turn onto Hwy 32, then, turn left to Hwy 309 to Ayutthaya.
Take Hwy 304 (Chaeng Watthana) or Hwy 302 (Ngam Wong Wan), turn right onto Hwy 306 (Tiwanon), cross Nonthaburi or Nuanchawi Bridge to Pathum Thani, continue on Hwy 3111 (Pathum Thani–Sam Khok–Sena) and turn right at Sena onto Hwy 3263 to Ayutthaya.
Take Hwy 306 (Bangkok–Nonthaburi–Pathum Thani), at Pathum Thani Bridge intersection, turn onto Hwy 347 and 3309 via Bang Sai Royal Folk Arts and Crafts Centre, Bang Pa-In, to Ayutthaya.
Take Expy 9 (Si Rat Expressway) via Nonthaburi–Pathum Thani and down to Hwy 1 to Bang Sai Royal Folk Arts and Crafts Centre, turn left onto Hwy 3469 towards Bang Pa-In and turn right at Worachet intersection to Ayutthaya.
One can also contact a taxi company for pick up at either Bangkok airport. For example:
Car Service
, phone: +66 2 8195390, email:
raksacharoen@hotmail.com
. Advance booking possible. ~฿1,200 one-way.
By train
The cheapest and most scenic way of reaching Ayutthaya is by train. There are regular services from
Bangkok's Hualamphong Train Station
to Ayutthaya. The trip takes from 1hr 20 minutes to 2 hr depending on the type of service. ฿15 for third-class, ordinary train, no air-con, no reserved seat; ฿20 for third-class, "rapid" train, no air-con, no reserved seat; ฿65 for ordinary train, no air-con, reserved seat, ฿245 for "rapid train", air-con, reserved seat, and ฿345 for special express train, with air-con, a meal, reserved seat. During the rush hours, the trains will be overcrowded and you will have to stand if you do not have a reserved seat.
Check the Thai Railways website here
for a rough guide on times and prices, but bear in mind the "last updated" line in the upper right.
The is not on the island but across the river a short ferry ride away. Walk across the main road and down the small street straight ahead. Ferries run every few minutes and cost ฿5. Alternatively a tuk-tuk from the train station should cost no more than ฿100 for a couple people.
By bus
From Northern Bus Terminal
Buses now operate every 20 minutes or so from Bangkok's
Northern Bus Terminal
directly to Ayutthaya. First-class air-con buses charge ฿50. This trip is scheduled to be around an hour and a half, but allow at least two hours for the trip since the buses stop rather frequently and there are often jams on the roads out of/into Bangkok. For more details, call Tel. +66 2 9362852-66 or see
BKS
or Ayutthaya Bus Terminal, Tel. +66 35 335304.
From Southern Bus Terminal
There are minibuses to Rangsit, in the north of Bangkok, costing ฿50. In Rangsit they stop at a highway junction, where you can transfer directly onto another minibus going to Ayatthaya, costing ฿40 as of Dec 2015. Total travel time 1½-2 hours.
From Kanchanaburi
From
Kanchanaburi
, take a local bus from the main bus station to
Suphanburi
for ฿45 (2 hours), then another local bus to Ayutthaya for ฿40 (1.5 hours). A taxi from Kanchanaburi costs ฿2,000-฿2,500 (2 hours).
There is also a central bus station east of town serving northern destinations. It can be reached by songthaew. Ask around to find the appropriate stop.
Leaving
In Ayutthaya, the central BKS bus station is on the south side of Naresuan Rd next to the Chao Phrom Market.
songthaews
to
Bang Pa-In
also leave from here. Some 1st-class buses to Bangkok, however, leave from the north side of the road some 500 m to the west, on the other side of the
khlong
(canal); the queue for air-con buses is easy to spot.
By mini-bus
Convenient mini-bus service (can get stuck in traffic, but makes no stops like regular buses) operates in front of the
Northern Bus Terminal
, on the other side of the road.
The cost is ฿60 and takes 1hr to 1.5hrs. Mini-buses don't have much space for big bags, and you must wait until the bus is fully filled.
Mini-buses from
Kanchanaburi
can be arranged by guest houses or any tour operators for around ฿350.
By boat
Cruise boats run up the river from
Bangkok
, often stopping at
Ko Kret
and
Bang Pa-In
along the way. You'll need to book in advance as there are no scheduled services, just trips for tourists. It's a fairly lengthy trip (at least one whole day) and some of the larger boats offer (pricey) overnight tours.
Travelling by boat to Ayutthaya is popular among foreigners as it reveals the beauty and lifestyle of the people on both sides of the Chao Phraya River, and also recalls life at the time of the Ayutthaya Kingdom when the Chao Phraya River served as the highway for trade with foreign countries.
Get around
By bicycle
Cycling
around the ruins is the most enjoyable and fun way to spend the day. The archaeological park is easily reachable and manageable on bike even if you aren't very fit. The paths are paved and the distances between temples are small. You can rent a bicycle for around ฿40/day. The bicycles are not necessarily well maintained, so be sure that they work properly (wheels are firm and inflated, seats adjusted to your height and well attached, handlebars don't slip); good shops will give you a bike lock as well. There is a good bike shop directly opposite the train station.
A free map of the city is widely available in all hotels.
The park opens at 07:30. It is recommended that you begin your tour early, before the tour groups arrive from Bangkok. Take a big bottle of water with you.
Soi 2 (where the majority of tourist hotels and restaurants are found) have numerous bike rental facilities. They are all next to each other so it will be easy to shop around and find the one with the best bike for you.
Tour With Thai (TWT) (before Tony's Guest House ) has bicycles big and small size and seat for small child for rent. If you are short of time, you can hire a motorbike here.
By tuk-tuk
Alternatively, you can get around town by tuk-tuk (motorized 3-wheeler). Ayutthaya's tuk-tuks are larger than the Bangkok variety and you can easily squeeze six people in on facing benches. Only "official" tuk-tuk drivers or tourist "helpers" can pick up passengers from the train station. You can verify their status by looking for their photos/name on a "Tourist Officials" board displayed at the south end of the platform. These people are required to charge/work for fixed rates, usually quoting ฿300/hr, but this can usually be bargained down to a slightly lower price (e.g., ฿1,000/4hrs).
You can also flag down tuk-tuks from the street and try to hire them. Most drivers carry with them a stack of postcards featuring the famous sites of the city to ease communications. They also are used to the standard temple-hopping circuit. If you have a map you can point out any of the destinations that you wish to see and they'll often quote a trip price and will wait for you at each stop. ฿200/hr seems to be the starting point for tourist tuk-tuks picking up backpackers away from the station, although it may be possible to negotiate a lower price.
If entering the city by mini-bus, there is a possibility your driver will drop you off at a tuk-tuk who offers to take you around the wats from ฿2,000. The driver may have a book filled with positive testimonials in a range of different languages from tourists who were his past passengers. Don't let these positive comments convince you otherwise, simply say "no, thanks" and move on to find another tuk-tuk driver with whom you can negotiate a fair rate.
From Ayutthaya, mini-buses can be taken from the railway station into the city. Hiring a mini- bus within Ayutthaya costs between ฿400-฿500/day. For travelling between Ayutthaya and Bang Pa-in, mini-buses regularly leave Chao Prom Market, Chao Prom Rd starting from 06:00.
By boat
Boat trips to enjoy the beautiful scenery and Thai lifestyle along the Chao Phraya River, the Pa Sak River and around the town island of Ayutthaya are available. A longtail boat can be chartered at the pier in front of Chanthara Kasem National Museum, Pom Phet Pier, and Wat Phananchoeng Pier. The fare depends on the route and duration. Rice barges are also available to groups. They offer a relaxed way to see Ayutthaya.
See
Ayutthaya is 76 km north of Bangkok and boasts numerous magnificent ruins. The ruins indicate that Ayutthaya was one of Southeast Asia's (and probably the world's) most prosperous cities in the 17th century. Ayutthaya Historical Park, a vast stretch of historical sites in the heart of Ayutthaya city, has been a
UNESCO World Heritage Site
since December 1991.
There were three palaces in Ayutthaya: Grand Palace, Chantharakasem Palace (the Front Palace), and Wang Lang (the Rear Palace). In addition, there were many other palaces and buildings for royal visits outside Ayutthaya, such as the palace at
Bang Pa-In
and Nakhon Luang Building at
Nakhon Luang
.
It seems there is an ongoing scam, not against tourists, but against the government. Ladies selling tickets take the money from you and allow you to enter, but will not give you a ticket (and probably put the money in their own pockets). If you want your money to go for temple renovation and conservation instead of going into private pockets, insist on a ticket.
On the island
The temples with entry charges are usually in ruins, so there is no dress code, although visitors are still requested to refrain from blatant stupidity like clambering up the Buddha statues. Working temples tend to charge no fees and there are often no officials to check that a dress is appropriate (though it is advised to follow these customs to show respect for sacred places).
Phet FortressThis fortress was the city's most important defensive structure in the 15th century. It was built of wood in 1350 CE by King Mahachakraphat, and later rebuilt with bricks. A few walls still remain and the grounds have a nice view of the river. The fortress is close to Wat Suwan Dararam, and is right beside a ferry that can take you to Wat Phanan Choeng.

Phra Chedi Suriyothai

address: U-Thong Rd

A white and gold-coloured chedi built as a memorial to a previous queen. Set in small, well-kept gardens, it is the memorial for the first heroine in Siamese history. It's of some interest as a proof of the honour that ancient Siamese society gave to women. It was renovated in 1990, and during the renovations some antique objects were found such as a white rock crystal Buddha image in the posture of subduing Mara, a chedi replica, and a golden reliquary. These ancient objects were brought under the care of the Chao Sam Phraya National Museum.

Viharn Phra Mongkol Bopit

address: Sri Sanphet Rd

An impressive building that houses a large cast-bronze Buddha image. It was originally enshrined outside the Grand Palace to the east, but it was later transferred to the current location and covered with a Mondop. During the second fall of Ayutthaya, the building and the image were badly destroyed by fire. The building was renovated, but does not have the beautiful craftsmanship of the previous ones. The open area east of the sanctuary (Wihan) was formerly Sanam Luang, where the royal cremation ceremony took place.

Wat Borom PhuttharamBuilt some time during 1688–1703 during the reign of King Phetracha on his former residence area near the main gate of the southern city wall. Its location and area plan was confined to a north-south orientation by ancient communication routes. Unlike other temples, the king had all buildings roofed with yellow glazed tiles and the temple became known as "Wat Krabueang Khlueap" or the "glazed tile temple". The construction took 2 years and the temple underwent a major renovation in the reign of King Borommakot, who had 3 pairs of door panels decorated with fine mother-of-pearl inlays. One pair of them is at Ho Phra Monthian Tham inside the Temple of the Emerald Buddha, the second is at Wat Benchamabophit (The Marble Temple), and the third was turned into cabinets and is now exhibited at the Bangkok National Museum.

Wat Phra Mahathat

address: Naresuan Rd

A large temple that was quite thoroughly ransacked by the Burmese. Several leaning prangs of Ayutthaya are still feebly defying gravity though, and the rows of headless Buddhas are atmospheric. This is also where you can spot the famous tree that has grown around a Buddha head. When taking pictures of you and the Buddha head, make sure you sit on your knees to show respect, as it is considered holy by Thais.

Wat Phra Ram

address: Sri Sanphet Rd

This temple consists of one huge prang and some smaller chedi and outbuildings, all in disrepair though the top of the prang is complete. Staircases to the side of the prang give views of Ayutthaya. This monastery was outside the grand palace compound to the east. King Ramesuan commanded it built on ground where the royal cremation ceremony for his father, King U-Thong, took place. A big lagoon is in front of this monastery. Its original name was "Nong Sano"; it was changed to "Bueng Phraram" and is now Phraram Public Park.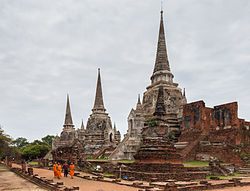 Wat Phra Si Sanphet

address: Sri Sanphet Rd

The largest temple in Ayutthaya, known for its distinctive row of restored chedis (Thai-style stupas) found on many images of the city. Housed within the grounds of the former royal palace, the temple was used only for royal religious ceremonies. It once housed a 16-metre Buddha covered with 340 kg of gold, but the Burmese set fire to the statue to melt the gold and destroyed the temple in the process. The royal palace can also be accessed from the same entrance at Wat Phra Si Sanphet, but it only has a few free-standing buildings remaining. This monastery is in the Grand Palace compound like Wat Phra Si Rattanasatsadaram (Wat Phra Kaeo) of Bangkok. Used as a residential palace, it became a monastery in the reign of King Ramathibodi I. When King Borom Trai Lokanat commanded new living quarters built, this residential palace was given to be a temple area, thus originating Wat Phra Si Sanphet. The chapel does not have any monks and novice inhabitants.

Wat Ratchaburana

address: Naresuan Rd

This temple stands out for having a large prang restored to its original condition, clearly visible if you come in from the east. A major find of golden statues and other paraphernalia was made here in 1958, although much was subsequently stolen by robbers. The remnants are now in the Chao Sam Phraya Museum. You can climb inside the prang for nice views and a little exhibit. The mysterious staircase down, leads to two unrestored rooms with original paintings still visible on the walls.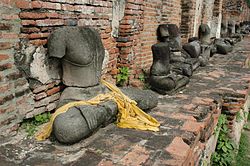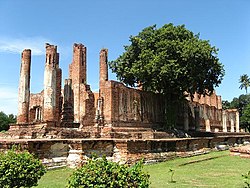 Wat Suwan DararamThis modern wat with no ruins can be accessed by side streets off U-Thong Rd. The wat contains a few small spires, and some nicely decorated modern buildings.

Wat Thammikarat

address: U-Thong Rd

A working wat, but also contains the ruins of a large chedi and a huge roofless viharn which has tall brick columns leaning at alarming angles and a large tree growing picturesquely out of the side of one wall. It was already constructed before the establishment of Ayutthaya. The Wihan Luang once enshrined an enormous bronze head of the Buddha of the U Thong period, now exhibited at the Chao Sam Phraya National Museum. The temple also houses a reclining Buddha hall called Wihan Phra Phutthasaiyat built by his queen consort following her wish made for her daughter's recovery from an ailment. The wihan is to the north of Phra Chedi with a base of 52 surrounding singha or lions, and houses a north-facing reclining Buddha image measuring 12 m in length, with both feet gilded and inlaid with glass mosaic.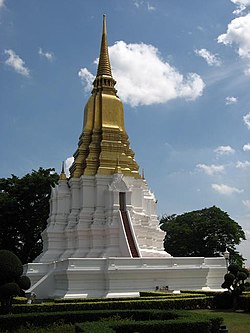 Wat Lokaya SuthaRestored temple and monastery with ruined chedis. The main highlight is a 42-metre long reclining Buddha - the only one of its kind on Ayutthaya island. The toes of the reclining Buddha are all of equal length, and the statue is sometimes covered in orange cloth. Go early, as this place is popular among Chinese tour groups. Vendors sell flowers to those who wish to pay their respects on site.

Tomb of Sheikh Ahmad QomiBurial place of a Shiite Muslim historical figure who was the Minister of Civil Affairs under King Songtham (/1611-1628) of Siam. He is known for putting down a Japanese rebellion, and for being the first advisor to the Siamese King on Islamic Affairs. This tomb has alternating Thai and Arabic calligraphy just below its dome, and is a place of worship among Thai Buddhists and Muslims.
Museums
Ayutthaya Historical Study Centre

phone: +66 35 245124, +66 35 245123

address: Rojana Rd (Rotchana Rd)

Interesting museum about the history of Ayutthaya. It's best to visit this museum before heading out elsewhere, as it places the remains into a historical perspective. A big part of the museum is dedicated to Siam's relations with other peoples, but village life, art and culture are also dealt with. The centre was established by the Fine Arts Department and developed to be a tourist information centre by the Tourism Authority of Thailand (TAT) with high reliefs of six great kings and queens from the Ayutthaya Kingdom on the facade of the building. The center is home to TAT information centre, an exhibition on Phra Nakhon Si Ayutthaya's tourism and a contemporary art gallery.

Chantharakasem National Museum

phone: +66 35 251586, +66 35 252795

address: Uthong Rd

In Chantharakasem Palace, it was originally the residence of King Naresuan the Great, and was built in 1557 CE before he ascended the throne. It was known as the "palace to the front". Later, during Ayutthaya period, it became the residence of the crown prince. The palace was destroyed in Burmese–Siamese War (1765–1767) (war of the second fall of Ayutthaya) and remained deserted until the reign of King Rama IV of the Bangkok period, who rebuilt the palace to its present dimensions. Some of the buildings on the premises are now used as the national museum.

Bang Pa-In PalaceBang Pa-In used to be a riverine island. When King Prasat Thong became the Ayutthaya king (1630–1655), he had the Chumphon Nikayaram Temple built on his family estate. The palace surrounded by a lake 400 metres long and 40 metres wide. Bang Pa-In was used as a country residence by every Ayutthaya monarch after King Prasat Thong.

Chao Sam Phraya National MuseumMost treasures of Ayutthaya were stolen, burnt and melted by armies or treasure hunters. Some pieces survived though and are exhibited at this museum. Most of the riches on display are golden statues found at Wat Ratchaburana and Wat Phra Mahathat. The museum was funded by the proceeds from the sale of votive tablets discovered in the underground crypts of the principal Prang tower of Wat Ratchaburana. Since the temple was built by King Borommarachathirat II (Chao Sam Phraya), the museum was named after him. The opening ceremony of this museum was held in 1961 and was presided over by the king and queen. It was the first museum in the country to present a new form of exhibition, displaying artefacts unearthed from the archaeological excavations as well as restoration of ancient monuments.
Off the island
Much of Ayutthaya's history revolves around trade with other nations, but these nations were not allowed to set up camp inside the city walls. Thus, surrounding Ayutthaya's waters are plenty of remains from the countries that once set sail here, such as the settlements of Japan, the Netherlands and Portugal, as well as the interesting Thai-Chinese temple of Wat Phanan Choeng.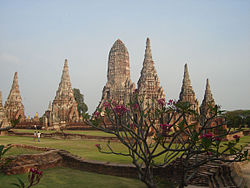 Wat ChaiwatthanaramThe temple that graces the official tourist pamphlet for Ayutthaya. King Prasat Thong commanded it built. Its great beauty has been reflected from the main stupa and its satellite stupas along the gallery, an architecture influenced by the Khmer. This wat is a must-see. Many intact pagodas surround a central chedi that you can climb from all sides. A nice view of the city can be had from the top. Very photogenic.

Wat Na Phra ManeThis wat offers a mix of old and modern buildings. It is unique because it survived the destruction of the city in the 18th century. Of interest are the vaulted ceilings and a Buddha made of black stone.

Wat Phanan Choeng

address: Bang Pa-in Rd

A working monastery south of Ayutthaya. No one knows how old it is, but it existed before Ayutthaya was founded as the capital. It contains the oldest large cast bronze Buddha image in Ayutthaya, called "Phrachao Phananchoeng", built in 1325; it is made of stucco in the attitude of subduing evil. A small room to the right of the main hall contains a nice collection of Buddha images and the room is painted with many individual unique pictures, in bright colours offset with gold.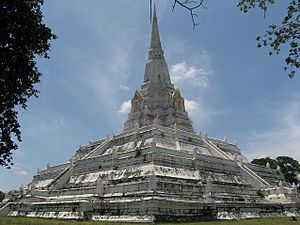 Wat Phu Khao ThongImpressive and huge white, and slightly wonky, chedi set in a big field. You can climb to the top for extensive views over the countryside surrounding Ayutthaya, although the modern town and power lines obscure much of the historic city on the horizon. The actual nearby temple is still working and has small grounds with a smiling fat Buddha image set in the ruins of a small viharn. You will see the 'Monument of King Naresuan the Great' on the way.

Wat Yai Chaimongkon or Wat Chao Phraya Thai

address: Bang Pa-in Rd

King Naresuan the Great commanded that the pagoda be built to celebrate the victory of his single-handed combat on elephant back. He also intended a huge construction to match the large pagoda of Wat Phukhao Thong. The large pagoda from a distance, and some of its ruins appear on well-known photos of temples in Thailand. Constructed in the reign of King U-Thong, the temple features a large reclining Buddha in saffron robes in its own ruined viharn, and, most spectacularly, a huge chedi swathed in golden cloth set in a courtyard which is lined by Buddha images all wearing saffron robes. Very photogenic.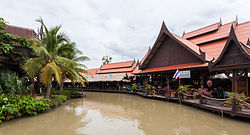 Ayothaya Floating Market

phone: +66 35 881 733

address: 65/12 Moo 7, Pai-ling District

Ayothaya Floating Market is a tourist attraction that preserves the tradition of Thailand. It recreates the art and culture of the Ayutthaya period (1351 to 1767) that includes historical clothing, Thai architecture styles, amusements, Thai foods, and the lifestyle of Thai people in the past. Ayothaya Floating Market has a pond at the center, and is divided area into 16 zones mirroring the districts (amphoe) of Ayutthaya. There is also theatre: three shows Monday - Friday and four shows on Saturday - Sunday. A rowboat can take you around the market for ฿20/person.
Foreign settlements
Dutch SettlementThe Dutch East India Company (VOC) founded in 1602 was the largest and most impressive of the early modern trading companies operating in Asia. The Dutch established their first trading post in Ayutthaya in 1608. By the 1630s the Dutch received land and permission to build a lodge on the east bank of the Chao Phraya River. The two-storey brick building was known to the Dutch as de logie and the settlement developed into a separate village. This building was destroyed by the invading Burmese armies in 1767. After being archaeologically excavated, the brick foundation of the building was found and during the celebrations of 400 years of Thai-Dutch relations, Queen Beatrix donated a royal gift to establish an information centre near the site of the Dutch lodge. The Thai Fine Arts Department excavated the site and found many artifacts, such as Chinese porcelain, Dutch pipes, and a coin.

Japanese SettlementThere's nothing left of the Japanese Settlement, so instead, the Japanese government decided to create a Japanese-style park at the location where the Japanese Settlement probably must have been. The Ayutthaya Historical Study Centre started a branch here, a museum about Ayutthaya's foreign relations with Japan and other countries. It starts with an interesting film lasting about 15 minutes and then you can explore the museum on your own. Very interesting and gives a good background of the city's history.

Portuguese SettlementA scattering of ruins, highlighted by the Dominican church. Inside the church are the excavated remains of members of the settlement. It is kind of an eerie sight, but interesting. The skeletons of those inside the church apparently belong to those who were of higher status within the settlement, like priests. It was said to be the largest community of Westerners after it was settled in the early 1500s. The settlement was destroyed in 1767 after the fall of Ayutthaya.
Do
Chao Phrom MarketThis market offers food, clothing, and day-to-day necessities at a variety of shops and stalls. More for locals, the market lacks the usually touristy trinkets; however, the food is fantastic, good clothing deals can be found, and the visit may be of interest for those who wish to experience a more authentic Thai marketplace.

Festival Ayutthaya / World Heritage Fair/ Thai lifestyle (varying names)Festival around the (ancient) city with various stages showing theatre, dance and music for free. Main light and sound show at Wat Pra Mahahtat (฿200). Hundreds of food stalls around the area. Annual festival. Late December.

Bang Sai Arts and Crafts Centre Fair (งานประจำปีศูนย์ศิลปาชีพบางไทร) At the end of January. Held annually toward the end of January at Bang Sai Arts and Crafts Centre, the fair features displays and contests of the arts and crafts products, sales of local products and cultural performances.
Songkran Festival (งานเทศกาลสงกรานต์) April 13. Held annually on 13 April in front of Wihan Phra Mongkhon Bophit, Amphoe Phra Nakhon Si Ayutthaya, it features a traditional procession, Thoet Thoeng drums procession, Song Nam Phra ceremony of the miniature of Phra Mongkhon Bophit image, and Nang Songkran beauty contest.
Wai Khru Bucha Tao Ceremony (พิธีไหว้ครูบูชาเตา) Around April – May. A wai khru ceremony held by blacksmiths and knife-makers of Aranyik knives at Ban Ton Pho, Ban Phai Nong and Ban Salai, Tambon Tha Chang, Nakhon Luang District to pay tribute to their masters and forge spirits. The ceremony is usually held on an early Thursday morning which may be the 7th, 9th, etc. day of the waxing moon of the 5th lunar month (around April – May) in order to express gratitude to their masters, sweep away possible accidents during their works as well as for their own auspiciousness and prosperity. After chanting for a congregation of angels and saluting the Triple Gem, the master of the ceremony will chant for a congregation of gods which include Siva, Vishnu, Brahma, Vishnukarma, Matuli, Vaya, Gangga, 8 ascetics, etc. as well as Thai, Lao, Mon, and Chinese masters who have imparted them with the ironwork skills, for them to receive their offerings and bless all participants. All tools and equipment will be gilded and lustral water made to sprinkle on the tools and participants.
Bang Sai Loi Krathong and Traditional Long Boat Races (งานลอยกระทงตามประทีปและแข่งเรือยาวประเพณีศูนย์ศิลปาชีพบางไทร) November. It is an annual festival held toward the end of November at the Bang Sai Arts and Crafts Centre, Amphoe Bang Sai. Activities include Nang Nopphamat beauty contest, contests of processions, Krathongs, and hanging lanterns, folk entertainment, traditional and international long boat races, and sales of the Centre's products.
Ayutthaya World Heritage Fair (งานแสดงแสงเสียงอยุธยามรดกโลก) December. To commemorate the occasion of the Ayutthaya Historical Park being declared a World Heritage Site by UNESCO on 13 December 1991, a celebration is held annually for 1 week during the same period of the year. The Fair features local ways of life, handicrafts, Thai traditions and culture as well as the light and sound presentation on the history of the Kingdom of Ayutthaya.
Ayutthaya Maha Mongkhon (อยุธยามหามงคล – ไหว้พระเก้าวัด) Buddhist Lent Festival. Phra Nakhon Si Ayutthaya Provincial Administration in collaboration with the Tourism Business Association and TAT Central Region Office: Region 6, organise the Ayutthaya Maha Mongkhon programme for participants to visit nine temples in the province during the Buddhist Lent Festival.
Buy
phone: +66 3571 5346

address: Ban Ton Pho and Ban Phai Nong villages in Tambon Tha Chang, Amphoe Nakhon Luang

Aranyik Village is in villages numbered 6 and 7, Ta Chang sub-district, Nakhon Luang District. Aranyik Village is actually two villages: Ban Ton Pho and Ban Nhong Pai. Both are known as centres of Thailand's knife-making.
Dating back to early Ratanakosin period, the villagers at Ban Ton Pho and Ban Nhong Pai, who were Vientianese from Laos, mostly worked as goldsmiths and blacksmiths, especially those who made knives. Later, in 1822, the goldsmiths quit their jobs, leaving only the blacksmiths; therefore, the villagers' main living became the smithery. Buyers found the Aranyik knives to have good quality, and told others about the knives. The reputation of Aranyik knives spread even though they were made at Ban Ton Pho, Ban Nhong Pai and other villages. Aranyik knives remain the pride of Phra Nakhon Si Ayutthaya Province, owing to their durability, as some can be used for generations. Tourists can stay at the local home stay at Aranyik Village. They can also watch a knife-making show, try making knives, and buy knives.

Bamboo FanBamboo fan weaving in Ban Phraek District, Phra Nakhon Si Ayutthaya, has been inherited from the olden days. Formerly, the fans were woven with a quite simple technique into a rough design. The border was usually trimmed and sewn by hand with plain white cloth. Later, its form changed to imitate that of a Bodhi leaf or a heart shape. The border is trimmed with gold cloth while the weaving techniques and designs have become more complicated.

Palm Leaf Fish MobileWeavers of the palm leaf fish mobile, and other palm leaf products, in this province are Thai Muslims. The skills have been inherited for over 100 years. It is assumed that Thai Muslim spice traders who sailed their houseboats along the Chao Phraya River in the olden days were the first to have woven fish mobiles from palm leaf, out of inspiration from their affectionate bond with water and their surroundings, referring to a Thai barb with which they were familiar and using leaves from various species of palm grown locally. Originally, each woven fish mobile was not as colourful nor numerously composed as in the present, using only a mixture of natural pigment and varnish for the final touch. The fish mobile, mostly in red, is usually hung above a baby's cradle so that Thai children are familiar with it since their babyhood.

Palm Leaf HatA handicraft that has been inherited since ancient times. Weaving a palm leaf hat requires no less craftsmanship than any other kinds of basketwork. The weavers have to be skilled and patient as the crafts will have to undergo a number of weaving steps. The palm leaf hat is now an OTOP product of Tambon Bang Nang Ra, Amphoe Bang Pahan, Phra Nakhon Si Ayutthaya. It has gained popularity among Thais and foreigners and is available in various provinces around the country.

Roti Sai MaiA snack consisting of candyfloss (sai mai) wrapped with flat bread (roti) was devised by Thai Muslim vendors.
Eat
Ayutthaya is famous for its river prawns, but also plenty of other delicious dishes.
Boat noodlesOriginal boat noodles were cooked on a boat. It's noodles and soup with meat and vegetables. They are served in a little bowl and most people would eat more than one to relieve their hunger. Besides normal boat noodles, there are three local noodle restaurants offering unusual, but delicious noodles such as cow's internal organ noodles, pork leg noodles, and sliced chicken noodles. You can find these noodles restaurants by using GPS coordinates; 14°21'56.00"N, 100°34'31.90"E, 14°21'37.27"N, 100°33'44.86"E and 14°21'57.62"N, 100°34'16.75"E respectively.

Hua Raw Market

address: Uthong Rd

This market in a building seems to be open from 11:00 to 16:00, but it sometimes also works as a night market. Ask your guesthouse for the local of night markets, as they might change.

Malakor

address: Chee Kun Rd

Reasonably priced restaurant with great views of Wat Ratchaburana and very good food. Meat in most dishes can be substituted with tofu. Patrons have the choice of eating indoors or on the balcony. Also available is some of Ayutthaya's best coffee.

Night Market in front of Chankasem

address: Uthong Rd

This night market is an excellent place to have dinner outside. Tables along the river offer a breathtaking view of the temple. 50 stalls sell typical Thai food. Some stalls sell desserts, other juices, for cheap prices, so be sure to try a bit of everything. Very popular with the locals.

Roti SaimaiRoti Saimai is a Thai-style candy floss wrapped in a roti, a very popular local dessert.

Sai ThongRiverside restaurant with a huge menu (over 100 items) serving Thai dishes of every description as well as some of their own concoctions.

Siam Restaurant

address: Chee Kun Rd

Serves a large menu of unremarkable Thai Thai and Vietnamese food, but makes up for it with an excellent location with views of Wat Mahathat as you eat, air conditioning, and possibly the best toilets in the city.

Vegetarian Restaurant

address: Khlong Makham Rieng Rd

Typical Thai vegetarian restaurant ("rahn-a-hahn jay"). 8 different meals available.

Baan Kao Nhom - Traditional Thai Sweet Dessert Cafe

address: Amphoe Pra Nahkon 2/10

Nice little café with traditional sweets, good coffee, shakes. Sweets also as take away in nice packages, e.g. as gifts.

Phak Hwan - Restaurant near Wat Suram Dararam

address: 4, Phra Nakhon Si Ayutthaya (street leading to the wat, left hand side.)

Good inexpensive place to eat before or after visiting the Wat. Seating on solid wooden benches and tables betweens flowers and a small water fountain. Popular with locals and viaitors from Bangkok.

AyudhayaromeRiverside restaurant with good selection of well prepared, tasty Thai dishes. Nice view of Chedi Sri Suriyothai. Fantastic service – waitstaff wear earpieces connected to walkie talkies and never let your glass stay empty. Highly recommended.

Bang Ian Road Night MarketDaily from 17:00 till late. Market where locals buy food and desserts. Hawkers with sit-down places to eat can be found further inside.
Drink
The main traveller-oriented area is Soi Torgorsor, between Pamaphrao Rd and Naresuan Rd, opposite the west end of Chao Phrom Market. It has a number of bars staying open until late, some with projection screens for sports.
Jazz Bar

address: Soi Torgorsor

Shares a food menu with Chang House next door but offers a better soundtrack. When the jazz band aren't playing the instruments are pick-up-and-play, or you might find yourself dodging insulting trivia questions thrown at you by the staff.

Street Lamp

address: Soi Torgorsor

Street Lamp offers wooden seating spilling into the street in front of the attached guest house. Live music in the evenings is provided by the charismatic Mr Noi playing his way through rock classics in a gravelly faux-American accent and inviting members of the audience to join in.

Wat Yai CoffeeNice small coffee shop, served by a staff who are friendly (and a bit shy to foreigners).
Sleep
There are a large number of traveller-oriented guest houses on and around Soi 2 between Naresuan Rd and Pamaphrao Rd, opposite the western end of the Chao Phrom Market. Accommodation in the upper price brackets is limited though there are some options by the riverside. Many people choose to day-trip from
Bangkok
.
Budget
Allsum Hostel

address: 50/ 1 Soi Bang Ian Rd

No-frills hostel with dormitories only. Dorms are air-conditioned, with common areas on the 2nd floor. Staff are helpful, hostel is clean and the place rents bikes at ฿50/day. Individual beds are curtained for privacy.

Ayutthaya Guest HouseA friendly place offering all en suite rooms. With Internet access and a "order what you like" restaurant. The three ฿300 rooms along the side alley have air vents open to a public restaurant next door.

BJ GuesthouseOld, small Thai house, family-run, where you can feel like living in a Thai family. Backpacker atmosphere with basic and clean single/double rooms. One big room with air-con and private bathroom. The owner (Sato) is very relaxed and helpful. Bike and motorbike rental and Thai meals available.

Chang House

address: Naresuan Rd, Soi 1

Very nice and familiar place, the owner is very friendly, as well as the very beautiful daughter, there also some friendly Thai people who frequently go there at night. Good food for the right price. Cheap beer and drinks. Tables outside on the road and it's completely open.

phone: +66 86 8892389

address: 139 Moo 2 Bankao

The hotel has 75 rooms.

Mint Guest HouseClean rooms with fan and a separate washroom. Plus points: it's within sight of the train station and night market manned by a friendly, jovial owner. It's a bit off the main attractions, but motorbikes can be rented for ฿150/day.

P-U Guest HouseDespite its name, the place provides rooms for a decent price (~฿800 for twin with fan and private bath, not including breakfast, making this one of the most expensive places on Soi Farang. One hour free Wi-Fi only.

phone: +66 86 6660813

address: 1/25 Dechawut Rd

In the heart of downtown, this cosy guest house has five rooms and a free swimming pool. Around the corner from a food fair and walking distance from the on-island ruins. The house has a decent restaurant offering both Thai food and Western food, and bicycle rentals. Free Wi-Fi.

Tanrin Boutique Guest House

phone: +66 81-755-6675

The basic room for ฿300 with fan, bathroom and small terrace and free hot water. Friendly staff.

Thong Chai Guest HouseAway from the action, but closer to the sights, this guest house offering fan-only rooms at ฿200/night with private baths. This is a more Thai-oriented guest house that may be too basic for you. Compared to what you get in Bangkok for ฿200 this is worse: no place to hang up the towel. You get a soap, but there is no place to put it in the bathroom. No sink: You can't wash your stuff. No flush (this is indeed Thai style).

Toto HouseThis place is right beside Ayutthaya Guesthouse on Soi 2 (the wooden fronted building on the left.) Good clean fan rooms that seemed freshly painted and with new furniture. Comfortable double beds. Clean Western toilets across the corridor with bum gun and shower adjoining. Friendly and helpful owner. Plenty of sockets in the room to charge stuff. Bring your own towel. Free Wi-Fi that works in the rooms. Good value.
Mid-range
Baan Lotus

phone: +66 35 251988

address: 20 Pa-Maphrao Rd

Rebuilt teak houses in a wonderful garden, and a deck with tables and hammock built over a lotus-filled pond. The elderly lady who runs the establishment does hand-washed laundry at a reasonable price and can arrange reliable tuk-tuk tours of the historic sites. Free Wi-Fi, bicycle rental at the usual price.

phone: +66 89 8499817

address: 15/15 Pathon Rd, Pathon Soi 3

Charming guesthouse. Close to the historical park, offers great comfort to those who wanted to stay close to the ruins and away from busy tourist streets. It is close to the main ruins on the island and local night markets. A la carte breakfast. Swimming pool, satellite TV, hot shower, fridge, free tea & coffee & Wi-Fi in rooms.

phone: +66 89 7797250

address: 1/35 Moo 5, Tavasukree

Family-run resort in the quiet northern part of Ayutthaya. The fee for small wooden bungalow includes breakfast and free Wi-Fi.

phone: +66 89 1656297

address: 23 Pathon Rd, Pathon Soi 19

Close to downtown, this guest house offers great comfort to those who wanted to stay close to the ruins & away from busy tourist street. It is next to Sherwood House, and is close to the main ruins on the island & local night markets. A la carte breakfast, tax & vat included. Satellite TV, hot shower, fridge, free tea & coffee & Wi-Fi in rooms. Deluxe & family rooms available.

Somjai Place Ayutthaya

phone: +66 88 9756199 (For foreigners), +66 35 322145 (For Thais)

address: 69/16 Buawaan Soi Rattranachai District

Free Wi-Fi and LAN, showers, desks, coin-operated washing machine. Close by: Wat Phra Mahathat (5-10 min walk, 1 km); Wat Ratburana (7-15 min walk, 1.2 km); Chao Prom Market (5-7 min walk, 500 m). Ayutthaya Railway Station (5-10 min walk, 1 km), minibus and bus stops to other districts and provinces, (5-7 min walk, distance 400-600 m).
Respect
Wear long trousers/skirts to temples, and no sleeveless T-shirts or revealing blouses. Treat Buddha images with utmost respect, just as you would in the rest of Thailand.

Stay safe
Ayutthaya has a lot of hungry stray dogs in poor condition. They can particularly be a problem in the off-season when there aren't so many people in the streets. While largely docile and harmless, to avoid being chased around by a pack of them it is best not to walk around alone, particularly at night. For those accustomed to travel in developing areas, there should be no problem.
When cycling around the city beware of motorcyclists. Do not put any valuable items in your handlebar basket, as they may be snatched at traffic lights. Also, female travellers have been groped by passing-by motorcyclists, so beware if someone slows down next to you.
There are many hospitals, clinics and pharmacies in Ayutthaya. Several major ones are:
Ayutthaya Hospital
Navanakorn Hospital
Sena Hospital
Ratchathani Hospital
Supamitr Sena Hospital
Peravech Hospital
Wangnoi Hospital
Rojanavech Hospital
Go next