Babylon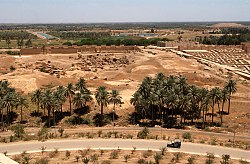 Babylon
is a
world heritage
-listed ruin in
Iraq
, and used to be one of the most prominent cities of
Ancient Mesopotamia
.
Get in
See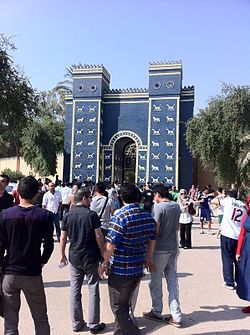 Ishtar GateWhile the original gate was dismantled and reconstructed in the Pergamon Museum, Berlin, this replica is similar in looks but smaller then the original.

Lion of BabylonBuilt by the Chaldean Babylonian king Nebuchadnezzar II (605-562 BC).
Kasr also called Palace or Castle. It is the location of the Neo-Babylonian ziggurat Etemenanki of Nabopolassar and later Nebuchadnezzar and lies in the center of the site.
Amran Ibn Ali to the south and the highest of the mounds at 25 meters. It is the site of Esagila, a temple of Marduk which also contained shrines to Ea and Nabu.
Homera a reddish colored mound on the west side. Most of the Hellenistic remains are here.
Babil in the northern end of the site, about 22 meters in height. It has been extensively subject to brick robbing since ancient times. It held a palace built by Nebuchadnezzar.
Sleep
There are no hotels at the site itself, but nearby
Hillah
has several.