Bad Fallingbostel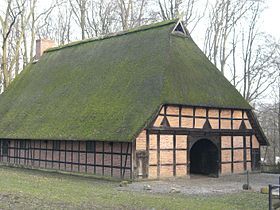 Bad Fallingbostel
is the county town (
Kreisstadt
) of Soltau-Fallingbostel in the state of
Lower Saxony
.
Understand
Bad Fallingbostel lies within the
Lüneburg Heath
region, a popular holiday and excursion area for the great North German cities of Hanover, Hamburg and Bremen. It is also a recognised state-recognised spa town, hence the prefix "Bad". It has close ties to
Walsrode
, a few miles to the west. There is a British Army base in Bad Fallingbostel.
During World War II it was the site of two POW camps, Stalag XIB and Stalag 357.
History
Bad Fallingbostel is an interesting town with quite a bit of history. The old church of St. Dionysis is an interesting site to see, as is the monument to Heinrich von Quintus Icilius; a 19th century politician who helped create one of the first savings banks in Hanover. The villages are over a thousand years old, although documented mentioning occurred only at later times. The main town Fallingbostel celebrated its 1000th anniversary in 1993. In the year 993 Fallingbostel was mentioned in writing for the first time. Kaiser Otto III. set the border between the bishoprics Hildesheim and Minden. In this document Fallingbostel is referred to as "Vastulingeburstalle". This name means "place to live of Vastulo or of the Vastulingers". Dorfmark was first mentioned in documents which are dated to the time around 968. In one of those documents from the year 1006 these place is called "Thormarca". That name is interpreted: Thor = to the, marca = border, forest-cooperative, market-cooperative
The moorlands of the Lüneburg Heath are a beautiful place to visit. It offers some of the most beautiful places to hike, walk, or cycle around Lower Saxony, a brilliant way to see the Lüneburg Health. Bad Fallingbostel also has the old German farmhouse known as
Hof der Heidmark
and many of the town's timber framed houses are still here.
A little more than half a century ago Bad Fallingbostel was the site of World War II POW camps; Stalag XIB, XID, and 357 (Stalag XIC was the Bergen Belsen camp only about a half hour away). More than 30,000 Soviet prisoners were buried here before the camp was liberated in 1945. After the war, the camp was used as an internment camp for National Socialists; it's now all part of the Fallingbostel Military Museum. World War II history has found its way in town in another way, it's the final resting place of Field Marshal Erich von Manstein, a high ranking general who served four years in prison for war crimes before going off to become a military advisor for the British. Interestingly enough, the 19th century writer (journalist, conservationist, historian) Hermann Löns is also buried here. He died long before the start of the 2nd World War, but his nationalistic writings caught the attention of the Nazis and Adolf Hitler ordered his body exhumed and reburied here.
Bad Fallingbostel is a small beautiful town with a lot of history. But if history is not your thing then there are plenty of sites and attractions around Fallingbostel that would be of interest.
Geography
Bad Fallingbostel lies on the Böhme river in the southern part of the Lüneburg Heath between
Soltau
and
Walsrode
in the Heidmark. In the vicinity is the large military training area of Bergen-Hohne, which is utilised by the Bundeswehr and by NATO forces, as well as Fallingbostel Station, a large barracks for the British Forces in Germany.
Get in
By car
Bad Fallingbostel lies next to the A7 motorway between
Hamburg
and
Hanover
and has its own motorway exit.
By plane
Bad Fallingbostel is central to the main airports in the region,
Bremen
,
Hannover
&
Hamburg
. All of these airports have flights from the main cities in the UK (Such as the
London
airports,
Birmingham
,
Aberdeen
,
Edinburgh
and
Manchester
) and also from the main cities in Europe (Such as
Paris
,
Venice
and
Moscow
)
Bremen Airport, near Bremen is about 82km from Fallingbostel and estimated time travel is 50 minutes (depending on traffic). From Bremen Airport, head southeast on Flughafenallee and onto Flughafendamm. Follow it left to where it becomes Cornelius-Edzard-Straße and turn right onto B6 (Neuenlander Str.). Take the A1 exit toward Osnabrück/Oldenburg and keep left until you can merge onto the A1. Take exit 53 (Bremer Kreuz) and merge onto A27 toward Hannover/Achim, then take exit 27 for B209 toward Walsrode/Rethem and stay on B209, following the signs for Bad Fallingbostel. Continue onto Düshorner Str./L163 and follow it into town.
Hanover Airport, near Hanover is only a short trip to Bad Fallingbostel. To drive from Hannover airport to Bad Fallingbostel will take you about 30 minutes (depending on traffic). If driving from there, head northeast toward and turn right onto Flughafenstraße/K324, then turn left onto Wagenzeller Str./L190. Turn left to merge onto A352, keep left, and take the exit toward A7. Take exit 47 (Bad Fallingbostel) toward Oerbke. Keep right at the fork and merge onto B209. Then turn right onto Düshorner Str./L163, and follow it into town.
Hamburg Airport, near Hamburg is another main airport not too far from Fallingbostel. To drive from Hamburg Airport to Bad Fallingbostel will take you around 1 hour 15 minutes (depending on traffic). If driving, head south and take the left exit onto Zeppelinstraße/B433, and from there, a slight right to merge onto Krohnstieg/B433. Continue to follow B433 and then take Oldesloer Str./B432 and merge onto A7 via the ramp to Hannover/Bremen/Husum/Heide. Take exit 47 and turn right onto Deiler Weg/B209 (signs for Nienburg/Walsrode/Bad Fallingbostel), continue to follow B209. Turn right onto Düshorner Str./L163 and follow it into town.
Get around
By train
Bad Fallingbostel has two railway stations - Bad Fallingbostel and Dorfmark - on the Heath Railway from Hanover to Soltau, from both stations you can travel to a number of destinations, these include
Soltau
,
Walsrode
,
Bremen
,
Hamburg
and
Hannover
.
For great ticket offers visit www.bahn.de.
There are a number of great ticket offers available. One of these is called the
Lander-Ticket
. This offers unlimited travel for a whole day within a certain region. Travel can be on any day of the week within one of the German states. The ticket can be used on all local trains (Regional Express, Regional Bahn, S-Bahn) and several other transport systems. The package price starts from €29 for up to 5 people travelling together or for parents (or one parent) travelling with any number of children under the age of 15.
If your looking for savings for weekend travelling then get the
Schönes Wochenende
Ticket. It is one of the best ticket offers for tourists of
all ages
. The ticket is valid for up to 5 people travelling together and for parents travelling with their children aged 14 or younger. The ticket is only valid on either
Saturdays or Sundays
(one day only) between midnight and 3am the following day. Tickets are €39 euro.
(Ticket prices correct at time of entry, Oct 2011)
You can purchase tickets and see the great offers on their website: - www.bahn.de. Or alternatively you can purchase tickets at the station from the ticket machine which is located just by the platform. The machine includes all the great ticket offers and can be translated into English.
By bus
There are several
bus routes
that travel in and around Bad Fallingbostel.
By taxi
There is a taxi rank located at the Bad Fallingbostel train station. There are a few different taxi companies in Fallingbostel and their prices do vary, but are not overally expensive. Here are some useful taxi telephone numbers & information: -
Eddy's Taxi. 0049 (0)5051 6655. They provide a 24 hour service and have transport for up to 6 passengers.
Taxi abs. 0049 (0)5051 66 66. They provide a 24 hour service. Airport transportation and have transport that seats up to 8 people.
See
phone: +49 1734391864

address: St Barbara's Barracks

The museum was the brain child of Captain Dave Curry 2Bn REME who back in March 2006, asked Kevin Greenhalgh to help put on a small display of relics from the PoW camps. It soon started to fill up first the room with PoW relics then the corridor, a museum was born. You will need an ID card or passport to enter the camp.

Hof der HeidmarkThis monument to a typical Lower Saxon farm stands at the edge of a large beech wood that drops steeply to the River Böhme. The "Hof der Heidmark" has a 1642 timber-framed farmhouse and old Treppenspeicher barns. It commemorates the villages that were cleared in the mid-1930s to make way for the Bergen-Hohne military training area. One of the barns houses a small cafe, the Heimatstube Rummelsburg.
Do
Historical Walks There are a number of informative walks in and around Bad Fallingbostel with a varied distances.

Lieth outdoor pool

address: Soltauer Straße 26

The heated "Lieth-Freibad" has a charming location in the forest near the Böhme river. The season for the "Lieth-Freibades" begins, depending on weather, in May and ends in September.

Golf Club Tielingen

address: Tietlingen 6c

Enjoy the spirit of the game at the Gold Club Tielingen. Play one of the most scenic and challenging golf courses in North Germany. Low cost memberships with monthy payment options.

The Park, Bad Fallingbostel

address: In the centre of town opposite the ice cream parlour

Fallingbostel has a beautiful large park area. There is he duck pond feeding area, a great place to take the children on a summers day. Also situated next to the park is the Boot Station. They serve food & drinks, they have mini golf and boat hire. At the bottom end of the park there is an adventure playground area for children.

Reitschule for Freizeitreiter - Horse Riding

phone: +49 5163 290 414

address: Görlitzer Straße 17

This riding school speak in English. They offer a mini club for children from 3 years old. They also offer riding lessons for adults - Beginners and Experienced. They also do children's birthday parties.
Events
Join in the fun at the annual Wine Festival at Whitsun weekend or the Beach Festival in August in Dorfmark!
Buy
Fallingbostel Farmers MarketThis takes place every Thursday morning and sells fresh fruit, vegetables, and flowers.

address: Scharnhorststraße 4a

They offer hand blown glass crystal such as ,Carafés, Bowls and Glasses. They also stock the complete range of Bunzlauer Ceramic in various designs including the famous "Peacock Eye". In Addition you will also find a small selection of Antique Pine and French Polished Furniture. They can also engrave any design, eg Regimental Crests onto Carafés, Glasses.

Supermarkets

address: They are all located in the centre of town

Bad Fallingbostel has 6 supermarkets all in the centre of town: Lidl, Netto, Penny Markt, Rewe, E-Centre and Aldi.

TOOM

address: Bockhorner Weg 9

TOOM is a hardware/DIY shop. They sell paints, tools, plants, lighting etc etc.

Bruno Renz - Bike Shop

address: Von-Linsingen-Str. 9
Eat
Budget
Zio Seba

address: Vogteistraße 2

Pavement café in the centre of Bad Fallingbostel where they serve Italian ice-cream.
Mid-range
Mediteran

address: Kirchplatz 1

Also known as the Yugoslavian, serves Mediterranean food in a comfortable environment within the town centre.

address: Düshorner Straße 1

An Italian restaurant with an indoor and outdoor seating area. This is situated in the centre of town.

Beckmann's Hof

address: Adolphsheider Straße 43

A traditional German restaurant on the outskirts of Bad Fallingbostel town where you are made to feel welcome. There is also the opportunity to use the Kegelbahn, the German equivalent of skittles.

address: Soltauer Straße 21

Is a Chinese restaurant (and Take-Away) situated close to Bad Fallingbostel town centre. It offers a varied menu with a buffet on Wed/Fri/Sat and Sun evening.
Splurge
Drei Tageszeiten

address: Kirchplatz 6

Has an outside terrace area overlooking the River Böhme and park, perfect for those summer evenings. They serve international cuisine and cater for that special occasion. Also many seasonal specialities like wild mushrooms in September and pumpkins in October.

address: 4 Vogeti Str

Specialises in Greek food with an outside eating area right in the centre of Bad Fallingbostel. As well as Greek food they also provide a few international alternatives

Akropolis

address: Am Rooksberg 1

A Greek restaurant set in a cosy environment, with very helpful staff.

address: Quintusstraße 13

Is an original restaurant with a variety of choices for the exquisite taste. There is an opportunity for small or large groups to have horse and cart rides around the town.

Binenkorb

address: Düshorner Straße 54

Serves traditional German and international food always freshly prepared with the option of eating indoors or outside. It is situated on the road towards Walsrode.
Take Away
Deluxe Döner

address: Hauptstr.4 - Dorfmark

This is a Donner Kebab takeaway establishment in Dorfmark. They also do other foods such as pizza, wraps, baguettes and side orders.

Chinese Take Away - Orchidee

address: Walsrode Str. 4

This Chinese take-away offers a wide range of Chinese food, from soups & starters to main dishes of pork, beef, duck & chicken.

City Pizza

address: Vogteistraße 33

City Pizza offer a takeaway and delivery service. This pizza establishment also offers foods such as pasta, gyros, salads, burgers and side orders.
Drink
address: Soltauer Straße 6

an outside bar with live music next to the river and park. Crazy golf, pedalo hire, live music.

Die Taverne

address: Vogteistraße 11

Is a traditional German pub situated in the centre of Bad Fallingbostel.

Flavourz

address: Dushorner Str

Is a lively bar in the centre of town, with a take away attached to the bar.

Paradise

address: Vogtenistraße 33

Paradise is a new coacktail and lounge bar situated off from the centre of town, next to City Pizza. Pop along for a fun night filled with cocktails and dancing!

Big Ben

address: Vogteistraße

A German Bar which also does food and takeaway.

La Trattoria

address: Dushorner Straße

Pizza, Steak House open daily.

Flic Flac's

address: Vogetistraße

Small disco/dance club .
There are more bars and clubs are in
Walsrode
, the next town from Bad Fallingbostel, about 10-15 minute drive away.
Sleep
Budget
address: Soltauer Straße 6

Haus Meyne

address: Fahrenholzer Weg 11

Hotel Deutsches Haus

address: Hauptstraße 26, Dorfmark
Mid-range
address: Düshorner Straße 7

This hotel enjoys a green setting and is right between the Walsrode bird sanctuary and Heide-Park Soltau leisure park. The town centre is a 5-minute walk from the Park Hotel Berlin, it is also possible to rent a bike to explore your surroundings.There is an onsite restaurant called the Leonard restaurant and serves Mediterranean cuisine.

address: Soltauer Str. 14/16

This hotel enjoys a tranquil location beside the Böhme River and the park. It offers a daily buffet breakfast and free parking.The hotel rooms at the Haus am Walde feature cabled internet access and a private bathroom. There is a spa area available at Haus am Walde which includes a sauna, solarium, jacuzzi, and aromatherapy baths. Fasting cures and Thai massages are also available.

address: Idingen 3

This time-honoured farm complex offers relaxing holidays amid extensive gardens and characteristic timber-framed buildings. This is one of Fallingbostel's oldest properties, the hotel is a comfortable base for a wide range of sports and leisure activities in the heart of the reserve. The old barns, tractor sheds and stables join forces with the 100-year-old trees to create a soothing ambience.
Splurge
phone: +49 5162 5966

address: Schluter Berg 1

This hotel has great facilities, such as a pool and sauna, and has 15 comfortable, well kept, non smoking rooms. It is situated between Hannover and Hamburg, and centrally between the main theme parks in the region, such as The Bird Park in Walsrode, Heide Park and Serengeti Park Hodenhagen.
Connect
Telefiji Dushorner Str. An internet/telephone shop with a number of computers and telephones which the public can use. They also have printers, so if you need to print boarding passes etc, it's a great place to go.

address: Marktstraße 1, Dorfmark
Go next
address: Am Safaripark 1, Hodenhagen

A little piece of Africa in Germany. Serengeti allows you to drive your vehicle through the park and see the wild animals up close. After seeing the animals there is an amusement park which will keep you entertained for the rest of the day. The park situated in the neighbouring town of Hodenhagen, about 15km from Bad Fallingbostel.

address: Am Wildpark - Nindorf-Hanstedt

Surrounded in 60 acres of land with over 120 different types of animals. There is a large free car park available.