Bad Gandersheim
Bad Gandersheim
is a town in
South Lower Saxony
,
Germany
.
Understand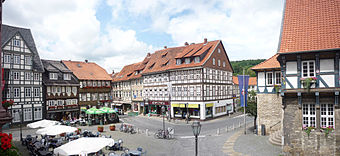 The town is full of character and is made up of many half-timbered houses. Its origins date back to 852, the town's first abbey church
(Stiftskirche)
was started in 856. A mineral spring was discovered in 1240 and this led to Pope Gregory IX asking for the building of the Holy Spirit Hospital. In about 1330 the Duke of Brunswick built a castle which today is used as the magistrates' court and young offenders correctional facility.
As in the Middle Ages so again today two historic trade and pilgrimage routes meet each other in bad Gandersheim, running from North to South and from East to West.
In the late 19th century, the city began to become known for the curative powers of its mineral springs and in 1932 it received the official right to call itself a spa town, thus 'Bad' Gandersheim, on account of these springs.
In the summer of 1926 there was a three-day "Roswitha Memorial Celebration in 1000-year old Gandersheim". This was the first time the medieval author was used as a symbolic figure for the city. Similar celebrations took place in 1930 and 1933; these had clear national-socialistic themes — 'German Culture' versus 'Jewish-Communist Decadence'.
In 1952, the city celebrated the 1100 year jubilee of the founding of the monastery by Liudolf. A history play "The Song of Gandersheim" was presented on the market square.
The summer festival Gandersheimer Domfestspiele, was started in 1959 and has taken place yearly on the plaza in front of the Stiftskirche since that date. Bad Gandersheim has established itself as Lower Saxony's largest professional summer theatre festival. In 2006, its four major productions were attended by approximately 55,000 theatre visitors.
Tourist office
phone: +49 5382 73-700
address: Stiftsfreiheit 12
Get in
By plane
Hannover Airport 99 km / 1hr 10min

By car
Bad Gandersheim is located just off the A7 in the foothills of the Harz close to Osterode.
From the North: Take exit 67-Seesen/​Harz for B248 toward Seesen/​Osterode/​Clausthal-Zellerfeld/​Bad Gandersheim/​B64. Turn right onto Autobahnmeisterei/B243/​B248. Turn right onto B64 for 7 km Take the exit toward Bad Gandersheim-Ost.
From the South: Take A7 towards Hamburg/​Hannover. Take exit 68-Echte for B445 toward Bad Gandersheim/​Kreiensen/​Kalefeld. Turn right onto B445 for 10 km Continue onto Northeimer Straße. Follow signs for Bad Gandersheim.

By train
Bad Gandersheim has a railway station (Bahnhofstr. 1) with good connections from other Harz locations and many areas of Germany. For further information on a train from your starting destination go to www.bahn.de.

Get around
By bike
Bad Gandersheim is found on the "R1" (European remote bikeway Calais - St. Petersburg) and the D Route 3 and the "cycle path of art" (from Sarstedt to bad Gandersheim). In addition, the city offers cyclists friendly accommodations, lots of information about wheel remote paths, as well as themed trips.
phone: +49 172 5129025 (mobile)
address: Hildesheimer Str. 7a
They also offer a repair service and transport of bikes and luggage.
By horse-drawn carriage
For something completely different why not try a horse drawn carriage trip through the countryside. It is available for groups of four to five people. Also gift vouchers are available. Appointment: Telephone +49 5382 58200 or +49 170 2043658 (mobile)
See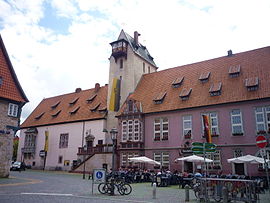 phone: +49 5382 9329295

address: Concerto Gandersheim e.V., Fuchswinkel 12

The Cathedral has massive twin towers which dominate the sky. The Cathedral offers over 30 concerts a year ranging from Symphony concerts, Chamber music, piano and organ concerts and our outstanding choirs and vocal ensembles. Tickets can be ordered online. For further information on specific listings visit the web site.

address: Brunshausen

This is where the town of Bad Gandersheim began. It was founded in 852. You can discover the history and especially the impact it had on the local area. There is a lovely cafe set in the courtyard.

Museum of the city Bad Gandersheim

phone: +49 5382 1573

address: Markt 10

The Museum houses various private collections of historical documents and objects connected with the city's history. There is a very good view from the top if you can face the climb. For guided tours contact the Tourist Information Office.
Do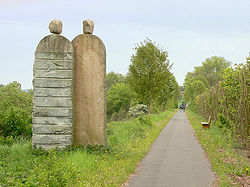 phone: +49 4341 38001

As in the Middle Ages so again today two historic trade and pilgrimage routes meet each other in Bad Gandersheim, running from North to South and from East to West. Many backpackers walk these historic routes each year.

SkulpturenwegThis is a 12 mile bike path that goes from the Brunhausen Monastery in Bad Gandersheim to the Lamspringe Monastery. There are sculptures to view along the way and great views of the local landscape.

address: Hildesheimer Str. 6b

The centre offers both Indoor and Outdoor pools. It has a very low chlorine content. It has a salt water pool. There are a range of prices depending on how long you stay for etc... Under 3's are free.

phone: +49 5382 95548-0

address: Hildesheimer Straße 7a

This site offers a 32 degree salt water pool and therapists who combine baths, massages and other wellness feeling applications individually according to your wishes. Please note the sauna is for members only. They also offer various fitness courses including aqua-gym, pilates, aerobics and many more.
Buy
phone: +49 5382 955669

address: Burgstr. 3

Clothing for men and women.

Lidl

address: Holzmindener Straße 2

Low cost supermarket.

Heinrich Bertram

phone: +49 5382 2827

address: Steinweg 35

Local Butchers

Günter Brackel

phone: +49 5382 2691

address: Steinweg 9

Bakery Shop
Eat
Budget
phone: +49 5382 95550

address: Wolperode 21

A cozy farm cafe which specialties in rustic dishes, and cakes from their farm bakery. The bread is baked in their own stone ovens. Large groups catered for by request.

Bistro fly Inn

phone: +49 160 93125100

address: Flugplatzweg 30

Wonderful views on the "Heberbörde" and the Gande- and Leine Valley due to its high altitude. The restaurant can cater for parties of up to 40 people on request.

phone: +49 5382 958472

address: Wolperode 50

Set in a quiet farm location, the ice cream café is a popular meeting place. The delicious farm ice cream comes from their own milk and fruit from the garden. They have ever changing seasonal sundae and delicious creations on offer. Opening Hours vary due to the time of the year.
Mid-range
address: Brunshausen 7

The cafe is set in the atmospheric rooms of the monastery and the beautiful courtyard. They will cater for special occasions upon request.

address: Hildesheimer Str. 2

The place offers good German cuisine with a seasonal changing menu.

Gaststätte zur Ecke

address: Markt 2

A cozy family run pub in the heart of bad Gandersheim. Sporting events available for viewing.

address: Markt 3

An Italian resaturant offering good Mediterranean cuisine in the centre of town very near to the cathedral. Tables can be booked and rooms can be hired for sepcial parties etc.

phone: +49 5382 58188

address: Altgandersheim, Rük 7

Choose from either à la carte menu with German / French cuisine, served brunches, multiple course set menus, buffets, or the specialty of the House "Food of the ocean". Grill buffets can be reserved.
Drink
Irish Pub Am Dom

phone: +49 5382 955646

address: Fronhof 2

Irish Pub

phone: +49 5382 1061

address: Markt 10

Home made beer, daily buffet,

Tanzcafe Gino

address: Roswithastraße 27

Dance cafe. A great place to drink, dance and have fun.
Sleep
address: Braunschweiger Str. 12

Spacious pitches - sanitary building with wheelchair disabled facilities. Book out-patient spa treatments or our wellness & vital Park offers and stay in your own caravan. Riding is available on the nearby riding school "Eterna". Package deals for short treatments are available. Open all year round.

phone: +49 5382 1595

Location: On the small river of Gande, right on the edge of the historic centre, accessible from the street "An der Wiek", next to the parking lot of Rudolf Cahn of souls Stadium. Separate space for campers, quiet location in the countryside, close to the Centre. Up to 2 minutes walking to the marketplace. Maximum of 3 days stay is allowed. Shopping and restaurants 200 mtrs away. The web site offers a full list of amenities etc.

phone: +49 5382 5212

address: Altgandersheim, Rük 18

Family guest house, with restaurant.

Gästehaus Bartsch

phone: +49 5382 98280

address: Petristr. 4

The guest house provides parking and garage space. Rooms with balconies are available. A direct-dial telephone is located in each room. Close to the town and the countryside. Cyclists welcome.

phone: +49 5382 9801-0

address: Burgstraße 10

Half-timber framed family run hotel with 35 beds. Located in the centre of town.

phone: +49 5382 2649

address: Dr.-Heinrich-Jasper-Straße 13

This is a family-run hotel set away from the local traffic, on the mountain directly in front of the forest. Ideal for rest and recreation. A big car park for cars and buses is available right outside the hotel. A la carte restaurant with local specialties.
Go next