Bad Homburg
Bad Homburg vor der Höhe
, commonly referred to as
Bad Homburg
, is a spa town just outside
Frankfurt
in
Hesse
,
Germany
. With a sizeable castle and old town, the thermal springs and a casino frequented by kings, as well as its present highest per capita wealth in all of Germany, the city adopted an apt motto
Champagnerluft und Tradition
("champagne air and tradition"). Despite its many attractions, the town is perhaps most known globally as the origin of the homburg hat.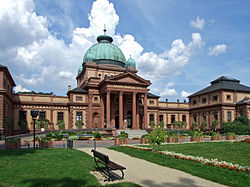 Understand
The town was only formally recognized as a spa in 1912, which allowed it to use the prefix "Bad", therefore for most of its history it was known as just
Homburg
. Historic research has proven for the town to have been in existence since the late 12th century. It has been a minor noble residence and market town for most of its history, until mineral springs were discovered in the 19th century and spa facilities along with a casino were built in the 1840s. It was actually the casino in Homburg that served as direct inspiration for the casino in
Monte Carlo
, which the Monegasque Prince ordered to be built "in the German style".
Homburg's popularity with the rich and famous drew the German Imperial family to declare the city its summer residence and invite numerous relatives, including Edward VII of the
United Kingdom
. Edward left lasting influence on men's fashion with his innovative dress choices, one of them being a simple and versatile felt hat, which he first acquired in Homburg. Thereafter it became known after the town's name.
Arguably, the main attraction in Bad Homburg is its Kurpark, a large park near the centre of the city within which are many mineral water fountains and monuments. The Kurpark roughly runs parallel to Louisenstraße, a long pedestrian mall lined with shops and a few nearby attractions such as the Landgrave Castle. One should consider walking through the Kurpark in one direction and along Louisenstraße in the other.
Get in
By train
Bad Homburg sees no long-distance traffic - getting there in general requires taking a local train or light rail from Frankfurt or its immediate surroundings. There are two stations in Bad Homburg on two separate railways:
Bad Homburg stationThis is the main railway station in town, served by line of the Rhein-Mein S-Bahn and the RB15 regional trains. It has a nice historic station building

Bad Homburg Gonzenheim stationThis is the terminus of the line of Frankfurt' U-Bahn (a deceptively named light rail system), located in the Gonzenheim district of Bad Homburg
The
RMV website
has schedules. For 2-5 people travelling together on a day trip from Frankfurt, the
RMV
group day ticket (
Gruppentageskarte
) is more economical and more convenient that using single trip tickets.
By car
The town is north west of the A5 - A661 interchange.
Get around
Bad Homburg has a well-developed network of 24 bus lines stopping at 130 stops. Pretty much all of them stop at the railway station (
Bahnhof
) and by the Kurhaus, with the exception of three-digit lines (245, 260, 261), which only serve the Bahnhof and not the Kurhaus. Lines 1, 4, 5, 11 and 260 also serve the Gonzenheim
U-Bahn
station.
Bad Homburg is part of the
Rhein-Mein Verkehrsverbund
transport association, which provides for unified fare structure and ticketing system. Getting about Bad Homburg only requires tickets for
Stufe 1
(first stage - the cheapest).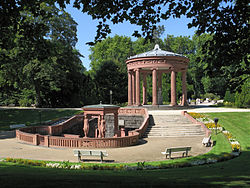 See
Kurpark
Kurpark (also called Bad Homburg Central Park) is a large park in the center of the city with mineral springs, the Kaiser-Wilhelm Bath, a small golf course, the Spielbank Casino, two Siamese pavilions, the Russian Chapel, Tennis courts, a big pond and a garden for blind people. There are occasional classical concerts near Wandel Hall at the eastern end of "Brunnenallee" (Avenue of Fountains).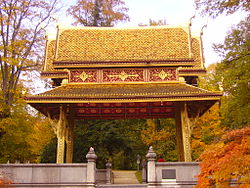 Thai-Sala in the park

address: Paul-Ehrlich-Weg, Kurpark

On May 22, 1914, the first Thai-Sala ("Siamese Temple") was inaugurated in the presence of Prince Mahidol of Siam.

Kaiser-Wilhelms-Bad

address: Brunnenallee, Kurpark

This palatial therapy house was built between 1887 and 1890.

Kaiserbrunnen

address: Brunnenallee, Kurpark

This fountain is in a pit before the Kaiser-Wilhelms-Bad. The acidulous sodium chloride water is fizzy and used for both bathing and drinking.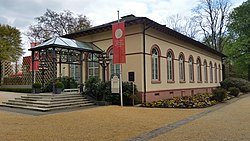 Spielbank Bad Homburg

address: Brunnenallee, Kurpark

The casino near the Kaiser-Wilhelms-Bad.

Thai-Sala at the spring

address: Am Weinbergsweg, Kurpark

In 2007, King Bhumibol and Queen Sirikit gifted a second Thai-Sala to Bad Homburg.

StahlbrunnenThis spring is rich in low-carbonic iron and its water is used to treat anemia.

Auguste-Viktoria-Brunnen

address: Brunnenallee, Kurpark

The fountain has a temple-style monument. Water from the fountain is used to treat gastroenterological disorders.

Louisenbrunnen

address: Brunnenallee, Kurpark

Only die-hards drink from the "sulfur spring" as the water's taste and smell make it undrinkable for most people.

Landgrafenbrunnen

address: Brunnenallee, Kurpark

Fountain with a small art nouveau monument. The spring was discovered in 1899 and from 1903 onwards, its water was drunk as healing water to treat liver and gall bladder illnesses.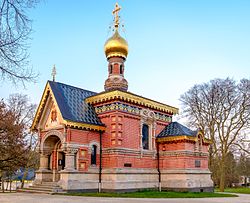 Russian ChapelThe church was built in 1896 to serve Russian spa guests who wanted an Orthodox church.

Elisabethenbrunnen

address: eastern end of Brunnenallee, Kurpark

The statue of Hygeia, the Greek goddess of health, is seated inside a temple overlooking the fountain.

Small fountain

address: Augustaallee & Am Elisabethenbrunnen

The water from this small, utilitarian fountain near the Elisabethenbrunnen has a heavy bitter saline taste that people might find undrinkable.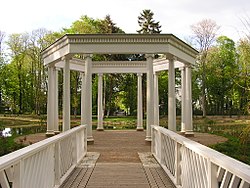 Other Parks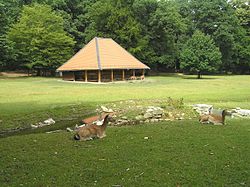 SchlossparkA park with a big pond, situated west of the Landgrave Castle.

Kaiser-Wilhelm-JubiläumsparkInaugurated 1913 for the 25th anniversary of the accession to the throne of emperor Wilhelm II. Cycling is allowed here unlike in the other parks.

address: between Mariannenweg & Leopoldsweg

Park of the garden landscapes of the landgrave with quite a large pond.
and located in the city forest west of Dornholzhausen; large game reserve with deer.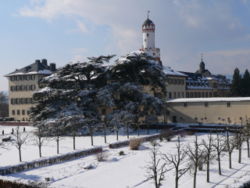 Castles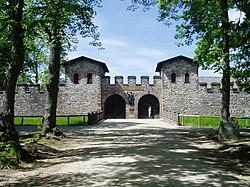 Landgrave Castle with White TowerThe White Tower (Weißer Turm) is a remainder of an earlier medieval castle, and the town's landmark.

Roman Fort SaalburgNear World Heritage Site Limes (border wall between the Roman Empire and free Germanic lands).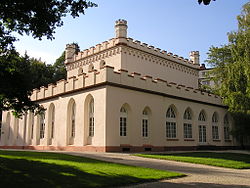 Gotisches HausGothic House.
Other sites
MarkplatzThis small square along Louisenstraße features an attractive half-timbered building.

AltStadt

address: Rind'sche Stift-Straße

At the corner of Rathausstraße and Rind'sche Stift-Straße, there is a small Altstadt with half-timbered buildings. Further along Rind'sche Stift-Straße, you will find a residential area with older style architecture again including half-timbered houses. This residential area extends under the Ritter-von-Marx-Brücke.

Ritter-von-Marx-BrückeThe western end of the bridge has 2 attractive towers called the Stumpfer Turm and the Rathausturm. The bridge also gives a rooftop view of the Altstadt below.

HessenparkOpen-air museum.

address: Horexstraße 6

A museum dedicated to the history of the motorcycle brand Horex, headquartered in the city.

phone: +49 6172 37618

address: Tannenwaldweg 102

A museum covering history up to World War I and a hat museum.

phone: +49 6172-5976057

address: Niederstedter Weg 5

Private car museum.
Do
phone: +49 6172-4064-0

61352 Bad Homburg v. d. Höhe. A Day Spa/pool that offers swimming, sauna, massages, dining, barrier-free (FKK) area, gift shop, therapeutic baths, and steam bath, much more in a romantic Japanese-style setting. €13-15 for basic 2 hour stay, €17-19 for four hours and €24-26 for day (adult). This pool is not geared for children, but they are welcome. Weekdays are typically quiet, but Friday and Saturday night is when the young couples come out.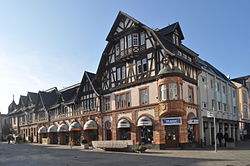 Buy
Bad Homburg has a shopping district along Louisenstraße, a pedestrian mall about 700 metres long.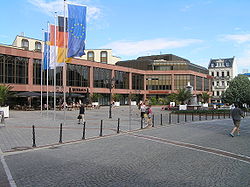 Eat
Sleep
phone: +49 6172 1810

address: Kaiser-Friedrich-Promenade 69

phone: +49 6172 6600

address: Ludwigstr. 3
Go next