Bad Kreuznach
Bad Kreuznach
is a spa town on the river Nahe located in the
Rhineland-Palatinate
region
(Rheinland-Pfalz)
of
Germany
and is the center of the Nahe wine region. With a lengthy history as a center for baths and spas, Bad Kreuznach is where the region's best restaurants and hotels are.
Get in
See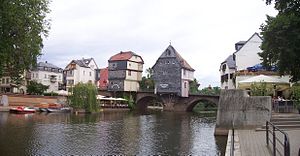 Dr. Faust Haus

address: Magister-Faust-Gasse 47

reputed to be the residence of the magician Johannes Faust in the 16th century

Kurviertel

Brückenhäuserunique site which date back to the 1400's and are represented in the town's coat of arms.

address: Hüffelsheimer Straße 11

of particular note. The museum, built on a former smallholding, exhibits artifacts from excavations carried out in Kreuznach and the surrounding area, where a Roman villa was also uncovered. Of particular interest are the 3rd century mosaic floors, including one depicting Oceanus, the sea god in his element, and one depicting gladiators in combat. A Roman heating system (hypocaust) has also been uncovered for display. From here, you can enjoy a stroll in the park with its tropical trees and ponds, and visit the castle park museum.
Eat
phone: +49 671 481681

address: Kornmarkt 1

The staff speaks fluent English, as this town used to service a U.S. Army base. The menus are bilingual as well. The food is traditional German cuisine and will make you cry out of sheer joy. This is the place you take friends and relatives to eat to show how wise you are. Der Wolpertinger is a mythological creature with sharp canines and wings.

phone: +49 671 2988576

address: Kaiser-Wilhelm-Straße 16
Drink
phone: +49 671 29843330

address: Saline Karlshalle 11

Micro brewery with a restaurant serving classic German dishes. Modern building, beer garden by the river in summer.
Sleep
Nahetal-Jugendherberge Bad Kreuznach

phone: +49 671 62855

address: Rheingrafenstraße 53

phone: +49 6362 92100

address: Moschellandsberg 2, Obermoschel

It is a well priced hotel with friendly staff and nice rooms in Obermoschel (10km from Bad Kreuznach). They have a restaurant and sauna facilities.

phone: +49 671 838330

address: Nachtigallenweg 2
Go next