Bad Münstereifel
Bad Münstereifel
is a town in the
Eifel
in
North Rhine-Westphalia
.
Understand
Bad Münstereifel being a spa town and containing a number of historic building is very popular with tourists in the summer.

See
Restored town wall that runs almost complete around the town.
Church of St. Chrysanthus and Daria

Norman style houseOne of the oldest stone houses standing in western Germany.
Eat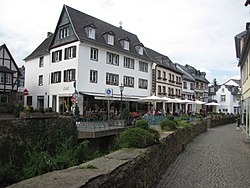 There are many restaurants and cafes along the main street of the town.
Sleep
Connect
Tourist information in the old Apotheken Wertherstraße 13.

Go next