Bad Mergentheim
Bad Mergentheim
is a city in
Baden Württemberg
,
Germany
.
Get in
By plane
By train
Bad Mergentheim sees regional train services along the Wertheim to Crailsheim line.
Get around
;Walking
Walking will get you from one end of town to the other in about 15-30 min.
;Driving
The best way to get around in the area is obviously by car.
;Cycling
In the spring and summer, biking is also highly recommended. There are a lot of bike lanes and special bike roads with no cars.
From
Rothenburg ob der Tauber
you can start a popular bicycle tour by the "Lovely Tauber valley" (also "Charming Tauber valley"), about Weikersheim, Bad Mergentheim, Lauda and
Tauberbischofsheim
, till you reach just 100 km removed
Wertheim
. Recommended daily stages of the route "Charming Tauber Valley":
1st day's stage - Rothenburg ob der Tauber to Weikersheim (or Bad Mergentheim)
2nd day's stage - (Weikersheim via) Bad Mergentheim to Tauberbischofsheim
3rd day's stage - Tauberbischofsheim to Wertheim
See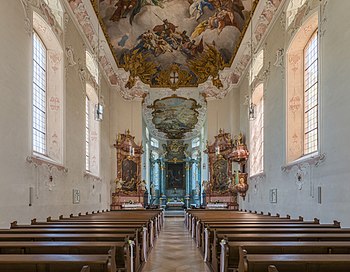 Do
Eat
address: Würzburger Str. 14

A good spot if you love the American style of eating. There some finger foods and burgers are also served.
Drink
In Bad Mergentheim you will find not too many possibilities to get drunken. But you will have the chance at Frankies´s diner or at the Klotzbücher restaurant (to eat there something is not really advisable).
Starlight Coffee at Kirchstraße is nice for some hot java.

Sleep
phone: +49 7931 97270

address: Edelfinger Str. 11-13

phone: +49 7931 5390

address: Lothar-Daiker-Straße 6
Go next
Outside of Bad Mergentheim you will find a nice village called
Markelsheim
with many nice restaurant with a pretty good drink voucher: Weinstube Schurk, Weinstube Lochner.
In Markelsheim at each corner and in each street you will find many wine bars.
In summer in Markelsheim there are at every weekend any other parties, esp. wine parties. Don´t miss them!
Next Cities: