Bad Reichenhall
Bad Reichenhall
is a spa town in the
Bavarian Alps
in
Germany
, near
Salzburg
,
Austria
. Bad Reichenhall has a population of 17,100.
Understand
Bad Reichenhall ("Bad" has nothing to do with the equally spelled English term and is a cognate of the word "bath") is a mid sized spa-town of just under 20 000 people that has a spa tradition dating back to the 19h century. It is also a household name throughout the German-speaking world for salt production, and a salt brand is named after the city.

Get in
By plane
The closest airports are in
Salzburg
(
SZG
) and Munich Airport (MUC).

By train
Bad Reichenhall StationBad Reichenhall is easily reached by rail. There's direct commuter train (route S3) from Salzburg to Berchtesgaden which goes through Bad Reichenhall every 30 minutes to an hour depending on the time of day. Travellers from Munich have to connect either in Salzburg or in Freilassing (small town on the German side of the border, where Berchtesgaden railway splits from the mainline).
By car
From Munich and Salzburg go to A8 autobahn.

Get around

Transportation is typically by car, bus or walking. City transit consist of 3 bus routes. Routes #1 and #2 go through the town to relatively remote outskirts like Thumsee (remember that "remote" means "mile away" for this town). Route #4 is CityBus and circles the town. There's no route #3. All buses stop at Railway station (Hauptbahnhof) and Rathausplatz.

See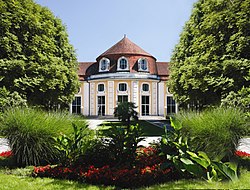 Beautifully tended parks and historical sights make this alpine town one of the most precious jewels of Bavaria.
Old TownBest explored on foot as it is mostly a car-free and bustling pedestrian zone. Of particular interest are the Poststraße, the Ludwigstraße, the Rathausplatz, the Altes Kurhaus, St. Zeno Minster and the remains of Gruttenstein fortress.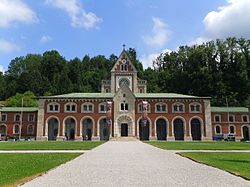 phone: +49 8651 7002 6146

address: Alte Saline 9

Also open to the public for tours of this unusual brick complex of the mid 1800s that houses the salt museum and a giant brine pumping system. The salt works visit also includes an exciting walk through its stone corridors leading deep under the mountain where caves and saltwater extraction equipment are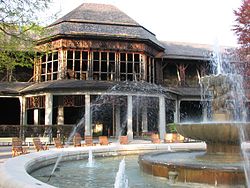 KurgartenThis delightful spa garden is unique thanks to its monumental open-air saltwater inhalation facility (graduation tower). From spring to autumn, the Kurgarten is an oasis of beauty and tranquility conducive to rest and recuperation, boasting very old trees, splendid shrubs, flower beds and palm trees.
HeimatmuseumA visit to the Heimatmuseum (local heritage museum) conveys a clear picture of regional history from the Stone Age to the present day.
phone: +49 8651 96850

address: Südtiroler Platz 1

The world's oldest twin-cable gondola lift. In just a few minutes it will speed you to the top of Bad Reichenhall's local peak, the Predigtstuhl at .
Lake ThumseeNestlied in the heart of a nature reserve, the crystal-clear waters of Lake Thumsee resemble a green emerald. In summer it is a popular swimming area and in winter it swarms with ice-skaters and ice-curling players. Year-round it is an idyllic place of rest and relaxation for locals and visitors alike.
Do
Adventure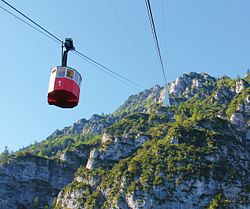 Fun and adventure sports

phone: +49 8651 67238

Can be booked through Club Aktiv.
Mountain climbing
Bungee jumping

phone: +49 8651 984192, +49 179 241 1136 (cellphone)

Information about tandem-paragliding from Take-off, Stefan Wiebel, licensed tandem flight pilot.
Water
Rafting

Diving

phone: +49 8651 5105

Information from Tauchcenter Blue-Ring-Octopus,
For
Swimming
, there is a large choice of attractive heated outdoor and indoor pools, as well as beaches on the banks of crystal-clear mountain lakes. Pools in Bad Reichenhall:
Bikes
The spa zone boasts 50 km of biking trails, the Berchtesgaden Land district some 500 km! What an invitation to undertake one of many varied bicycle excursions! Among the favorites of the area are Thumsee Lake, Saalach Lake, along Saalach River, around Mount Untersberg and many more. The tourist office's activity program includes free guided biking tours.
Mozart biking trailA bike tour following the trail of the famed Wolfgang Amadeus Mozart, the composer. Mozart remains somewhat of a puzzle but many traces of his short but turbulent life can be found - especially in this area. Embark on a bike ride of discovery to the places connected to the life and works of this formidable character dotted throughout the areas of Salzburg, Chiemsee and Berchtesgaden Land.

Bike rental. Aral fuel station (Loferer Straße 28 - 29 on the B20 near Bad Reichenhall) rents bicycles at the following rates: Touring bike €7.50/day; Mountain bike with suspension fork €12.50/day; Full-suspension mountain bike €17.50/day; 24-hour service; 10% discount with the Visitor's Card; Free crash helmet.
Winter
Downhill skiing - Bad Reichenhall makes for an ideal base from which to ski the slopes of the Berchtesgaden and Salzburg areas. Berchtesgaden is easy to reach by car or public transportation. Salzburg is but a short drive away and within an hour you can reach famous ski areas such as Flachau, Zauchensee, Filzmoos, Saalfelden or the Dachstein-Tauern area. Information and reduced rate passes can be obtained from the Bad Reichenhall tourist information office Tel.: +49 8651 606 0.
Sledding - A natural sled run (750 m) can be found in Bayerisch Gmain starting at Bergkurgarten. Two-seater sleds can be rented for free by presenting the Visitor's Card to the information center at Bayerisch Gmain. The run is illuminated at night till 22:00. Tel.: +49 8651 606 401.
Ice-skating - If weather permits, ice-skating is possible on Lake Thumsee.
Snowshoe hiking - Experience Bad Reichenhall's glittering winter landscape on a snowshoe trek to the summit of Mount Predigtstuhl. Spectacular vistas are your reward. Information and booking: Josef Posch, Tel.: +49 8651 4009 or +49 171 737 0893.
Ice-curling - Tu 14:00-19:00 at Bayerisch Gmain's sports and leisure center.

RupertusTherme Spa & Fitness ResortA spa facility featuring natural thermal springs. The name is derived from St. Rupert, the patron saint of salt, after whom, by tradition, numerous establishments in Bad Reichenhall are named. RupertusTherme sets itself apart from the numerous existing and planned natural mineral hot springs in Bavaria by integrating the healthy tradition of salt in a vitality and activity concept.
Other
Hiking
High-wire rig
Canyoning
Cave exploring
Golf - 10 golf courses and one driving-range (Marzoll) within a radius of 45 km in the vicinity of Bad Reichenhall and Bayerisch Gmain. Some of the greens offer breathtaking views of mountains and lakes as well.
Driving-Range (Schloßberghof, Marzoll) Tel.: +49 8651 7005-41.
GamblingGames daily from 15:00-02:00 and slot machines daily from 14:00-02:00.
Buy
There is an elegant pedestrian area boasting 330 exclusive shops.
Eat
phone: +49 8651 96950

address: Salzburger Straße 22

Tavern style, big leafy patio, more fish and fowl entrees in menu than in typical restaurant serving German food.

phone: +49 8651 7770

address: Salzburger Str. 2-6

Within hotel Wyndham Grand Axelmannstein. Regional food.

phone: +49 8651 6003-0

address: Ludwigstraße 10

Has been family-owned for more than 140 years and is famous for manufacturing high quality sweet treats, most of all the Genuine Reber Mozart-Kugeln. Their cakes (sold by very generous pieces for under 3€ apiece) are out of this world and make even pretty decent Glockenspiel in Salzburg (now part of Demel) to pale in comparison. Candy store is in the same building.

phone: +49 8651 9059 861

address: Rathausplatz 4

Menu has several sections covering areas from Bavarian specialities to standard German entrees. Excellent Monday special is Schweinshaxe (German Ham Hock) with coleslaw and bread dumpling for 5.90€.

phone: +49 8651 4078

address: Nonn 94

Amazing regional dishes with stunning view towards the town from their terrace.

Eis-Cafe La Perla

phone: +49 8651 64935

address: Salzburger Str. 3 · D-83435

Very good selection of Italian ice creams and gelatos. Open relatively late at night.

Bahnhofsgaststätte

phone: +49 8651 2677

address: Bahnhofsplatz 1

Bürgerbräu

address: Waaggasse 1-2

Padinger Alm Nonner Str. 79
Drink
You can find some bars in the pedestrian plaza.
Sleep
Budget
phone: +49 8651 2134

address: Strailachweg 1

Beautiful camp ground right at the Saalach river.
Mid-range
phone: +49 8651 7760

address: Am Münster 3

4-star hotel with good online ratings.

phone: +49 8651 98630

address: Thumsee 10

Wonderful hotel that is located nearby the Lake "Thumsee" which offers a lot to families and outdoor lovers.
It's also possible to spend your vacation on a farm
Go next