Badami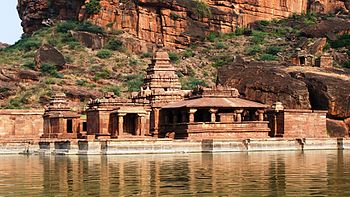 Badami
(
ಬದಾಮಿ
) (
formerly Vatapi
) is a city in the
Bagalkot
district of
Northern Karnataka
, in
Southern India
. It is a historical place.
Understand
Badami was the capital of the Early Chalukyas, who ruled much of Karnataka and
Andhra Pradesh
between the 6th and 8th centuries. It was founded in 540 A.D. by Pulakesi I (535-566 AD), an early ruler of the Chalukyas. His sons Kirthivarman (567-598 AD) and his brother Mangalesha I (598-610 AD) constructed the cave temples. The greatest among them was Pulakeshi II (610-642 AD) who defeated many kings including Pallava king Mahendra Verman I and extended the kingdom.
Get in
By train
There is a small station in Badami, 5 km from the center. Trains from Bangalore, Bijapur and other cities stop there regularly. From the station, there are many rickshaws to reach the center. You can also wait a bus which goes to the bus stand. It will cost you only ₹3.
By bus
The bus stand is in the center of the town. There are buses for
Gadag
, Bijapur, Bangalore and
Hospet
. The NWKRTC bus service is very efficient. From Hubli, regular buses to Badami (on the Ilkal / Bagalkot route) ply every 30 minutes or so. The journey from Hubli takes about 3 hours not counting a 20 minute break at a town enroute (for lunch, refreshments)
By car
From Bangalore: Drive to Hubli along NH 4 (410 km) and then via NH 218 (106 km).
Get around
From the center, all the main sites are reachable by feet. However, there are plenty of rickshaws which would be happy to transport you. The best way to explore this small town is through your feet.
Best way of getting around is hire an passenger auto for a day trip including caves, museum, bhootnath temples, fort, Pattadkal and Aihole and drop to railway station.
Auto-rickshaws are well priced for a group of 3-4 people. Available at railway station.
Tata ace Magic autos, comfortable for a group of 10, are available opposite the bus stand.
Parking charges are extra at the caves, Pattadkal and Aihole.
Sufficient time needed to cover only Badami tourist places approximately 6 hours. If you add not-so-popular spots, you need a whole day. Visit the caves early morning or evening to click great pics. To see
Pattadka
l is 2 hours maximum, whereas
Aihole
will demand 4-5 hours as temples are scattered across the village.
See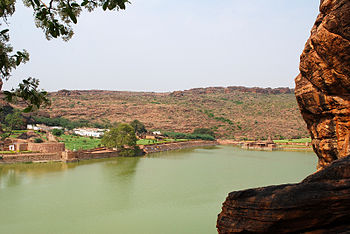 Almost all the main attractions of Badami are around the Agasthya Tank.
Archaeological museumA museum regrouping sculptures of various era from the region.

Bhutanatha templeA temple built in 5th century.

Cave templesThe main attractions of Badami are its caves. There are four main caves. The first one, dedicated to Shiva, was excavated by the Chalukyas in 550 AD. The second one is dedicated to Vishnu. In this cave there are statues of Vishnu avatars like Varaha, the boar or Krishna. The third cave is also dedicated to Vishnu and the last one is a cave with Jain representations.

Dattatreya temple

Malegitti ShivalayaThis temple is the oldest one of the town. It is built on a flat rock and offers a nice view on Badami.

Upper Bhootnath Temple

address: Badami

A flight of 300+ steps will get you top the hill. Ideal spot for sunset and offers a panoramic view of Badami Caves and Agastya lake.
Do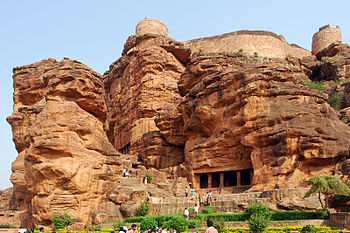 ClimbingWith all the cliffs surrounding the tank, Badami is a nice spot for climbing.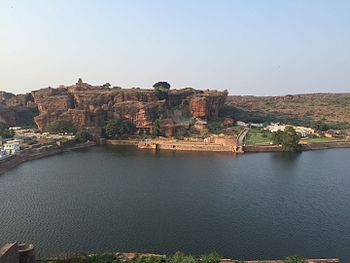 Eat
Geeta Darshini

address: Station Road

A nice veg restaurant.

Banashree

address: Station Road

ideal for veggies

Heritage Resort

address: Station Road

Good vegetarian options.
Drink
Buttermilk made from cow's or buffalo milk. Tea is the popular drink of the local people, available at road side shacks and restaurants.

Sleep
address: Station Road

A small resort at the edge of town. Very peaceful and tranquil. It has a handful of cottages and serves vegetarian food.

phone: +91 8357 221991

address: Station Road

A hotel in the center of Badami.
Hotel Mayura Chalukya a hotel run by Karnataka State tourism corporation.
Connect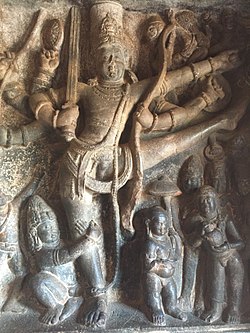 Stay safe
There are many monkeys in Badami. Some of them, especially the gray langurs, can be aggressive. B.S.N.L ( Cellone ) cellular phone connectivity is available here. Summer months of March, April, May are hot. Dehydration must be avoided in these months.

Go next