Baden (Switzerland)
Baden
is a town in the
Zurich region
of
Switzerland
. It has a lively shopping centre, and a beautiful old town with traditional Swiss buildings, and small castle, all on the banks of the river Limmat which flows from Lake Zurich. Half of the town is dominated by the industrial/office complexes of General Electric, ABB and Ansaldo and the local economy is dependent upon their power plant manufacturing, but historically people were attracted to Baden for its thermal baths.
A nice, small town to stay in while visiting the larger and busier cities in the region, such as Zurich. In addition to Baden the neighboring villages of Wettingen, Ennetbaden, Obersiggenthal and Neuenhof are covered in this guide.
Get in
By plane
Zurich Kloten airport is within easy reach by train. There are 5 connections between Baden and the airport per hour. One of them is a direct connection, with the others it is necessary to change trains at Zurich main station respective Zurich Oerlikon. The ride takes about 35 minutes.
By train
Baden is served by rail.
Baden train station
is right in the heart of the town. Located just outside Zürich, it is served by the S6 (37 min) and S12 (30 min) lines of the Zürich S-Bahn commuter rail network. If you have an all-zone Zürich transport card and are coming from Zürich, you should buy a single ticket from Otelfingen (for S6) or Dietikon (for S12). Connections westwards are available by Aargau local trains S23 and S27 to Olten and Waldshut as well as interregional trains to Basel and Berne. For Zürich S-Bahn map, tickets and timetables see the Zürich local transport website . For Aargau local rail map, tickets and timetables see (German only). For interregional train connections see the SBB website .
By car
Baden is near the major A1/E30 motorway. Use either exit 55
Neuenhof
or 54 Verzweigung Baden. Between those two exits, you drive through the Baregg, a famous tunnel . Famous, because it was a major source of traffic jam before the 3rd tunnel was built.
Get around


The town centre is small enough to walk around, with a pleasant pedestrianised shopping street, and riverside walkways.
To explore further afield you might like to take a bus from the main station. Pay with coins in the machine on board, or at certain bus stops. Alternatively, buy a 6 journey strip card from the train ticket office for the price of 5 journeys.
Note with all trains & busses the "halbtax" option ('1/2' button on the machines) is for local people who have spent Fr. 150 on an annual half fare pass.

See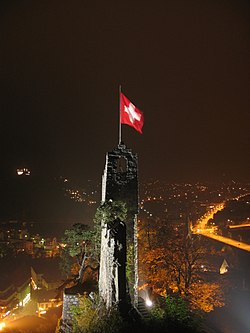 Do
Have a stroll around the Bäderquartier (Bathing quarter)It is located at the Limmat river 10 minutes by foot from the town centre. Enjoy a coffee in the georgeous ATRIUM Hotel Blume and marvel at the stunning atrium.

Visit a thermal bathOnce you are there you may want to go to a thermal bath. The city is named Baden (to bath/bathe) because of the natural geothermal springs were originally ducted into baths by the Romans. The springs are claimed to be the most mineral rich in Europe. The main bath is called Thermalbaden and is closed since summer of 2011. It is supposed to reopen in 2021 after extensive renovation. As of April 2019 the construction works are progressing swiftly. The hotels Limmathof and Blume, which are located around the thermal area by the river, have private thermal baths.

Local food market

address: Weitergasse

Most Saturday mornings there is a local food market (Farmers Market) in Weitergasse and sometimes special events (e.g.cultural or sports activities or special markets) go on in front of the Train Station (Bahnhofplatz- Badstrasse)

Swim in the LimmatDuring the summer, walk along the beautiful Limmat (river). It is recommended to go for a swim on sunny days when the current is not too strong, however, be wary of the nearby dams. There should be warning signs if it is too close to a dam, but to be sure, you'll know it's a safe area if there are many locals nearby swimming as well. A safe and popular place is marked on the map.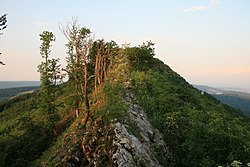 Crest hike over the LägerenIf you are an avid hiker you should go for this tour. It takes around 4 to 6 hours to do the 13km all the way to Dielsdorf, but it is also possible to descend earlier towards Wettingen. You will be rewarded with views to the alps and the black forest in Germany. Proper shoes are important. Take a train/bus back from Dielsdorf to Baden. A gpx track can be found in the link to the MySwitzerland website. The start of the trail is close to the wooden bridge.
phone: +41 56 204 07 07

address: Haselstrasse 2

The Grand Casino Baden is one of only six casinos in Switzerland with an unlimited gambling concession granted by the Swiss government.

phone: +41 56 210 98 70

The Kurtheater is a guest performance house.

Hike up to the Geissberg-ChänzeliYou will be rewarded with beautiful views over the city.
Buy
Badstrasse & Weite GasseThe main pedestrian street is bustling with shoppers during the day. Lots of clothes shops, and various chain stores including 'Manor' (huge department store) and 'Merkur' (get your Swiss chocolate here). Look out for the Badener Stein, locally made chocolate sweets with a high alcohol content. They are delicious. There's a market on Saturday morning near the Stadtturm, the old town clock tower.
Eat
Budget
phone: +41 56 210 45 30

address: Haselstrasse 21

Very tasty Indian meals.

Manora RestaurantA self-service restaurant on the highest floor of Manor shopping mall. With outdoor terrace, which offers splendid views to the Stein ruin.

phone: +41 56 203 43 33

address: Wiesenstrasse 32

The canteen of the local vocational school. It is also popular with workers of the nearby companies due to its reasonable prices and good quality meals. It is possible to sit outdoors with nice views over Baden during the warmer months of the year.
Mid-range
phone: +41 56 222 5758

address: Bahnhofstrasse 10

Excellent (but expensive) Swiss style food. Often full (make a booking).

Schwyzerhüsli

phone: +41 56 222 6263

address: Badstrasse 38

Swiss specialities including fondue, at a reasonable price. Can be smokey inside. Average online ratings.

phone: +41 56 210 0955

address: Badstrasse 9

Creative cooking, east meets west. Lunch menus at a reasonable price. Very good online ratings.

phone: +41 56 406 19 92

address: Zürcherstrasse 82, Neuenhof

Has fairly standard Swiss food garden seating for the summer.

Landhaus

phone: +41 56 406 29 37

address: Zürcherstrasse 128a

An old-style Swiss restaurant, though it's led by a Finnish lady. Plain but good quality food - bring your appetite because portions are massive (in particular the 'Garettli' ;-). Please note: these guys aren't open on Saturday evening and the whole of Sunday. They also have rooms to rent.

Posthorn

phone: +41 56 4062712

address: Zürcherstrasse 164, Neuenhof

Was called 'Tra la Gente' for some time. It's a recently renovated Italian place with quality food in a classy atmosphere.

address: Rüsslerstrasse 37, Neuenhof

An old-style Swiss restaurant up the Rüssler hill in Neuenhof. This is a favourable destination if you want to combine a solid meal with a nice stroll/hike - they're near a junction of hiking paths.
Splurge
Drink
Sleep
Budget
Mid-range
Splurge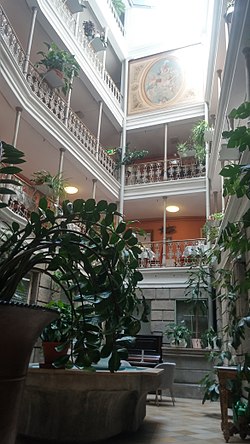 Go next