Bagamoyo
Bagamoyo
is a town in
Tanzania
with a colonial history and an active art scene.
Understand
The most recent history has it as a terminal point on the coast for Arab trading caravans. It was also used as a holding point for slaves brought from the interior and awaiting transportation to Zanzibar. During German colonial times, it was the economic and administrative capital of German East Africa. Since the capital was moved to Dar es Salaam, Bagomoyo has been in decline. Architecture of European origin is rarely maintained and thus slowly falling apart, while still often beautiful to see. The Arabic influence on local architecture is also significant.
There is a lot of poverty and unemployment in Bagamoyo, so be aware from muggings and robberies. While the town is usually safe during the day, avoid walking outside late at night. It is also advisable to avoid the slum expands towards the east. Be very aware of people monitoring you while standing somewhere or sitting in a restaurant. Don't expect any help of the police, they don't care about you and even discourage you from opening a case. However, if you loudly scream for help, locals will quickly gather and help you. The Swahili word for thief is mwizi; shouting it will get you a lot of attention, but might get the thief into serious trouble (and often harm, sometimes even death), since self-justice is widespread in Tanzania. So think twice before doing so.

Get in
Situated 70 km on the main northern trunk from Dar es Salaam on a good tar-seal road.
Daladala stationThey go to/from
Dar es Salaam/Mwenge (1½-2 hr, TSh 2,500). Plan extra during rush hour travels due to increased traffic towards Dar es Salaam.
Tanga via a newly build asphalt road.
Msata (non-sealed road). The road frequently gets unpassable after heavy rains.
Miandizi (non-sealed road).
While not advisable, you can take a
dhow
boat to
Zanzibar
(4-8 hr, TSh 5,000). Many locals travel that way since they cannot afford to take the ferry, but the sea may be rough and boats have sunk before. There have also been safe 'tourist' dhows operating in the past.
Get around
The city is pretty walkable, for longer distances or with luggage you can choose from a motorcycle
pikipiki
,
bajaji
(from TSh 1,500) or a taxi (from TSh 3,000). There are also local tour operators who will take you around local sites, and to and from Bagamoyo.
There are also several bike rental options which are a great way to go around or to some of the more distant sites. Bike quality varies but usually isn't all too great. Make sure your brakes work and that you have lights if you plan to drive during evening or night.
See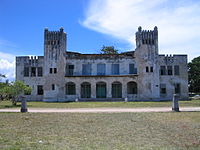 Architecture. Walk around the town in daylight and view the entrance portals of the homes which often display intricate carvings with Arabic influence. View the aging German buildings.

Hanging Place

Port areaThe busy port area and local fish market. Watch dhows getting loaded or note the concrete posts on which slaves were bound for display and sale.

Slavery & Missionary museumA museum on the town's history, divided in three sections: Slavery, Missionary & Bagamoyo history. Just behind is a famous Baobab tree that grew around a goat chain.

Salt plantationBasins with water and salt sediments.

Mangrove forestsWalk along the beach marveling at the mangrove forests growing in the sea. Since there aren't many people around this area, beware of muggings and don't do this alone.

Fortress and Slave Prison
Do
History. Stand at the portal outside the old German headquarters from which many of the European explorers entered the hinterland, amongst them Burton, Speke and H.M. Stanley. Imagine the excitement as the caravans of men strode off to a land hetherto unknown to Europe.
Respect. Visit the Catholic mission north of the town. Pay homage to Dr. David Livingston whose body last rested here on African soil before being transported to London to be buried at Westminster Abbey.

College of ArtsTanzania's prima art college. There are some exhibitions on campus and there's often music or artistic shows or practices to be watched. This is also the place for some of the annual music festival happening in Bagamoyo.

Millenium Old Post Office HotelYou can ask to go to the roof of the Millenium Old Post Office Hotel from where there is a great view over the city and the busy port and fish-market area.

Kaole villageA small village 3 km south of Bagamoya along an unsealed coast road. There are several things to see here:
Kaole ruinsThe medieval Kaole ruins. The ruin of the mosque dates to the 13th and 14th centuries.

Crocodile FarmA crocodile farm, where you can see crocodiles from babies to 50-year old ones in concrete basins. They are grown mainly for their skin, but also for meat.
Buy
There are some great locally owned shops with clothing, paintings, carvings, and jewelry that are easiest to find if you just wander about the village. Sometimes (esp. on the beaches) there will be locals with carvings or jewelry that will approach you and you can bargain for their items.
Art marketThe old market area is now the art market where there is a seemingly infinite amount of pictures available, as well as some local craftswork. Since many of the pictures you can find elsewhere in the country were painted in Bagamoyo, prices can be much cheaper here, although bargaining will always be required.

Local marketHere self-caterers find most things they need: from veggies to rice or fresh fish.

Baobab art workshop

address: Next to Poa Poa

A smaller space where you can meet local arts and crafts people working, and commission and buy paintings, jewelry, pottery, carvings and more.
Eat
There's plenty of the ubiquitous local food around, you can get rice/
Ugali
/
Pilaw
with a bit of meat and sauce from Tsh 1,500.
Chips
are mainly available in the evenings.
For western-style eatery you're limited to the resorts along the coast to the north of the town, the Millenium Hotel or the famous
Poa Poa
restaurant.
D'zA relatively cheap restaurant next to the road that serves a bit more than the ubiquitous local food. Just behind it is a local's favorite place for Chipsi Mayai (TSh 2,000).

Poa Poa RestaurantA nice and quiet place to get something to eat and drink. While some question quality of the food, the food is delicious and there's a good variety. They also have milk shakes and beer.

Samiha'sA local eatery, mainly serving rice with sauce and some meat at slightly inflated prices. Sometimes there's great fresh fruit juice though (TSh 1,500).

New Top Life InnAt a central point in Bagamoyo it's a nice place to get something really cheap to eat, unless you mind the noise from the TV. A few dishes (mostly chicken, chips, omelettes).
Drink
Toplife Bar and RestaurantThe bar has a street side patio which is great for drinking beer and watching the local scene. Even though they play great music in the bar, noise from the TV covers it.

Ice cream and pasteriesThe only (non-azam) ice-cream shop in town. However both the ice-cream and the dry pasteries disappoint.
Sleep
Budget
Pop Juice Resthouse (double TSh 9,000), noisy.
Jangombe Resthouse across the road from the Pop Juice Resthouse, similar.
Vatican Resthouse near the bus stop.
Kiromo Guest House (double TSh 15,000), very clean and quiet.
Kizota Guest House next to the Kiromo Guest House
Mid-range
Mary's nice placeA very calm tropical lodge with several rooms, not far from the beach, but it's 15 minutes to walk to the city center.
Splurge
A number of resorts are situated on the coast to the north of the town. The best is the
Millennium Hotel
next to the Bagamoyo College of Arts which is on the ocean near the centre of town.
Cope
Bagamoyo has 3G coverage with varying quality, there's also some internet cafés.
CRDB Bank & ATMThe only ATM in town accepting international credit cards.

Post office
Go next

The resorts open up to the pristine coastline which is not to be missed. If you wish to swim in a pool, the resorts have swimming pools which are much safer.