Baghdad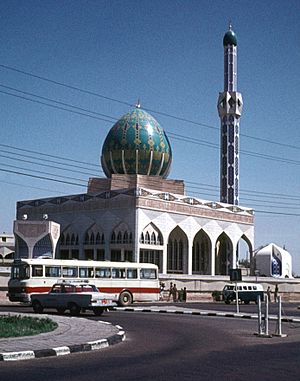 Baghdad
(Arabic: بـغداد
Baġdād
) is the capital of
Iraq
.
Understand
Once one of the greatest centres of learning and culture in the world, Baghdad has a long and illustrious history. Once a favoured destination on the 'hippie trail' and packed full of sights, since the American-led invasion of 2003, Baghdad has since become one of the most dangerous cities on earth.

Get in
Travel to Baghdad is not recommended (Sep 2018) because of wartime instability and security concerns. Westerners are particular targets of kidnapping and assassination by militant and extremist groups. Baghdad airport is secure, so transiting there if necessary is safe.
By plane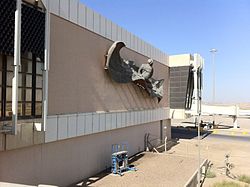 (previously Saddam International Airport)
BGW
is about 16 km west from the centre of Baghdad. After some damage during the wars, the airport is in full operation and growing due to the recovery of Iraq. All of the usual airport facilities are available, such as banks, money exchange, ATMs, mobile phone companies, restaurants and even a hotel. The airport has three interlinked terminals, one of which is being refurbished. It is easy to walk between the terminals both land side and air side. One terminal is used by Iraqi Airways (the most counter-clockwise one) and the middle one handles all other flights. The food outlets are small and limited air side, so if you have a long wait, it is better to check in and return back through security to use the land side restaurants.
The national airline is Iraqi Airways that operates a growing fleet of more than 30 modern jets. Their main activity are domestic flights but Iraqi Airways also offers flights to numerous international destinations. FlyBaghdad also has local and regional flights to/from BIAP.
The best way from Europe to Baghdad is either with Austrian or Turkish Airlines. Austrian Airlines provides four flights per week from Vienna (VIE) to BIAP. Turkish Airlines flies twice daily from Istanbul (IST) to BIAP.
Within the Middle East, Royal Jordanian Airlines operates two daily roundtrip flights from Amman(AMM). Emirates and the low-cost carrier flydubai from Dubai arrive on a daily basis in Baghdad and Basra.
Diplomats, private military contractors, and intelligence agents can use Gryphon Airlines. Gryphon offers flights between the military side of BIAP and Kuwait City.
For those working for Non-Governmental Organizations (NGOs) in Iraq, there are two charter airlines operating into BIAP. Skylink and AirServ operate frequent flights. Travel on either of these services requires sponsorship by your NGO to get you onto an approved traveller list maintained by each. Schedules and services can be irregular, and change frequently.
Baghdad airport is under control of the Iraqi government. Take-offs and landings at BIAP are controlled by the Iraqi Ministry of Transportation. Several critical pieces of Air Traffic Control gear have not been turned on, and the result of this is that BIAP can only accommodate Visual Flight Rule (VFR) landings, not instrument landings. Because of this, the frequent sandstorms that hit the area can obscure visibility and cause flights to be turned away. It is not unusual for commercial flights to make it all the way to BIAP, and then turn around and return to their origin due to limited visibility on the runway.
When departing at BIAP, be prepared for some queuing. If you are not working in Iraq on a government contract, your entrance to the airport grounds about three or four miles from the airport terminal will require you and your vehicle to wait in line to be searched. These security checkpoints can take from two to three hours to process through. The best strategy is to find accommodations somewhere within the BIAP area of control on the day prior to your flight so that you aren't subjected to the long wait and end up missing your flight.

By train

Nightly train services are available from Basra, arriving early morning. Prices range between IQD 10,000 for a couchette to IQD 25,000 for first-class. Irregular services from Karbala, mostly on weekends, are available too. Additionally, trains runs twice per day from Fallujah. Due to the ongoing conflict cancellations are common.




By car

Overland travel is possible from all neighbouring countries, but is strongly discouraged due to violence.


By bus


Multiple daily buses arrive from most major Iraqi cities. The Jordanian state bus company, JETT offers two weekly bus departures from Amman, leaving at 07:00. A one-way journey costs 42.50 Jordanian dinars. Long-distance bus services from Istanbul and Ankara restarted in the summer of 2018, with two departures per week. However journey time is a gruelling 30 hours or more. Most long-distance buses arrive at the sprawling (گراج العلاوي), next to the central station. Buses leave and arrive from stands both north and south of the Allawi skyway.

Get around

Traveling around Baghdad is dangerous due to almost daily bombings and shootings. Those that can afford it use helicopter or armored cars. The International Zone around government buildings and the embassy area is safer and it is possible to walk or use a bicycle, even here however it is always important to be vigilant.
Baghdad is served by an extensive bus network, maps of the network is however not available in English. A commuter service connects the city with the southern suburb of Doura. Taxis are also plentiful and quite cheap to use.

See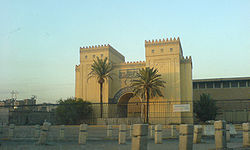 Al-Faw PalaceAlso known as the Water Palace for its site beside the Tigris River. Used as a military base for US troops

Baghdad ZooThe largest zoo in the country, opened in 1971. It was destroyed in the 2003 war but has quickly recovered. There are, however, few larger mammals to see.

Baghdadi MuseumHistory and folklore museum depicting life in Baghdad.

Swords of QādisīyahA huge pair of triumphal arches celebrating the alleged victory over Iran. Also known as the Hands of Victory. It marks the entrances to a former parade ground.

Monument to the Unknown SoldierInspired by the glorification of a martyr from the Iran–Iraq War. The monument represents a traditional shield (dira¹a) dropping from the dying grasp of an Iraqi warrior. The monument used to house a museum which is now mostly empty. Ask the Iraqi soldiers who guard the monument for permission.

Al-Shaheed MonumentAnother monument dedicated to the Iraqi soldiers who died in the Iran-Iraq war. The monument consists of a circular platform 190 metres in diameter in the centre of an artificial lake. A museum, library, cafeteria, lecture hall, and exhibition gallery are on two levels underneath the domes.

National Museum of IraqCovering the history of Mesopotamian culture, this museum housed a huge collection before the Iraq War. Today, many pieces have been looted and the museum is open only on special occasions.

Umm al-Qura MosqueA mosque built to commemorate the "victory" in the 1991 Gulf War, the minarets are shaped like barrels of guns and SCUD missiles.

Al-Kadhimiya MosqueOne of the most important Shi'ite religious sites in Iraq. It was finished in 1515 and the 7th Musa ibn Jafar al-Kathim and the 9th Imams Mohammed Al-Jawad were buried there.

One of the oldest buildings is the 12th century or 13th century Abbasid Palace. The palace is part of the central historical area of the city
Work
There are several ways to work in Iraq as a foreigner. For US citizens the most obvious is the
US Army
which still maintains personnel here. Next are the government contractors, such as the construction company
KBR
. Many contractors hire personnel with prior military experience to return to Iraq. Persons with military experience or who are fluent in Arabic are especially sought after. Lastly, there are civilian government agencies in Iraq.
USAID
and the
US Department of State
send their own personnel as well as contractors to Iraq.
The agencies above are all relevant for US citizens. Citizens of other countries with a presence in Iraq can apply for work through the respective agencies in their home country.
Buy
Rugs and DVDs are available to buy. Inspect the quality of rugs carefully: Some are cheap Chinese-made rugs, and many are extremely overpriced. Also, many DVDs, especially those from street vendors, are bootlegs of varying quality.

Eat
Restaurants and cafés are notorious targets for suicide bombers, making eating out a quite dangerous activity. However, safety is much better among the restaurants inside the
Green Zone
. The zone is also
the
place for finding American fast-food in the Middle East including Burger King, McDonald's, and Subway.
Budget
Bob Hope Burger Bar

phone: +964 7903852457

One of the few American-style restaurants outside the Green Zone.
Mid-range
Marsa Al-Zawariq

phone: +964 5373228

A place famous for its kebab grills.
Splurge
Drink
Many international organisations have their own bars, and some are open to all. While bars outside hotels are scarce, tea houses and cafés are plentiful.
Shah Bender Café

address: Mutanabbi St

The oldest operating tea house in Baghdad, a hub to discuss matters of the day over a cup of tea.
Sleep
Most organizations arrange their own accommodation inside the Green Zone. Sleeping in hotels in the proper city is always a risk due to bombings.
Budget
Mid-range
Baghdad International Airport HotelA standard business hotel, but with quite a hefty price. On secure grounds at the airport and often used by people visiting on business.

phone: +964 780 926 2844

address: Abu Nawas Street
Splurge
phone: +964 7 505 223 333

address: Karrada Street

phone: +964 7 8144 00000

An upstart hotel that has quickly become one of the most popular higher-end hotels in Baghdad.

phone: +964 770 6770711

address: Saadoun St

A hotel in central Baghdad.

Masbah Plaza Hotel

phone: +964 7193865

Luxury hotel, restaurant on site. Free Wi-Fi.
Stay safe
See also War zone safety
The easiest way to stay safe in Baghdad is not to go there in the first place, except for official reasons. Movement within Baghdad is difficult and entry into the International Zone, aka Green Zone, requires a pass or that you be accompanied by authorized officials. Iraq is a war zone and even if you're from a country which is part of the coalition, you will not be granted entry into the IZ without authorization. Most expats and business travellers to Iraq hire a security detail which constantly monitors the security situation within Iraq and around Baghdad. Travel outside the IZ is extremely dangerous. Roadside and car bombs are detonated every day in Baghdad. Many Iraqis are armed. Markets and popular gathering places are frequent targets of bombers. As a foreigner you are more likely to be targeted for kidnapping. Kidnappings are often financially motivated. These threats are not restricted to Americans or women. You are also likely to be refused access to accommodation as Iraqis will fear being targeted for supporting the occupying forces.
Cope
Embassies
phone: +964 780 923 7565

address: Haifa Street, next to Ibn Sina Hospital, International Zone, Baghdad, Iraq

phone: +964 782 783 5084

address: British Embassy Compound, International Zone

Greece

phone: +9641 778 2273, +964 790 364 2046 (Emergencies)

address: Hay Babil, AL-Jadriyah Sector 913, Rd. 31/ Built 63

Serbia

phone: +964 1 778-78-87

address: Jadriya Babil District Mahala 923, ZUKAK 35, Bldg 16

phone: +44 1908 516666

address: International Zone

address: Al-Kindi St, International Zone
Go next