Bahawalpur
Bahawalpur
(Bhawalpur, Bhawulpore; Punjabi, Urdu: بہاولپور‎) is a city in
Punjab
,
Pakistan
. It is the capital of the district of the same name and anchors the 13th most populous metropolitan area in Pakistan.
Get in
By plane
Bahawalpur is one of the safest cities in Punjab. It has its own airport which connect all major cities in Pakistan. PIA operate in Bahawalpur to Lahore, Karachi, and Islamabad. A new airport is also built near the old airport and it is expected that international flights will operate at the new airport.


By train
Bahawalpur is connected with all major cities of Pakistan by train.

By car
From Lahore you can travel on KLP road.

By bus

Bus services are available throughout Pakistan. Bahawalpur has a very beautiful Daewoo Bus Terminal. You can catch a daewoo bus, from any big city like Karachi, Rawalpindi or Lahore and come to Bahawalpur directly.
Renting a car with driver (for about 30$ per day) is the best way to move around though you can use local transport as well. But to see things around Bahawalpur you will need a car.

See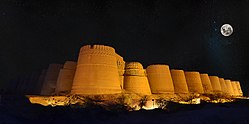 Central Library of BahawalpurThis library was built in 1927. The building has a beautiful architecture.it has 105,000 books. It is the 2nd biggest public library of the province.

Lal SuhanraThe trip to Lal Suhanra National Park is interesting for naturalists. The park was developed in 1972, is the home of many animals and birds, including the rare chinkara gazelle and plentiful wild boar.
There is a project here for re-introducing black buck into their former desert habitat; you can see about 30 of them in the fenced enclosure just inside the forest plantation. In winter there are abundant duck on the lake.
Lal Suhanra is 36 km (22 miles) north-east of Bahawalpur; leave the town by the khairpur road and fork right after about 30 km (20 miles) on a dirt track to join the desert feeder canal. You hire a guide to entrance to the park . There is a rest house which you can book through the Park Office, 3-A Trust colony, Bahawalpur or you can camp.

Mai Jindaan Da MazaarThe Tomb of Mai Jindan is one of the most famous landmarks of Pakistan.

Nur MahalNur Mahal is a very beautiful palace (mahal) built by Nawab Sadiq, the former ruler of Bahawalpur.
The Replica of Fort DarawarThis is a beautiful replica of Fort Darawar, a private property of a local resident of Bahawalpur. It has a very beautiful surrounding with a small lake with fish. A must see.

Bahawalpur Zoo
Do
Bahawalpur Golf course
Derawar Fort is an important place for tourist, it's a beautiful desert tourist place for safari. Recently start the off-road Cholistan Desert Jeep Rally or also known as "TDCP Cholistan Jeep Rally" The rally initiates near the Derawar Fort in Ahmadpur East Tehsil
Buy
You can buy local tie/dye clothes (Chunri) from the local markets. Silver jewelry is also very pretty. Handmade close sandals (with embroidery) called khussas are also available at affordable prices (about $5 for a pair). To shop for clothes you can visit Outfitters, Crossroads, Riverstone and Boom Fashion.

Eat
4 Seasons

address: Muhammad Bin Qasim Rd

Sister of Multan's Zanzibar restaurant. Plush modern decor and an ambitious menu covering steaks, pizza, pasta, Chinese and other cuisines, this is the most Western place in town. Food is acceptable and the service good - although not much English is spoken.

Almaida fried chicken

address: Welcome chowk near railway road

Newly opened fast food club having great textures and harmony of fried chicken and pizza.

Al Maida

address: Fawara Chowk Bahawalfur Near Noor Mahal Rd, Bahawalpur, Pakistan

Desert grill

Green chilli

LataskaProbably the second most popular place to eat in city.Its famous for Chinese and Italian food.

Norays

Pizza hutMost famous place for pizza.

Subway

Shahjahan Grill Restaurant

phone: +92 62-2501261-2

address: Opp.QMC Circular Road, Bahawalpur

Authentic imperial cuisine.

Zanzibar Food Club

phone: +92 62-2501260
Specialties
Sohn Halwa
: Sohn Halwa is the most special sweet dish of Bahawalpur. You can buy most delicious and fantastic Sohn Halwa mixed with dry fruits and nuts from certain old halwa maker shops.
Drink
Victoria Lounge

phone: +92 62-2501263

address: Opposite, QMC, Circular Road, Bahawalpur

Tea, Coffee hot & cold, snacks, cakes etc at your choice.
Sleep
Hotel one - This 2 star hotel near airport is probably the best hotel in bahawalpur.

Luxury Hotel

address: Fawara Chowk

Basic hotel on a noisy junction - rooms have a/c and en suite. OK for a nights sleep but not somewhere to linger
New Bahawalpur Hotel, Inside Ahmad Puri Gate, Shahzadi Chowk. Single room 350rs 062-2876191

Pak ContinentalAging hotel near the centre of town. Rooms OK but a/c doesn't work when the hotel is running on its generator. Ask for a room away from the street.

PTDC hotelProbably the best place to stay in the city - but only because the alternatives are so poor. Now showing its age the PTDC is in a quiet cul-de-sac near the museum and library.
Stay safe
Follow a conservative dress code and try to dress as locals. It is better to have someone from the city as a guide.
In the case of an emergency, call police by 15 from any landline phone.
Ambulance Access To get an ambulance in case of an emergency, dial 115 from any landline or cellphone.
If you found yourself in serious trouble and need any type of emergency rescue or help then feel free to dial
1122
. The name of the emergency service is "Rescue 1122".
Go next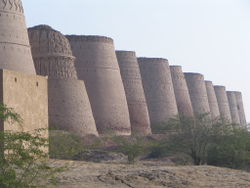 Cholistan Desert of Bahawalpur - You can make an interesting excursions from Bahawalpur, a half day trip (no four-wheel drive vehicle required) to Derawar Fort (Qila Derawar), through the semi-desert of Cholistan.
Best to take a guide for Derawar fort - although with a GPS and a pre-planned route you could self drive. You also need permission from the present Amir of Bahawalpur to get inside the fort. The drive takes two hours on a sealed road through fascinating barren landscape. The Cholistan Desert covers 26,000 sq km (10,000 sq miles) and extends into the Thar desert to India. The whole area was once well watered by the river Ghaggar, now called the Hakara in Pakistan, and known in vedic times as the Sarasvati. All along the 500 km (300 miles) of the dried-up river are over 400 archaeological sites. Most of these date from the Indus civilisation, 45,00 years ago, and are clustered round Derawar Fort, the only perennial water hole in the desert.
There is very little to make out today. The desert has an average rainfall of 12 cm (5 inches) a year, and there is very little civilisation. The underground water is brackish. The few people of the desert dig artificial wells in the troughs between the sand hills and use camels to draw the water up.
Fort Darawar- Derawar Fort (Qila Derawar) is in good condition, its walls are intact and still guarded by soldiers in fezes. Its age is unknown. The tombs of the Amirs of Bahawalpur are also at Derawar, decorated with attractive blue glazed tiles contrasting with the ochre landscape. Some of the cannons which were used times ago by the Army of Bahawalpur are also kept in this fort.