Bahia
Bahia
is a state in
Brazil
's
Northeast
region.
Regions
Cities
- the state's capital
– if your destination is Abrolhos, then you will start here...
Other destinations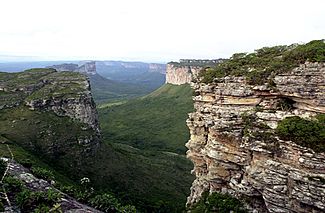 — archipelago off the coast of Bahia
— fantastic green filled canyons and mountains, and a waterfall so high that it doesn't hit the ground.
Understand
When the Portuguese first arrived in Brazil (April 22nd 1500) they landed on the soil today known as Bahia. In Portuguese, the word "bay" is translated "baia". Salvador, Bahia's capital, was founded by Portuguese explorers in 1549. The city lays on a peninsula located in between "All Saints Bay" and the Atlantic Ocean. Every time people talked about Salvador, they referred to it as, "the province with the bay in it". Later on, the province would be officially named "The Province of Bahia" (the province of the bay). The spelling of the word "bay" (baia) was changed in order to make the province's name unique. Salvador-Bahia became Brazil's first capital back when the country was one of Portugal's colonies, and remained like that for 214 years (until it was transferred to Rio, and finally to Brasilia).

Talk
Bahians, like all Brazilians, speak Portuguese. The accent, however, is different from that of other regions of the country.
Today due to tourism expansion there are some people who speak English in touristic areas and hotels, but since it is not widely spoken, if you do not speak Portuguese you would be wise to bring a small travel dictionary.

Get in
International Airports in Bahia:
Salvador (SSA

), connecting flights to Lisbon, Frankfurt, Miami, Buenos Aires and Madrid.

Porto Seguro, connecting flights to Lisbon and Buenos Aires.
Domestic Airports with Scheduled Flights in Bahia:
Ilheus (IOS), with nonstop flights to Salvador, São Paulo, Campinas, Belo Horizonte, Rio de Janeiro, Porto Seguro and Vitoria.
Vitoria da Conquista (VDC), with nonstop flights to Salvador, São Paulo and Belo Horizonte.
Barreiras (BRA), with nonstop flights to Salvador and Brasilia.
Ilha de Comandatuba (UNA), with nonstop flights to Salvador and São Paulo.
Paulo Afonso (PAV), with nonstop flights to Maceio.
Guanambi (GNM), with nonstop flights to Salvador and Bom Jesus da Lapa
Lencois (LEC), with nonstop flights to Salvador
Bom Jesus da Lapa (LAZ), with nonstop flights to Salvador and Guanambi.
Get around
By bus
Coach services are comfortable and cheap. Very useful to get around the state. It is sometimes ill-advised to travel at night. Highway robberies are possible. Inquire before travel.
By plane
From Salvador airport there are connections throughout the state
See
Discovery Coast Atlantic Forest Reserves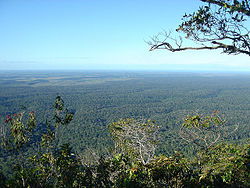 The Discovery Coast Atlantic Forest Reserves, a UNESCO World Heritage site comprising 6 sites in Bahia (mostly around Porto Seguro)

Una Biological Reserve

PAU Brazil CEPLAC Experimental Station

Veracruz Station

Pau Brazil National Park

Discovery National Park

Monte Pascoal National Park
Two more are in the southern neighboring state
Espírito Santo
.
Itineraries
The Bay of All Saints, beautiful seen from Salvador, can also be seen from a tourist boat that makes a trip through the bay, passing several Islands. The largest island is Itaparica. It can be reached in about 1 hour by ferry from Salvador. The smaller passenger-ferry departs from near the Mercado Modelo to, while the larger car-ferry goes from about 2km North of here to Bom Despacho
On the Coconut coast the sea turtle preservation project at Praia do Forte is a very impressive sight.
In October, whales can be seen alongside the whole coast, but the marine reserve on the Whale Coast is the pinnacle.
In the Chapada Diamantina, the Fumaça waterfall and the caves are very impressive
Do
Trekking through the Chapada Diamantina. With a guide, stay with locals while hiking through the park for several days.
Eat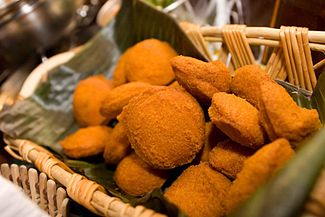 Acarajé - A ball of bean dough fried in dendê oil and filled with a spicy mixture
Moqueca - A fish stew, based in coconut milk, onions, tomatoes, peppers, and dendê oil.
Vatapá
Caruru
Xinxim de galinha
Bobó de camarão
Restaurants
Kimoqueca is a restaurant chain serving moqueca throughout the state
Carangueijo de Sergipe is a chain serving mostly seafood dishes. Present all over Bahia.
Stay safe
It is ill-advised to travel at night through the state, by car or bus: highway robberies are all too common.
Roads can be very bad outside the capital city
Go next