Baie-Comeau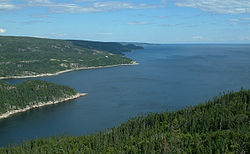 Baie Comeau
is a city that is approximately 420 km (260 mi) north-east of
Quebec City
in the Côte-Nord region of the province of
Quebec
,
Canada
. It is on the shores of the Saint Lawrence River near the mouth of the Manicouagan River, and is the seat of Manicouagan Regional County Municipality. There are two urban area population centres within the city limits: Baie-Comeau proper, with a population of 9,917, and Hauterive, with a population of 11,844, as of the Canada 2011 Census. The total population is 22,113.
Understand
History
Baie-Comeau proper (the eastern part of the current town) was founded in 1936 when a paper mill was constructed by Colonel Robert R. McCormick, publisher of the Chicago Tribune. Experiencing remarkable growth, the Town of Baie-Comeau was incorporated the following year. The area continued to see economic development with the establishment of the hydro-electric power stations on the Manicouagan and Outardes Rivers beginning with the Chutes-aux-Outardes Station in 1952, an aluminum smelter in 1958, and grain warehouses (the largest in Canada) in 1959.

Climate

In July, the average daily high is near 21°C (70°F) but at night it cools down to a temperature near 10°C (50°F).
In January, the average daily high is about -9°C (16°F) but at night it cools down to a temperature near -20°C (-4°F).
No matter when in the year you go, you should always bring a jacket. Temperatures can deviate significantly from the average, so be prepared.

Get in
By car
Baie-Comeau is five to six hours beyond Québec City on Québec Route 138. As there is no railway, the main option is to come by car.
From
Quebec City
, take Autoroute 440-E until it becomes Quebec Route 138. Drive about 400 km until you arrive in Baie Comeau. Visitors from
Montréal
or points westward on the
Trans-Canada Highway
will arrive in Québec City on Autoroute 40 (as the last bridge on the St. Lawrence is west of the city), then follow the north shore from there.
From
Chicoutimi-Jonquière
and
Lac-Saint-Jean
go to Chicoutimi Nord, where Québec Route 172 follows the north shore of the Saguenay river to
Tadoussac
. From there, Québec Route 138 leads 200 km downriver to Baie-Comeau.
From
Atlantic Canada
, take the
Trans-Canada Highway
westward to
Rivière-du-Loup
, then cross the St. Lawrence River by ferry to reach Route 138 on the north shore. (From
New Brunswick
's
Acadian Coast
, an alternative route is to enter at
Campbellton
-Pointe à la Croix, take QC132 through
Amqui
to
Rimouski
or
Matane
, then cross the St. Lawrence by ferry.)
By plane
Baie-Comeau AirportDomestic flights
By bus
Intercar. Buses leave from Montreal at around 6AM and from Quebec City at around 9:15AM and arrive around 4:45PM.
By boat
From
Matane
, take the ferry directly to Baie-Comeau.
Other points at which one can cross the St. Lawrence by ferry include Rimouski—Forestville, Trois-Pistoles—Les Escoumins, Rivière-du-Loup—Saint-Siméon and Lévis—Québec City.
Get around
It's best to have a car to drive around since the two parts of Baie Comeau are separate. Walking may be reasonable depending on the distance and season.
Budget Location De Vehicules

phone: +1 418-294-4404

address: 799, boul Laflèche

Hire car rental.
See and do
Atelier Carole Caron

address: 1181 rue de Dieppe, G5C 3G4

Carole Caron paints on fabric with acrylic resin. Her works mostly feature colourful and lively scenes of children.

Centre Boreal du St-Laurent

address: 3, avenue Denonville, G4Z 2W6

This forest learning centre allows visitors to discover the effects glaciers had on the Cote Nord region and its landscapes. Other attractions and activities include a natural park, observation sites, hiking trails and more.

Centre des arts de Baie-Comeau

address: 1660, rue de Bretagne

Shows and concerts.

address: 13, place La Salle

Exhibition of art and antiques.

Maison de la Faune

address: 3501, boulevard Lafleche, G5C 3W7

Visitors will discover and learn about the fauna or wildlife of the Cote-Nord region. Children under the age of seven get in free. Hiking trails and a boutique are also available.

Le Theatre de Baie-Comeau

address: 1660, rue de Bretagne, G5C 3S3

Constructed in 1992, the theatre can accommodate 850 guests and showcases a variety of plays and shows during the year. Ticket packages are available.

The Whale RouteCôte-Nord – Manicouagan and Côte-Nord – Duplessis border the St. Lawrence for 1250 km (775 miles), from Tadoussac to Blanc-Sablon. The coastline of these regions has been designated the Whale Route, because 13 different species, including the blue whale, can be found in the waters of the Estuary and Gulf of St. Lawrence.
Buy
Centre Manicouagan

address: 600, boul. Laflèche G5C 2X8

There are over 50 stores and boutiques at this shopping mall in Baie-Comeau. A renovated food-fair offers a non-smoking environment. Open daily.

Galeries Baie-Comeau inc.

address: 300, boulevard La Salle

Shopping mall, several shops.
Eat
L'Aquarium Sushi Bar

phone: +1 418 589-5887 (West), +1 418 296-2887 (East)

address: (West) 861, boulevard Lafleche, (East) 38 Place LaSalle G5C 1C7

Casual dining and an impressive selection of fresh sushi rolls, combination platters and signature dishes are served up at this restaurant, which offers locations in the eastern and western sectors of the city.

address: 1257, boul. Laflèche

There are a variety of authentic Greek specialties at this restaurant. The menu features moussaka, spanakopita, tzatziki and more Greek foods.

Restaurant Bar Terrasse Les Trois Barils

address: 200, boulevard Lasalle G4Z 1S7

This restaurant has a varied menu consisting of Canadian, Italian and regional specialties. Steak and seafood dishes also popular. Dining accommodations for up to 175 guests including a terrace.

Restaurant Dixie Lee Poulet Frit

phone: +1 418 589-3376

address: 1150, boulevard Laflèche G5C 3B2

This restaurant serves flavourful fried chicken.

Restaurant La Cache d'Amelie

address: 37, avenue Marquette, G4Z 1K4

Guests can enjoy a fine-dining experience and sample regional dishes. The restaurant is licensed and includes a non-smoking section.

Restaurant Les Pates

address: 836, rue de Puyjalon. G5C 1N1

Enjoy pizza and fresh stuffed pastas from this restaurant. Delivery is available.

Restaurant Nori

address: 905, rue Bosse, G5C 1L8

The restaurant features an Asian menu of fine-cuisine including seafood specialties. The location is licensed and provides non-smoking sections for its patrons.

address: 2674, boulevard Laflèche (Route 138) G5C 1E4

Menu includes several types of pizza as well as other dishes such as pasta, salads, sandwiches and Chinese food. The restaurant is also licensed and is open late on weekends.
Sleep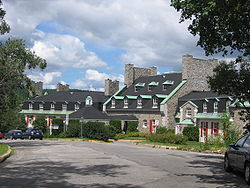 Hotels
Hotel and motels
address: 1145, Avenue Nouvel

Meeting rooms are supplied with audio and visual equipment.

address: 202, blvd. LaSalle

Only hotel on the north shore with an indoor swimming pool (open July and August). Outdoor terrace and sauna adjacent to the pool.
Motels
Motel Amigo

address: 221 boulevard Lasalle

The motel includes 20 rooms with both smoking and non-smoking units available. All rooms include a bathroom, television and telephone. Free outdoor parking is provided.

Motel du Nord

address: 120 boulevard Comeau

Accommodations include 14 air-conditioned rooms, each complete with private bathroom, telephone and television.

Motel du Rosier Baie Comeau

address: 228 boulevard Lasalle

All rooms include amenities such as a hair dryer, clock radio and free coffee. Select suites provide additional features including Internet access and whirlpools.
Connect
There is no GSM mobile coverage in Baie-Comeau. Bell/Telus users will get 3G (UMTS) coverage in town, but no signal in highway or rural areas.

Go next
The main road (Route 138) goes west to
Montréal
, but heading east the road abruptly ends at Kegashka, one town east of Natashquan.
Quebec Route 389
, which is gravel for long stretches, heads northward toward
Fermont
and then
Labrador City
; from there the
Trans-Labrador Highway
provides a long but overland means to reach
Blanc Sablon-Forteau
. Another option is to take a coastal ferry which heads eastward from Sept-Îles through the 450km of sparsely-populated fjords and no roads.
Anticosti
Island is reachable by ferry or aircraft from Sept-Îles and
Havre-Saint-Pierre
.
Air Liaisonhas two 30-min flights from Baie-Comeau to Anticosti Island each Mon, Tues, Thurs and Fri at 8:35AM and 9:15AM. The 30-min return flight leaves at 11:35 AM and 4:40PM on the same days
Saguenay
is reachable by road from Tadoussac.
It is also possible to cross the St. Lawrence River by ferry to
Matane
, a point of entry to the
Gaspé Peninsula
.