Baker (California)
Baker
is a tiny town located along I-15 in the
desert
of the state of
California
. The town is usually a rest stop for those traveling to
Las Vegas
,
Death Valley National Park
, or the
Mojave National Preserve
.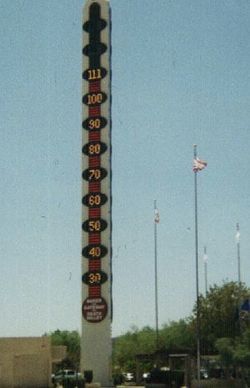 Understand
Climate
Get in
By car
Most travellers get to Baker by car, from I-15 between
Barstow
and
Las Vegas
. From Baker, State Route 127 heads north to
Death Valley
.
By plane
Baker AirportSmall general aviation airport
By bus
Baker, Mojave National Preserve's only Amtrak stop, was served by Amtrak's bus service until the stop was discontinued in November 2010 due to low ridership. The bus can still be seen driving by on the freeway from the former bus stop, even though it no longer stops.
Get around

Baker Boulevard serves as the main road through town, connecting to I-15 at both ends.

See
The World's Tallest ThermometerRelax, it's not a giant tube filled with mercury, but a tower displaying a digital readout. The thermometer is 134 feet (40 m) tall, one foot for each degree of the North American record temperature of 134°F (57C). Easily viewed from the highway, a stop into town is not necessary.
Buy
As Baker is somewhat isolated in the middle of the Mojave Desert with little else for quite a distance in any direction, this tiny town is overrun with no less than seven gas stations. Fuel up here if you think there is the least chance you might run out of gas within the next 50 miles.
Country Store

phone: +1 760 733-4252

address: 72129 Baker Blvd

Many winning lottery tickets have been purchased at the convenience store; the town is the last major stop before the state line of Nevada on the way to Las Vegas (although there is a California Lottery Store on the California side near Primm, NV). They are also known for selling over 400 kinds of soda pop, many in glass bottles, as well as "retro" candy.

address: Baker Blvd.

The heavy advertising along the interstate makes this roadside shop hard to miss. Prices are high, but those looking for a quick beef jerky fix before heading off into the desert will find what they want.
Eat
Mad Greek

phone: +1 760 733-4354

address: 72112 Baker Blvd

Dozens of billboards along the highway make this restaurant impossible to ignore. Billing itself as "America's best gyros" the Mad Greek offers good (although probably not the best) gyros for about $8. The dozens of classic statues, tacky music, and over-decorated interior create an atmosphere that is worth checking out.

phone: +1 760 733-4316

address: 72415 Baker Blvd

Just like any other Denny's restaurant, but when you've got limited options and barren desert extending to the horizon in every direction, Moons Over My Hammy suddenly seems a bit more appealing.

Los Dos Toritos

phone: +1 760 733-4772

address: 72074 Baker Blvd.

A nondescript Mexican restaurant that is good for those seeking cheap tacos.
Sleep
Based on many on-line guest reviews of all of the motels listed here, Baker should not be your first choice when picking a place to sleep. However, if you must, here are the options.
Wills Fargo Motel

phone: +1 760 733-4477

address: 72252 Baker Blvd
Go next