Bako National Park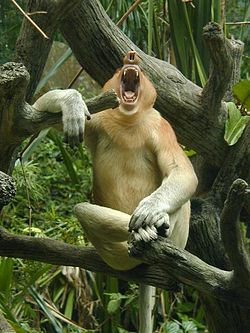 Bako National Park
is in
Sarawak
,
Malaysia
, and is home to the bizarre, obscene-nosed proboscis monkey. It is well worth a visit if you are in the area.
Understand
Bako offers outstanding diversity of natural landscapes in a relatively small area. Its beautifully dense rainforests and stunning beaches are home to many flora and fauna including the rare proboscis monkey. Try and spot them during low tide as they forage in the exposed Mangrove tree swamps. There are 16 color-coded jungle trails as well as lodges for overnight stays - which you have to book early. On the high ground, look out for pitcher plants. And beware of the monkeys, they are very clever and compulsive thieves! (Don't forget to spot the boar!)

History
Bako is the oldest national park in Sarawak, established in 1957.

Landscape
Bako consists of coastal cliffs and rolling hills, and boasts fine sandy beaches surrounded by jungle. Coastal erosion has produced interesting sea stacks and rock formations.

Flora and fauna
In particular, Bako is famous as a home to around 150 of the highly endangered proboscis monkey. Macaques are more fearless as well as more common, and thus much easier to spot. Another distinctive mammal indigenous to Borneo is the bearded boar. The common monitor lizard, growing up to 2 m long, is the largest of the park's many types of lizard; flying lizards may also sometimes be spotted
Wildlife is most active just before dusk, which means that an overnight stay may be needed to fully appreciate it.
Bako contains almost every type of vegetation to be found in Sarawak, including highly distinctive carnivourous plants. There are seven distinct types of ecosystem: beach vegetation, cliff vegetation, heath forest (kerangas), mangrove forest, mixed dipterocarp forest, grasslands vegetation (padang) and peat swamp forest

Climate
Bako enjoys sunny weather much of the year. Temperature is constant throughout the year, in the lowland range from a cool 23°C in the evening and early morning to 33°C under the shade during the day. But from late November to late January, the monsoon rain may spoil plans for an outing. The hottest months are usually from June to late August, when the tribal farmers do their slash-and-burn land clearing before planting their padi, this has been blamed for the haze that envelops the regions and may cause health hazards. But since the governments of both Malaysia and Indonesia have banned open burning, incidents of haze have been reduced somewhat.

Get in
The journey to Bako has two stages; the first stage can be made overland but the park itself is reached only by boat.
A bus ride from
Kuching
to Bako Bazar (Bako Market) takes about 45–60 minutes (red public bus number 1, originating from the wet market, at the burger stand across the street of riverside majestic) and costs RM5 per person each way for foreigners. Buses leave from Bako about once every hour starting from about 7AM from Kuching and finishing about 6PM from Bako, but the schedule is not firm. There is a daily schedule at the bus station 1 in Kuching (next to the open market, near the main mosque) in the morning. Or alternatively a copy can be obtained from the Tourist Office, which details bus company details.
The other travel option is by minivan, which departs from the same location as the bus throughout the day. Minivans depart when full, or when the waiting passengers offer the driver enough money. A minivan can be chartered for around RM30, and seats 5-7 people. They can reach Bako in half the time of the public bus. The minivan driver may try to mislead you, claiming that the last bus to Kuching will not show up. In such a case, politely ask him to wait until 5:30PM and see.
Hotels and tour operators also offer regular shuttle buses; as a pricier but more reliable alternative.
Boat
When you arrive at the Bako Market right in front of the jetty/visitor center, register, purchase your entrance ticket (RM20), and buy your boat ticket (RM94 round trip per boat, max. 5 passengers). The 20-minute ride on small motor launches is all part of the Bako experience as you pass through stunning scenery, but it isn't for the faint hearted (sit further back if you don't enjoy a bumpy ride). Depending on tides, you may either be deposited at a small jetty on the northern end of the headquarter's beach or on the beach opposite them (take your shoes off and prepare to wade).
Tell your boatman when you plan to return (or take his phone number to call him) and he'll wait for you at the dock. Note that the boatmen are a small, close-knit community and so other boatmen are likely to refuse to take your group if you are waiting for an agreed pickup, even if he is late.
Departure times might depend on the tides (boats do get stuck at low tide), and the weather, as the small speedboats are ill-suited to stormy conditions.
Fees and permits

As of June 2012, a new two-tier pricing system is in place. Foreigners have to pay doubled entrance fees, compared to Malay nationals.
Foreign Adult (single entry): RM20
Foreign Child/Senior (single entry): RM7

Get around
The interior of the park can only be traversed on foot. Staying on or close to the marked trails is strongly advised. Boardwalks and ladders are installed to help with some of the more difficult stretches.
Small boats similar to those that take you to and from the park wait on the beaches at busy times of day and can be chartered to take you to other beachside destinations. A boat pick-up can also be arranged to help ease the return journey from some of the park's longer trails that finish on beaches.
Pulau Lakei, some distance offshore, can only be reached by boat.

See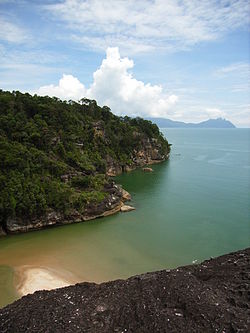 A wide range of animal, bird and plant life including the Proboscis monkeys which come to the mangrove swamp to feed early evening. It's close to the lodging area where covered sheds are built, go there around 4PM, take a book and wait till they come. Seeing Proboscis and other species here is a lot easier and more comfortable than going on a safari. You just walk along an elevated wooden pathway, perhaps 10 minutes from where the boats land.
You can also see the seastacks and a lots more.
Nighttime sightseeing hikes are sometimes led by park staff, and are also easier and more comfortable than ones done on a safari.
Pulau LakeiThis small island has a superb white sand beach. The National Parks Department has a small guard house located on the island. Trips to the island can be arranged with your boatman. There are some mysterious rock paintings just a short walk from the beach
Do
Walks radiate from the centre offering a variety of difficulties in the heat and humidity and provide access to the habitats of the wide range of animal, bird and plant life in the park. The hikes are over some pretty rugged terrain for the most part, with lots of exposed tree roots and vegetation sometimes blocking trails that are less frequented.
Paku trailhas the distinct advantage of being both relatively short and flat and offering one of the best opportunities to see the park's wildlife. It finishes at an attractive beach; one of the colonies of proboscis monkeys lives on the headland above

Tajor trailtakes the visitor through varied terrain, including hilltops with extensive views, before finishing at a small but attractive waterfall, with calm pools that are safe for swimming in

Limau trailContinuing onwards from the Tajor train, the park's longest and most arduous trek ends on a beach, though by the time you've scrambled down to it, it may be too late to enjoy; it's possible to arrange to be picked up by boat from the beach to save your weary legs further punishment; ask the boatmen at the jetty if they could pick you up at Limau beach because sometimes the sea is too rough for them to reach Limau; please inform the park staff about your intention to do the Limau/Kruin trail as there have been cases where trekkers get lost or couldn't continue due to exhaustion

Lintang trailA circular loop taking the trekker through all the park's types of vegetation in half a day. Nice sightseeing.
With a little negotiation, a boatman will take you to nearby Pulau Lakai, a small island just off the mainland. The views on the way here are spectacular and it's special to have an island to yourself for a day.
Kecil trailA one and a half hour trek which ascends the forested hills overlooking Telok Assam, reaching a plateau covered in scrub vegetation, and continues along a sandy path lined with carnivorous pitcher plants, before reaching a cliff top with stunning views of the secluded bay below and the famous sea stack just offshore. A 10 minute descent through cliff vegetation brings you to one of the best beaches in the park.
Eat

There is a local cafeteria that serves breakfast, lunch and dinner for RM5-10, cold can drinks for RM2.50, and 1.5 L water bottles for RM4.
There are no cooking facilities within the lodges.

Drink
Visitors to the park should ensure they carry large quantities of water with them; trekking in subtropical rainforest is thirsty work. If you're looking for nightlife you should probably arrange to be somewhere else in the evenings. The cafeteria has a variety of drinks including beer and soda.

Sleep
There are bungalows for rent at the park headquarters. A stay of a night or two is highly recommended to experience the full diversity of Bako, although accommodation can be stuffy and may have some mold growing on the ceilings, and expensive accommodation is entirely absent. The city of
Kuching
offers a much broader range of accommodation and the luxury of air-conditioning
Camping
There is a designated campsite behind the park headquarters; bring your own equipment. RM5 per person. Beware of the monkeys, though, as they have been known to rip into tents to take food and belongings.
Budget
Stay safe
Visitors are advised to stick to the marked trails, and visitors attempting the longer trails are required to register their arrival and itinerary at park headquarters. Read the estimated times the park suggests you allow for each trail and ensure that you allow enough time to return to park headquarters - or else arrange a meeting time at a selected beach with the boatman.
Virtually all of the trails are unsuitable for people suffering from limited mobility. Some parts of trails are negotiable only by wooden ladders and rickety bridges and boardwarks. Judging by the huge number of people passing through, these are better maintained than it might appear, but you'll still want to tread carefully
Saltwater crocodiles (Crocodylus porosus) may be found near river mouths and in mangrove swamps.

Go next
Kuching, the regional capital and transport hub, is the nearest town of interest.
Kubah National Park offers more hillside trekking options
The Santubong Peninsular offers more sandy beaches and coastal jungle, with a much classier choice of accommodation