Balbriggan
Balbriggan
(Irish:
Baile Brigín
) is a seaside town of about 20,000 residents at the north end of
County Dublin
, 32 km north of
Dublin
city centre. It was a small fishing village until 1780 then grew rapidly as a textile town, processing cotton and linen. When John Wayne hollered at someone to put their balbriggans on, he meant long-johns, traditionally made here; Queen Victoria and the Czarina of Russia also wore them.
The Siege of Balbriggan
In Sept 1920 during the Anglo-Irish war, two police officers were shot dead by the Irish Republican Army in Smyth's Pub here. In revenge, some 100-150 Black and Tans raided the town that night, destroying a factory, 49 houses and four pubs, and two townsmen were beaten to death. The centenary of this event falls on 21 Sept 2020.
Balbriggan nowadays is a commuter town for Dublin. It is a possible base for exploring the city, but even more for sights just across the county boundary to the north and west such as Newgrange. Or at least it would be if it had more accommodation: there's more in
Skerries
, an attractive little harbour 8 km south along the coast.
Get in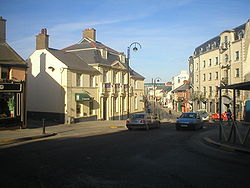 By train:
Commuter trains run to Balbriggan from Dublin Pearse and Connolly stations via Malahide and Skerries, taking 45 min, every 30-60 min. A few continue north to Drogheda and Dundalk, but trains to Newry and Belfast don't stop in Balbriggan, change at Drogheda. An adult single from Connolly is €6.20. is central, near the harbour.
By bus:
Bus Éireann 101
runs from Dublin Talbot Street every 20 min via Drumcondra, Dublin Airport, Swords, and Balrothery to Balbriggan (one hour), continuing to Drogheda. This bus is not available for journeys just between Dublin city, airport and Swords.
Dublin Bus 33
runs to Balbriggan from Dublin Lower Abbey Street roughly hourly, via Swords, Lusk, Rush and Skerries, taking 90 min.
Get around
The town is easily walkable, including Ardgillan Castle. Use Bus 33 or the commuter train to reach Skerries. You need your own wheels to reach Courtlough or the Séamus Ennis Arts Centre out in the countryside.

See
The Harbour is scenic. Across the bay is what no stretch of Leinster coastline can be without: a Martello tower.

Saints Peter & Paul ChurchThis RC church has two stained-glass windows by the Arts & Crafts exponent Harry Clarke: "The Widow's Son" left of the altar and "The Visitation" on the south wall.

Bremore CastleScrappy remains of a tower house built in the 14th century, but falling into ruin in the 17th. Supposedly under restoration, but it's just a sorry heap. You can park free here and walk to the beach.

Ardgillan Castle and DemesneThe house, built in 1738, is set in extensive park lands overlooking the Irish Sea with a view of the Mourne Mountains. Castle and/or garden tours, wheelchair friendly tea rooms, children's playground, cycle and walking paths. Guided tours of the castle are usually at 11:00, 13:00 and 15:00.

Skerries is an attractive small harbour 8 km south along the coast. There are restored wind- & watermills in a park just south of the village.
Rush another 8 km south is another small harbour with a good beach where you often see racehorses training. Kenure church is a ruin at the north edge of town, while all that's left of Kenure House is a cod-Hellenistic portico, looking like a derelict NatWest bank.
Lusk 4 km inland from Rush has a 10th-century round tower, incorporated into a Norman-style 15th-century church.
Brú Na Bóinne or Newgrange Archaeological Park, a Unesco World Heritage Site, is a remarkable collection of Neolithic chamber tombs 8 km west of Drogheda. By public transport travel via Drogheda. It's a 15-min drive with your own car but you must head for the visitor centre south of the River Boyne (M1 exit 9). From there shuttle buses take visitors to the tombs on the north bank - these have no direct access, so don't follow directions to Newgrange Farm.
Do
Boat trips: Skerries Sea Tours run trips from Skerries to Lambay Island, the Skerries islands, and Rockabill Lighthouse. The boat is an 11-m RIB, covered but bouncy. Book on 086 304 3847.

address: Blackhall

Parkland 18-hole course amidst mature trees and water hazards, in great condition.

address: Courtlough

Multi-activity centre for all ages, with high ropes, off-road buggies, paintball and zip lines. The Shooting Grounds have clay pigeon, rifle and archery. Advance booking essential.

address: Naul

A non-profit cultural centre dedicated to Séamus Ennis (1919-1982), the uilleann piper, folklore and music collector. Regular concerts and music classes, and excellent food.
Angling: Gormanstown and District Anglers Club has fishing on Wavin Lake and the Delvin River. Day-tickets available to non-members, but only if accompanied by a club member.
Eat
Balbriggan has a huge amount of food outlets/ eating establishments relative to its population. Daytime sit-down no-frills eating includes The Coffee Pot (breakfast a speciality), Milestone (quality pub meals), O'Briens, and Molly's plus the usual chains and takeaways.
Bracken Grill & Carvery is within the Bracken Court Hotel, see "Sleep".

address: 10 Railway St

Café by day, good vegan selection, wine and tapas bar by night. Live music Friday and Saturday nights.
Han Lin Palace on Bridge St is open daily 17:00-00:00.

phone: +353 1 968-0808

address: 12 Mill St

Thai cuisine. Emphasis on good food, with no additives.

address: Linen Court, George's Hill

Italian (and Irish) cuisine. Lots of similar places along main road but this one gets the vote for food and service.

Pappagallino's Ice Cream

address: 14 Quay Street

Decent Italian ice cream, maybe not as good as the previous Morelli's.

Moti Mahal

address: Linen Court, George's Hill

Indian cuisine.
Drink
All of the drinking establishments in Balbriggan are well-run, being both individual and family friendly.
Fannings

address: Bridge Street

Photographs on walls depict history of Balbriggan. Spacious billiard (snooker/pool) area.
The Harvest on Drogheda St has a bar and grill open daily 16:00-02:00.
Lusk vineyard produces red wine, but only in small amounts so you'll only find it in their farm shop or online.
Sleep
phone: +353 1 841 3333

address: Bridge St

A bit old-fashioned, could do with a spruce, but clean and near beach and town centre. With Bracken Grill restaurant and Sunday carvery.

phone: +353 1 849 1528

address: Margaretstown, Skerries

Welcoming B&B just south of Ardgillan Castle.
Skerries has caravan parks at North Beach and at Hilly Skilly, plus B&B at The White Cottages, Jantol House and Redbank House.
Connect
Decent mobile signal, and town centre is a free WiFi zone.

Go next