Balestrand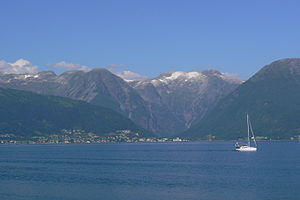 Balestrand
is a small charming village on the edge of the
Sognefjord
in
Sogn og Fjordane
.
Understand
Balestrand has long history as a tourist resort. This little village was one of the favorites of Kaiser Wilhelm II of Germany. For more than 20 years the Kaiser on his «Hohenzollern» and a flotilla of naval ships, including several hundred staffs and troops, "invaded" Sognefjord. Days after the fatal shots in Saravjevo 1914, the Kaiser again headed for vacation in Norway. On July 25th 1914 the Kaiser left Balestrand, war broke out July 28th and he never returned.

Get in
By plane
The closest airport is either
Sogndal
(
SOG
) or Førde (FDE). The closest international airport is Bergen (BGO).

By bus
There are express buses three times a day from Oslo. There are local buses five times a day from Førde, and five times a day from Sogndal.

By boat
Express boat two times a day from Bergen, in the summer. Only once daily during winter, 1 Sep-30Apr. Once daily from Flåm, 1May-30Sep. Twice daily from Flåm, 21Jun-17Aug. These routes are operated by Fjord1. The ferry terminus is in located in the centre of Balestrand, less than ten minutes from any of the hotels.

By car
There are two roads into Balestrand:
Route 55 from Sogndal and across the Sognefjell mountain area between Luster and Lom. It is the highest mountain pass in Northern Europe (highest point 1430 meters), and it has been awarded the status of National Tourist Route because of the spectacular and wild mountain scenery it passes through. From the west route 55 connects to E39 at Vadheim.
Route 13:
From the south connections to Hardanger and Bergen through Voss and Vikafjell pass (ferry from Vangsnes)
From the north connections E39 through Gaularfjell mountain pass which is also a national tourist route.
Get around

Balestrand is small so it takes no longer than 15-20 minutes to walk from one side to another.

See
St Olavs Church

phone: +47 57 69 16 17

Anglican church built in 1897 with Norwegian stave churches as a model.

phone: +47 57 69 13 03

A small aquarium with examples of sealife found in the fjord. There are no English descriptions in the exhibit but they do have an English brochure at the front desk.

Kvamsøy church

address: Kvamsøy island

Medieval church built in the 13th century. An appointment is needed to visit the church.

phone: +47 915 62 842

Art gallery.

phone: +47 57 69 14 19

address: Dragsvik

An appointment is needed to visit the workshop.
Do
There is a nature trail up the hill from Balestrand and numerous other marked hikes go through the woods and along ridges up to the tops of mountains with plenty of great views of the fjord. Some can be turned into very long circular routes (about 8 hours). Maps and more information for these can be obtained from the tourist information office or your hotel reception.
There are some trips on small boats out into the fjord as well as the regular large daily ferries to Fjærland Glacier and Vik stave church.
Cars can be rented from Kviknes hotel in Balestrand or from one of the larger towns nearby. One of the National tourist routes of Norway runs from Balestrand along some smaller fjords and up into the Gaularfjell mountains a truly beautiful road and landscape. Bicycles can also be rented from Balestrand tourist information.

BalejazzJazz festival.
Buy
For groceries, there are Coop and Joker shops both less than 5 minutes walking distance from the ferry terminal.

Eat
Most people eat in their hotels, which have excellent restaurants or meals included.

Sleep
phone: +47 57 69 42 00

address: Kviknevegen 8

A beautiful Swiss chalet-style hotel located right near the boat terminus. Over the years, a number of celebrities have stayed there. Excellent views of the fjord and mountains. Breakfast and dinner usually included.

phone: +47 57 69 42 40

address: Kong Beles veg 33

Guesthouse with friendly staff and excellent views of the fjord from the breakfast room. They don't take cards, so be sure you have enough cash.

phone: +47 57 69 13 03

address: Lærargata 9

phone: +47 57 69 11 38

address: Kong Beles veg 41

Open 12 May–07 Sep 2014.

phone: +47 950 67 261

address: Sjøtunsvegen 1

phone: +47 57 69 16 12

address: Dragsvik 15

Esefjorden Camping

phone: +47 48 26 28 78
Go next
Route 13 towards Førde via Gaularfjellet mountain pass, national tourist route.
Route 55 to Sogndal is a scenic drive along the fjord.