Bali District
Bali
is a district in
New Taipei
,
Taiwan
. This is the newest tourist place in Taipei.
Get in
By bus
One easy way to get to Bali is via bus. From MRT Guandu station, take bus R13 or R22 (For Bali Ferry Pier and Formosa Fun Coast only), the bus ride takes about 20~30 minutes.
By boat
This is very popular among local people. The ferry comes from
Tamsui
, on the other side of the Danshui river, and arrives at Bali's Ferry Pier, as well as several piers along Bali Left Bank Park. Note that on weekends and holidays, you may have to wait for as more as an hour before being able to get aboard, while the ride only lasts for a few minutes.
CSF
operates fast feries (about 3 hours) from
Pingtan
in mainland China to Bali District and back. As of February 2019, it runs on Tuesdays, Wednesdays, Fridays, and Saturdays (
full schedule
). Adult fares for non-Taiwan citizens start at NT$3,000 one-way, $5,300 round-trip if purchased in advance (
fare table
), a couple hundred more if purchased at the pier (
fare table
). Fares are cheaper for Taiwan/ROC citizens (
advance
/
pier
.
Bali Ferry PierThis is the main ferry pier of Bali, located on one end of Bali Left Bank Park. The place is always filled with local people on weekends, and there are many shops selling snacks or so.
Get around
By bicycle
The best method to move in Bali is renting a bicycle. There are several places to get one near the pier where boats from Danshui arrive, and rental is inexpensive. Many of local attractions are located within a couple of kilometers from the boat pier and bike makes them all quickly accessible.

By foot
A walking trail is built along Danshui river. It is possible to walk to most attractions in Bali area while enjoying the view of waterfront. But of course it takes some time and energy.

See
Parks & nature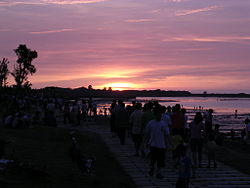 Bali Left Bank ParkThe newest waterfront park in the left bank of Danshui River. This park, along with the bicycle path pass through it, is now the land mark of Bali and offers great view of Danshui river.

Watziwei Nature Conservation AreaA small mangrove forest located on one end of Bali Left Bank Park. The unique ecosystem has made the governess put it under protection. But you can still get really close to it by the viewing trail.
Museums
Shihsanhang Museum of Archaeology

phone: +886 2 2619-1313

address: 200 Museum Rd

A modern-looking museum dedicated to an ancient culture that once existed on the north coast of Taiwan. It also displays collections related to Taiwan's archaeology developments. The museum has had free admission since 2010.
Temples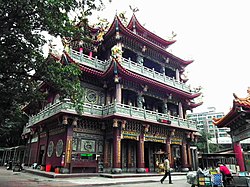 Hanmin Temple

phone: +886 2 2610 2131

address: No. 2, Section 3, Zhonghua Road

Anfu Temple

phone: +886 2 2610 2084

address: No. 123號, Section 1, Zhongshan Road

Bali Mazu Temple

phone: +886 2 2610 0096

address: No. 191, Section 2, Longmi Road
Do
phone: +886 2 2610-5200

address: 1-6 Hsia Ku Zu

One of the most successful water parks in Taiwan. Enjoy the water slides and other water amusements. A swimsuit is required in the park.

Tang Spa

phone: +886 2 2610-5218

address: 1-6 Hsia Ku Zu

A separate spa amusement park owned by Formosa Fun Coast. Themed as China's Tang Dynasty, it features hot springs, spas and Chinese styled decorations. Some of the facilities do not open during Formosa Fun Coast's season of operations. A swimsuit is required for certain facilities.
Eat
Fancy cafe and restaurants can be found near Bali Left Bank Park. There are also food stands available at Bali Ferry Pier for fans of Taiwanese snacks. However, many of them are
closed on weekdays
, as most visitors come on weekends.
Bali Night Market

address: No. 33-13, Longxing 2nd Street
Go next
Bali is often visited along with the nearby town of
Tamsui
.