Ballarat
Ballarat
is a city about north-west of
Melbourne
in the
Goldfields
region of
Victoria
,
Australia
.
Understand
With a population of approximately 100,000, Ballarat is the third largest city in Victoria. Drive time from Melbourne is about 80–90 minutes. Ballarat is most noted as a former goldmining town with excellent examples of Australian colonial architecture, and as the site of the famous miners' revolt at the Eureka Stockade in 1854.

History
Ballarat was named by Scottish squatter Archibald Yuille who established the first settlement—his sheep run called Ballaarat—in 1837, with the name derived from local Wathaurong Aboriginal words for the area, balla arat, thought to mean "resting place". The present spelling was officially adopted by the City of Ballarat in 1996.
It is one of the most significant Victorian era boomtowns in Australia. Just months after Victoria was granted separation from New South Wales, the Victorian gold rush transformed Ballarat from a small sheep station to a major settlement. Gold was discovered at Poverty Point on 18 August 1851 and news quickly spread of rich alluvial fields where gold could easily be extracted. Within months, approximately 20,000 migrants had rushed the district. Several Australian mining innovations were made at the Ballarat diggings including the first use of a Chilean mill in 1851 and the first use of a mine cage in 1861. Unlike many other gold rush boom towns, the Ballarat fields experienced sustained high gold yields for decades.
The Eureka Rebellion began in Ballarat, and the only armed rebellion in Australian history, the Battle of Eureka Stockade, took place on 3 December 1854. In response to the event the first male suffrage in Australia was instituted and as such Eureka is interpreted by some as the origin of democracy in Australia. The gold rush and boom gave birth in many other significant cultural legacies. The rebellion's symbol, the Eureka Flag has become a national symbol and is held at the Museum of Australian Democracy at Eureka in Ballarat. Other nationally significant heritage structures include the Ballarat Botanical Gardens, established 1857, the best example of a regional botanic gardens in Australia with the greatest concentration of public statuary including the official Prime Ministers Avenue; the longest running lyric theatre building, Her Majesty's, established 1875; the first municipal observatory, established 1886; and the earliest and longest memorial avenue, the Avenue of Honour, established between 1917 and 1919.
Proclaimed a city in 1871, its prosperity continued until late in the 19th century, after which its importance relative to both Melbourne and Geelong rapidly faded with the slowing of gold extraction. It has endured as a major regional centre hosting the rowing and kayaking events from the 1956 Summer Olympics. It is the commercial capital of the Central Highlands and the largest city in the Goldfields region of Victoria—a significant tourist destination. Ballarat is known for its history, culture and its well preserved Victorian era heritage.

Get in
By car
Ballarat is an easy 90 minute drive from
Melbourne
on the Western Freeway (M8). Alternatively, from
Geelong
take the southern section of the A300; from
Bendigo
and
Castlemaine
take the northern section of the same highway.
By train
Frequent
V/Line
trains run from Southern Cross Station in
Melbourne
. The trip takes approximately 1 hour and 20 minutes with a usual frequency of one an hour in each direction. More frequent services run during weekday peak times, but they can be crowded. Ballarat train station is in Lydiard Street in the centre of the city. Lydiard Street has one of the best examples of Victorian-era streetscapes in Australia, and the train station itself has a magnificent façade and clock tower.
By plane
Ballarat is not served directly by commercial passenger flights. You therefore need to fly to
Melbourne
. There is an
Airport Shuttle Bus
between Ballarat and Melbourne's main domestic and international airport,
Melbourne airport
(
MEL
), also known as Tullamarine on some booking sites. The shuttle bus costs $30 for adults, $76 for families, $16 for children 3 to 16, and children under 3 are free. For more information on Tullamarine see Melbourne airport.
There is no direct connection between Melbourne's secondary Avalon airport (AVV) and Ballarat, and the options are to either hire a car, or get the coach into Melbourne's Southern Cross train station and then the train to Ballarat, which is a considerable detour.
nShuttle.com.au shows and compares shuttle bus, taxi pickups and airport transfer fares to Melbourne Airport and surrounds.

Get around
phone: +61 3 5331 7777

address: 804 Norman St

CDC runs the local bus network. All parts of Ballarat are served by the network with most buses stopping at the Ballarat Train Station in Lydiard Street. The standard frequency on almost all routes is one bus every half hour. A couple of routes have only one every hour. In the evenings and on Sundays services on most routes are infrequent, while less important routes have no services. As with public transport in Melbourne, passengers will need a Myki card to use the buses in Ballarat.
You can get around Ballarat by bicycle. There are two options for bicycle hire.
phone: +61 3 5334 4388

address: 24 Armstrong Street Nth

Welcome Nugget – Bicycles for Hire

phone: +61 423 268 618

address: 128 Lydiard Street Nth
See
address: 43 Lydiard Street North

Open every day except Christmas Day.
phone: +61 3 5320 5858

address: 40 Lydiard Street North

The gallery has a large collection of both old and modern works. It also holds the iconic Eureka Flag, flown by the miners at the Eureka Stockade in 1854.
Australian Ex-Prisoners of War MemorialCnr Wendouree Parade and Carlton Street, south end of the Ballarat Botanical Gardens. The 170 metre long granite wall has the names of more than 36,000 POWS carved into it.

phone: +61 3 5320 5135

Ballarat Tramway MuseumWestern shore of Lake Wendouree. The museum operates a fleet of historic trams along 1.3 km of original track through the Ballarat Botanical Gardens. The museum is open Saturdays, Sundays, public and school holidays from 12:30 till 5PM. A 20 minute ride costs $4 adults, $2 for children. There is also a free display of stationary trams and memorabilia at the depot. An 1887 horse tram operates several times per year. Trams are also available for hire.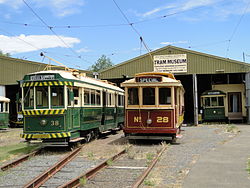 phone: +61 3 5333 5933

address: Corner York and Fussell Streets, Ballarat East

Closed Christmas Day. Has a large display of Australian animals, birds and reptiles.
Blood on the Southern CrossAn 80-minute sound and light show depicting the Eureka Uprising.

Gold MuseumSovereign Hill ticket gives entry to the museum as well.
Do
address: Lake Wendouree & Sturt St

The Begonia Festival, held over the Labor Day long weekend in March, is worth attending, with activities such as a street parade held in Sturt St and horticultural displays in and around the botanical gardens of Lake Wendouree.

Ballarat Heritage WeekendAnnual event over a weekend in May. Locations throughout Ballarat. Events and attractions include guided tours of the city centre, and also specific historic buildings and homes, art and fashion displays, vintage car displays, market stalls featuring rare LPs and books, trades displays, theatrical performances, themed dances, and rides on the original Ballarat trams.

address: Ballarat Exhibition Centre, 501 Dowling St., Wendouree

Annual fair every March Labour Day weekend. Australia's longest running, and largest antiques and collectibles fair. The 2016 Fair, in its 46th year, will be held on Saturday 12th, Sunday 13th and Monday 14th March, 2016.
Buy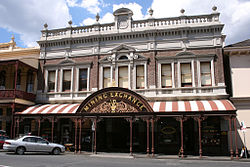 Ballarat has several markets held throughout the week which offer great shopping for antiques, bric-à-brac and various local products such as plants and confectionery.
Ballarat Bridge Mall Farmers Market

phone: +61 410215247

Bridge Mall, Ballarat. Held 1st Saturday of each month, free admission.

Ballarat Lakeside Farmers Market

phone: +61 3 9553 0601

Wendouree Parade, opposite the Botanical Gardens. Held 2nd and last Staurdays every month, 9AM-1PM. Free admission.

phone: +61 418 518 106

Ballarat Showgrounds, cnr Howitt Street and Creswick Road, Wendouree. Run by the Rotary Club of Ballarat South. Every Sunday from 8AM-1PM, entry is by gold coin donation.

Bridge MallAbout 120 shops, cafés and restaurants in and around a former through street now closed to traffic. Free parking. Includes Big W, Coles and Woolworths. Top end of Bridge Street has several restaurants.

Central Square Shopping Centre

address: Armstrong St. Sth

Three storey shopping centre with Myer, Target and several cafés/eateries.

Stockland Wendouree

address: Gillies St., Wendouree

About 90 shops, all under cover, with plenty of free parking. Includes Coles, Woolworths and Kmart.
Eat
Ballarat Curry House

phone: +61 3 5331 7361

address: 113 Bridge Mall

Traditional Indian.

phone: +61 3 5334 4449

address: 217 Sturt St

A small cosy coffee shop which sells many types of beans as well as making arguably the best espresso in Ballarat.

Crazy Asian

address: 107 Bridge Mall

Good value Chinese, Indian and Thai.

Da Vinci's

address: 29 Sturt St

Italian, with gelato bar at the front.

Dino's on Sturt

address: 212 Sturt St

Italian cuisine.

L'espresso

phone: +61 3 5333 1789

address: 417 Sturt St

Formally a music store, this place serves some of the best coffee in town, along with quality Italian-based fare that is interesting and reasonably priced. Choose a CD from the wall to listen to, and try the housemade icecream.

Eureka Bistro

address: 316 Sturt St

Italian institution.

phone: +61 3 5338 7672

address: 411 Sturt St

A great surprisingly mid priced cafe, with a wide range of meals, from the tastes of Italy to Asia, also good for dropping in for a coffee or wine & watch the Ballarat foot traffic of Sturt St.

The Forge Pizzeria

address: 14 Armstrong St Nth

Creative toppings and dessert pizza, served in an industrial-chic space with exposed-brick walls.

Golden Crown Restaurant

phone: +61 3 5332 2169

address: 101-105 Main Rd

Chinese cuisine.

Jacksons & Co

address: 201 Mair St. Corner of Lydiard St. Nth

Recently renovated, restoring the Victorian-style façade.

Jasmine Thai Restaurant

phone: +61 3 5333 2148

address: 213 Sturt St

address: 28 Main Rd

Café and grocery.

Mr. Rice

address: 214 Sturt St

Chinese, Thai, Malaysian. Great value with daily lunch deals. Eat in or take away. Very popular.

phone: +61 3 53311451

address: Doveton St

Oscar's Hotel & Café Bar is a unique art deco, boutique hotel in the heart of Ballarat's CBD. Now privately owned and operated, Oscar's was originally the Criterion Hotel, a popular venue in the gold rush days.

The Pancake Kitchen

address: 2 Grenville St. Sth

The original Pancake Kitchen. All Pancake Parlours are franchises of this; original and the best.

The Provincial

address: 121 Lydiard St. Nth

Recently renovated to its former glory.

Thai Fusion

address: 106 Sturt St

Multi-award winner.

Tokyo Grill House

phone: +61 3 5333 3945

address: 109 Bridge Mall

Always gets great reviews!

The Unicorn

address: 131 Sturt St

Zaragosa

address: 102 Sturt St

Spanish and Mexican. Very popular.

Coliseum Walk

address: off Bridge Mall

Ballarat Mocha Shop, Hudsons Coffee Shop and Cafe Meigas (Spanish).
Drink
There are numerous pubs and nightclubs in Ballarat including:
The Bended ElbowNewly re-opened, this venue has several dance floors, an eating area as well as downstairs stage and nightclub.

phone: +61 3 5332 9122

The best place for live music in Ballarat, with many popular Melbourne bands making the trip to perform there. Cover charge can vary depending on the band.

George Hotel

address: 27 Lydiard St. Nth.

Popular; with front bar, dance club in the rear, and a gaming room.

Freight bar & restaurant

address: Corner Mair and Peel Streets

The Provincial

address: 121 Lydiard St. Nth

Recently renovated to its former glory. Directly opposite train station in an Edwardian icon.

The Bluestone

address: 101/103 Mair St
Sleep
There are many options for all budgets throughout Ballarat. Book ahead especially when there is a major event planned.
phone: +61 3 53311451

address: Doveton St. Sth

Renovated hotel built in gold rush days, with 13 modern rooms, restaurant, bar and courtyard.

George Hotel

address: 27 Lydiard St. Nth

Bunkroom $30, singles from $50 (tariffs include light breakfast). Nightclub may cause noise in the rooms till 4AM F-Sa nights.

Craig's Royal Hotel

address: 10 Lydiard St

Sth. A Ballarat icon.

address: Lydiard St. Nth

4 star hotel in historic bank building in Lydiard Street, in the heart of one of the grandest Victorian streetscapes in Australia.

address: 101 Curtis St

4 star hotel. Central location with ample off-street parking.

phone: +61 3 5327 7588

address: 19 Doveton St. Nth

Centrally located, with off-street parking.
Go next
Hire a bike, and cycle the 53 km off-road Ballarat to
Skipton
Rail Trail. Download the free Bike. Walk. Ride. App from http://www.goldenplains.vic.gov.au