Ballari
Ballari
is a historical city, which is now a steel hub of
South India
.
Understand
Ballari Fort is the prime attraction of Ballari. Ballari Fort was built by Hanumappa Nayaka during the Vijayanagar era on top of the Ballari Gudda or the Fort Hill. Hyder Ali, who invaded the region took possession of the Fort from the Nayaka family in 1769, got the fort renovated and modified with the help of a French Engineer. The fort is divided as the Upper Fort and the Lower Fort. The Upper fort is a polygonal walled building on the summit, with only one approach, and has no accommodation for a garrison. There is only one way up to the fort, which is a winding rocky path amongst the boulders. It s said that Muzzaffar Khan, the Nawab of Kurnool, was confined here from 1823 to 1864 for the murder of his wife.
The Lower fort lies at the eastern base of the rock and measures about half a mile in diameter. The entrance to the lower fort is via two gates, one each on the western and eastern sides. The fort includes a temple dedicated to Hanuman just outside the lower fort on the eastern side.

Get in
By train
Ballari has decent rail connectivity from
Bangalore
(Train: Hampi Express 16591/16592),
Hyderabad
,
Hubli
,
Kolhapur
,
Guntakal
. For other cities like
Chennai
/
Mumbai
/
Delhi
there is very good connectivity from the nearby town of
Guntakal
.
If you are on a tight budget, you can opt for the passenger trains as well.
By road
Ballari is around 300km from
Bangalore
and is well connect by National and State Highways. Ballari is served by various bus lines like KSRTC, APSRTC and other private operators.
Direct Bus services are present from
Mumbai
,
Bangalore
,other major cities of
Karnataka
and neighboring cities of
Andhra Pradesh
.
Get around
By bus
You can use the government buses which ply along the main roads and to/from the important points of the city(Royal, Mothi, Durgammagudi, SP circle, Sudha cross, 1st gate, 2nd gate, OPD, MG, New bus stand, Old bus stand). They charge around ₹10 (as of 2016) for most distances.

By auto-rickshaw
These 3-wheeled vehicles can be hired to travel from anywhere to anywhere in the city. They do not use an automated metering system, hence talk about the amount before getting into the vehicle. Generally 70% of the auto-driver's initial quote is a fair amount to pay, but if they understand that you are not from the place then beware, talk to a local for the correct price for your destination.

By cab
Ola cab service is available for a quick ride.

See
Ballari FortThis is a big fort sitting on a huge monolithic rock mountain at the center of the city. There is only one way upwards mainly consisting of a rocky trail and steps. It gives a great view of the city from top as it is the highest point in the city, and is good for a trek(Should take about 3 hrs) in the mornings.

Durgamma (Ballaramma) templeThis is a 350 year old Goddess Durga's temple, which is held in high regard. You can visit it in the mornings or evenings when the aarti (a worshiping ritual) takes place.

Radha Krishna TempleIt is the quiet heaven in the middle of the bustle hardly known by anyone but the spiritual. This temple was established by the migrant traders in the city about 50 years ago. It falls on the path the ascetics have to travel from Kanyakumari/Rameshwaram to Haridwar. These traveling mendicants are provided food and shelter here. Often, one can witness religious debates and discussions amongst these travelers here. It also has a beautiful external courtyard and a internal courtyard. Tiled mosaic work lace the entrance room. Frescoes decorate the walls. Monkeys and cats wander about peacefully.

Human Face hillThis hill has been said to look like the face of a sleeping human.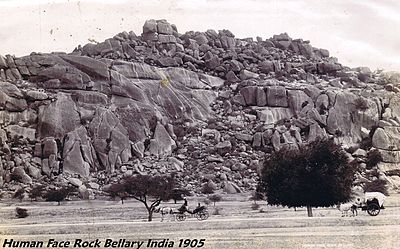 Ballari Railway stationBallari Railway station is one of the oldest railway stations in India it was constructed at British time. Mahatma Gandhiji had stayed here in this station. The roof of Platform of the station is fully covered, looks like the train is standing in Home.

Ballari AirportBallari Airport is one of the airports which was used for World War II and is still in very good working condition.

Neolethic art on boulders near SanganakalluThe exact location is not very clear, but you can ask the locals there to guide you. The said hills are most probably called Hiregudda or Kupgal hill.
There is a beautiful mosque near the cantonment area which has a dome similar to that of the Masjid-e-Nabi in
Medina
. Hazrath Tipu Sultan Masjid is one of the oldest mosques in the Fort area behind the Government Polytechnic. Jamia Masjid and Khadirya Masjid are other oldest mosques in the heart of the city.
There also dargahs(an islamic shrine built over the grave of a revered religious figure), among them Hazrath Magdhoom Jani Baba (RA), Hazrath Sadaruddin Baba (RA), Hazrath Deewane Mastan Vali Baba (RA), Hazrath Irshad Ali Baba (RA), Hazrath Ifran Ali Baba (RA) and Hazarh Khadar Basaha Saheb (RA) are the oldest in the city. Hazrath Waris Ali Shah Baba (RA) on Ananthapur Road which is the most attractive dargah is similar to the Dargah Hazrat Haji Waris Ali Shah(RA), Dewa Sharif,UP, India
Bible MuseumThis beautiful Shrine which has 14 Stations of the Cross separately erected outside and a Bible Museum on the ground floor is an architectural landmark in the City of Ballari. It is erected in gratitude for the many blessings of God, through the loving and powerful intercession of Our Lady, showered on our Bishop, Most Rev. Dr. Joseph D'silva and the Diocese of Bellary. The Bellary Arogya Mathe Shrine is a place of pilgrimage, prayer and spiritual enrichment, open to all people irrespective of caste and creed. A very good attraction of this church is the model of Bible is presented in the forms of art.

Rajkumar ParkThis is a recently developed park which surrounds a natural pond. Boating is a main attraction here, but people do come here for a pleasant walk or feeding the fishes (puffed rice is available just outside the gate). There is also a play area for children.
Do
Movies- The city has very good movie theaters which play all the latest releases from Sandalwood, Tollywood and Bollywood. Tickets in these well maintained AC theaters are very affordable.
Parks and Zoos- City municipal office has been continuous making effort to make Ballari a clean and Green city. They have come up with few good parks like Dr.RajKumar park, Kaage Park, Radio Park(the oldest park in city) etc. Ballari Zoo is a small area in cantonement that boasts of an impressive collection of animals: Lions, tigers, bears, peacocks, deer, monkey, ostrich etc. However, the zoo is tiny, and the living condition of the animals is really heartbreaking. Animals are confined to small cells with barely any space to move. Many of the monkeys and bears have gone mad because of this lack of movement. The cages are dirty and though cleaning has improved off late, there is an urgent need for the animals to be rehabilitated into more humane surroundings.
Temple, Church, Mosque- Ballari has many ancient and beautiful devotional places. You can visit these holy places and offer prayers.

Ballari exhibitionVisit the exhibition-cum-tradefair which is setup for around two months in the Municipal high school grounds. It has interesting amusement rides and games for both kids and adults.
Buy
Ballari being the district headquarters attracts traders, framers from its neighborhood. You can do lots of shopping, jeans are particularly famous. Iron kitchen vessels are also unique, and can be found in plenty. There is a local craft fair that happens in August-Sep near the municipal school grounds that may be of interest.
The soft grey stone near the region is often made into small stone artifacts which are sold by peddlers. In addition, the Lambanis are tribal women from the forests who are famous for their needlework and mirrorwork. Sadly, very little of their work is available in the shops, and you need to find a specific hall selling these.

Eat
Vogani Mirchi is a local hot snack made with puffed rice and served with fried dumplings.
Bhel or Slice(not the cool drink which Katrina drinks ;) ) from the evening vendors near municipal college grounds.
Rasam Bonda at Hoysala mess
Bandi Idli - these are idlis made fresh in the evening by men on pushcarts found in the central market, which is mainly around "Bangalore road". Everyone has their favourite vendor.
Mewa Ghewar at Mahadev Sweets: This unique rajasthani dish is also available here. Must have especially if you cannot travel to Rajashtan at this time
Gobi Manchurian at one of the several hotels/bars around town (A uniquely indian take, and nothing to do with the manchuria province).
Holigai - a sweet stuffed rolled bread
Naturals ice creams - good variety of flavours
Biryani at cowl bazaar: Odd as this sounds, nothing beats a piping hot biryani at one of the many vendors in cowl bazaar at 6 am in the morning. The biryani at the more popular joint finishes by 6:30 am, so be there early.
Chicken 65 - a spicy andhra dry chicken item that is popular
Drink
Lime soda near Municipal collage
Nannari near Natraj,Durgamma Gudi or Municipal college
Sleep
Ashoka Conforts

Hotel Pola Paradise

Hotel Pawan

Hotel Rameshwari

phone: +91 83922 72100

address: Kalamma St, Bruce Pet, Main Bazar, Cowl Bazaar

1st class

Hotel Vaishalilocated at walkable distance from Bellary Railway Station has spacious clean and very comfortable rooms the staff is courteous. Traiff is also economical.

Marchad ResidencyBusiness hotel

Nakshatra LR
There are numerous other lodges abound near the bus stops and railway stations.
Go next