Balneário Camboriú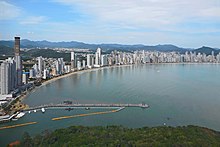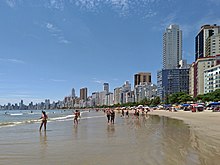 Balneário Camboriú
is a resort city in the state of
Santa Catarina
.
Understand
The Tupí–Guaraní Indians were the first ones to enjoy this land. The historical story registers that, in 1826, the Portuguese farmer Baltazar Pinto Correa received, from the government of the Province of Santa Catarina, this area to be populated. He had come from the colony of Porto Bello, searching fertile lands. He and his family had fixed residence in the left edge of the River, now known as neighborhood of Barra, which is still conserving the Azorian traditions.
In 1849 the village got an upgrade, the construction of the Church of Nossa Senhora do Bom Sucesso, made by slaves, in mortar of rude rocks and whale oil. The temple is known by Church of Santo Amaro. The Village, at the same time was the beginning of the cities of Camboriú and Balneário Camboriú, belonging to Itajaí, and to these two cities, before it became a forgotten neighborhood, after some politician pressures that transformed Camboriú, at that time in 1884, known as Vila dos Garcias, into the new headquarters of the town.

Get in
By plane
The nearest airport is Ministro Victor Konder in Navegantes city (NVT) which is about 30 km from Balneario Camboriu. This airport has direct flights to and from
São Paulo
,
Campinas
, Ribeirão Preto,
Rio de Janeiro
,
Belo Horizonte
,
Porto Alegre
and
Florianópolis
.
LATAM
,
GOL
, and
Azul
do these routes. From the airport to Balneario Camboriu you can go by bus but a taxi will not cost that much.
Also you can rent a car. The biggest Brazilian rent a car company is
Localiza
. Consider adding a GPS to the rented car so you don't waste your time getting lost. Driving in Brazil is not that easy as the signage is not that good.
As an option you can use the Florianopolis Intl Airport (FLN) which is located about 80 km south to Balneário Camboriú but has more route options such as Rio de Janeiro and Porto Alegre.
By car
Driving to Balneario Camboriu is pretty easy. Just get yourself into the BR-101. Just pay attention to the signs, but you usually will have to drive to the south. Distance from other cities:
Florianopolis: 80 km
Blumenau: 80 km
Curitiba: 220 km
Porto Alegre: 550 km
São Paulo: 600 km
By bus
You can find plenty of option to get into the city by bus.
See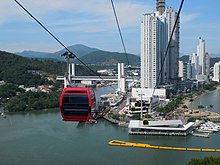 Praia dos Amores - Here the Atlantic forest shelters many species of fauna and flora native to Santa Catarina. It is possible to observe birds, animals and plants. The Atlantic Ocean bathes the well-kept rural beach where the regional fisherman culture is maintained and where locals and tourists alike come to surf. The Azorean heritage here is evident in the construction of the fishermens' huts.

address: Rua Indonésia, 880 - Bairro das Nações

In similar fashion to Christ the Redeemer in Rio de Janeiro, Light Christ (Cristo Luz in Portuguese) was built at one of the highest points of the city at 150 m. The statue is 33 m high, 22 m wide and weights 528 tons. The main feature of this attraction is that it is illuminated alternatively during the night with 7 colors (each one with a meaning) and it holds on his left shoulder a broad-brimmed hat, which irradiates a beam that illuminates the city. You will get charged depending whether you arrive during daytime (8 Reais) or after the sunset (R$16). Its complex contains a restaurant, a photo gallery and some shows. There are free shuttles that make the way up the hill.
Do
Downhill at Laranjeiras
Kart at Balneario Camburiú
Many sports at Parque Unipraias
Buy
phone: +55 47 3264-8054

address: Avenida do Estado, 4770
Eat
Mid-range
phone: +55 47 3361-6671

address: Av. Brasil, 2680

Italian restaurant chain. Three other units nearby. Visa, Mastercard and Amex accepted.

phone: +55 47 3360-1943

address: Av. Atlântica, 570

Pizzeria chain.
Splurge
phone: +55 47 3367-3800

address: Av. Atlântica, nº 5740 Barra- Sul

Very good seafood buffet, free Wi-Fi and indoors playground.
Sleep
phone: +55 47 3367-3821

address: Rua 3.300, 415

Small hotel 2 blocks away from the main beach - Balneário Camboriú. Near you can find stores, supermarkets and restaurants.