Baltic Sea Coast (Germany)
The
Baltic Sea Coast
(
Ostseeküste
) of
Germany
is a vacation region located in the northern federal states of
Schleswig-Holstein
and
Mecklenburg-Western Pomerania
. The eastern part of it is known as the
German Riviera
. Besides the obvious draw of a beach destination, many of the old towns in this area bear witness to the former wealth of
Hanseatic cities
and are well worth a visit.
Regions
null
Germany´s largest island (926 square kilometres). Famous for its bathing beaches, noble resort architecture, as well as its diverse nature and the chalk cliffs at Jasmund National Park.
null
Island in the east of
Mecklenburg-Western Pomerania
. Second largest island of Germany. Its eastern part is located on the national territory of
Poland
. Famous for the elegant seaside spas at the Kaiserbad in the East.
null
This region can also be described as the "German Riviera"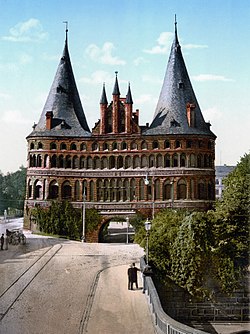 Cities
: university, ferry line, sea port, sailing regatta "Hanse Sail"
: German Oceanographic Museum with the Ozeaneum, which has been elected European museum of the year in 2010. Rathaus. Brick Gothic churches.
: Brick Gothic churces, old town, harbour, technical university
: university, nuclear fusion reactor "Wendelstein 7-X"
: beach, shopping, two town centres, pier, marina
: Baltic Sea spa on Usedom, large pier
: university, ferry line, capital of Schleswig Holstein as well as historically one of the most important ports for the German navy
: university, college, ferry line, sea port, once the most important city of the Hanse it has lost much of its former influence, but its former wealth is still visible in the buildings of the old town
: on the island of Rügen, ferry line, fishing port with the longest outside molo of Europe, chalk-cliffs (best known Königstuhl - Kings chair)
Understand
The Baltic Sea Coast developed into one of the today's most popular holiday regions from the 19th century onwards. It is especially famous for its long bathing beaches between the island of Usedom and the city of Kiel. The Baltic Sea spas on Rügen and Usedom as well as the city Kühlungsborn have already been very popular in upper-class circles in the 19th century. Evidence of this can in particular be found in the mansions built in the spa style of the turn-of-the-century. Besides beaches and sea spas the region is famous for its different types of coastline (bodden coast; cliff coast) and the diverse nature. The
National Park Jasmund
on Rügen is a World Heritage - natural site, whereas the old towns of the
Hanseatic cities
Stralsund
and
Wismar
are classified as a
UNESCO World Heritage
- cultural site. In the former GDR, the Baltic Sea coast was one of the most popular (and affordable) vacation destinations for easterners, and FKK (Freikörperkultur — that is, nudism) was and still is very popular along many beaches in the
Bundesland
of Mecklenburg Vorpommern. There is usually a textile-free as well as a clothed beach option, however. On Schleswig Holstein's beaches FKK certainly does exist, but it has never gained the popularity it has in former East Germany.
Talk
As this has historically been a destination mostly for domestic tourists, expect to hear mostly German. In the former East (east of Lübeck) you might get lucky with Russian as it was commonly taught in schools prior to 1989, whereas in Schleswig Holstein your chances with English are significantly higher. However this difference is more and more levelling, as the younger generation is taught English almost exclusively for their foreign language. In university towns (such as Lübeck, Kiel and Greifswald) you might also have a chance of getting around with French, Spanish or Italian.

Get in
By train
As some of the destinations in this area have been important for tourism since the 19th century, many were connected to the railway network back then and have been ever since. Lübeck and its beach for example are connected to Hamburg with hourly regional trains. For more information see the individual city articles. As for ICE / IC high-speed service; this region is sadly underserved and there are not many plans to change this anytime soon, making the car often faster (excluding peak time travel during the summer holidays and / or on weekends) albeit not cheaper.
By plane
If you are coming from outside of Germany the airports of
Berlin
and
Hamburg
and onward trains or a rental car from there are probably your best bet. There are some smaller regional airports in Lübeck, Rostock Laage (mostly serving charter and no-frills flights to southern European beach destinations) and smaller ones that only serve domestic routes and general aviation.
By ferry
Check
Baltic Sea ferries
. Major ports are Lübeck/
Travemünde
,
Rostock
(Warnemünde) and
Kiel
, the endpoint of the Kiel canal connecting North Sea and Baltic Sea. Some ferries also dock at
Sassnitz
on the island of
Rügen
.
By car
The major travel ways are the motorway A20 with good connections to the German capital
Berlin
and the city of
Hamburg
. The missing connections in the network, that were left by the seperation of the two German states are now mostly built or in the process of being built.
By bus
Long distance bus operators
such as
Flixbus
serve a number of tourist destinations all along the coast. As many lines end at the coast, they often serve a number of stations in close proximity.
Get around

In order to explore the Baltic Sea Coast you can use public means of transport such as trains. Also bikes can be used to make trips in defined regions. During the high season the roads on the islands of Rügen and Usedom tend to be overcrowded. Traffic jams are a common experience on Saturdays.

See
The coast and the sea itself are obviously the major drawing factor of this region, but the old towns of the former
hanseatic town
of Lübeck, Wismar or Stralsund are worth exploring as well as the cliffs or Rügen, that were immortalized in several paintings (most notably by romantic artist Caspar David Friedrich)
Do
The Baltic Sea Coast offers a variety of sights in particular on Rügen and Usedom as well as in
Stralsund
. People interested in culture, nature and science are provided with a lot of opportunities.
Eat
As the Baltic Sea Coast is a major tourist region, there are restaurants of different standards in most locations. In particular the major sea spas such as
Binz
,
Sellin
,
Heringsdorf
,
Ahlbeck
and
Kühlungsborn
offer high quality restaurants. Due to the vicinity to the Baltic Sea seafood restaurants are quite common.
A specialty in Lübeck is Marzipan, a mixture of almonds and sugar. There are many stores in the inner city selling everything from a fifty kilo painted figure of the Holsten-gate (expect to pay in the order of several hundreds of Euros for something like that) to "2nd grade" (that is, aesthetically less appealing) Marzipan that tastes just as good and is sold well below normal market rates (starting at per ). The most famous company is Niederegger who also have a Marzipan museum, but other brands are just as good and you don't have to pay for the name.
Drink
Stay safe
The crime rate is comparably low at the Baltic Sea Coast. Only bicycle theft and right-wing extremist criminal acts are quite common in particular in the eastern area of Mecklenburg-Western Pomerania.

Go next