Banat
For the purpose of this article, Banat is a region in western Romania.
Understand
Banat
is a geographical and historical region in Central Europe that is divided between Romania, Serbia and Hungary. This article refers to the Romanian part of the Banat, which consists of the Timiș and Caraș-Severin counties and the western part of Mehedinți county. For the Serbian part of Banat, see
Vojvodina
. The Hungarian part of Banat is included in the
Great Hungarian Plain
article.
The (Romanian part of) Banat is usually divided in:
The Banat Highlands (Banatul Montan/Banatul de Munte), which consists of the Banat Mountains and the nearby hills
The Banat Lowlands (Banatul de Pustă), which consists of the southern part of Romania's Western Plain
Cities and towns
Banat lowlands
- third biggest city in Romania; university city, industrial center
- old spa town
- in 1390-1394 a fortress surrounded by a network of canals was built here; only a tower, 30m tall, survives today
- small town not far from Timișoara, famous for vineyards
- westernmost town in the country, inhabited since Bronze Age, place of a Roman castrum and birthplace of the composer Béla Bartók
Banat highlands
- famous for the steel works and other heavy industry before 1989, now mostly a gateway to nearby Semenic mountain
- old mining town, now mostly famous for the touristic Anina-Oravița mountain railway
- ancient spa town, since the Roman times; hot springs, beautiful architecture (from the Habsburg times) and amazing scenery
- old industrial town
- village famous for hundreds of years for the watermills, some still used today
- oldest theatre in the country (1817), oldest pharmacy in the Banat highlands (1763)
- port city on the Danube, close to cazanele mari and cazanele mici - two important sections of the Iron Gates gorge and to the tallest rock sculpture in Europe
- old mining village, now a gateway to the Nera Gorge
Other destinations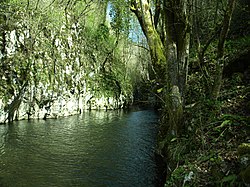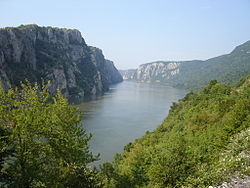 - gorges, caves and waterfalls
- Semenic ski resort, the famous village of Gărâna, gorges and caves
- the Danube Canyon
See
Monasteries
Piatra Scrisă Monastery

Spring of Miron (Hot Pond) MonasteryIt has a thermal water spring, with a constant temperature of 18°C.

Baziaș MonasteryA medieval Serbian Orthodox monastery, established in 1225, located in the Baziaș village. Baziaș is famous for being the place where the Danube enters Romania.
Museums
Traian Vuia MuseumMuseum dedicated to Traian Vuia, the inventor and aviation pioneer, in the village he was born in (now named after him).

Nikolaus Lenau Memorial House
Natural attractions
Bazoș ArboretumRead more about it here: http://prinbanat.ro/en/a-green-oasis-near-timisoara/

Surduc LakeDam construction began in 1972. The lake's main purpose is to provide drinking water to Timișoara area and defend against floods. With an area of 460 hectares, Surduc is the largest lake in Timiș county. Fishing is permitted throughout the lake area and at any time except prohibition. Existing fish are carp, crucian carp, pike, bream.

Românești CaveRomânești cave is the second largest in Timiș county. Part of the medium category caves, with a total development of 1,450 m, it is arranged horizontally on 3 levels. The main entrance is oriented N-NW, is 9.5 m wide and 2 m high, which allows diffuse light to about 70 m. In the Bats Hall you can find a permanent colony of bats. Upper and middle floor is of fossil nature. Floor below, subfosil nature, is accessible only to speleologists with equipment. The cave is famous for its great acoustics. Since 1984, Speotimiș Speleological Association organizes the traditional annual concert that takes place in October.
Ruins
Turnu RuieniMedieval watching tower, now a ruin.

Grădinari Hill TowerOld church tower, now a ruin.

Turkish bridge18th century bridge. Now unused, but listed as a historic monument.
Do
Ski
Festivals
Gărâna Jazz Festival is a huge open-air jazz festival taking place every year in July in the Wolf's Meadow (Poiana Lupului), near the small village of Gărâna, up in the Semenic mountains.
Drink

Most popular drink is rachie (read rakie), which is distilled from plums, at home. The difference between the rachie and the pălincă which you find in other parts of Romania is that rachie is single-distilled, which gives it a 30-something degree strength, while the pălincă is double-distilled and always above 50ºC.

Sleep