Banaue
Banaue
is a town in the Cordillera mountain range in the north of the island of
Luzon
, in the
Philippines
. It is mainly visited for its stunning rice terraces, which are designated a National Cultural Treasure.
Get in
By bus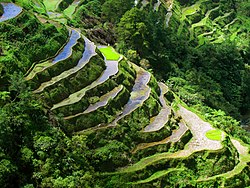 Getting to Banaue directly might take a lot of effort if you're not taking a direct route from
Metro Manila
. There are few possible ways to get to Banaue —
Manila
-
Banaue
,
Manila
-
Baguio
-
Banaue
,
Manila
-
Baguio
-
Bontoc
-
Banaue.
phone: +63 2 516-0501

address: corner of Lacson Ave & Fajardo St, Sampaloc, Manila

Provides trips directly to Banaue. They have two daily trips leaving Manila at 9PM and 10PM with an additional trip during the holidays. Wear warm clothing, the air-con can be quite strong and the trip takes 9-10 hr.
Manila-Solano, Nueva Vizcaya-Banaue ifugao - buses heading to Tuguegarao (e.g. Baliwag Transit, Victory, Florida Transport) pass by the town of Solano. Several jeepneys ply the Solano-Banaue route or the Solano-Lagawe, Ifugao route. From Lagawe, one can then take another jeepney to Banaue.
Manila-Tarlac-Solano-Banaue - buses heading for Baguio pass by Tarlac. Vizcaya liner plies the Tarlac-Solano route at 5AM.
Banaue to Bontoc or Banaue to Solano (Philippines). many Jeepneys or Minivans.
Dangwa buses from Manila
Coda bus line from Quezon City at 8PM or 9PM, takes 9 hr.
By car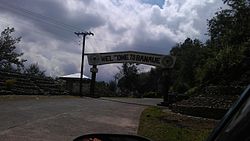 The distance between the Balintawak Cloverleaf, in north Manila at the beginning of the North Luzon Expressway and the
Welcome to Banaue
sign, is about 332 km. The road is paved all the way to Banaue. Travel time can be as long as 9 hours due to the several blind curves through the mountains.
Best day to travel is on good Friday of Lenten season, Christmas Day and New Year's Day. It will take about 7 hours only by car with a reliable driver.
Get around
Jeepneys (converted jeeps/bus) and tricycles (trikes) (little motorcycles with side cars) are easily available around Banaue. Vans can be hired with driver/guide. Expect to hike some to great places to see that are not on the roads.
There is a public jeepney plying the Banaue-to-saddle-point (start of trek to
Batad
village) route daily. See
Get Out
, below for more info.
See
Rice terraces. Sometimes called the "Eighth Wonder of the World", the 2000-year-old Banaue rice terraces are a designated National Cultural Treasure, and while many are still in use today, the outer rims are showing signs of deterioration. They were created by the Ifugao (local native people), in a massive engineering project to cover the sides of the valleys (probably 200 m from floor to rim) for several miles, irrigated by means of mountain streams and springs that have been tapped and channelled into canals that run downhill through the rice terraces.

Museum of Cordilleran Sculpture

phone: +63 919 774 8507

The Museum of Cordilleran Sculpture was founded by George and Candida Ida Schenk over 30 years ago, and evolved from a small antique store in Manila, into dream to preserve a culture that is slowly dying. There are over 1,000 pieces in the collection of the museum, ranging from large-scale, carved wooden Bululs, masks to smaller scale figures, textiles, utilitarian objects, and composite objects.

ViewpointOn the road to Bontoc, there are a lot of viewpoints with beautiful panoramas on the rice terraces. Walking from Banaue up to main view point will take 1 to 2 hours, depending how often you stop to enjoy the superb view. Try to go as far as possible from Banaue: the higher you will go, the more beautiful it will be! Count by tricycle from Banaue. From there it's possible to go down by foot to Banaue through the rice terraces (2-3 hours) but the way is quite difficult and you may need a guide for this walk.

Hot SpringA geothermal hot spring next to a river can be reached via walking across rice terraces starting from Hungduan Elementary School. The road to the school however is not yet paved. Arrangements to visit will likely need to be made in town.
Buy
Many kinds of carved woods.
ATM
ATMThere are no ATMs in Banaue. the most near Visa Card ATM is at the PNB bank atm in Lagawe one hour Jeepney ride from Banaue.. or for Master Card Metro bank in Solano (Philippines). 2.5 hour jeepney ride from Banaue. there is also a PNB bank Visa Card ATM in Bontoc.
Eat
Most guesthouses also offer food. They don't differ much in terms of quality and price, so it's best to decide based on atmosphere and views.
phone: +63 74 386-4085

address: Banaue Trade Center

Indoor and al fresco dining on a wide veranda with great views. Filipino, Asian & Western dishes. Set meals start at .

Ilob Village InnNative Ifugao house with restaurant, surrounded with rice terraces. You can also request to see a traditional Ifugao show.

Kiben

address: Nueva-Vizcaya-Ifugao-Mt. Province Rd.

Local eatery. Good local food provided by friendly family. Main dishes usually , sometimes . Tea and coffee .
Drink
Native rice wine or sugarcane wine at all inns and lodges.

Sleep
The grand old lady, Banaue Hotel, is probably the priciest option you'll find but offers regular cultural shows in the evenings (Ifugao dance and music) that are also open to non-guests. The pool is small but a nice place to hang out when you're tired of trekking up and down rice terraces.
Closer to town, there are a multitude of hostels and guesthouses offering much more reasonably priced accommodations.
In town
Banaue Hotel & Youth Hostel. +63 2 812-1984/ dorm .
Fairview Inn. +63 74 386-4002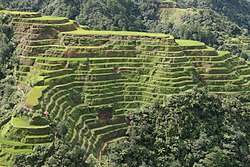 Spring Village. +63 74 386-4037. /
Terraceville Inn. +63 74 386-4094
Cozy Nook Inn. +63 74 386-4003

phone: +63 74 386-4022

No power outlets in the rooms, charging for a fee at the reception. Free Wi-Fi and drinking water. Restaurant is open 6AM-9:30PM.

phone: +63 929 197 4242

address: Poblacion Banaue Ifugao

Basic but comfortable rooms view views of Banaue rice terraces. Some rooms with shared bathrooms. Has small restaurant for all meals. Allows for luggage hold before bus leaves. 200 m up the road from Ohayami Bus dropoff/pickup

phone: +63 74 386-4085

Nice balcony at the back with pleasant views. Basic but comfortable rooms, plus a dormitory.

Banaue View Inn

phone: +63 74 386-4078

single/double/triple with inside/outside bathroom and good views.

phone: +63 74 386-4082

Offers private rooms for 2 with shared bathroom or private bathroom.

Stairway Lodge & Restaurant

phone: +63 9164567346

Peoples's Lodge

phone: +63 935 189 5455

phone: +63 917 577 2010

1 km from center/bus stop. Includes pickup, free breakfast.

7th Heaven's

phone: +63 9084674854
Further
phone: +63 916 405 6743

address: Uhaj village, 9 km from Banaue

Lovely views from traditional bungalows. The road getting there is not yet paved so make sure that you have a ride going to the area and back to Banaue Proper prior to checking in. There is not a lot of available transportation going through the area, so it's important to make sure you have proper transportation arrangements. Tours can be arranged at the Inn, and food is served at the restaurant. Credit card is not accepted so bring sufficient pesos.
Connect
There are several internet cafés around the town, the rate ranges from to per hour.

Go next
Batad. While the rice terraces of Banaue are mud-walled, those of Batad are stone-walled. They form an amphitheatre and are an impressive sight. 15 km on bad roads, followed by a 40-minute downhill hike, but worth it. There are a number of hostels and guest houses in the small village there, overlooking the rice terraces. If weather and time permit, Batad is probably a better place to spend the night than Banaue. There is a public jeepney plying the Banaue to Saddle Point (start of trek to Batad village) route daily. Banaue to Saddle Point is around 2 to 4PM while the Saddle Point to Banaue jeepney is around 9:30AM to 10:30AM. They may take extra trips during the peak season (e.g. Holy week). Head on to the Banaue public market and ask around. Fare is to for tourists while the locals pay .
Baguio - A major town that several bus route through on their way north from Manila. Ohayami Trans has a daily trip to Baguio at 5:30PM and takes about 9 hr for + fees
Metro Manila - Ohayami Trans has a daily trip to at 7PM and takes about 9 hr.
Bontoc and Sagada. By hiring a van in Banaue (ask in your hotel) you can visit these two centres as a day trip. Bontoc is a busy town but has an excellent museum of Ifugao culture. Sagada has the impressive Sumaging limestone cave (take a change of clothes and leave your best shoes in Banaue), burial chambers and hanging coffins. En route to Bontoc you pass the incredibly beautiful Bayo terraces. Make sure that your driver has the correct licenses before leaving however, as there are checkpoints in and around Bontoc and without the correct licenses you may be forced to turn around before your destination.
Hapao. A half-day trip from Banaue. More terraces. Steep steps lead down to some, giving easy access for a close-hand inspection.