Bancroft (Ontario)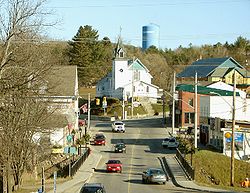 Bancroft
is a town of 3,900 people (2016) in a large rural area in
eastern Ontario
, 100 km north of
Belleville
.
Understand
The town was once a centre for logging, trapping and mining; uranium mining began in the 1950s and ended in 1982. The town bills itself as the "mineral capital of Canada" and is part of the Canadian Shield. Much of the region around Bancroft is cottage country, with many snowmobile, hiking and ATV trails.

History
By 1823, the government had purchased nearly two million acres of land from the Chippewa and Mississauga First Nations including a tract on the York River in Hastings County which had been established in 1792. The area was mapped in 1835 by explorer David Thompson.
The first family to build a cabin here, the Clarks in 1853, did so to take advantage of the fur trade. Early settlers James Cleak and Alfred Barker from England who arrived in 1855, settling on Quarry Lake. They got jobs in administration; Cleak opened a small store and Barker became the first postmaster. Over the years the settlement grew quickly; there were 89 families by 1868. Lumber companies arrived to remove timber.
Some of the earliest settlers were United Empire Loyalists, but from 1856 to 1861, most were from Ireland, fleeing the problems caused by the Great Famine (Ireland); many had farming experience and settled in the Township of Dungannon where the land was fertile. Most of the settlers were attracted to the area by the offer of free 100-acre (0.40 km²) parcels that had been advertised in Great Britain. Some of the residents also sold furs, obtained through trapping.
The settlement had various names over the first years, York Mills, York River and York Branch; when the post office opened in 1861 it was called York River. A grist mill opened in 1865, gold was discovered in 1866 and other minerals would be discovered later. The first church and two schools were built in 1870. In 1879 the name of the settlement was changed to Bancroft by Senator Billa Flint, after the maiden name of his wife. Flint convinced tradesmen to move to the area and that helped to attract more settlers. A woolen mill began operating in 1884.
The Central Ontario Railway arrived in 1900, and in 1903, a second railway, the Bancroft, Irondale and Ottawa Railway, built a line through here. They were beneficial in transporting settlers and goods; the railway would operate here until 1982.
Uranium was discovered in 1949 and construction of the first mine (Faraday) started in 1952. The very large Madawaska Mine operated until 1982. Other minerals were also mined over the years. The closing of the mine caused some economic hardship.

Get in
By car
Bancroft is on Ontario Highway 62, midway between Belleville and
Algonquin Provincial Park
. From
Peterborough
, take Highway 28.
By plane
Bancroft is served by the Jack Brown Airport, an aerodrome (CNW3), with a 2,200 foot (670 m) crushed gravel runway, adjoining the town. It is freely available to the general public. Due to high terrain near both ends of the runway, pilots typically use a non-standard circuit, following the York River valley through the town for departing from runway 12 or landing on runway 30.
Get around
Don's Taxi

phone: +1 613-332-2288

Bancroft Taxi

phone: +1 613-332-8294
See
phone: +1 613-332-1542

address: 10 Flint St.

New exhibition monthly, souvenir shop.

phone: +1 613-332-1513

address: 8 Hastings Heritage Way

The Bancroft Gem and Mineral Club displays examples of minerals from within a 100 km radius of Bancroft. Part of the building is the town's former railway station, restored and moved from its original location.

North Hastings Heritage Museum

phone: +1 613-332-1884

address: 26B Station Street

Ten galleries of the community's history. Many artifacts displayed in the galleries have been donated over the years by people of the area, reflecting a rich local history. Artifacts range from Victorian costumes and mineral collections to agricultural tools and early doctors and dentistry equipment.
Do
phone: +1 613-339-2807

address: 1589 Silent Lake Park Road, Bancroft

Lake with swimming, hiking, cycling, canoeing, camping and cross-country ski trails. No motorised vessels permitted on lake. Silent Lake has a rocky and undeveloped shoreline, a mixed forest and marshes full of birds and wildlife best seen by canoe. A rugged trail circles the lake, and sections of groomed ski trails have been graded for mountain biking.

phone: +1 613-332-5918

address: 5 Hastings St

Live theatre in former Bancroft Community Hall, historically a local jail, court house and library.
The former Central Ontario Railway line to Trenton is now the Hastings Heritage Trail.
Events
Bancroft Area Oktoberfest

phone: +1 613-338-2529

address: Bancroft District Fish & Game Protective Association, 27602 Hwy 62 South

Oktoberfest with German food, music, contests and prizes.

address: North Hastings Community Centre (103 Newkirk Blvd) and the Curling Club (63 Newkirk Blvd)

Annual, end of July.
Buy
address: 44 Hastings Street, North

A large selection of semi-precious gem stones, minerals, rock-hounding tools, rock tumblers, jewellery, gifts, decor, metaphysical stuff.

Princess Sodalite Mine Rock Shop

phone: +1 613-332-8274

address: 31241 Hwy 28 East

Beginner to museum quality local and world-wide minerals and an expanding selection of fossil specimens. Candle holders in wood and stone, stone bookends, carvings and wind chimes. books relating to metaphysical, crystals and spirituality. Pendulums, wands, spheres, geometric shaped crystals, Introduction to Alternative Healing kits, meditation strands, singing bowls and a variety of Hindu and Buddhist statues. Healing crystals: Lemurian Quartz, Amegreen, Moldavite, Watermelon Tourmaline, Rutilated Quartz, Diopside, Celestite and Quantum Quatro.
Eat
phone: +1 613 332 2583

address: 18 Snow Rd

Free-run eggs & local meats free of antibiotics, steroids and hormones. Several vegetarian and gluten-free options.

Cafe B C

phone: +1 613-332-5315

address: 29670 Highway 62 North

Try their schnitzel.

For the Halibut Fish and Chips

phone: +1 613-332-0110

address: 220 Hastings St. N.
Drink
phone: +1 613-334-8154

address: 4 Hastings St

Their beers are handcrafted with barley, hops and yeast in small batches to ensure the quality and distinctive tastes. Their water comes from deep within the Canadian Shield, bubbling up through the cracks in ancient granite, naturally adding minerals.
Sleep
Go next
Algonquin Provincial Park about an hour away on Highway 62 N - Highway 127 N - Highway 60 W provides camping and hiking opportunities, beautiful forest and outdoor scenery. Portaging is quite common in this park. Algonquin has a rocky, treed and extensive undeveloped shoreline, a mixed forest and marshes full of birds and wildlife best seen by canoe. Trails through the park provide easy winter access by snowmobile.