Banda Islands
The
Banda Islands
(
Kepulauan Banda
) are an archipelago in
South Maluku
(Moluccas),
Indonesia
.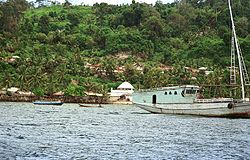 Understand
Once known as the
Spice Islands
, an epithet also applied to the entire
Maluku
area, the Bandas were famous as a source of spices, especially nutmeg (
buah pala
). First colonized by the Portuguese, the Dutch soon wrested control of the islands and fought the Spice Wars with the British. In the Treaty of Breda in 1667, the British agreed to withdraw and gave up Pulau Run to the Dutch, partly in exchange for one small island on the other side of the world: New Amsterdam, now better known as
Manhattan
.
Since 2017, the local government is arranging a yearly 'Banda Folks Festival' in the month of November. Accommodation booking will be very tough for this period, and the past couple of years there were violent disagreement over the competitions results.
Get in
The Bandas were
really
off the beaten track, but transport offers (from
Ambon
) are increasing and making it easier to access these islands. Flight or boat cancellations are
very
frequent, and therefore you should only go to Banda Islands while having plenty of time (i.e. not having a visa expiring soon, or booked flights). Transport offers and schedules are highly subject to changes, so check schedule when arriving in
Ambon
.
By plane
The Banda Islands are served by the small (or
Banda Neira
,
NDA
). Susi Air is operating the flights under a subsidy, making this slightly cheaper than a speed boat. This is not a fixed route (only operating around Sep - Nov), therefore the route cannot be found on the airline's website and tickets must be bought at Ambon Airport. Booking is available through ambon@susiair.com. Ticket price is Rp 350,000 per person (as of Oct 2018). It is a very small plane (12 people capacity), and you can only bring 10 kg of luggage. The airplane returns to Ambon on the same day.
In addition, since there are regular airlines (Wings and Garuda) flying between Kei islands and Ambon, going to/from Ambon through Karel Sadsuitubun Airport (LUV) in the Kei Islands can also be an option, if everything else is cancelled.

By boat
A fast boat (6 hours) goes from Ambon (Tulehu Harbour) to Banda Neira twice a week, on Tuesday and Saturday. The boat returns the next day from Banda to Ambon and costs Rp 410,000 as of Feb 2016. Note that the fast boat can be cancelled if the weather is bad! For example, there was no service in January 2017.
Pelni's ferry runs twice monthly from Ambon, stops in Banda Neira, and continues to Kei Islands. Though uncomfortable and inconvenient, this is the cheapest option.

An alternative is the rather more regular but still unpredictable twice-monthly Pelni ferry (KM Ciremai) to Bandaneira, which usually leaves Ambon on Saturday afternoon (7 hr). Every other week a 150-passenger boat (KM Gravilla) leaves for Banda (Rp 155,000, around 15 hr). Check at the small harbour in Ambon.

Get around
Getting around on Bandaneira is either by foot, ojek (motorbike taxi) or becak (cycle rickshaw). The furthermost village in the north is a 45-minute walk. However, most places of interest to tourists (airport, harbour, market, colonial houses, Pelni office) are within quicker walking distance or within the town of Banda Neira.
Other Banda islands (Ai, Run, Banda Besar, Hatta) can be by accessed by public boat on the Southwest of the Neira Island (near the market). There is no fixed inter-island system, as you will be tagging along with the locals. If you ask different locals, you will get different information. In general, there is one boat per day from each island. Boat to Hatta Island sometime is going every two days. The boats arrive in the Neira Island the morning to buy things in the market, and then return to the other Banda Islands around 11:00-12:00 after they are done with shopping or until their boat is filled with passengers. The rate is about Rp 30,000-Rp 50,000 depending on destinations and boat owners (as of Oct 2018). Public boats do not run on Fridays. All boats can be cancelled randomly for various reasons.
Chartered boats can be used to reach other islands. Day trips by chartered boats: Pulau Hatta Rp 600,000/day; Pulau Pisang + Batu Kapal Rp 350,000/day; half-day tour to the Lava Stream north of Gunung Api Rp 120,000.

See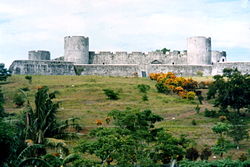 There is no clear and consistent schedule for the local attractions. In general, they are open on 08:00-11:00, and 15:00 until 18:00, in consideration of heat and prayer time. If you are there within the above time and find the gate closed, you can ask the locals around if the guard or keeper is around to open it (as of Nov 2018).
Fort Belgica,
Neira Island
, was built by the Dutch in 1611 and has been fully restored.
Rumah Budaya Museum

address: Rumah Budaya Banda

This small museum exhibits old furniture from the colonial times and tries to evoke a picture of the horrors that took place on Banda Neira by means of paintings.

Mohammad Hatta Exile House

address: Jalan Rahatta

Mohammad Hatta was one of the founding fathers of Indonesia (first Vice-President). From 1934 until 1942 he stayed in exile in this house after he was arrested by the Dutch. Photographs and personal belongings are exhibited.
Do
SnorkelingDay-trips can be arranged through guest houses in Banda Neira or locals owning boats. Great drop-offs include Pulau Hatta, Pulau Pisang, Batu Kapal, Pulau Ai and the northern shore of Pulau Gunung Api just off the cold lava stream. Make sure that your boat captain knows the sites and make arrangements for lunch as there are no warungs on most islands! If you're staying in Pulau Ai or Hatta, you can go snorkelling straight out of your room.

DivingThere is only one dive operator in Bandaneira. Consider that much of the underwater world can be seen through snorkeling and you might get to see enough for less money!
Climb Gunung ApiClimbing the highest peak of the Bandas (667 m above sea level) offers great views and some volcanic insight. The trail starts at the few houses on the eastern shore and although it is unmarked almost impossible to miss. Bring plenty of water (minimum 3 L per person!) as the trail is continuously ascending for around 2 hours. Good shoes are advisable as the path is stony and slippery. No guide necessary but not a bad idea if you intend to climb without anyone else. The fare for boat transport from Bandaneira to Gunung Api is Rp 10,000 per way and boat.
Island WalkStroll around the island to explore smaller villages in the north and the runway of the airport.
Buy

There is an ATM in the Banda Neira that accepts MasterCard and Visa. It doesn't have the Visa logo on the ATM but it works. The local BRI branch will not change any money. You might be able to change US dollars to rupiah at some guesthouses and shops, at an unfavorable rate. Therefore, come prepared and bring sufficient cash from Ambon or Tual.

Eat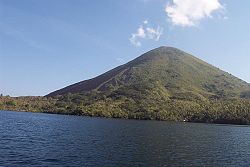 Typical Bandanese cuisine include:
Grilled fish (ikan bakar) of barracuda and tuna, served in guesthouses and rumah makan (restaurants). However you might need to inform the guesthouse if you intend to eat there. Most rumah makan do not store fish as freezers are uncommon and fresh fish can be bought every morning. Therefore you might need to order fish one day in advance or join the chef to the market and buy the fish yourself.
Nutmeg products: Nutmeg jam (available in guesthouses and small stores in Banda Neira), candied nutmeg.
Fishball (bakso ikan), similar to regular meatballs (bakso)
Popular places to eat:
Harbor marketUpon the arrival of the PELNI ships, the harbor area comes to life with dozens of street stalls selling fresh grilled fish and vegetable dishes. Try spicy tuna on a stick with sambal.

RM NusantaraA well-established restaurant to get decent local dishes. Wi-Fi available.

Belgica Cafe
Drink
Nutmeg syrup
The availability of alcoholic drinks in Banda Neira is a bit limited. Some guesthouses have chilled beer (Rp 35,000 - Rp 50,000 per big bottle of Bintang) and fresh juices (Rp 15,000).
Stay safe
Bandaneira is generally a safe place for tourists and there are no annoyances like in other Indonesian cities. Traffic is very little and calm.
Warning:
There have been very frequent reports of
pickpocketing
at the ferry terminal or in the Pelni ferry (especially during boarding and disembarkation). The jostle upon arrival of the big Pelni boat is an ideal place to remove the wallet out of your pocket or to cut your money belt. Pay attention and store your valuables safely!
Indonesian ferries have generally low safety standards. In particular, overloaded small boats, for example to Pulau Ai, might be hazardous during rough seas.
All islands are relatively isolated, and you can not find even simple medications on Pulau Ai or Hatta.
Dengue
fever is common there.
Connect
Guesthouses have good free Wi-Fi. Only Telkomsel is operating in Banda Islands (XL ceased operation in the islands around 2016). Mobile phone reception, including data, is better on Neira Island. Top-ups can can be bought in Neira Island. Reception on Pulau Ai is only available at the jetty. Data will not work on Pulau Ai. (as of Oct 2018).

Go next
Ambon: back to the Gateway of Maluku. If you want to fly to Ambon, you can only buy the ticket in Banda. Get the agent phone number from your accommodation as it sometime changes (as of Oct 2018).
Kai Islands: another gorgeous islands, go there with the PELNI ferry.