Bandar Seri Begawan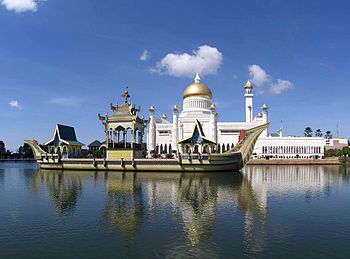 Bandar Seri Begawan
, also known as
BSB
or just
Bandar
, is the capital of
Brunei
.
Understand
Visitor information
Tourist Information CentreDon't get your hopes up—they're friendly but not especially knowledgeable. They do have useful maps of the city, at least.
Get in
See
Brunei#Get in
for Brunei's entry requirements.
By plane
Brunei International Airport
(
BWN
) is the main airport in Brunei. See Brunei#By plane for airline details.

Ground transportation
A taxi from the airport to the city centre takes 20 minutes and costs around B$25. Some hotels may provide transport between airport and hotel for free or for a cheaper price. A covered walk down to the end of the car park away from the Terminal (turn left when exiting from Arrivals) leads to a bus stop for Purple buses to the city centre during the day (B$2).

By car
All main roads in Brunei (save for those in isolated Temburong Districts) lead to Bandar Seri Begawan. The main road into/out of Bandar Seri Begawan connects to the coastal road to/from the Sarawak border via Tutong, Seria and Kuala Belait. Other main roads lead to Muara and Kuala Lurah where there is a border crossing into the Limbang division of Sarawak. Take this road if you are driving to Temburong but you will have to go through two sets of immigration checkpoints - at Kuala Lurah (Tedungan on the Sarawak side) and Puni (Pandaruan on the Sarawak side) - before you reach the district administrative center, Bangar.

By bus
where most local and long-distance buses leave from and arrive is at Jalan Cator in the city centre. It occupies the ground level of a multistory carpark. Map of Brunei public bus routes.
From Seria: Regular buses leave for Seria (where you can change buses to Kuala Belait) that leave from the main bus terminal. They usually display the departure time on the windscreen. Journey time is about one hour and the fare is B$6 one way. Going the other way, there are buses from Kuala Belait to Seria (B$1) where you can change to another bus for Bandar Seri Begawan (B$6).
From Kuala Lurah: Local minibuses run from the bus terminal right up to the Kuala Lurah checkpoint throughout the day. Journey is about half hour and fare is B$1 one way. At Kuala Lurah, walk across the border and either catch a bus or taxi into Limbang.
From Miri: Buses leave twice a day at 8:15 and 3:45 from Miri bus terminal and arrive at the waterfront near the main bus terminal. RM50 or B$22; RM35 or B$17 for children 3–10 (2019).
From Kota Kinabalu: There is one bus per day, arriving and departing at the waterfront near the main bus terminal. The bus to KK leaves at 8AM, but get there at 7:30 to buy the ticket. It takes 6–8 hours and costs $45 (2019).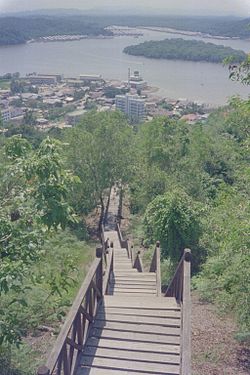 By boat
The main ferry terminal in Brunei is the at Muara. The ferry terminal has currency exchange, a small souvenir shop, and a cafe.
There are about five daily ferries to Labuan (the first one departs at 8:30AM, while the last at 4:30PM), journey lasts from 45 minutes to two hours depending on the boat. It's best to arrive an hour early to buy tickets; boarding starts half an hour before departure. The ferry costs B$15 + terminal tax B$2 (2019). With a change of boats in Labuan you can even make it to Kota Kinabalu (Sabah) in a day (see Kota Kinabalu to Brunei by land). The same applies to Lawas and Sundar (both in Sarawak) accessing which requires changing boats in Labuan. Serasa terminal is 25 km from Bandar Seri Begawan and also in quite a distance from Muara town.
Getting there: The ferry terminal is quite a distance from Muara town where the container port is. The terminal is about 25 km from Bandar Seri Begawan. Buses to Muara depart from the Bandar Seri Begawan bus terminal in Jalan Cator, first bus departs at 6:30AM. There are two possible options: the first is to catch a shuttle express bus that goes directly to the ferry terminal and costs B$2, departs roughly every 2 hours. The second option is a regular bus #37, #38, or #39 to Pekan Muara (the end of the line), where you can transfer to #33 that will go to Serasa Ferry Terminal, price is B$1 including transfer. Altogether, it can take as much as two hours to get from the bus terminal to the ferry terminal. Or you can just take a tour van or taxi.
From Bangar. Speedboats leave for Bangar in Temburong District from the jetty near the foodstalls at Jalan Residency just over the bridge across Sungai Kianggeh to the east of the city centre. Regular boats run between Bandar and Bangar throughout the day.

Get around
Try to pick up the official map of Brunei Darussalam, as it is easy to read and the public bus lines are easy to follow. The people of Brunei are very helpful to visitors, so don't be surprised after a few minutes of conversation they offer a ride to one of the attractions, as they know how much easier it is to drive there than get there any other way.
Downtown is quite small and can be easily navigated on foot. At several intersections there are walking maps of the Heritage Trail which includes the Omar Ali Saifuddien Mosque, Tamu Kianggeh (Kianggeh Market), and the Royal Regalia Museum.
By bus
Public minibuses are the cheapest way to travel in the city. They start service at 6AM but end quite early (at about 6PM). They run
roughly
every 20–40 minutes from 6AM to 6PM, but there's no strict schedule. Most of the bus routes begin and end service at the bus terminal on Jalan Cator downtown. Routes are numbered and the buses are different colors depending on the route. They cost B$1 regardless of distance (B$0.50 for children); the fare is normally collected by a conductor but may also be collected by the driver. They have designated stops but also stop anywhere along the route to drop or pick up passengers (so if you want to stop, just indicate it to the conductor on the bus, and the same thing if you want to get on). The buses are actually more like large vans which can seat about 20 people at the most, and are generally clean and comfortable to ride. Main bus routes include bus service 01 (Circle Line) and 20 (Business Centres Line). The detailed routes of the bus services are written on a board placed on the front window of the buses and are also drawn on the information board at the Jalan Cator terminal.
By tour van
Try asking the counter tickets for a tour van to drive you around Brunei and bring you to the places. Discuss the price first before you agree to board the van.
By taxi
It's almost impossible to hail a taxi outside of airport, so it's better to arrange a one via hotel or call a taxi service. Taxi services: . Airport Taxi Service: .
By ride hailing
The main ride-hailing app in Brunei is
Dart
.
By water taxi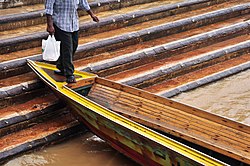 You can hail a few water taxis at almost any dock but the most popular place to find one is on the waterfront downtown. They are great fun to ride in, and they're also a useful way to get to the Water Village and to some of the city's outlying neighbourhoods. Drivers also give tours to see proboscis monkeys and the Water Village; see below for details.
By foot
Downtown BSB is small and easy to get around on foot. There are more sidewalks than in cities in neighboring
Sarawak
. Be careful of the pedestrian traffic lights – most of them stay red and don't change even if you press the button, so instead time your crossing by paying attention to the traffic lights for cars.
Drivers in Bandar are fairly polite to pedestrians – they usually wait when they see pedestrians in the crosswalk, especially downtown.
See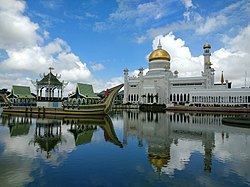 Don't expect to find much tasteful and stunning architecture like you would normally find in
Southeast Asia
. Here, most of the buildings are just plain and box-shaped. However, an interesting twist to the billboards around here, is that the "Jawi" (Arabicized Malay writing) are prevalent among them. Sometimes, foreign names are translated literally, e.g. "Pizza Hut" to "Pondok Pizza".
Omar Ali Saifuddien Mosque

address: Jalan Elizabeth II

Open to visitors when it is not being used for prayers (opening times are posted by the gate). The mosque is very welcoming and if your clothes aren't considered appropriate you'll be given a robe upon entry. Remove your shoes before entering and be respectfully quiet inside as there may be some people there meditating and praying. The mosque is visible from around the centre of the city, but the entrance is located on Jalan McArthur, just south of Jalan Elizabeth Dua.

Jame'Asr Hassanal Bolkiah Mosque

phone: +673 223 8741

address: Jalan Stadium Negara Hassanal Bolkiah

Another mosque, that resembles Omar Ali Saifuddin Mosque. Whereas Omar Ali Saifuddin mosque is built to commemorate Sultan Omar, this mosque is to commemorate the current reigning Sultan. Visitors, including non-Muslims, can go inside after removing shoes and covering up with a black robe.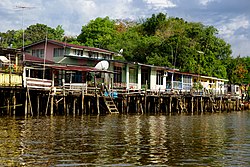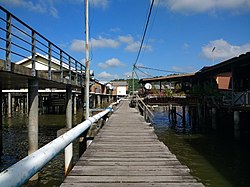 Kampong AyerThe water village is a beautiful sight to see hundreds of houses seemingly floating on water. The village, which is the world's biggest settlement on stilts, has been on the river for over one thousand years and was the capital of the Bruneian Empire. The water village people are very friendly and many open up their homes to visitors year-round. For a tour by boat, water taxis can be found by walking along the Brunei river or the main market in Bandar Seri Begawan and waving one down. Try to negotiate the price down—you shouldn't pay more than B$30 for an hour-long tour (B$15 for half an hour) of Kampong Ayer. Even though the water taxis are not wheelchair-friendly, their drivers are very willing to lend a hand and even team up and carry a person in a wheelchair on board; ask for a larger boat though.

But to really experience the water village, you've got to walk around and explore it. You can take a water taxi across for $1 per person (a 2-minute ride). Ask the driver to take you to the gallery (), which has a detailed exhibition of the history of Kampong Ayer and some lovely artistic souvenirs for sale. The gallery is open 9AM–5PM, but closes Friday 11AM–2:30PM for Friday prayers. The observation tower next to the gallery has views of the water village and the city center. Then don't just stay at the edge of the village near the gallery – go into the village and walk around. Not many tourists seem to go in, so you may get curious hellos from residents, especially children. You'll see people going about their ordinary routines, which feels almost surreal since it's all suspended a few meters above the river. If you look around you might spot a mosque, schools, whimsically colorful buildings, and even chickens. The boardwalks might make you nervous, but there's no reason to worry – just watch your step. They're more stable than they look, and even if you did somehow lose your balance and fall in, it's just a short swim to the nearest ladder – in a way it's safer than walking next to a busy street. Don't wear high heels though.

If you don't want to shell out for the ride, you can also walk into the village – start from behind the Sultan's Mosque or from the other bank in Batu Satu.

Royal Regalia Museum

phone: +673 224 4545

address: Jalan Sultan Omar Ali Saifuddien

It displays the royal accessories utilised during the coronation, and some reproductions, as well as gifts received by the Sultan from dignitaries and civilians all around the world. Definitely worth checking out. If you don't have time to visit both, and need to choose between this museum or "Brunei Museum" at Kota Batu, choose this one. Photography isn't allowed; you have to leave bags, phones, and cameras in a locker when you come in. You have to take off shoes and the floors are marble, so wear socks. Has a gift shop with souvenirs.

Istana Nurul ImanThe residential palace of the Sultan. It is not possible to enter, yet the huge size of the palace attracts tourists to snap picture in front of the gate. The palace is however, hidden behind the landscapes, so a better picture can be seen in flyers or souvenirs that feature it.

Brunei MuseumHas just closed for a undetermined period of time, maybe until 2016. Though had an excellent display in the Islamic Art Gallery. It is highly recommended.

After visiting the Brunei Museum, walk along the road toward BSB to visit two tombs: the first is the Tomb of Sharif Ali, the third sultan of Brunei. The green sign by the road is written entirely in Arabic lettering. Further down the road is the Tomb of Sultan Bolkiah, the fifth sultan of Brunei. Both tombs are in easy walking distance from the Museum.

Malay Technology MuseumThis place has many exhibits featuring the different style of houses and lifestyle of those who live on the water village.

Tasek Lama Recreational Park

address: Jln Tasek Lama

Huge park close to the city with lots of walking trails and a waterfall.

Kianggeh CanalA small canal near the Kianggeh Market, there are sometimes monitor lizards inside the canal and monkeys nearby.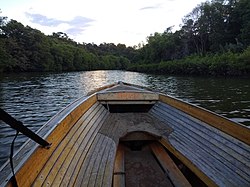 Proboscis monkeysTake a boat along the rivers that snake through the swampy jungle near the capital, and scan the trees to try to spot the monkeys (your driver will look too). Keen eyes help, and bring binoculars if you have them. Also keep your eyes out for beautiful white birds and monitor lizards. Leave at around 5PM for the best chance of seeing proboscis monkeys—head to one of the waterfront jetties (near the tourist information centre) and ask one of the boats to take you to see the monkeys. The trip lasts about 30 minutes to an hour.
Teng Yun Temple

address: Jalan Sungai Kianggeh and Jalan Elizabeth Dua

A smallish Chinese temple.
Jerudong
Small market town with population of 21,000, 24 km west of Bandar Seri Begawan.
phone: +673 261 1777

It was one of the best parks back in 2000s, but these days of glory are faded away long time ago. It got some renovation in 2015 but anyway still some parts of it look abandoned. It consists of two parts: playground and water park.
Muara
Small town on the north-eastern tip of Brunei where the country's only deep-water port is located.
Muara BeachBeautiful beach with food stalls, playground and washrooms.
Serasa
Another small town with population around 10,000 people close to Muara.
Serasa BeachBeach got a major face lift in 2015 and now features stylish restaurants, showers, walking trails.
Do
Meet the sultan
Every year, for three days at the end of Ramadan, the sultan of Brunei, Hassanal Bolkiah, opens his palace (Istana Nurul Iman) to the public. This event is primarily intended for the citizens of Brunei to meet their sultan, but foreigners are welcome too. Prepare to queue up for hours; even the queue for security alone takes over an hour. In the palace, free meals are distributed amongst all visitors; there is a wide choice. You can then queue up again in order to meet the sultan himself. You won't have the opportunity to exchange more than a handshake and a few words with him, but it's still a unique opportunity to meet a head of state.
Unfortunately, the sultan only meets men. Fortunately though, women can meet his wife, Queen Saleha, in similar arrangements on the same three days.

Buy
Several currency exchange places can be found downtown.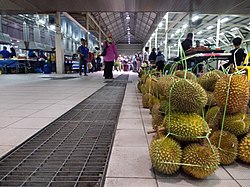 Night Market

address: Simpang 37, Gadong

A lively market in an open-air building. Half of it is full of vendors selling fruit (lots of durian), clothes, and miscellaneous goods. The other half has cheap street food, including sweet drinks and a lot of fried stuff, mostly for $1 each.

The MallA good place to shop for supplies, or to check out some local department stores. Surprisingly few multi-national brands. Located in Gadong, it is combined with the Rizqun Hotel. It also has a good souvenir shop.

YayasanBuilt by the sultan to support the welfare of the people. Located in central Bandar.

Brunei Products & Souvenir CentreSouvenir shop downtown near the waterfront.
Eat
Kianggeh MarketA covered market in downtown. You can get Nasi Katok, Teh Tarik, or a kilogram of raw vegetables or sapit for B$1.

Aminah Arif RestaurantOne of a few local restaurants that features the Bruneian delicacy ambuyat and a pretty good range of other food too.

RMS Portview, opposite the Yayasan Shopping Centre. The terrace offers a great view overlooking Kampong Ayer, great for cooling down after sightseeing.
Gerai Makan, on the waterfront in the southeastern corner of the city, just across a bridge. Here there are a number of outdoor restaurants serving cheap and tasty fare. It's a great place to relax and soak in the local atmosphere. Great views of stilt villages and water taxis speeding back and forth.
PGS Cafe, near the Palm Garden at Kiulap. Charges buffet dining at B$6 per head in a pleasant air-conditioned restaurant.
There are plenty of small local
Kedai Kopi
(coffee shops) in town that sell simple, cheap and tasty food and are frequented by locals.
Drink
Tagz Lounge, Sheraton Utama Hotel. The closest you can get to a bar in an alcohol-free country, here you can bring your own booze and buy the mixers. Access theoretically only for hotel guests, but getting in is rarely a problem.
Sleep
Most hotels in Brunei are in the middle to higher price range.
Budget
Pusat Belia Youth Hostel

phone: +673 887 3066 (Manager), +673 899 8852 (Assistant Manager)

address: Jalan Sungai Kianggeh

Closed until mid March 2016. Designed more for school groups than for backpackers. Dorm beds are B$10/night, making it the cheapest sleep in town. Male and female sleeping quarters are separated, so this can be an inconvenience for couples. The location, however, is quite convenient as it is close to downtown BSB. The rooms are spacious and clean, as the commodities. The free Wi-Fi is not always available. It is best to arrange a bed in advance, since the manager is not always present. He generally arrives at 7:30PM but is reachable by phone during the day. The e-mail addresses indicated online are wrong. There's also a swimming pool nearby ($1, 8AM-6PM).

phone: +673085154564

address: Simpang 229, Kampung Pintu Malim

Another budget option. Cozy and a great deal. The only disadvantage is that it's 2 km from downtown BSB, but Bus 39 (B$1) or water taxis (B$1–2) can solve this problem.

phone: +673 222-2052

address: 140 Jalan Pemancha

Although it is probably the worst deal in South East Asia, its major advantage is its excellent location, right downtown near the bus terminal, with an ATM on the corner and an Internet café in the adjacent alley. The staff are friendly and helpful, though the rooms are really spartan. 24-hour reception. No Wi-Fi, no shared computer, no non-smoking area, no Western-style toilets, no booking service, no fan. Also note that everyone in the building opposite the road will see you when you take your shower. In the same building you will find a very useful information center, Borneo Guide.

phone: +673 2244 828

address: 95 Jalan Pemancha

On Jalan Pemancha, a 15-minute drive from the international airport. Rooms are air-conditioned and equipped with satellite TV, a mini-bar, IDD telephone, and Internet access.

phone: +673 261 2233

address: Simpang 396, Sengkurong

Convenient only for the Jerudong area but excellent value withs rooms with a/c and restaurant. Car or taxi essential.

address: Jalan Gadong

Coffee Lounge offers various Asian and western cuisine as well as coffee and treats. Free Wi-Fi is available in every room. Make sure to book at appointment at the Foot Reflexology Center after a long day of sightseeing.

Joy Downtown Rest-Station

address: Jalan McArthur No. 9 1st floor

Opened since Dec 2015. It offers one of the cheapest accomodations in town. Friendly staff, they can give you advices of how to go to many parts of the city. Clean rooms but you can hear your neighbours since there is a gap of space in the roof of the rooms.

AE Backpackers Hostel

address: Simpang 88, Kiulap

Hostel some distance from downtown, with free breakfast, wifi, air conditioning, and friendly, helpful staff. Laundry available for a fee.

BK HostelDowntown hostel, bookable only through Airbnb.

phone: +6732333668

address: Unit 3 Ground Floor Bangunan Hj Munchit Dan Dayang Rapiah - Jaya Setia ( Berakas )

Qing Yun Resthouse has 5 branches located throughout Brunei-Muara District. The different branches are located near the Airport, The City Centre(Bandar Seri Begawan), Central Business District (Gadong). and near tourist site attraction. It is a perfect fit for people who are having a short stay or is transiting in Brunei. Room price starting from BND 40
Mid-range
phone: +673 222 1228

In the Seri Complex - B$58/night. A boutique hotel located in the heart of the Seri Complex. Offers friendly and artistic ambience with reasonable rates.

phone: +673 2611618

address: Lot: 27192, Kg Jerudong, Jalan Pulau Kubu P.O.Box 555, Sengkurong Negara Brunei Darussalam

The Holiday Lodge Hotel, in restful tones of terra cotta and cream with deep green trim, features a two-storey foyer where guests are greeted with traditional hospitality. Well-known for warm and friendly service, located near Jerudong Park, on the coastline of the South China Sea, and roughly equidistant from Brunei International Airport and Bandar Seri Begawan, Brunei Darussalam's Capital, The Holiday Lodge Hotel offers a relaxing environment and proximity to the country's attraction: Jerudong Park Playground. Jerudong Park Playground is a mere 5 minutes' walk or a complimentary shuttle from The Holiday Lodge Hotel.

phone: +673 2 335544

address: Lot 31954, Simpang 9, Kg. Anggerek Desa, Jalan Berakas BB3713

Four-star hotel.
Splurge
The Empire Hotel and Country ClubFamily, beach and spa resort that overlooks the South China Sea. A 5-star property. Rooms from US$150.

Radisson Hotel Brunei Darussalam

phone: +673 2244272

address: Jalan Tasek Bandar Seri Begawan BS8211 Brunei

Walking distance to several tourist attractions in the city
Grand City Hotel, Tel: 2452188. A useful hotel near the airport. Will arrange transport even for a short rest of a few hours.
Stay safe
Crime is very uncommon in this tightly controlled small country.

Cope
Embassies and High Commissions
Religious services
Church of Our Lady of the Assumption

address: 11 Jalan Kumbang Pasang

St. Andrew's Anglican Church

address: Jalan Kumbang Pasang

Sunday services in English (liturgical at 7:45AM and contemporary at 10AM), Chinese (3PM), Iban (6PM), and Tamil (8PM).
Go next
In Brunei
Kuala Belait — second largest city in Brunei
Ulu Temburong National Park (see Bangar) has many day tours from BSB from B$125-185:
http://www.freme.com/product/ulu-temburong-national-park-day-tour-2/
http://www.bruneitourism.com/brunei-atta-12
https://bruneiborneo.com/package/bwn-15-ulu-temburong-national-park-day-trip/
Elsewhere in Borneo