Bandung/South
South Bandung
covers the extensive residential areas of
Bandung
south of the railway. South Bandung encompasses a large number of neighbourhoods and districts, including Cibaduyut, Buah Batu, and Gedebage, as well as the
Trans Studio
theme park.
Get in
By car
The southern border of Bandung is defined by the
Padaleunyi
toll road, with five exits, from west to east
Pasir Koja
(KM 132),
Kopo
(KM 135),
Mohammed Toha
(KM 139),
Buah Batu
(KM 142), and
Gedebage
(KM 149). The exit numbers signify the distance from the western terminus of the toll road in
East Jakarta
. A second main east-west road in South Bandung is
Jalan Soekarno-Hatta
, running parallel to the toll road, a few kilometres to the north. This road also provides an easy connection between the airport in
Northwest Bandung
and South Bandung.
By bus
The main public transport hub of South Bandung is . The terminal is served by long-distance buses with destinations to the west of Bandung, including
Bogor Raya
,
Greater Jakarta
, and
Banten
. In addition, there are several city bus and
angkot
(public minivan) routes from and to the terminal, including DAMRI-operated bus route 9 that runs to the other main bus terminal,
Cicaheum
, in
East Bandung
(which serves long-distance buses to and from destinations to the east), bus route 2 to
Ledeng
terminal in
Northwest Bandung
, and bus route 5 to
Dipatiukur
in
North Bandung
(in front of the Padjadjaran University campus).
Angkots follow a fixed route (there are various routes throughout the city), but there is no fixed schedule and there are no fixed stops. To get on, simply raise your hand. To get off, shout "Kiri!" to the driver, so he will pull over on the left (Indonesian:
kiri
) side of the road. The price of an angkot ride within the city is usually about Rp2,000 to 5,000. It is best to ask a local which angkot route to take, and how to recognise the location you want to get off. There are, among others,
angkot
routes from Leuwi Panjang terminal to
Cimahi
and Soreang (both 24 hours per day).
Other key bus and
angkot
stops in South Bandung include (also known as
Abdul Muis
) and . Also most other major roads in the area are served by one or more
angkot
routes.
By train
There are five operational railway stations along the northern edge of South Bandung. From west to east, these are , , , (abbreviated
Kircon
), and . Each of these stations is served by a few daily local trains to Bandung's main railway station, as well as suburbs such as
Cimahi
. Kiaracondong station in addition serves a range of economy-class long-distance trains to and from
Jakarta
and
Central
and
East Java
. For travelling by public transport within the city, it is usually easier and faster to use buses and
angkot
(public minivans). For long-distance business and executive class trains, you will need to travel from Bandung's main railway station in
Central Bandung
.
See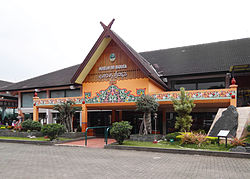 Most of Bandung's colonial heritage is concentrated in the
city centre
, as well as the upper-class residential areas in
North Bandung
. In South Bandung there were traditionally only few Dutch colonials, and therefore the number of colonial buildings is also limited. However, there are still a few interesting colonial buildings, and various other sights.
phone: +62 22 521 0976

address: Jl. BKR No. 185

Archeological and geological exhibitions related to the province of West Java, such as Sundanese crafts, furnishings, geologic history, and natural diversity.

Immanuel Hospital

address: Jl. Raya Kopo No.161

The Immanuel Hospital was established in the year 1900 in Central Bandung. By 1922, the hospital moved to a larger complex at the current location. Various new buildings have been added, but several original buildings in colonial style are remaining. It is still a Christian hospital, and one of the new buildings is called Alkema Memorial Building after the hospital's founder.
Do
phone: +62 22 8601 2555

address: Jl. Jendral Gatot Subroto No. 289

Indonesia's biggest indoor theme park is an equivalent to Universal Studios, but to a much smaller scale. There are more than 20 rides within 3 zones: Studio Central, The Lost World, and Magic Corner. Some of the attractions, especially the roller coasters, are equally thrilling to what you would expect in an outdoor amusement park. The Trans Studio Mall is connected to the theme park, and there are several hotels in the complex as well.

Bandung Indah Golf & Country Club

phone: +62 22 541 3585

address: Jl. Raya Kopo-Soreang KM 8,4, Margahayu

18 holes golf course.

Gelora Bandung Lautan Api Stadium

address: Jl. Ali Bin Abi Thalib No. 22

Modern football stadium, opened in 2013. It is the home of the city's Persib Bandung football club. The official capacity of the all-seater stadium according to FIFA rules is 38,000, but if the seats are removed the stadium can hold up to 72,000 spectators.
Buy
Shopping malls
phone: +62 22 8601 2000

address: Jl. Jendral Gatot Subroto No. 289

The largest shopping mall of the city, connected to the Trans Studio theme park. The mall is the place in Bandung to find upscale clothing and fashion brands, as well as sit-down dining options and a huge food court. There is also an XXI cinema, NAV Family Karaoke (KTV), a large supermarket, and a department store.

phone: +62 22 6128583

address: Jl. Peta No. 241

Shopping mall with a range of shops, restaurants, cafés, a cinema, KTV, and a hotel with convention centre.

Miko Mall

phone: +62 22 8544 0633

address: Jl. Raya Kopo No. 599

Mall along the southern toll road (Kopo exit), with Blitz cinema, large supermarket, and various other shops, restaurants, and cafés.
Local products, handicrafts and souvenirs
Cibaduyut shoes centre

address: Jl. Raya Cibaduyut

The Cibaduyut neighbourhood in Southern Bandung is known for its leather shoes production. There are numerous shoes shops along Jalan Raya Cibaduyut and in its surroundings. In addition to shoes, also other leather products are sold.

LORI Art Design

phone: +62 22 7315604

address: Jl. Guntur No. 1

Ethnic contemporary styled jewellery and handicraft accessories for women and men. Product use natural, environment friendly materials such as stones, cowstone, woods, seeds and Rudrakash/Ganitrus Beads.

phone: +62 22 733 7342

address: Jl. Soekarno Hatta No.5

Wayang golek (traditional Sundanese wooden doll puppets) and other local cultural handicrafts, including angklung musical instruments.
Eat
Budget
Mie Naripan

phone: +62 22 423 5808

address: Jl. Naripan No. 108

Selling a wide variety of noodles dishes.

Mih Kocok SKM

phone: +62 22 420 1582

address: Jl. Sunda No.38

Mie Kocok is a noodle soup, served with beef foot, beef skin and tauge or mung bean sprout. If you don't fancy with these parts of beef, then you can ask not to have it and you can still taste its appetite.

Rumah Makan Ibu Haji Ciganea

phone: +62 22 731 4291

address: Jl. Lodaya No 29

Sundanese restaurant. Originally from Purwakarta, now also with a branch in Bandung.
Mid-range
Batagor Riri

phone: +62 22 730 3349

address: Jalan Burangrang No. 41

Batagor, siomay, and baso malang.

Rumah Makan Ponyo Malabar

phone: +62 22 7301477

address: Jl. Malabar No.60

Sundanese restaurant
Splurge
Snacks, ice cream, and pastry
phone: +62 22 927 5419

address: Jl. Rancabolang No. 29

Amanda's highlight is its steamed (no-bake) chocolate soft brownies, enticing people to form a line at its outlets! The outlet at Jl. Rancabolang is its main outlet, but there are several more branches across the city, and in other Indonesian cities.

Martabak Andir

phone: +62 22 601 5386

address: Jl. Jendral Sudirman No. 413

A wide variety of martabak manis sweet stuffed pancakes.
Drink
Cafés and coffee houses
Es Cendol Elizabeth

address: Jl. Inhoftank No.64

Cendol is an Indonesian drink made with coconut and coconut milk, served with ice cubes and sweet brown sugar.
Sleep
Budget
phone: +62 22 7562980

address: Jl. Soekarno Hatta No.464

Hotel that brands itself as having a Moslem atmosphere.

Hotel Eve Bandung

phone: +62 22 5419665

address: Jl. Mekarsari No.2

Budget hotel in the Cibaduyut shoes district; the hotel nearest to the Leuwipanjang bus terminal.
Mid-range
phone: +62 22 8734 5555

address: Jl. Jendral Gatot Subroto No.289

The largest ibis hotel in Asia.

Harris Hotel & Conventions Festival Citylink

phone: +62 22 612 8600

address: Jl. Peta No.241

Hotel with swimming pool and recreation service for children. Direct indoor access to the shopping mall.

phone: +62 22 5441 0688

address: Jl. Raya Kopo No. 459

Large and modern hotel in the Kopo area of southern Bandung, near the toll road.
Splurge
phone: +62 22 731 0799

address: Jl. Jend. Gatot Subroto No. 83

4 stars.

phone: +62 22 8734 8888

address: Jl. Gatot Subroto No. 289

Considered one of the best hotels of Indonesia, branded as 'the first hotel with 6 stars in the country'.

Grand Pasundan Convention Hotel

phone: +62 22 6043135

address: Jl. Peta No. 147-149

4 stars.
Stay safe
Police stations
Stay healthy
Hospitals with 24 hour emergency units
Most of hospitals in Bandung have IGD/UGD (Emergency Units) and open 24 hours a day, some of it are:
phone: +62 22 756 2046

address: Jl. Soekarno-Hatta No. 644

phone: +62 22 520 1656

address: Jl. Raya Kopo No.161

phone: +62 22 730 1062

address: Jl. KH. Ahmad Dahlan No. 53

Rajawali Hospital

phone: +62 22 601 1913

address: Jl. Rajawali Barat No. 38