Banff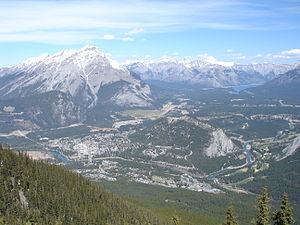 The town of
Banff
is located in
Banff National Park
, in the
Canadian Rockies
. It is the larger of the two populated areas in Banff National Park, and is about an hour and a half drive west of
Calgary
and four hours south of
Jasper
. Banff is part of the Canadian Rocky Mountain Parks
UNESCO World Heritage
Site. Like many mountain towns, Banff has a very different character in winter and summer. There is a decent selection of bars and restaurants but predictably a few too many souvenir shops and boutiques. European travellers will especially welcome the sidewalks that facilitate exploration of the town on foot.
Understand
Banff is a tourist town full of visitors and seasonal workers from across Canada and around the world. It is a convenient base for seeing some spectacular scenery with little effort. However, with convenience comes crowds. Banff Avenue can be very busy on summer afternoons and evenings, but it is a great place to stay for any length of time. There are a wide variety of restaurants and clubs and plenty of tours and activities to keep you busy. Staying in Banff during the winter gives easy access to the nearby ski areas of Norquay, Sunshine Village, and Lake Louise.
The area was named Banff in 1884 by George Stephen, president of the Canadian Pacific Railway, recalling his birthplace in
Banff, Scotland
.
Climate
At an elevation of 1400m above sea level and surrounded by mountains, the climate is subarctic. Banff has experienced snowfall even during the summer months. With daily mean temperatures of +15°C in the summer and -8°C in the winter, the climate is very similar to northern
Scandinavia
.
Get in
By plane
The park is easily accessible for international travellers via
Calgary
International Airport, which has international scheduled and charter flights. The Banff Airporter ($63.99 one way) and the Brewster Airport Express ($69.99 one way) run regular scheduled trips between the airport and Banff several times daily.
By car
From Calgary, take the
Trans-Canada Highway
(Highway 1) west. The first exit to Banff is about an hour and a half from the airport.
The
Icefields Parkway
(Highway 93) is a scenic drive from
Jasper
.
Parking
can be tricky, but the five-storey Bear Street Parkade near downtown is free. Look for it in the 100 block of Bear Street, one block west of Banff Avenue. The Bear Street Parkade also has an
EV charging station
. The Town of Banff website has
parking maps
.
By bus
Rider ExpressBus service along the Trans-Canada Highway from Winnipeg to Vancouver, twice daily. Service from Calgary, Strathmore, Canmore, and Lake Louise (Alberta); Revelstoke, Salmon Arm, Kamloops, Hope, Abbotsford, and Vancouver (British Columbia); Medicine Hat, Swift Current, Moose Jaw, Regina, Whitewood, and Moosomin (Saskatchewan); and Brandon, and Winnipeg (Manitoba).
There are several
airport shuttle
providers from the Calgary Airport to Banff and Lake Louise.
By train
Regularly scheduled passenger trains no longer stop at Banff's historic train station, but luxury
Rocky Mountaineer
sightseeing trains operated by
Rocky Mountaineer Vacations
visit regularly from spring through to fall. (Reservations required.) You can take
VIA Rail
train service to
Edmonton
or Jasper, and then either take a bus or rent a car and drive to Banff.
Park entry fees
All visitors stopping in Banff National Park (even just for gas or in the town) require a park permit. If you are driving through non-stop, the pass is not required. Day passes and annual passes are available; see
Banff National Park#Fees and permits
for details.
Get around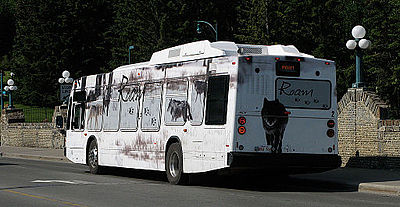 By foot
The Banff townsite is small, and you can walk just about anywhere you want to go. Walking is quick, easy and allows for random adventures down to the river, through the forests, and up the mountains. All of these activities are within a 5-15 minute walking distance.
By bus
Banff's Roam public transit
bus system
covers most of the town's hotels and attractions. Roam transit fares are $2 (one-way) for adults, $1 for kids and seniors; an unlimited day pass costs $5. Bus service runs from 6:15AM to 11:30PM daily.
By taxi
Taxi cabs are also available, which is handy if you are doing a grocery run or staying out late.
By bike
Biking around town is popular too. There are several shops to rent bicycles if you are interested in either mountain biking, quick travel downtown, or trail riding to the historic Fairmont Banff Springs Hotel. You can also combine cycling with public transit, as buses are equipped with bike racks. Banff is filled with trails that take you through forested areas, along streams and waterfalls, to incredible lake and mountain views.
See
The Canadian Rockies offer some of the most spectacular scenery in the world. It may seem a daunting task to try to see it all in a limited amount of time.
Many tour companies will eliminate the hassle, giving you the opportunity to sit back, relax and enjoy the view. The friendly guides offer fun and informative sightseeing tours in and around the Banff area in comfortable vehicles.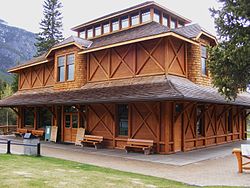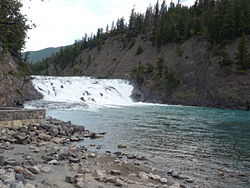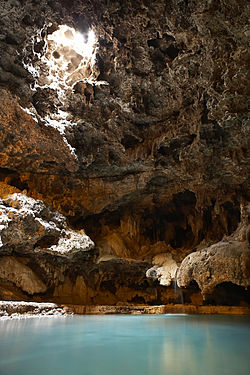 Banff Park Museum National Historic site

phone: +1 403-762-1558

address: 91 Banff Ave

Come and learn about the animals you may see on your trip to Banff. Guaranteed bear sightings! This historic "cabinet museum" is full of Banff wildlife preserved through taxidermy. Most of the animals on display were killed roughly a century ago.

Banff Springs Hotel National Historic Site

phone: +1 403-762-2211

address: 405 Spray Ave

The Banff Springs Hotel is a working hotel, and a recognized national historic site. The oldest part of the famous "Castle in the Rockies" was built between 1911 and 1914 using local Rundle stone (dark limestone) on the exterior, while the interior is that of a grand hotel. Fossils can be seen in the stone flooring. Visitors are welcome to see the public parts of the hotel, while guided tours may be available to show you some of the closed areas.

Bow FallsBelow the iconic Banff Springs Hotel is the beautiful Bow Falls. It's not the most dramatic waterfall in Banff National Park, but Bow Falls is in the town of Banff and is worth a visit. Easily accessible with plenty of parking for private vehicles and tour buses. You can take in the view from either side of the river.

phone: +1 403-762-2388

address: 1 Birch Ave

Housed in a reproduction of a fur trading post, this museum focuses on the history of the First Nations in the Banff area.

Cascades of Time Gardens

phone: +1 403-762-1550

address: 101 Mountain Ave

Designed and built in the 1930s, the Cascades of Time gardens cover 1.6 hectares (4 acres) in the Banff townsite, in front of the Administration Building and behind it. The rustic timber and stone pavilions in the garden are Recognized Federal Heritage Buildings.

Cave and Basin National Historic site

phone: +1 403-762-1566

address: 311 Cave Ave

See the birthplace of Canada's National Park system, where hot sulphur springs were found and the original bathhouse was built in 1887. There are also a couple of short nature trails that are free to access that explain the origin and the give you a view over the pools that are free to access.

address: End of Lake Minnewanka Scenic Drive

This scenic driving loop is a short distance from the Banff townsite. It goes up the side of Cascade Mountain to Lake Minnewanka, and back down by a different route. Sights along the way include Cascade Ponds, Bankhead (former site of a coal mining town and the mine), Lake Minnewanka (picnic area, hiking, boat cruises, motor boat rentals), Two Jack Lake, and Johnson Lake. The area is also well known for the bighorn sheep that can be seen on and near the road.

Mount Norquay viewpoint

address: Mt Norquay Scenic Drive

As you drive the winding road up to the Mt Norquay ski area, there are several viewpoints that let you see the town of Banff below, Vermilion Lakes, and the surrounding mountains.

Surprise Corner viewpointYou can see the Fairmont Banff Springs Hotel, Bow River, and Sulphur Mountain from this viewpoint on the lower slopes of Tunnel Mountain.

Vermilion Lakes

address: Vermilion Lakes Road, just south of and parallel to Trans-Canada Hwy (Hwy 1) near Mt Norquay Rd

These three shallow lakes make a marvellous foreground to dramatic Mount Rundle in the background. Come at sunrise or sunset to see muskrat and beaver and get great lighting for photos.

Whyte Museum of the Canadian Rockies

phone: +1 403-762-1558

address: 111 Bear St

Offers something for the whole family: art, culture and the human and natural history of the Canadian Rockies. Visit the heritage homes or take a guided walk.
Do
Mountain town activities are characteristically different in summer and winter.
Year round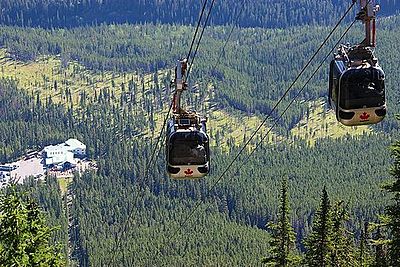 phone: +1 403-762-6100

address: 107 Tunnel Mountain Dr

A globally respected arts and cultural centre featuring performances and events with dance, music, theatre, opera, film, books, new media, and visual arts.

Banff Gondola Mountaintop Experience

phone: +1 403-762-2523

address: End of Mountain Avenue

Banff's sightseeing gondola provides visitors with great views of the Canadian Rockies and the town of Banff. The gondola takes you up 698m (2,292 ft) to an elevation of 2,281m (7,486 ft). At the top, there is a restaurant, gift shop, observation deck, photo opportunities, and a boardwalk to nearby Sanson Peak, at the top of Sulphur Mountain. On most Fridays and Saturdays, you can experience a sunset "Alpine Lights" dinner in the Panorama restaurant at the top of the gondola.
Indoor activities
Banff does offer some indoor activities besides museums and galleries.
Spas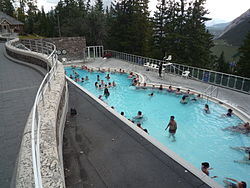 Banff National Park was established to protect and promote the natural
hot springs
at the Cave & Basin (now Cave & Basin National Historic Site). So there is a century-long tradition of visitors coming to take the waters in a spa-type setting. Today, visitors have many spas to choose from, but only the
Upper Hot Springs Pool and Pleiades Spa
allows visitors the opportunity to bathe in water from a hot spring.
Winter
Skiing and snowboarding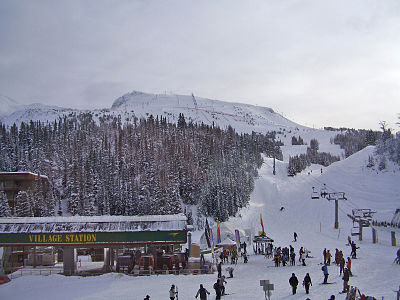 Banff National Park is home to
three ski areas
, all within easy drive of the Banff townsite. Driving to the hill is not strictly required, as ski shuttles have stops convenient to most hotels. They will take you to the mountain of your choice and back again. Shuttle buses are included in the price of some ski passes, or you may have to pay a fare ($15).
Of the three Banff National Park ski areas, only Sunshine Village has ski-in ski-out accommodations. However, access to Sunshine is solely through their gondola. The gondola stops running Sa-Th at 4PM, and F at 10PM. Sunshine is a village in name only; there are very few activities there after the ski lifts shut down for the day. Most skiers stay in the town of Banff or the village of Lake Louise.
The ski season in Banff runs from early November to mid-April. The final day of skiing at Sunshine Village is always on Victoria Day, in late May.
phone: +1 403-762-4421

address: End of Mount Norquay Scenic Drive

The closest mountain to the Banff townsite, and it is much used by the locals. It is unique in the area because you can pay for skiing by the hour, and night skiing is available on Fridays and Saturdays. There is a tube park for non-skiers (and non-boarders.) The ski season is a little shorter at Norquay, because it is at a lower altitude than Sunshine and Lake Louise, and snowfall is less consistent. The trails here lean more towards steep and difficult, although there is still plenty of easy terrain. Giv'er Grandi (formerly Excalibur, accessed via Mystic Express lift) is North America's steepest groomed piste. The lodge is not much good for breakfast; lunch and beer on the deck can't be beat however!

phone: +1 403-705-4000

address: End of Sunshine Road

20 minutes west of the Banff townsite. It also receives more snow than the other two resorts and benefits from a higher elevation and a generally longer ski season. All natural snow, no snow-making. Also fantastic scenery. It is the only resort of the three to have on-hill accommodation. Buffet breakfast served in the lodge at the bottom of the gondola - not much else until lunchtime once you get to the top.
See also Lake Louise Ski Resort
All the ski hills are busier on the weekends. Lake Louise tends to get icy if it hasn't snowed in a while, but with fresh snow is hard to beat. Sunshine Village has been giving them some competition with their new terrain and improvements however. Especially in the early season, pay attention to how many runs are open and how much recent snow has been received in the snow reports - they are better indications of the conditions than the generic conditions ratings given by the hills (the conditions are always at least 'good' according to their ratings). If you only have a few hours and want to ski where the locals ski check out Ski Norquay, it has nice long open runs with great views of the town.
Lift passes
If you arrive before December 31 and you intend to ski at least 3 days at Sunshine Village, or a combination of three days at Sunshine and at Marmot Basin in Jasper, consider buying a
Sunshine-Marmot card
. The card costs about the same price as one lift ticket. The first, fourth and seventh times you use the card you get a free lift ticket, all other times you get $10 off (you are ahead quite a bit by the third day). These cards can be purchased on the hill (either Sunshine or Marmot Basin), or also at Safeway stores in Edmonton and Calgary, and are valid at Sunshine Village in Banff and Marmot Basin ski resort in Jasper. The Sunshine-Marmot cards are available for purchase until December 31 but can be used all season.
Louise Plus cards
are very similar to Sunshine Marmot Cards. In addition to Lake Louise, they are also honored at four other ski areas: Castle (near Pincher Creek, Alberta); Revelstoke (Revelstoke, BC); Panorama (Panorama, BC), and Schweitzer (Sandpoint, Idaho, USA).
You can purchase a
Tri-Area Pass
for Sunshine Village, Lake Louise Mountain Resort and Norquay. This ticket includes the bus transportation and can be used at any of the three hills at any time.
Ski and snowboard rentals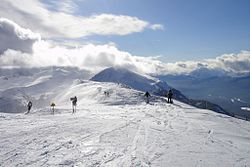 There are a number of great places in the Town of Banff that will rent high quality skis, snowboards, and boots. Some will also rent winter coats and pants. All Banff National Park ski areas require skiers & snowboarders under age 18 to wear helmets. Adults will find that not only do helmets protect your head when you fall, but they do a great job of keeping your head warm in cold and windy weather.
Ski and snowboard lessons
In addition to the skiing & snowboarding schools at Norquay, Sunshine Village, and Lake Louise, there are some independent ski and board schools.
address: 119 Banff Av

A top notch snowboard and ski school with small groups of 4-6. Snowboard methods do vary from European, they tend to teach you to "surf" on snow rather than carve as you would on skis.
Other winter activities
Ice skating. There are outdoor skating rinks at the Fairmont Banff Springs Hotel (fire, heated shelter) and at Banff Community High School (right next to Banff Avenue). A section of the Bow River is also cleared for skating. However, as always with bodies of natural ice, be careful. There is an indoor rink at Fenlands Banff Recreation Centre. Ice skates can be rented from some of the ski rental business.
Snowshoeing. Strap on snowshoes and walk through pristine snow like the fur traders did in days gone by, a true winter experience. Guided snowshoe walks are available, or you can rent snowshoes from some ski rental shops. Snowshoeing is subject to the same avalanche risks as cross-country skiing; check the current avalanche risk for your planned route with Parks Canada or at the website of the Canadian Avalanche Centre. In March 2014, four snowshoers were killed when they went into avalanche terrain near Lake Louise without proper training or equipment.

phone: +1 403-762-4551

address: Warner Stables on Sundance Road

Their 12- and 18-passenger sleighs do hourly trips near the Banff townsite. Rides are roughly 45 minutes. They will provide hats & mittens if needed, blankets are also supplied to bundle up in. Couples can book a private 2-seater sleigh ride for $182 per couple.

Tubing and sleddingTube parks at Mt Norquay and Lake Louise Ski Resort.
Summer
Summer in Banff, just like winter, is stunning. There are plenty of hiking trails accessible from the main town, as well as tours for horseback riding, white water rafting, mountain biking and more. Be warned though - some smaller tour companies are not as professional as the larger tour companies. If they are overbooked, they may pass your credit card details along to a third party without your knowledge and book another tour on your behalf (not always at the same price, and not always the same tour!)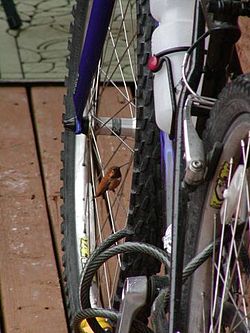 Hiking and wildlife viewing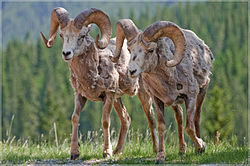 Banff has the most beautiful trails surrounding it. You can pick up a free trail map at the Visitor Centre, or find many trail maps online, as
downloadable pdf files
. Please check the
trail reports online
or with the Parks Canada desk before you go, as high-elevation snow, bear activity, or other factors may close trails or create hazards. Another option is to go with a hiking guide and group, different locations are available.
While in the area, always keep your eyes peeled as there are so many
animals
to spot in the summer in Banff. It is important to keep your distance, though, as wildlife is wild and they should be kept that way, they can be dangerous too! In the spring, female elk are very protective of their calves, who may lie hidden out of sight; in fall, bull elk are extremely aggressive during the rut. For this reason, you will need a
telephoto lens
to get good photos of wildlife while staying safe.
How can you tell that you are getting too close to wildlife? If the animal stares at you, moves away from you (even just a few steps), or behaves aggressively toward you, then you should back away until that behavior stops. Also, it is illegal to feed wildlife in a national park.
Visitors often confuse bighorn sheep with mountain goats. Goats are white with black noses and short black horns, and are usually seen high up on rocky ledges. Bighorn sheep are brown, with white rump patches and brown horns. They are usually seen by roadsides and grazing on grasses close to rocky outcrops. You'll never forget the difference after you watch this Parks Canada music video, "GOat Sheep GOat".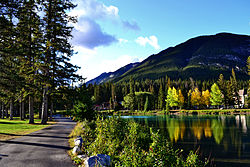 Sulphur Mountain TrailRather than taking the gondola up Sulphur Mountain, you can hike the trail up to the top of the ridge and catch the gondola down. (It's half price to just take the gondola down, but it's free before 10AM and after 7PM.) The trail is steep but manageable for those with a reasonable level of fitness. Note that there is a little-used road that goes down the side of Sulphur Mountain that is away from the town, which has been mistaken for the hiking trail; the road is much longer than the hiking trail. If you opt to hike down after taking the gondola up, you should be able to see the gondola towers and cables on your way down, as the hiking trail zigzags below the gondola lift.

Tunnel Mountain TrailA hike of 4.3 km, ranked as "easy". It starts from downtown Banff and takes you up the Tunnel Mountain, from where you have a nice view over the surroundings. You won't find any tunnel along the trail; when the Canadian Pacific railway was constructed in the late 19th century a plan was to build a tunnel through this mountain but it never happened.

Fenland TrailA very good spot for birdwatching all year, and you may also see beaver or muskrat in 40 Mile Creek. May be closed in spring due to calving elk. (Cow elk are very protective of calves.)

Marsh LoopAn easy walk of 2.4 km through the marshlands near Banff. This is a good place for birdwatching and there are good views of Mount Norquay.

Bow River TrailThe Bow River Trail is a riverside trail of 0.9 or 1.4 km, which are paved and according to the home page of the Town of Banff even wheelchair accessible.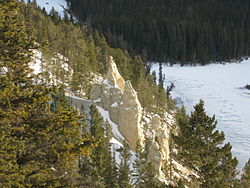 Hoodoo TrailA popular walk to the hoodoos (a kind of rock formations) east of Banff.

Sunshine MeadowsAn alpine park with trails with varying difficulty levels. There are guided walks too, and the area offers good views of the highest mountains in the Banff National Park. Shuttle bus access from Banff.

Lake Minnewanka LoopGreat spot to see bighorn sheep next to the road, especially when you get to Lake Minnewanka and the area around Johnson Lake and Two Jack Lake.

Bow Valley ParkwayA scenic route from Banff to Lake Louise, running parallel to Highway 1. You have a good chance at seeing different mammals like bighorn sheep, wolves, elk, deer and grizzly bears. There are seasonal travel restrictions.

Banff Springs Golf CourseGreat place to find elk all year round. They love grazing on the lush grass.

Mount Norquay RoadLook for bighorn sheep here, and if you are lucky, you may also spot a mountain goat along the cliffs.
Events and festivals
Buy
Enjoy strolling alongside locals and world-travellers as you discover a cosmopolitan collection of galleries, boutiques and cafés. Shops range from internationally recognized clothiers or independently-owned establishments to Canada's oldest department store. A recommended way to experience the highlights is to start on Banff Avenue at the Cascade Plaza mall, do a quick circuit of the shops there, then head down Banff Avenue towards the Bow River. This is the retail, cafe, and restaurant heart of Banff. Once you get near the river, turn around and head back on the other side of Banff Avenue to complete the Banff shopping loop.

Eat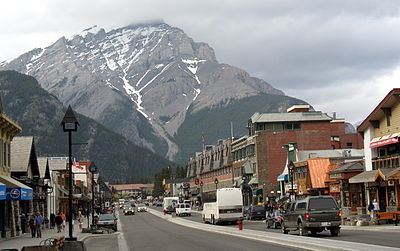 Banff is an exciting place to visit on all fronts, and the palate is not excluded. There are pubs, fast-food, fine dining, steakhouses (this is Alberta, after all!), traditional fare from around the world, and candy shops.
Banff can be an expensive place to dine as it is a tourist destination.
Alcoholic beverages:
Visitors to Banff can sometimes be perplexed by Alberta's liquor laws. The legal drinking age in Alberta is 18. A restaurant that does not serve alcohol can admit diners of all ages. However, some restaurants that serve alcohol may be required to bar anyone under 18 from enteringeven if they are just going to use the toilet. A second type of liquor licence allows both adults and minors to enter. To further confuse things, the same restaurant may be allowed to accept diners of all ages at certain times, but be open only to ages 18+ at other times of the day (usually evenings). All establishments that serve alcoholic beverages are legally required to have a food menu as well.
In a hotel, guests cannot take their unfinished alcoholic drinks from the hotel restaurant to their hotel room.
These are not rules imposed by management; they are legal requirements, and the business could forfeit their liquor licence if they are caught breaking them. Similarly, younger drinkers may have to show proof of age before they are served. Again, the business could lose their liquor licence if they are found serving under-aged patrons, so they need to be very careful.
Budget
Mid-range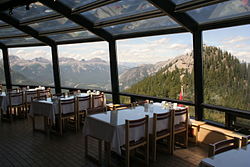 Splurge
Desserts & sweets
Every tourist destination has stores that specialize in tempting visitors with sweet delights.
Drink
Banff has a large variety of places to sit and enjoy a drink whether it is après ski or a patio.
Most of the pubs have live music, both open mike and hired bands. Dancing is definitely encouraged!
Sleep
Being a national park, Banff has plenty of accommodation. However, book early, because places fill up quickly in winter and summer. To live in Banff, as opposed to being a perpetual tourist, residents must have a business in town. If you have access to a car, another often cheaper alternative is to stay in
Canmore
and drive to the ski resorts or into Banff.
Most hotels are along Banff Avenue or on Tunnel Mountain Road.
Budget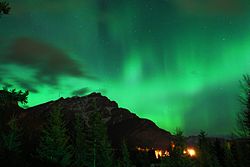 Mid-range
Splurge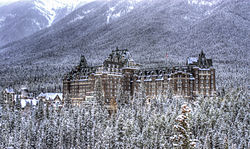 The Fairmont Banff Springs Hotel

phone: +1 403-762-2211

address: 405 Spray Ave

One of the grand old hotels, few hotels can compare to the majesty of the Fairmont Banff Springs Hotel. Nestled in the trees overlooking the rest of the town and valley, it is a magnificent location for a magnificent building. Multiple restaurants, a heated outdoor pool and a wide range of accommodation. All this comes at a price, though, and the Banff Springs is an expensive hotel. Also, booking very early is required. Among the luxurious amenities, you can indulge in their three waterfall treatments whirlpools and indoor Hungarian mineral pool (that actually has music underwater to soothe you as you float into complete relaxation) or enjoy treatments at the onsite Willow Stream Spa. Bike and ski rentals are available at the hotel and can be booked in advance.

phone: +1 403-762-3356

address: 300 Mountain Ave

Perched dramatically on the edge of Sulphur Mountain, the Rimrock has a spa and several fine dining restaurants.
Connect

All phone numbers must be preceded by a local area code. The area codes 403 and 587 are used for Banff & Lake Louise and most of Southern Alberta. If you see a Banff phone number without an area code, use the older area code, 403.

Stay safe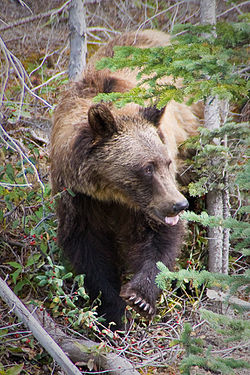 Banff has a lot of
wildlife
roaming in and around the town. Be careful of elk and deer when driving in the town. The most dangerous wildlife in Banff National Park are not bears or cougars, but elk. In spring, female (cow) elk are very protective of their offspring and will charge anyone who they consider a threat. In the fall, male (bull) elk are rutting and very aggressive. Cow elk weigh roughly 230 kg (507 lb), while bull elk weigh about 320 kg (705 lbs). Both sexes are capable of seriously injuring a person, and rutting males have also damaged cars.
Thirty years ago,
bears
used to be quite common within the town but conservation efforts have largely fixed this problem. Garbage and litter within the town must be discarded into bear-proof containers. In Banff National Park it is illegal to feed any wildlife, and both stupid and illegal to feed bears. "A fed bear is a dead bear": bears who learn to associate humans with food engage in behaviours that are threatening to humans and ultimately fatal to the bear.
Avalanches
are a risk in winter. This risk is not limited to people engaging in activities like cross-country (Nordic) skiing, skiing off piste, ice climbing, or snowmobiling. The winter of 2013-2014 was particularly tragic in Banff National Park because four people were killed by an avalanche when snowshoeing and two people were killed by an avalanche when sledding. None of them had any avalanche gear with them.
Learn to identify avalanche hazards. An avalanche slope has enough of a slope to it that you can ski or sled down, but is not so steep that it won't hold snow. If you're not familiar with how to spot avalanche risks and you want to engage in outdoor activities like snowshoeing, cross-country skiing, or even sledding, check with Parks Canada staff or the
Canadian Avalanche Centre
for more information.
Be alert to your surroundings. Not all cliffs or other unsafe areas are marked with signs or blocked off by railings. Some travellers disregard railings and warning signs of unsafe terrain, when they exist, because they are keen on getting a closer look or taking photographs. Even if the risk is not obvious to you, it's best to assume that someone put up the barriers and safety messages for a good reason.
Emergency contacts
Ambulance/Police/Fire: 9-1-1.

Banff Mineral Springs Hospital

phone: +1 403-762-2222

address: 305 Lynx St
Go next
If you are staying in the Banff and Lake Louise area and don't mind the slightly longer drive, you may also consider the Kicking Horse Ski resort just over the border in Golden, British Columbia west of Yoho National Park, Banff's sister park and Canada's second protected area.
Drive along highway 1A west of Banff.
Johnston Canyon hiking.
Bow Falls is located close to the Banff townsite.
Peyto Lake, in Banff National Park, is 40 km north of the town on the Icefields Parkway.
Jasper National Park — even more magnificent Rockies landscapes and hiking trails.
Calgary — the largest city in the province, world famous for its Stampede and an access point to many of the region's national parks.
Edmonton — set in a beautiful river valley park system, Edmonton is a great place to experience live theatre and music.