Bangkok/Sukhumvit
Sukhumvit
(Thai: สุขุมวิท) is an exclusive area in
Bangkok
with fancy condominiums, hotels, restaurants, bars and clubs. It has attracted affluent Thais and expats from all over the world. Following the road south east, the area changes its character and becomes a residential neighbourhood similar to other suburban areas in Bangkok.
Understand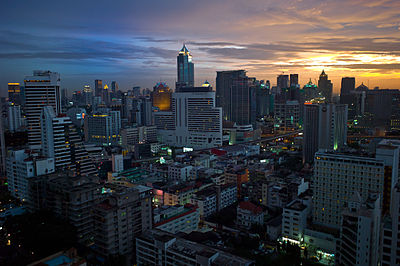 Sukhumvit Road is not only one of the longest roads in Thailand, but one of the longest roads in the world. Towards the west end it changes name to
Phloen Chit Road
and
Rama I Road
as it enters the
Siam Square
area, but to the east it runs most of the way to the
Cambodia
border. The sois are numbered from west to east, with odd numbers north and even numbers south of Sukhumvit Road. The sois on the north and south sides of Sukhumvit don't line up; for example, Soi 33 is opposite Soi 24. Confusing is that these sois also have names of their own (for example, Soi 55 is better known as Soi Thong Lo) and these sois can also have sois of their own (such as Thong Lo Soi 1).
Looking at the high-rise apartment buildings, the Skytrain and the perennial traffic jam on Sukhumvit Road, it is hard to believe that this area used to consist of rice fields until World War II. After the war, this area became developed with large contemporary villas catering to the upper class. As property values kept rising, developers have been buying more and more land and cashed them in by constructing big apartment high-rises. The construction of the BTS Skytrain in 1999, covering most of Sukhumvit Road, has increased the popularity of this district even more.
The lower-numbered sois (roughly between Soi 1 and 63) are a popular residential area for western expatriates and affluent Thais. It is densely packed with shopping centres, restaurants and hotels. The fleshpots of
Nana Entertainment Plaza
(in Soi 4) and
Soi Cowboy
(between Soi 21 and 23) are also in this area, as are plenty of more (and less) salubrious bars. Also, the pavement of Sukhumvit itself has become a huge market carrying everything from luggage to fake Rolex watches, and after midnight they turn into roadside bars and pubs. Sukhumvit offers the best dining in Bangkok, from five-star dining to street stands, the variety of choices and tastes are almost overwhelming. Japanese nationals can be found in the area Soi 21 and upwards, but most tend to congregate around Soi 55. Indians have settled around Soi 12, while Arabs are grouped at Soi 3/1, which informally is known as
Soi Arab
. After Soi 63, Thais take over again, though this might change when the Skytrain extension is completed in late 2011.
South of Sukhumvit's sois lies
Khlong Toei
, known to foreigners for Thai Port FC and for the
Khlong Toei Market
. Khlong Toei is a borough, a market and a port, all named after the canal that flows through the area. It means "canal of pandan" as that plant used to grow along the southern bank of the canal. A large part of it was filled up to make way for Rama IV Road in 1947. South (and under) the Chalerm Maha Nakhon Expressway are the infamous Khlong Toei slums, generally unexplored by even the most adventurous travellers. At the banks of the Chao Phraya river is the
Khlong Toei Port
, which has a history dating back to the ninth century, when it connected Bangkok with the cities upstream the river. Since 1981, it has lost most of its economic relevance when the larger Laem Chabang Port near
Pattaya
took over business.
Get in
By public transit
Skytrain
The BTS
Sukhumvit Line
runs, as the name suggests, over Sukhumvit Road from west to east. Sukhumvit can directly be reached by Skytrain from
Siam Square
or
Phahonyothin
. The journey from Mo Chit takes about 25 minutes to reach Asok station, while from Siam station takes about 10 minutes. If you're coming from
Silom
, you'll need to take the Silom Line north and change onto the Sukhumvit Line at Siam station. It takes about 20 minutes for a ride from Saphan Taksin station to reach Asok station, including the transfer at Siam. Trains leave every 5–10 minutes for a fare of about 15-40 baht.
The most important BTS stations are (from west to east) Nana, Asok, Phrom Phong, Thong Lo, Ekkamai, Phra Khanong, On Nut, Udom Suk, Bang Na and Bearing. Each station serves the neighbourhood of the same name. Asok is the most convenient station as it is in the centre of Sukhumvit and has a direct transfer with Bangkok's MRT metro system. In the following years, the Sukhumvit Line will be extended southwards to
Samut Prakan
and eastwards to Suvarnabhumi Airport's proposed second terminal. Samrong, the first station in Samut Prakan, opened in April 2017.
Metro
If you're coming from
Silom
or
Ratchadaphisek
, you can directly reach Sukhumvit by Bangkok's MRT metro system. The most convenient station is
Sukhumvit
, which is right in the middle of the district and you can transfer onto the BTS Sukhumvit Line. The other stations in the district are Khlong Toei and QSNCC. The metro ride from Silom takes about 10 minutes, while the ride from Ratchadaphisek takes about 15 minutes. Trains leave every 5–10 minutes for a fare of about 15-40 baht.
Airport Rail Link
The
Airport Rail Link
provides a direct connection between Suvarnabhumi Airport and Phaya Thai station, a ride that takes 26 minutes. At Phaya Thai, you have to switch onto the BTS Skytrain. As the systems are not integrated, you will have to buy a new ticket. Take a train in the direction of Bearing and get out at the station of your choice — Nana and Asok are the most widely used stations.
By boat
The
Saen Saep Express Boat
service is a rough, but entertaining way of getting in and around Sukhumvit. The Saen Saeb canal forms the northern boundary of Sukhumvit's
sois
and is a cheap alternative means of escaping the traffic jams if you're coming from
Khao San Road
, the eastern side of
Rattanakosin
or
Ramkhamhaeng
.
There are two lines: The Golden Mount Line runs from
Panfa Leelard
near the Golden Mount in Rattanakosin east to
Pratunam
near Ratchaprasong intersection. The NIDA Line runs from Pratunam all the way northeast along Ramkhamhaeng Road to
Wat Sriboonreung
. A single trip from Panfa Leelard to
Nana Nua
takes about 35 minutes and costs 13 baht. You must switch boats at Pratunam. Other stops along Sukhumvit's northern sois (from west to east) are
Nana Chard
,
Asoke-Petchaburi
,
Prasanmit
,
Italthai
,
Wat Mai Chonglom
,
Baan Don Mosque
,
Soi Thonglor
,
Charn Issara
and
Vijit School
.
If you're coming from the Grand Palace area in Rattanakosin, there are two ways to get into Sukhumvit. The fastest way is to take the
Chao Phraya Express Boat
to Sathorn pier in
Silom
. From there, continue your way north using the BTS Skytrain Silom Line. You'll need to switch trains at Siam BTS station and continue your way east onto the Sukhumvit Line. The whole journey from Rattanakosin takes about 40 minutes. Alternatively walk for about 30 minutes, or a 5 minute taxi journey, to
Panfa Leelard
pier and continue your journey using the Saen Saep Express Boat.
By bus
This first tip on bus travel is one to remember: do not do it! Sukhumvit Road is probably the most congested road of Bangkok and traffic jams exist the whole day until late in the evening. Also, it is difficult to find out which bus goes where or where to get out. Better take the Skytrain, metro or express boat, even if it costs a little more.
If you insist, there are many bus routes through the Sukhumvit area. The most important one is ordinary and air-conditioned bus
25
, which starts far southeast of Sukhumvit Road. From there, it goes all the way northwest along Sukhumvit Road and then rides over Ratchadamri Road and Rama IV Road to
Silom
. It then continues its way to Hualamphong Train Station, through either Charoen Krung Road or Yaowarat Road (depending on direction) and finally on to Tha Chang in
Rattanakosin
(for the Grand Palace).
From the new Suvarnabhumi Airport, you can take bus
AE3
for 150 baht to Sukhumvit. It runs up the Bang Na-Trat Expressway and along Sukhumvit all the way up to
Siam Square
. It then loops back around to Nana and then back out to the airport. Another option is bus
552
, which heads on to On Nut, where you can continue your way with the Skytrain. There are many stops and depending on traffic the ride can take from 1 to 2 hours.
See
Parks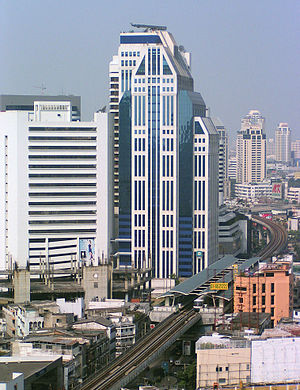 Benchasiri Park

address: Sukhumvit Rd

This compact park was built to commemorate the 60th birthday of HM Queen Sirikit in 1992. It features a huge sculpture of a commemorative coin illustrating an image of HM Queen Sirikit and 12 pieces of contemporary sculptures including children's works.

Benjakiti Park

address: Ratchadaphisek Rd

When the Thailand Tobacco Monopoly moved all its factory operations to Chiang Rai in 2008, the lake and some adjoining land that were part of its compound, previously enjoying semi-wild vegetation, were turned into a public park. Many splendid old rain trees were cut down in order to landscape the park, in which young trees were planted instead. Adjoining the Queen Sirikit National Convention Centre, it is a neat park with dedicated cycling and walking paths, fixed exercise equipment and several monuments.
Museums
Green Lantern Cafe and Sex Museum

address: 1045 Sukhumvit (cafe)

A coffee shop with a Museum of Sex, devoted to the history of eroticism and the sex industry in Thailand. The proprietor's father, a wealthy property developer, has a larger sex museum, Kamavijitra, on Sukhumvit Soi 38.
Kamavijitra: The Art of Lovemaking

phone: +66 80 994 6683

address: 25/14 Soi Sukhumvit 38

According to its website: "Massive collections of Siam erotic art that will blow your eyes." Make reservation one day in advance. The founder's son has a more modest exhibition at his Green Lantern Cafe on Soi 55.
phone: +66 2 661-6470

address: 131 Sukhumvit Soi 21 (Asok Rd)

Ban Kamthieng is a 19th-century ancient Thai stilted teak house where you definitely wouldn't expect it: right in the middle of Bangkok's high-rises. It was transported from Chiang Mai in pieces and assembled in Bangkok in 1964 to function as the headquarters of the Siam Society, an organisation that has the goal of preserving the cultural heritage of Thailand. Beside the house itself, on display are traditional tools, arts and crafts used by Lanna farmers and fishermen from northern Thailand in olden times, as well as a large selection of Thai flora in its yard. There is a heavy focus on the cultural heritage of northern Thailand, as that's where the house and most of the tools on display came from. The only downside of the museum is that it's quite small, so don't expect to spend here longer than 30 minutes (or even 15 minutes if you're quick).
Museum of Thai Pharmacy

phone: +66 2 391-6243

address: 40 Sukhumvit Soi 38

The museum is on the third floor of the Pharmaceutical Association of Thailand under Royal Patronage Building. It was established to publicise about traditional Thai medicine from past to present, so that later generations would learn and treasure it. The exhibition features various topics, such as the birth of pharmacy, the evolution of oriental pharmacy and basic wisdom, the evolution of western Thai pharmacy and the evolution of herbs and natural products. Make contact in advance if you are visiting with a group.
National Science Centre for Education

phone: +66 2 391-0544

address: 928 Sukhumvit Rd

This is an exhibition centre about the variety of scientific knowledge. Among the attractions are a planetarium, an aquarium as well as a permanent exhibition on sports science, communication technology and natural environments. One-hour shows at the planetarium start at 11:00 and at 14:30 with additional shows on Saturdays and Sundays at 10:00 and 13:30.
Thailand Creative and Design Center

phone: +66 2 664-8448

address: 6F, Emporium, 622 Sukhumvit Rd

There couldn't have been a better place for this design gallery, at the Emporium, the most fashionable shopping mall of Bangkok. The TCDC, as abbreviation-loving Bangkokians call it, seeks to show and promote Thailand's design innovations. There is a permanent exhibition addressing the question, "What is design, and how it is influenced by factors like society, history, politics, economics, geography and religion?" There is also a temporary exhibition that often changes. If you want to enter the resource centre and the library, you can get a free one-day pass. You can only do this once and you must carry your passport with you. Spend the day reading amazing design books, or just using the Internet. If you want to visit the resource centre and library again later, you'll need to pay for a subscription.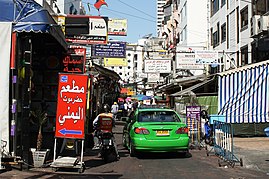 Neighborhoods
Soi Arab

address: Sukhumvit Soi 3/1

See the mingling of Arab and Thai cultures in this dense Arab neighborhood by Nana station. The area is flush with tourists from across the Arab world. It's interestingly filled with shops for two things: agarwood, an expensive wood burned as incense in the Middle East, and Arab sandals.
Do
Focus on yourself and get pampered at one of the many massage establishments around Sukhumvit. If you want a more upmarket experience, you could head for a spa. Some of the better ones include:
Bliss Massage & Spa

phone: +66 2 258-5018

address: Sukhumvit Soi 33

Offers traditional Thai massage, head and foot massage along with a "fish spa" — wherein you immerse your feet in a tank of water and little fish nibble away at the dead skin.

phone: +66 2 663-6696

address: 2/16 Sukhumvit Soi 24

Offers excellent traditional massage in a soothing environment.

Happy Feet

phone: +66 2 650-3517

address: Sukhumvit Soi 7

This massage parlour offers excellent traditional Thai massage, oil massage, aromatherapy, foot massage and nail care.

Hatthai Massage

address: Sukhumvit Rd

A traditional two hour Thai massage is given upstairs, where patrons are separated by curtains, which are often opened up so masseuses can chit chat. A 90 minute reflexology foot massage is done at ground level, opposite a large television; try not to doze off. It is popular with Japanese businessmen staying at the nearby Grand Tower Inn. Beware when searching for it, as there are now two places across the street with exactly the same name.

phone: +66 2 2261-1110

address: 55/5 Sukhumvit 21 Rd

Part of the reputable Health Land spa chain. Offers foot reflexology, traditional Thai, therapeutic and aromatherapy body massage.

phone: +66 2 874-4461

address: Soi To Sak, 33 Thong Lo Soi 13

This spa is specialised in half-day packages designed for couples. Getting there is quite a hike, but you can get a free transfer from the BTS station if you request this beforehand.

Praiphana

phone: +66 2 392-6518

address: Sukhumvit Soi 55

Another massage parlour, this one offers a traditional Thai massage, oil massage and aromatherapy, manicures and pedicures. For 15 baht, you can get a 15 minute neck and shoulder massage.
Learn
If you are one of the more sporty types who like to keep active on your vacation, the national sport of
Muay Thai
or Thai Boxing is a great way to stay in shape. Other learning activities include
cooking
and
meditating
.
phone: +66 8 9499-2052

address: 15/2 Sukhumvit Soi 39

Accredited Muay Thai school teaching Muay Thai to novices and professionals. Academic visas can be arranged for long term foreign students.

phone: +66 80 434-8686

address: Khlong Toei slum

A Thai cooking school operating in the middle of Khlong Toei slum. Each day has one class which includes shopping for ingredient at Khlong Toei wet market for the daily changing menu. Tranfers included. Payment when booking.

phone: +66 2 661-1284(-90)

address: 2F, 616 Benchasiri Park, Soi Methi Niwet

Offers meditation classes in English every afternoon on the first Sunday of every month. The office also provides information on places to learn and practice meditation in Thailand. Classes and information are free of charge.
Buy
As Sukhumvit is one of Bangkok's main thoroughfares, the long road is lined with shops, boutiques and modern shopping plazas ranging from Soi 3 (Soi Nana Nuea) up to Soi 63 (Soi Ekkamai). Most shops and restaurants are concentrated between Soi 3 and Soi 21 (Asok Rd) and along shortcuts between Asok and Ekkamai.
Markets
The pavement of Sukhumvit Rd was for years cramped with endless
roadside stalls
offering many of the same items as the Patpong Night Market, such as souvenirs, accessories, knock-off clothes, pornographic DVDs, pirated films and other junk with prices somewhat better than in Patpong. However, in 2016 city officials started enforcing old regulations prohibiting street vending and only few vendors renting space at shopfronts remain.
Haggling
is generally expected, but it'll only save you a few more baht. This change has made the sidewalk much easier to use even with a stroller. However, Thailand is infamous for bouts of enforcement which do not last so it remains to be seen if the stalls return making the section from Soi 3 to Soi 15 tough going, again.
Malls and department stores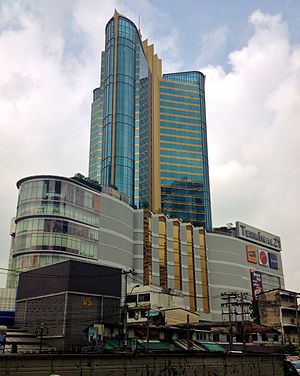 There are plenty of malls and department stores throughout Sukhumvit Road. The best ones are
Emporium
and the recently opened
Terminal 21
, but you might as well hop on the Skytrain to
Siam Square
. At
Thong Lo
, all things are
cool
, be it clothing, gadgets or interior design. It could be called the "Siam Square of Sukhumvit" with its hip fashion boutiques, trendy designer stores and overall swanky appearance.
Tailors
If you know where to go, Sukhumvit offers some of the best bespoke tailoring in Bangkok. Never go to custom tailor shops that get your suits and shirts ready in 24 hours or less. If you want good quality, go to a reliable tailor which will ask for two to five sittings. The entire process will take about a week. For more information on bespoke tailoring, see the Buy section of the main
Bangkok
article.
Book stores
Sukhumvit has a number of specialty stores frequented by tourists.
Art
phone: +66 2 2546040
address: 12 Sukhumvit Soi 1
Sells both paintings and sculptures by established artists and those of the new generation. There are more than 10,000 artworks by Thai artists on sale.
Eat
There is a huge selection of places to eat in and around Sukhumvit and its side sois, although prices tend to be on the high side by Thai standards. With practically every cuisine in the world represented, this is the place to break your
pad thai
diet and sample some of the best Japanese, Lebanese or Indian food you will ever eat.
Budget
While not as much an institution as in
Siam Square
, the food courts in any mall or department store are a good option if you're trying to survive Sukhumvit on budget
and
want air-conditioning. Just like in Siam Square, food courts come in many varieties, from basic snack places to more upscale dining. The Emporium Mall, Ploenchit Center and Robinson all have decent food courts (see
Buy
). Most food courts use some variation of a coupon system; unused coupons are always refunded.
There are some cheapie sois with excellent street food if you know where to go:
Soi 38 Night Market

address: Sukhumvit Soi 38

Soi 38 gives you some of the better street food in Bangkok. Not a restaurant in itself, just sit at a table and order whatever you like from the numerous foodstalls (they'll figure out the bill for you). You can find the most delicious mango and sticky rice (ข้าวเหนียวมะม่วง khao niow ma muang) in town. Also try the herbal fish ball noodles.

Talat Na Sukhumvit Soi 1

address: Sukhumvit Rd

Between Soi 1 and Soi 3 is a set of street food stalls with the best one furthest from the street. It is called Oowan Im (literally 'fatty is full'), but is sign-posted in English with just the word "Seafood" on an otherwise Thai sign. Seafood is their specialty — good things to order include the "crispy fish in chili sauce", tom yum soup and any of their Thai salads (such as mixed seafood salad). The Chinese-style fried vegetables are also delicious.

Roong Roeng

address: 10/3 Sukhumvit Soi 26

No frills place selling tom yum pork noodles or Sen Lek Hang Tom Yum in Thai. Popular among the local office workers. Does not see many Western tourists, though staff can communicate in basic English.
Budget restaurants are generally hard to find, but the following are favorites among Bangkok's large expat population:
Ramen Ichiban

phone: +66 2 258-6314

address: 3/7-9 Sukhumvit Soi 24

An authentically Japanese greasy-spoon noodle joint specializing in ramen soup. For less than 100 baht, the large bowl is a good value.
Mid-range
Nam Bliss

address: 189/1 Sukhumvit

Unpretentious and inconspicuous Thai cafe with wide range of local fare. Little English spoken but a picture menu to help you. Warning and/or endorsement: They do not tone down the taste for the Western palate.
Fusion
Thai food with a modern twist has become particularly popular the last years.
Fusion
restaurants are centred around the
H1
complex on Sukhumvit Soi 55 (Soi Thong Lo).
Thai
phone: +66 2 229-4610

address: Sukhumvit Soi 12, Khlong Toei

Run by Thailand's Population and Community Development Association, the odd name refers to the fact that the NGO promotes agricultural production as well as condom use; and no prizes for guessing what you'll get after dinner instead of an after-dinner mint. The food is competent but toned down for the foreign palate. A bit expensive for what you get but it's for an excellent cause.

Check Inn 99

phone: +66 8 7073-7989

address: Sukhumvit Soi 5

Previous reviews said this place was straight out of a James Bond film. However, it's closer to Rick's Café in Casablanca. Check Inn Garden (no longer 99) is an oasis amidst the chaos of the Nana area. Good Western and Thai menu, a friendly and attentive staff, and terrific entertainment every night courtesy of three delightful Philippine singers and a backing musician. At 20:45, the music starts — often light and relaxed — but the band then gradually winds up the tempo throughout the evening. Happy hour is from 18:00-20:00. The steakhouse style restaurant, while small, serves both European and Thai food, and has pretty good steaks. The new management throw in theme parties on most Saturdays—so don't be surprised if you come in finding the staff in pyjamas or Hawaiian grass skirts.

phone: +66 2 256-0328

address: 43 Sukhumvit Soi 8

Very nice Thai ambience and decoration, great in the evening. Lounge bar and private rooms upstairs. The different sets of lunch menus are reasonably priced. The food is excellent and includes dishes hard to find elsewhere. Some dishes could be more spicy by Thai standards though.

Lemongrass

phone: +66 2 258-8637

address: 5/1 Sukhumvit Soi 24

This is a very good if slightly expat-oriented Thai restaurant. Located in an old tea house, the ambience is very charming and eclectic. The pomelo salad and tom yam kung (ต้มยำกุ้ง) are both excellent. As is usual with popular expat places, the spiciness has been toned down somewhat. Also, the service can be a bit hasty.

phone: +66 2 663-3211

address: 189 Sukhumvit Soi 22

A very good restaurant in an "antique" Thai house with a leafy outdoor section. The menu is a huge picture book which should help in ordering. The staff are very friendly and wear traditional Thai outfits to complete the ambience.
Asian
Finding your way around the mindblowing variety in Sukhumvit might feel a bit daunting at first. One way to approach the area is to visit its ethnic food neighbourhoods. Little Japan is located near Sukhumvit Soi 33 and across the street at Sukhumvit Soi 24, with Phrom Phong BTS station straddling the two. There is also a smaller concentration of Japanese restaurants along Sukhumvit Soi 55 (Soi Thong Lo), notably the
Nihonmura
("Japan Village") in Thong Lo Soi 13.
Akiyoshi

phone: +66 2 714-0791

address: 2F, Taksin Square Bldg, 1521/1 Sukhumvit Rd

The two must-tries here are the Japanese-style sukiyaki and the shabu shabu. The employees will light up a burning pan on your table and you can just throw in the ingredients yourself. The food is really delicious, and they will serve until you're full. The ambience is best-suited for a group of people. But better make a reservation if you're coming after 18:00, as it's often packed.

Grande Teppanyaki and Grande Ramen

phone: +66 2 714-1020

address: 25/17-19 Sukhumvit Soi 55

Two small Japanese restaurants facing each other, popular with Thais and Japanese. Sub-100 baht lunch menus are particularly good value.

Le Dalat

phone: +66 2 258-4192

address: 47/1 Sukhumvit Soi 23

Two Vietnamese restaurants, two locations about a block apart and across the street from each other. When it's a nice day outside, take a seat in the beautiful tropical garden which is wonderful. The traditional interior You can get lunch for about 250 baht, which is a good value. Service can be rough, be especially wary for the overcharge at the end.

Nihonmura

address: 87 Soi Thong Lo 13

Nihonmura, commonly known as Japan Village, is a dining complex with about a dozen quality Japanese restaurants.
Uomasa

phone: +66 2 392-6575

The best in the area for sashimi (raw fish). You can order the "Iso" menu, a plate full of sashimi priced at 1,600 baht. It seems expensive, but it's similarly priced to the generic Japanese chain restaurants, but the sashimi here is much fresher and of better quality.
Indian and Middle Eastern
Soi 3 and Soi 3/1, a short walk from Nana BTS station, are known as
Soi Arab
for the heavy concentration of Middle Eastern businesses in the area; in some spots you will see more signs in Arabic than in Thai! Thanks to a demanding clientele and heavy competition, the food here is some of the best this side of Lebanon.
phone: +66 2 255-6935

address: 1/4 Sukhumvit Soi 3

Being two decades old, this mid-sized Indian, Pakistani and Middle Eastern restaurant is one of the most established restaurants in Bangkok. It serves good quality food at reasonable prices. Its location next to Soi Arab is ideal as you can compare with other restaurants in the area. Try the Akbari Chicken.

Al Ferdoss

phone: +66 2 255-8200

address: 1F, Schiller's Inn, 77/1-3 Sukhumvit Soi 3/1

This Lebanese restaurant may have the ambience of a motel lobby, which it pretty much is, but the food is amazing. Dips and salads (hummus, tabbouleh, falafel, etc) 80 baht each, kebabs from 130 baht, and best of all is the excellent oven-fresh naan. Air-conditioned indoors, but move outside for mint tea and some puffs of the shisha (water pipe).

Beirut Restaurant

phone: +66 2 656-7377

address: B1, Ploenchit Center, 2 Sukhumvit Rd

In an unlikely location, next to a supermarket in an otherwise nearly desolate shopping mall, Beirut gets negative points for ambience but serves up very good Middle Eastern fare. The basic shawarma in a pita is a nice simple snack. Don't confuse this one with the Lebanese restaurant on the ground floor (Café de Beyrouth), which is much more expensive.

phone: +66 2 260-1115

address: 30 Soi Sukhumvit 22

This restaurant has contemporary North Indian cuisine and Indo-Chinese fusion dishes. Its food is authentic and much like you'd taste in India. The tender lamb Raan is their signature dish.

phone: +66 2 255-2289

address: 153 Sukhumvit Soi 11/1

Pure Indian vegetarian restaurant with North Indian, South Indian and Gujarati food.

phone: +66 2 713-8357

address: Unit-L 205, 2F, Thonglor Eight Building, 88 Thong Lo Soi 8

This is a luxury North Indian restaurant with its own philosophy. Masala is the Indian word for spice, and the "art of spices" means that there should be a natural balance of spices to get healthy, herbal and delicious food. This restaurant offers a fixed lunch and dinner special. It boasts a great decor, as well as authentic (and spicy) Indian food. Prices can be steep though, especially if you opt for a three-course meal.

phone: +66 2 651-0498

address: 155/1-2 Sukhumvit Soi 11/1

After 35 years of operation, the restaurant has moved to a new location only a few doors away. The curries are still some of the best in all of Bangkok, and a good value compared to other Indian restaurants along Sukhumvit. It has less than ten tables, but that just gives it a cosy and personal feeling. Try the chicken tikka, it's delicious.

Namuskaar

phone: +66 2 255-1869

address: 9 Sukhumvit Soi 8

This restaurant is known among ex-pats as providing one of the closest approximations of British-style Indian food. It is definitely worth it to venture out here as the curries simply are delicious. It doesn't look super fancy or romantic, but it is clean and comparatively cheap. Try the chicken korma, or ask Tony, the owner, for advice. He can make anything you request.

Shahrazad

phone: +66 2 251-3666

address: 6/8 Sukhumvit Soi 3/1

Great Middle Eastern, Malaysian and Indian food. Its dishes are well-served by hijab-clad Thai waitresses with many Arab expats hanging out here. It's been open since 1983 and one of Soi Arab's oldest and most respected restaurants. Its decor is very basic, but the food is amazing.
European
phone: +66 2 015 3388

address: 59/4 Langsuan Soi 1

French-Mediterranean crepes place. Extensive selection of crepes, both sweet and savoury.

phone: +66 2 252-3584

address: 21-21/1 Sukhumvit Soi 4

A Swiss-German restaurant. Pricey but food is good and ample. Drink elsewhere, except if you want a drink at 04:00. The Thai offerings can be had much cheaper, but some of the European offerings are difficult to find elsewhere. Free Wi-Fi. Also has a few nicely appointed rooms from 1,850 baht.

Limoncello

phone: +66 2 651-0707

address: 17 Sukhumvit Soi 11

A bright, airy pizzeria; the best Italian-style pizza in Bangkok, very thin and crispy with a great range of toppings. Amazing desserts too (try the profiteroles!). Avoid the house wine, though. As is usual in Thailand, wine is very pricey, and at 1,300 baht it is not worth it.

phone: +66 2 653-0017

address: 39 Sukhumvit Soi 8

Unlike other places, this restaurant (and hotel) focuses on traditional Danish and Scandinavian food, though some Thai and international cuisine is available. There's a Scandinavian all-you-can-eat lunch buffet with open sandwich selection on Saturdays and Sundays between 12:00 and 15:00. Every evening from 18:00 is an all-you-can-eat international barbecue buffet. Aside from these discount offerings, a la carte is overpriced and not worth it. The hotel is a well-known meeting spot among Scandinavians with a nice family atmosphere. It costs about 1,800 baht for a clean and quiet room with swimming pool.

address: Asok BTS/Terminal 21

Busy casual Italian diner hiding under Asok BTS with pizza by the slice, pastas, and many others. Great for good-value Italian and the crowds passing by.
American and Tex-Mex
Splurge
phone: +66 2 258-4181

address: 36/1 Sukhumvit Soi 23

Well-known if mildly touristy restaurant in an old Thai house, the primary concession to Western tastes being the lack of chili. It is on the expensive side with most mains (especially seafood), but the food is generally excellent and the presentation spot-on. Best known for their pomelo salad (ยำส้มโอ yam som-o) and red curry with duck (แกงแดงเป็ด kaeng daeng pet).

phone: +66 2 649-8366

address: 1F, Sheraton Grande Hotel, 250 Sukhumvit Rd

Exceptional traditional Thai food with a twist in this trendy and sophisticated restaurant. It is definitely expensive, but the food is very good and there's a romantic ambience. Try the massaman curry, a delicious dish from southern Thailand. Bring your wallet though.

phone: +66 2 713-6048

address: 29 Sukhumvit Soi 38

Face has established itself as one of Thailand's leading dining venues. It is actually three restaurants in one: Hazara for Indian, Lan Na Thai for Thai and Misaki for Japanese. The interior of these restaurants look nothing less than stunning. Especially Lan Na Thai is a treat, as it has cultural artifacts all over and is surrounded by wooden Lanna-style teak houses that rival Jim Thompson's House. The complex also has a chic cocktail bar, a spa and cooking classes. The spa is particularly is well-loved, a Thai massage or "royal" massage cost 900 baht/hr. Cooking classes are 3,000 baht for two hours, you must book at least one week in advance.

phone: +66 2 258-4900

address: 71 Sukhumvit Soi 26

The food is mainly authentic north Indian with a wide range of spicy Indian tastes. An impressive list of vegetarian dishes is also available, as well as wines from around the world. Its impressive sandstone walls and wood carvings make a great interior. Or go outside, experiencing an amazing world of your own, not even noticing it is right here in downtown Bangkok. It is recommended to make a reservation by phone.

phone: +66 2 258-5606

address: 53/1 Sukhumvit Soi 39

Established 1984, this is the oldest genuine Italian restaurant in Bangkok, and most likely also in Thailand. Though long established as the Italian place to eat amongst the Thai stars, politicians and local business elite, the atmosphere is relaxed and caters to tourists and middle class as well. The food prepared by the Italian chef is top class and they stock a wine selection to match. It is expensive by any means, 1,500 baht is a normal price for a bottle of wine.

La Buca

phone: +66 2 253-3190

address: 220/4 Sukhumvit Soi 1

This little Italian restaurant is possibly one of the most authentic in Bangkok. The Italian owner changes the menu weekly, and a good selection of wine is available. Romantic, but on the expensive side, even without wine.

phone: +66 2 204-2004

address: 50 Sukhumvit Soi 19

This French restaurant is probably one of the best in the city. The chef cares about quality and is willing to make changes to the menus at the customer's request. The atmosphere feels welcome and relaxed at the same time. This all goes for a high price though. The lunch sets are a lot cheaper, about 525 baht for a three-course menu and coffee.

Maru

phone: +66 2 712-5001

address: 95/5-6 Thong Lo Soi 3

A highly praised Japanese restaurant. Prices are extremely high although between 17:00-19:00, they offer reasonably priced dinner sets for around 500 baht.

LukKaiThong Royal Cooking @ The EmQuartier District

phone: +66 2 003-6301, +66 2 003-6302

address: Room No. 6A04-05, 6th Floor, The EmQuartier Department Store, No. 693, Sukhumvit Road

An upmarket restaurant that serves Thai-Chinese cuisine. Popular dishes include the river prawns, stewed pork belly and Thai tea shaved ice.

phone: +66 2-714-2112

address: Soi Chumbala, Sukhumvit Rd

Set in the grounds of a former royal mansion in Ekkamai, this restaurant is surprisingly affordable for its luxurious setting. There is a large variety of dishes, their sophisticated French mains are particularly worth it. While not very well known among individual visitors, it does attract tour groups, which could negatively affect the otherwise splendid atmosphere.
Drink
The Sukhumvit area contains more watering holes than can easily be counted, and touts are not as big of a problem here as in Patpong. However, the scene is oriented towards Western ex-pats and wealthy high-society Thais, for more of a local ambience (and local prices) head a bit north to
Ratchadaphisek
instead.
Go-go and beer bars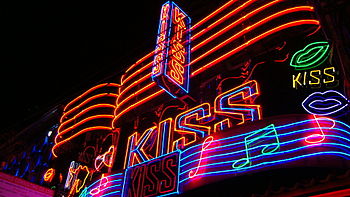 Soi Cowboy
(off Asok Road) and
Nana Entertainment Plaza
(Soi 4) are packed full of go-go bars much like those in
Patpong
.
Soi 33
is packed with hostess bars, which are more upscale than the Soi Cowboy and Nana Plaza bars and do not feature go-go dancing. Since the establishments are jammed side by side on the streets (or along the interior courtyard, in Nana Plaza), it's easy to go go-go bar hopping: they all come in different sizes, music, lighting and dancer physiques. You'll probably find one to fit your preferences.
While the places all operate with more or less the same concept, the following have been around for a while and are unlikely to rip you off:
Bars and pubs
Looking for a place to watch your favorite sport on the big screen? Sukhumvit from Soi 2 to 33 offers plenty of choices. The stereotypic bars here are British pubs with rugby on, selling lots of beer and pub grub (be it grill menus or other simple snacks). The workers are young Thai hostesses in tight outfits who serve Western ex-pats that generally are older than 40.
Wine bars
With a growing interest in foreign as well as local wines, there is a growing number of wine bars in Bangkok and many of these are in the Sukhumvit area. Most of these are trendy establishments with selections of exclusive French, Italian, Spanish and other international wines.
Superhip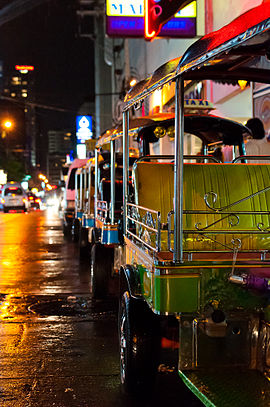 Soi 11 and 23 have some of the trendiest clubs in town. These venues are all about seeing and being seen, popular among the well-to-do Thai and expat crowd. Soi 55 (Thong Lo) and Soi 63 (Ekkamai) also have their fair share of places to spend the night, but these are somewhat more modest and have more in common with traditional bars.
Fairly strictly applied
dress codes
apply to the following listings, so no flip-flops, shorts or sleeveless shirts. Always bring your passport as club owners must (and will) check it upon entry.
Sleep
Property values in Sukhumvit are among the highest in Bangkok, and accommodation is priced to match. There are plenty of four and five-star hotels that cater to those with a lot of money (including business travellers). Guest houses à la
Khao San Road
are hard to find, and will set you back at least twice as much.
Another market is the sex industry. Some hotels nearby Nana Entertainment Plaza and Soi Cowboy offer "short time" stays. This short term option is cheaper, but can only be used for a couple of hours. It is meant for sex tourists and locals who want to spend a couple of hours with their "date". These hotels generally are quite cheap, but they can feel seedy and are not recommended for overnight stays.
Many other hotels explicitly hang up signs banning sex tourists; many of these don't allow you to bring in
any
Thai lady (which can lead to an awkward situation if you just want to bring a friend or your Thai girlfriend), while others will allow them only if they are present with an ID card at the time of initial registration.
Budget
phone: +66 8 6887-4028

address: 14/33 Soi Phai Sing To

A beautiful space in a converted house. It is about a 5 min walk from Khlong Toei Market. The rooms are bright and airy, and the beds are comfortable and clean. Free Wi-Fi is available throughout the hotel, and there are three computer units in the common room on the second floor. Other amenities include lockers, luggage storage, air-conditioning, big-screen TV, basic kitchen, hot showers and an outdoor dining area. Bicycles and towels for rent. The owner, Rata, and her staff are friendly and knowledgeable.

phone: +66 2 3919-338

address: 23 Sukhumvit Soi 38

A clean hostel with a nice chill-out area and friendly staff. You can choose to sleep in a dorm or in a private room. All rooms have air-conditioning, and breakfast is included in the price.

phone: +66 8 9103-1388

address: 71 Pridi Soi 35

Pridi Hostel is a new family-run establishment in a recently renovated building in central Sukhumvit. It is clean, has bathroom and shower facilities, and serves a nice breakfast of fruit and toast. There is a small convenience store with snacks and smoothies on the ground floor, and a lounge area with cable TV, internet terminals and a sofa. There are private rooms and dorms available. Nalin, a Thai woman who speaks English, runs the day-to-day business and happily advises where to go.

phone: +66 2 251-5615

address: 4/3, Soi Sukhumvit 8, Sukhumvit Rd

New inn with 19 cheerful, modern, & cozy rooms, with all rooms featuring a comfy king size-bed, wall-mounted flat screen TV, en suite bathroom & Wi-Fi.

Soi 1 Guesthouse

phone: +66 2 655-0604

address: 220/7 Sukhumvit Soi 1

This is one of the best backpacker hostels in the Sukhumvit area. There are 4-bed and 8-bed mixed and female-only dorm rooms, as well as 3- or 4-bed private rooms with shared baths. All rooms have air-conditioning. The dorms have a very social atmosphere, so this is not just a place to sleep, but to meet and hang out with other travellers (and the owner, an American called David who has lived in Bangkok for 15 years). Don't expect to sleep: people will turn on the light and ask you to come along with them to party. If that's not for you, then you're best off at another hotel. There is a 24-hour reception, common room, bar with food served, pool table, Internet (1 baht/minute). The Wi-Fi, lockers and long-term storage are free of charge. The owner arranges, on request, pub crawls and enjoys taking groups of guys out to Soi Cowboy. His advice is sage. Read his 4-page treatise on how to spot a ladyboy, which is pinned in the bar toilet. A downside is the price of the beer, which is three times the price paid at the 7-Eleven 10 m away, and bringing outside drinks in is forbidden.

Som's Guesthouse

phone: +66 2 259-1043

address: 295/13-14 Sukhumvit Soi 22

A basic guest house with nine rooms that have cable TV, fridge and hot shower. Six of them have air-conditioning, while the other three only have a fan. Furniture looks shabby and old, but it suffices if you're on a budget.

Star Inn Hotel

phone: +66 2 651-0761

address: 131/40-41 Sukhumvit Soi 7/1

A "short time" or "long time" hotel with friendly staff. Rooms are simple, but equipped with a DVD player, air-conditioning, double to king-size bed and mini-fridge. There is a well-equipped bar in the lobby and the restaurant offers barbecue dinners every night with good chefs. Lots of drunk foreigners get dragged in and out by their Thai "dates" here all-day. The bar next door has live music until about 04:00, which can make sleeping a challenge.

Star Light Hotel

phone: +66 2 258-2272

address: 81 Sukhumvit Soi 22

This is an old, no-frills Thai-Chinese hotel near Washington Square. As is usual, there are "short time" and overnight options. Rooms for both these types have air-conditioning. Don't expect anything more than just a cheap room.

phone: +66 2 251-5514

address: 91 Sukhumvit Soi 8

This is quite a simple hotel that just gets the job done for a lower mid-range price. Furniture looks old, the faucet needs to be fixed and the swimming pool is small. As it is about 800 metres from the main road, it is quieter and cheaper than other hotels. To make up for the distance, there is a complimentary tuk-tuk service that runs to Sukhumvit Road 24 hours a day.

phone: +66 2 656-7517

address: 73 Sukhumvit Soi 4

This hotel is mid-way along Soi 4, but still a 10-15 minutes walk from the main road: if you're too lazy than there is a free shuttle service. The rooms are surprisingly spacious and quiet, which given its location is a plus, but they look a little run down. air-conditioning and TV with satellite TV channels. The pool is small, but OK for a quick dip. The restaurant has a large TV screen, a pool table and serves good local food. Near the sleazy Nana Entertainment Plaza, so there are lots of Western men with bar girls around.
Mid-range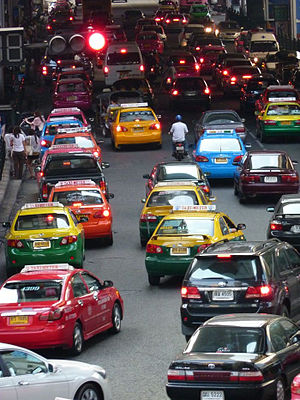 There is plenty of good quality, mid-range accommodation on Sukhumvit. It is possible to book on a weekly basis and get a large discount at many places.
Splurge
Several of Bangkok's luxury hotels are concentrated on and near Sukhumvit. To splurge in Bangkok is cheaper than you initially think. Your options include:
Connect

Sukhumvit is packed with Internet cafés, pubs and bars offering free Wi-Fi and computer access at rates as low as 0.5 baht/minute. Trying to print something will probably shed a whole new light on your experience. Be wary of key loggers which reputedly are epidemic at Thai Internet cafés. There have also been cases where memory cards get infected with a virus when plugged into an Internet café computer.

Go next
If you came here for Soi Cowboy and Nana Entertainment Plaza, Soi Patpong in Silom offers more of the same. If you just came out of Long Table and want to continue your night the superhip way, Silom is also the way to go.
Unlike most foreign travellers, the locals tend to go out in Ratchadaphisek. You might want to check out Royal City Avenue (often abbreviated as RCA), an entertainment paradise with bars, clubs and theatres, or one of Ratchada's popular sois.
Quite similar to Sukhumvit and right next to it is Siam Square, Bangkok's hippest shopping and entertainment district. It is only 10 minutes away by Skytrain.
Going east on Sukhumvit Road (Hwy 3) will take you across the town border to Samut Prakan with sights like Erawan Museum and Ancient Siam only 100 m off the highway. If you push onward you will end up in Pattaya and finally in Trat near the border of Cambodia.