Bangui
Bangui
(pronounced:
bang-EE
) is the capital of the
Central African Republic
.
Bangui lies on the northern banks of the Ubangi River just below a series of rapids that limit major commercial shipping farther upriver, on the southern border. The navigable Ubangi River turns sharply south below Bangui and connects to the
Congo River
just south of the Equator near
Brazzaville
as its chief northern tributary. The river marks the border between the Central African Republic and the
Democratic Republic of the Congo
(DRC). The Congolese town of
Zongo
sits opposite the river from Bangui.
Understand
Climate
The Central African Republic is just north of the Equator and consequently throughout the year daily high temperatures rarely fall below . The rainy season lasts from May until October. Bangui, being in the south of the country and thus closest to the Equator, is slightly hotter and wetter than the northern parts of the country.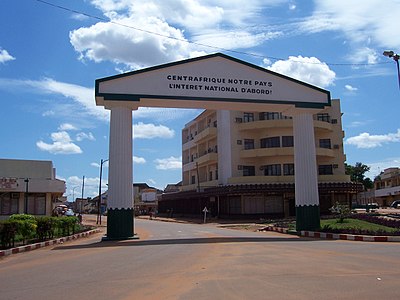 Get in
By plane
Bangui M'Poko International AirportWith a capacity of 10,000 passengers, the airport was serving 120,000 in 2012. In 2017, the airport was functioning under the supervision of the UN aviation officials. There are flights to Douala (DLA), Kampala (EBB), Nairobi (NBO), Paris–Charles de Gaulle (CDG, only on Tuesdays and Fridays), Casablanca (CMN), Abidjan (ABJ), Cotonou (COO) and N'Djamena (NDJ).
Visas are required for all European (and probably most other) travellers, and should be obtained before arrival.
The arrival procedure is a bit long, requiring at least two queues to get all necessary visa stamps. Exit from the arrival hall is through "Things To Declare", with customs officers picking out passengers randomly for baggage check. Security guards check the luggage tags on the way out.
Be careful of pickpockets outside the terminal building, including people claiming to provide assistance.
See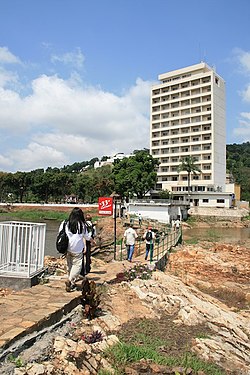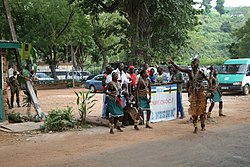 The city centre lies near the river and features a large triumphal arch dedicated to Bokassa, the Presidential Palace and the central market. Lying further north, the heart of the residential area has the largest market and most nightlife. North of the city lie rolling hills.
Boganda National Museum

address: Avenue Barthélemy Boganda

The national museum.

Cathédrale Notre-Dame-de-l'Immaculée-Conception of BanguiThe largest cathedral in Bangui.
Buy
Buy beautiful wood carvings, but do not be tempted to buy rare African Grey parrots that are being traded illegally in the town. You will be arrested if you do.

Eat
The city has a community of French expats, which translates into one of the best ice cream parlours in Africa; a supermarket that sells international (mainly French) delicacies, e.g. foie gras; and a really good Italian restaurant.

Drink
MocafOne of the local beers. Tend to be the cheapest and very good in quality. Comes in a big bottle, perfect for beer lovers.
Sleep
phone: +236 70 16 09 25

address: Avenue Nasser

It's been called the best accommodation in town. Clean and air conditioned rooms, hot water was available at all times. Wi-Fi Internet available with OK speeds. Electricity was more or less constant. There's a restaurant with fair prices, ~CFA 6,000 for a meal and a drink, 5,000 for a full breakfast.

phone: +236 70 16 09 24

address: Avenue Barthélemy Boganda

Basic accommodation with clean and air conditioned rooms. The environment is quiet rural, not so much to do outside the rooms. A basic restaurant is serving food all day. Electricity goes out sometimes.

Oubangui Hotel

phone: +236 77 77 30 38

address: Boulevard du Général de Gaulle

The closest you can get to "luxury" in Bangui. A high-rise just next to river Ubangi offering some spectacular views. As expected, due to the ongoing conflict, there are several shortcomings in service and standards.
Connect
Four GSM-900 mobile telecommunications companies, Telecel CAR, Nationlink Telecom RCA, Orange CAR and MOOV CAR operate out of Bangui. State-owned Socatel is the principal telecom in CAR and Bangui, and is responsible for the operation and maintenance of the communications infrastructure.
Internet cafes in town allow users to access the Internet, also using own laptop computers. Download speeds are acceptable and prices reasonable. MOOV provides GPRS/EDGE Internet access with USB sticks for reasonable prices in whole Bangui and in major cities of CAR as well.
Le Grande Cafe in the city center has open free Wi-Fi and serves coffee and food.
MOOV and Orange phones can access GPRS/EDGE networks if properly configured. Configuration is provided free at the telecommunication offices at PKZero. Speeds are generally EDGE, but may fade to G. GPRS is available in Bangui center, but fades out by PK12.

Stay safe
As of April 2019, the UK Foreign Office and other western governments advise against all but essential travel to the centre of Bangui, and against all travel to the rest of the country.
A colour photocopy of your passport can be certified at the Hotel de Ville for a few dollars and is much safer to carry around than your passport.

Cope
Embassies
phone: +236 2161-0200

address: Avenue David Dacko

Does not provide consular services. U.S. citizens in need of assistance should contact the embassy in Yaounde, Cameroon, instead.

phone: +236 21 61 30 00

address: Boulevard Charles-de-Gaulle

May be able to provide assistance in emergency situations to citizens of other EU countries with no embassy in the CAR.

phone: +236 21 61 03 11, +236 70 15 21 73 (mobile)

address: 108, avenue Gamal Abdel Nasser, BP 1405
Go next
Zongo – A congolese town, on the opposite side the Ubangui River, on the left bank. There is no road to cross the river.