Banlung
Banlung
(បានលុង), although a small town, is the capital of
Ratanakiri
Province in
Eastern Cambodia
.
This part of the country is heavily forested, giving way to plantation agriculture (rubber, cashews, and oil palms) and home to 12 ethnic minority groups, giving the province a sort of "edge of civilization" feel to it. The town is growing though, new roads are being built, and some things change quite quickly.
Get in
Buses and other forms of transit going to Banlung may be advertised by the province name "Ratanakiri" rather than the town name "Banlung". Ratanakiri is a more recognizable name to Cambodians from other parts of the country, since it's the name of one of the 25 provinces they had to memorize in school.
To/from
Vietnam
" The
O Yadaw
(
Cambodia
)/Le Thanh (
Vietnam
)
border crossing
between Banlung and
Pleiku
(Gia Lai Province) and
Quy Nhon
in Vietnam is open to foreign travelers, but Vietnam eVisas are
not
accepted at this crossing, so you will need to have a physical visa in your passport from a Vietnamese embassy/consulate unless you're from a country that gets visa-free entry.
Cambodia visas
are available if coming the other direction. From
Pleiku
town, take a public van (2 hr) or taxi (1½ hr) to the border. One van go to Pleiku at 07:00 for USD10 close of roundabout (2019). The Cambodia post is isolated with no regular transport. The immigration police may help find a taxi. Bargain. Up to USD80 for a whole car or USD30 for a motorbike with driver. 70 km; 2½ hr. Hwy 78 has been completed and is now one of the best roads in Cambodia (as of June 2019 there was just one short stretch of gravel a few kilometers before the border).
By plane
Banlung has an airfield, but all scheduled airlines have stopped serving it. The Banlung runway is still a gravel strip, but there are plans to extend it and build a concrete runway, which would make it more likely to attract a new carrier and make cancellations in the wet season less frequent. Medivacs and charters are available from Helicopters Cambodia.
At
Phnom Penh Airport
a USD6 departure tax may be levied.
By bus
Road Conditions
:
The road between
Phnom Penh
and
Stung Treng
has recently been upgraded and sealed (though a newly reconstructed road south of
Kratie
through Chhlong is more often used as it saves 100 km) and can be negotiated rather quickly. The road between the Stung Treng junction and Banlung is fully sealed as of 2019. North of Kratie the road is in a bad state to the Banlung turnoff, but the rest of the road is new and still in very good condition with new bridges.
It is possible to get buses to Banlung from/to:
Phnom Penh - Doing this in a single day is now reliable, with 4 big buses (Sorya, Rithmony, Hy Long, GST; 39,000 riel/USD9.70) and numerous minivans (40,000 riel/USD10) servicing the route regularly, departing from 06:00-07:30. The minivans are faster but the free pickup and dropoff can add 2-3 hr to the 8 hr trip.
Kratie - Two options:
Shared minibus. Leaves around 08:00, takes 5-6 hr. Costs USD8. Beware that they seat 4 people in each row of 3 seats, so it can be packed.
Phnom Penh Sorya Transport bus. Leaves 13:00, then stops for lunch just out of Kratie for at least half an hour, so if you miss the bus at the station you can always catch up with it. Takes about 6 hours; usually arrives between 19:00-20:00. Costs USD8.
Stung Treng - 3-5 hr, later departures.
Laos - It is possible to buy a ticket to Four Thousand Islands in Laos from Banlung. These are not direct buses; you must take three buses, switching at Stung Treng and at the border, and then a boat to your final destination. Costs USD14-18. On both sides of the border, the officials will try to charge "processing fees" for stamping your passport and possibly an inflated visa on arrival fee on the Lao side; see the main Laos article for more information.
Vietnam - Travel agents in Banlung can book you a 6am cross-border bus to Pleiku in Vietnam. Vietnam eVisas are NOT accepted at this crossing, so before going make sure that either (1) your nationality gets visa-free entry or (2) you have a physical visa already in your passport (available at Vietnamese embassies and consulates abroad).
Minivan hints: all buses and minivans are often late, but minivans may arrive/leave early if they're ahead of schedule and may not wait, so be prepared to leave at least 15 min before departure, especially in the morning when you may be their first pick-up. Also, if you are changing minivans, do not stray too far from your drop-off point. If the minivan turns up and doesn't see you around, they may think you haven't turned up for some reason and go off without you. Let someone know if you have to go somewhere. It is also possible to buy an extra seat when you book if you are concerned about being squashed or if you are on the big side: 3 seats for 2 people is close to 2 normal places.
By private taxi
A more expensive option than bus, taking a private taxi from Phnom Penh to Banlung is possible, for about USD120. It's a 5-6 hour drive to the junction near Stung Treng, then 2–4 hours to Banlung, plus meal breaks. Some taxi drivers in Phnom Penh specialize in this trip. Your hotel/guesthouse will probably be able to help you out.
Get around
The best way to get around Ratanakiri Province is by motorcycle, either by renting one and then driving it yourself, or by hiring one of the ubiquitous motodop drivers hanging all around town. Almost no one outside the town will speak English, so it may be a good idea to hire a guide to go with you to some of the villages. Also, going alone into the indigenous villages may offend them at religious occasions, such as when they close the village and hold ceremonies to please the spirits.
You can possibly rent bicycles near the roundabout. Sometimes they are unavailable. One shop is quite strict about taking passports as deposit. It is better instead to go to Bona Tours, just southeast of the roundabout. They have motorbikes and bicycles, and Mr. Bona is a friendly, English-speaking owner. Banlung Balcony, formerly Lakeview Lodge, also has bikes for rent for USD1.
For motorbike rentals, there is a shop on the highway just west of the roundabout, the Ratanak Hotel, a shop near Tribal Hotel, or most guesthouses. Readily available are the smaller 125cc semi-step through bikes for about USD5-7/day. These are the types that you will be seeing many Khmer driving. If you'd prefer a bigger bike, they can obtain a 250cc bike for USD10/day. In Reggae Bar and Restaurant, in street 25 with 46 you can rent motorbikes for USD6-8/day
You can also rent trucks or 4 x 4 vehicles for USD30-50/day, and renting a car with a driver is usually helpful. This rent can be organized by various hotels and restaurants, and at Parrot tours. For bigger groups, Dutch Co & Co and Terres Rouges Lodge rent a Landcruiser with driver/guide which can carry up to eight persons although it is a bit more expensive.
Most guesthouses will arrange guides and these generally get good reviews. There are also tour shops in the town.
See
Banlung is near several spectacular natural attractions, including waterfalls, lakes, natural parks and hill tribe villages.
Mining TourAs evident from the number of gem dealers in town, Ratanakiri Province is a significant gem mining area. Miners work in the Bokeo mines about 36 km from the town extracting the gems which sometimes are sold in Banlung's market. For more tour information, ask your guesthouse.

Rubber PlantationsThere are a few large rubber plantations on the way to the waterfalls .

Virachey National ParkIt's chock full of jungle and mountains, and hasn't been completely explored yet. Not all areas of the park are accessible in the wet season. The Ministry of Environment (Biodiversity and Protected Areas Management Project) offers jungle treks into the park, guided by a park ranger and community guide. Their office is near Banlung centre.

Wat RahtanharahmThere is a large reclining Buddha with a spectacular view of the surrounding countryside past the wat and about half a kilometre up the hill .

WaterfallsThere are several local waterfalls, and they are best seen during the rainy season when the water volume is at its highest and the vegetation is lush and green. Cha Ong is the most visited waterfall in the area, and is 18 m high. The rock area behind the waterfall has been eroded away over the centuries by the waterfall, thus allowing you to walk behind the fall. Kan Chang is another fall, which is approximately 7 m in height and empties into a large pool in which it is possible to swim. Ka Tieng is a third waterfall, 10 m tall, in the jungle which also allows swimming, and where you can swim with elephants from the Airavata Elephant foundation, trying to save the last elephants in Ratanakiri. Further out from town are Ou'Sean Lair Waterfall (about 26 km SE) with 4 tiers, Ou'Sensranoh Waterfall (about 9 km SE and 18 m high), Veal Rum Plan stone field (about 14 km N) and another crater lake (about 35 km SE).

Yeak Laom Volcanic LakeA 700,000-year-old volcanic crater lake in the Yeak Laom (Yaklom) Commune Protected Area. The lake and the surrounding areas are considered sacred by the local tribal minorities, and many a legend abound about this lake. There are docks on the lake, and swimming and picnicking are options here. There is also a hiking trail which winds around the lake. Along the trail there is a visitors centre displaying some objects and folklore of the local hill tribes.
Do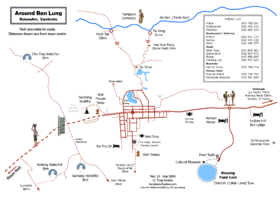 Go on a rafting trip or jungle trek, visit a hill tribe cemetery, seven-tier waterfall and mining villages with a local guide. These can be tailored to your taste but can be expensive for only one or two people.
Respect the locals. Ethnic minorities are animist and many taboos exist. At certain times, e.g. village sacrifice ceremonies, outsiders may not enter the village. Look out for signs, such as fresh tree leaves hanging in front of the village gate or house. Taking photos of people or places in hill tribe villages can break a taboo or disturb the spirits so get permission, and you may be fined if you don't. If you are unsure about local traditions, do not enter villages without a knowledgeable guide.
Buy
BanksAcleda (pronounced "A.C. leader") is the only bank in Banlung. It has an ATM that accepts Visa but not Cirrus or Mastercard. Since guesthouses in town that cash travellers' cheques charge high commissions and ATMs are unreliable, visitors are advised to carry sufficient cash both for the visit and for travel onto the next destination. The Acleda charge for overseas cards is USD2, and although many Cambodian banks in Phnom Penh don't charge, ANZ Royal charge USD4. Canadia Bank have a branch, with a 24-hr ATM that accepts many cards, on the street on the west side of the market.

Phsar BanlungBanlung's market is a typical Cambodian market selling the same merchandise as other markets. At early many Khmer Loeu people come to the market from their villages to sell fruits, vegetables and forest products. In addition to offering a good shopping opportunity it is a very photogenic, although permission should be sought.
Eat
Eat responsibly in Banlung and don't encourage poaching by eating the local wildlife.
There's not much to differentiate Banlung cuisine from other Cambodian towns. All but three restaurants are owned and run by Cambodians. Aside from restaurants located in guesthouses, there are several eateries that serve Western food. All of these serve a variety of Cambodian and Western food and drinks. The staff are friendly and dishes start at around USD1.50 or 6,000 riel.
A'DamCheap, with a relaxed pub-like feel. Has a pool table, big screen television, filling meals and draught beer. Especially convivial on Friday nights when the expats gather

Beef and ChipsGood beef and home-style chips.

Gecko HouseGecko has moved and the style has changed. The new place is a hit with locals. Upmarket ambience. Owned by the brother of A'dam's host, there's good food at competitive prices including Thai dishes, pizza and draught beer. Popular meeting place for lunches and small group dinners. Free Wi-Fi. Choose inside with air-con or the garden. Prices are reasonable and rumour has it that they have a new chef from PP.

Khmer restaurantsA couple of good soup restaurants: the first, Tanam, is popular for breakfasts. The second, Soup 63, has a great view. Down the second street left is another Khmer place, while further out on the left are three Khmer restaurants, Red Cow, Green House with last named in Khmer only, that have gone beyond plastic chairs and strip lights to more pleasant décor.

Sal's

phone: +855 12 284377

The menu has a couple of English and Mexican specialities, such as shepherd's pie and chili con carne, and pizza. The menu is sorted by waiting time, important as the slow service is infamous. No Khmers eat here twice. Impatient diners can call to order pizzas in advance.
Drink
South of the roundabout are four shops selling beer, wine and spirits, all a bit more expensive than more accessible places like Phnom Penh. The range of wines is modest.
Banlung Reggae Bar and Restaurant

address: 25 St at 46 St

Quiet atmosphere and reggae músic. Western and local. Also vegan and vegetarian (HappyCow). Popular with Westerners
Cafe Alee

phone: +855 89 473 767

Cool place to hang out and meet people in the evenings. Open all day.
Sleep
Banlung Balcony Guesthouse and Restaurant

phone: +855 97 8097036

address: Boeung Kan Siang Rd

Some rooms have air-con and hot water; there is also a mixed 4-bed dorm and rooms with shared bathroom. Camping sites are also available on the large wooded property. Overlooking the lake, in the attached bar/restaurant is a small TV lounge with comfortable chairs in which to just read, watch the sunset or the large-screen TV with over 100 DVDs. Has a wide selection of Asian and Western food including vegetarian, but also an extensive, MSG-free, Khmer menu, including local ethnic minority dishes and forest meats. Open for meals 07:00-21:00, later for drinks. Full bar, a full-sized snooker table and dart board, free Wi-Fi, books to swap. This place used to be Lakeview Lodge, but there is some confusion as the previous owner uses the old Lakeview phone and email to book clients for his new place.
Lakeside Chheng Lok Hotel

phone: +855 12 957422

Overlooks Kan Siang Lake, featuring fan and air-con rooms, hot water and cable TV, plus some bungalows in the garden. Lakeview rooms are priced USD5 more than road view. The view across the water from the restaurant is its one real good feature.
Reggae Homestay and Bar

phone: +855 978250366

Little local homestay including very basic dorms near the town center. The owner speaks good English, and also arranges independent tours such as jungle treks, minority villages, etc. Seems serious about quality and honest business practices.
Terres RougesThe town's top accommodation, boasting a large post-colonial villa-style guesthouse, a group of bungalow suites, a large pool and spa/massage facility and the town's best eatery set in sprawling tropical gardens overlooking the town lake. It is decorated with memorabilia reflecting the founders French Army "para" past. Its restaurant, Le Jovial Jarai, is arguably the finest restaurant in town, known for its garden setting and music. It serves a variety of Cambodian, Thai, Chinese and Western dishes and has a full bar, white jacketed waiters and table linen. Prices average USD4.50 per main dish with more expensive imported steaks.
Tree Top LodgeAn unusual design with stilt-house bungalows connected by elevated walkways. Opened by an old tourism hand, "Mr T", it has nice views and a typical restaurant that is a little more expensive than its peers (beer USD1-1.25).
Tribal Hotel

phone: +855 11 912322, +855 75 974074

A range of rooms with some costing more than most, one option being a USD50 per night wooden house. The standard rooms have nice décor, with fans, air conditioning and cable TV.
Yaklom Hill LodgeA nature lovers dream, with individual cottages dotted on a jungle hillside and 3 viewing platforms offering great views of the surrounding hills. Not for lovers of creature comforts, this is an eco-lodge: cottages have a small fan and two small lights powered by a solar cell system; electricity and hot water for showering is available 18:00-21:00 (if the generator works). Good food (Khmer/Lao/Thai), breakfast is included. Friendly staff, tours/guides can be organized.
Yaklom ResortHas beautiful views all around, especially at sunset. They have bungalows and air-conditioned hotel rooms. It's out of the way, but it's near the lake and they have free transportation to the lake and to town so it's not so bad. The restaurant here is starting to attract travellers for sunset drinks. It's on top of a hill and has beautiful views all day, but especially sunset. Call them and they'll drive you up the hill for free from your guesthouse and drive you back.
Stay safe
There have been some muggings around Banlung, and some gang robberies targeting isolated farms. In February 2009, a French tourist was shot during an attempted robbery after he became lost looking for Cha Ong Waterfall outside Banlung. You should not resist if accosted.

Go next
Kratie - A pleasant riverside town which is a nice place to break the long journey to Phnom Penh.
Stung Treng - The town most tourists pass through on the way to Laos.