Banská Bystrica
Banská Bystrica
is a city in
Central Slovakia
.
Understand
Banská Bystrica is in central
Slovakia
between the national parks
Great Fatra
and
Low Tatras
(north of the city), the national park
Poľana
(east of the city), and the Štiavnické Vrchy (southwest of the city). Banská Bystrica is the capital of Banská Bystrica region (
kraj
) and the department(
okres
) of the same name. It has approximately 78,000 inhabitants.
Get in
By plane
Banská Bystrica is serviced by
The closest international airports are Budapest (200 km), Bratislava (205 km) and Vienna (260 km).
If you are flying from Vienna, work out the connections well. A mid-afternoon flight from Vienna (at about 15:00) probably involves leaving Banská Bystrica on the 06:27 train or a bus between 07:00 and 08:00. It is also possible to take the 08:27 train to Bratislava and reach Vienna airport for a mid-afternoon flight, but this leaves little time buffer.
Transport to Budapest is relatively complicated with no direct bus or train. As of summer 2015, it was not possible to make it with less than 2 transfers (significantly bypassing the shortest route).
By train
There are train connections from the major Slovak cities. Banská Bystrica can also be reached from Vienna, Budapest, Poland and the Czech Republic (direct train). The city is not served well in the evening. Plan your connections from Bratislava carefully, as there are no trains between 18:01 and 23:49 (the midnight train arrives at 05:19, with the train stopping in Zvolen at 02:57, with a long wait to 04:47 -- for a local train to Banská Bystrica).
Many of the trains from Bratislava have Wi-Fi.
There are two stations:
Main train station

Banská Bystrica - mestoA station that is closer to the town center.
By bus
There are bus connections to all major Slovak cities, and international routes to Vienna, Czech Republic and many other cities in Western Europe. Buses from Bratislava cost around €9.50 (RegioJet buses cost €5). As of mid-2015, the last bus leaves Bratislava for Banská Bystrica at 20:35, so be careful about connections if booking flights to Bratislava airport or to Vienna airport.
By car
Banská Bystrica has road connections from all major Slovak cities. It can be reached from Bratislava (210 km) via highway R1. Banská Bystrica also has road connections from: Ruzomberok (52 km) road 59/E77, Martin (59 km) road 65, Zvolen (19 km) road R1/E77. From Zvolen it is possible to continue further south by E77 to Sahy (70 km - Hungarian border) and Budapest (160 km).
Get around

Banská Bystrica is a walkable city and all the main sights can be reached by foot in 15 minutes.

Public transport
Public transport is useful if staying outside the city center or for trips around the city. It consists of buses and trolleybuses and a single trip costs €0.70 (as of mid-2015). Regional buses from the main bus station (or adjacent "Parkovisko Mičinská" stop) service surrounding villages for a slightly higher price. For more information and current schedules visit this page .

Taxi
Due to increased competition (triggered by complete absence of public transport over night), prices of taxi in Banská Bystrica have plummeted to flat rate of around €3-4 per trip anywhere inside the city (trips outside the city are charged per km). With the official city area being quite large, it makes taxi really convenient transport option.

See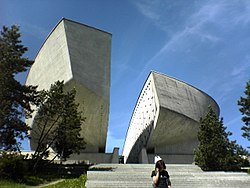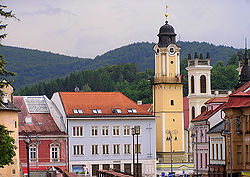 Banská Bystrica has a beautiful position between the mountains. Therefore it's a popular summer and winter resort. The heart of the old city is the SNP square (Námestie SNP) which dates back to the 13th century. You can find a lot of renaissance and jugendstil buildings here. These sights include:
address: SNP Square 1

This house belonged to a medieval miner who built this enormous house beside the town square. Now it hosts information centre of the city and it is also used for the representative purposes of the mayor.

address: SNP Square 4

Set in a beautiful renovated renaissance house, it has its expositions in two other historical buildings in the city.

Marian`s PillarThe baroque pillar was built in 1719 as a sign of gratitude to the Virgin Mary after the end of the plague.

The Black ObeliskMonument in honour of soldiers of the Red Army and the Romanian Army.

address: SNP Square

Baroque style Roman Catholic church, built in the early 18th century.

The Clock TowerBuilt around 1552 as a part of the Town market. Entrance fee to the top is €2 (children go for free).

BarbakanThe main fortification complex and the dominant point with the Petermann bell – tower. It hosts a stylish restaurant.

Virgin Mary's Assumption Church

address: Štefan Moyses Square 1

Roman church built in the 13th century which was expanded in the gothic era.
Out of the main square:
Slovak National Uprising Memorial

address: Kapitulská 23

Museum of items and documents of the resistance in the Second World War. Wide stairs lead to a pious chamber with the symbolic grave of an unknown soldier, eternal fire and soil from the battlefields and burnt villages, tables dedicated to Holocaust victims and international involvement in the uprising. The museum is characteristic with its notable Soviet-era architecture. The full fare is €2, with various discounts.
Do
Two big parks for relaxation near city center are available:
At SNP museum

Tajovského park

Zahrada CNKThis park at a "center of independent culture" may be closed or used for different happenings.
Cycling
Surrounding of Banská Bystrica is great for cycling sport (cross, mountain). You can do many cycling trips according to your preferences. Villages around the town are connected by asphalt roads. In the countryside and mountains there are many paved or gravel roads used for forestry in the past but now used mainly for trekking and cycling. Treks for cycling are not marked very well but the situation is improving as cycling is becoming very popular sport among locals.
For more information visit
cyklobb.sk
There are very useful information about cycling treks including length, profile, directions, photos, eating opportunities. Unfortunately, page is available only in Slovak language but it is very intuitive and you can use google translator. During summer weekends and holidays there are also regular bus services for cyclists with bikes to 3 cycling destinations (Malý Šturec, Harmanecká jaskyňa, Donovaly).
Buy
address: Na Troskách 25

Large shopping mall offering wide range of stores. Joined with Europa Business Center (the tallest building in the city).

Tesco hypermarket

Kaufland supermarket
Eat
Healthy food

address: Kollarova 18

Vegetarian cafeteria with Slovak specialities
Budget
phone: +421 48 415 50 36

address: Horná 39

Cheap restaurant with typical Slovak dishes. They have daily menus for €4-5 including soup.
Mid-range
Splurge
phone: +421 48 416 30 95

address: Dolná 42

Centrally located elegant, modern restaurant with gourmet cuisine. They serve delicious coffee specialities and alcoholic drinks too.

phone: +421 48 416 30 90

address: Horná 23

Excellent restaurant close to SNP square with different types of food, they also have á la carte dishes and cocktails. During summer there is a covered terrace.
Drink
At the central square in the city several small bars serve beer and other drinks and dishes.
phone: +421 48 415 26 71

address: Kapitulská 10

It's the edge of SNP square, and is a good place to meet. Daily menu, several types of beer and other alcoholic drinks are available.

phone: +421 48 470 07 02

address: Dolná 52

Stylish cocktail and coffee bar next to the SNP square with wide selection of drinks. They also serve beer and some dishes.

phone: +421 94 414 14 19

address: Horná 65

Very nice and relaxed tea house near the city centre with several types of tea. Coffee and shisha are available too.
Sleep
Budget
Mid-range
Splurge
Nearby
UrpínA mountain on the left bank of Hron river, above the old town. The most popular trail "Serpentine Urpin" is moderately demanding, 3.6-km long trail with a total elevation 173 m (peak in 510 m). Walking time may very between 1-2 hours (allow more time with children). There is a chapel and an astronomical observatory ("Vartovka") at the top of Urpín.

address: Dolný Harmenec 976 03

The cave ranks among the most important caves in Slovakia by remarkable origin of cave spaces, mighty breakdown domes and number of wintering bats. It is located 15 km north from the city by road E77 and 65/14 (direction to Martin). It is possible to take regional bus no.601454 to "Horný Harmanec - jaskyňa" stop. From the bus stop, it is a 1.5-km long uphill hike (260 m in elevation) to the entrance. The full fare is €6 and there are discounts for children, students and seniors. Make sure to bring warm clothes even during summer as the average temperature of one hour cave tour is around 5-7°C.

Špania DolinaA mountain sleepy village lying 728 m above the sea level, on the borderline of the Low Tatras and Great Fatra National Parks. Once famous all over Europe for the rich deposits of copper ore, nowadays a place of natural mountain beauty. It is 15 km north from the city by initially taking road E77 then turning off to a potholed hilly road. It can be reached by an infrequent regional bus no.601468.

HronsekThe village is on the left bank of Hron river, 10 km south of Banská Bystrica. Its main attraction is the wooden articled church (UNESCO World Heritage). Hronsek can be reached by car from the main highway R1 heading to Zvolen or by a regional bus no.601455.

Suchý vrchA hill creating south-west boundary of the city, lying on the edge of Kremnica Mountains. With its numerous easy and moderate trails, it is an ideal option for a family day trip. In spite of some facilities on the top (restaurant, horseback riding), the forest routes provide no facilities, so it is necessary to bring own supplies. It is best accessible from adjacent villages Tajov, Králiky and Malachov or from the city quarter Fončorda (trolleybus stop "Nad Tulskou").
Go next