Bansko
Bansko
is in
Southwest
Bulgaria
. It is the birthplace of the Bulgarian revival movement.
Get in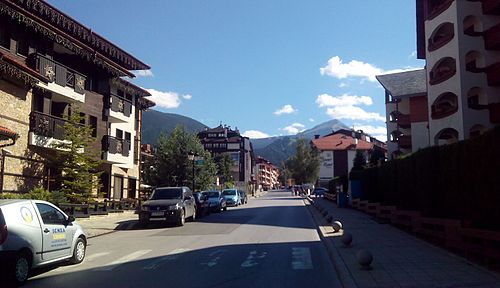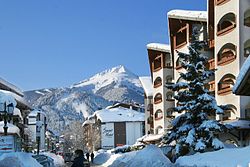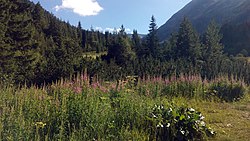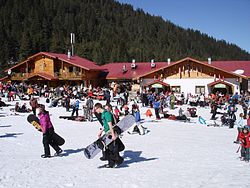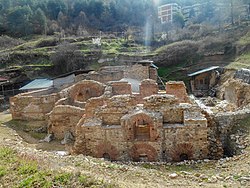 By plane
Two main airports serve Bansko,
Sofia
(around 160 km away) and
Plovdiv
(around 180 km away). A proposal for Bansko's own airport is well advanced, but no construction has started as of October 2018.
By train
Perhaps the most interesting way to get to Basnko is via the narrow-gauge train from
Septemvri
. Traversing beautiful mountains and valleys and passing by countless rural Bulgarian villages, the train is considered by some as one of the most scenic rides in the Balkans . Septemvri is on the main rail line between
Sofia
and
Plovdiv
, so access is quite easy. However, this is not the most practical route to Bansko by any means, as the train takes just under 5 hours with an operating speed of just 30–50 km/h to complete a journey doable in 1½ hours by car. For those with the extra flexibility required for the ride, however, this is
the
way to get to Bansko. See
BDZ
for timetables.
The nearest rail station served by standard-gauge trains lies in
Blagoevgrad
. Blagoevgrad lies on the main line from
Sofia
south and is easily accessible from the city, from which buses to Bansko are plentiful.
By bus
There are many buses departing Sofia each day from different stations so be sure to check which station your bus is departing from. Room for luggage can be an issue as they are mainly vans so you may have to wait for the next one on occasion if you have bulky items e.g. snowboard. The cost is around 16
leva
each way. The timetable can be found
here
.
From Blagoevgrad there is frequent bus service (every 30–60 minutes) to Bansko, the ticket costs 3-4 leva. The bus station is very close to the train station, around 5 minutes on foot. From Bansko bus station you can call a taxi to your hotel, ask at the ticket office. You should agree on the price when you get in to avoid surprises (10-15 leva should be enough). Note some hotels may suggest a bus ride from Blagoevgrad to Bansko, but at a much higher price.
Get around

Getting around in Bansko is relatively easy. The town is not large, and walking around is nice. The city government never permit high rises hotels to settle within the old city area.
Taxis are relatively cheap (5-10 leva), though you should arrange the price beforehand. Have your hotel reception call you a taxi if you can.
If you get to Bansko with your car, bear in mind that few roads get cleaned from the snow and ice, so snow chains may be required even in the city. Don't be fooled by local cars not using chains, as they use winter tyres which make a lot of difference!
Renting a car from Sofia for most tourists is considerably beneficial because of the flexibility. Taxi rides can cost €1-5 per kilometer and are not recommended when traveling outside the city of Bankso.

See
In a nice day, with good visibility the view of the mountains is beautiful, especially if you take the lift to the ski tracks. (You should get to the ski tracks at least once even if you do not ski yourself
Belitsa Dancing Bear Park33 km from Bansko is the Four Paws Bear sanctuary, offering a new home to bears that had been forced to dance. It's in a huge park with several large enclosures. The bears can now roam relatively freely with others of their kind. Information suggests that there are tours that leave hourly. A taxi (unofficial!) from Bansko, with 2 hours' wait, cost 60 leva though a lower price could probably be gotten with more bargaining over beer. Take good walking shoes. Guiding tour visits are organised every hour between Apr-May: 10:00-18:00; Jun-Sep: 10:00-20:00; Oct-Nov: 10:00-16:00; Dec-Mar no tours.
Do
Skiing
Bansko is a good place for skiing in winter. The resort is mainly suited to beginners and those more advanced will get bored quite quickly. Also don't expect the runs to be groomed to often. Skiers and Snowboarders could find
BanskoSki
useful.
It is also a good idea to avoid any English school holidays as there will be insane amounts of people everywhere (and a 3-hour wait to get up the mountain via gondala) as well as the skiing world cup as half of the runs will be closed for the weeks leading up to it.
You can rent ski gear at the first station and get a discount at the lift ticket, though if you want to leave your skis there overnight there is an extra charge. A lot of ski rental shops can be found around the first station, where you can probably rent gear in better condition and get a good price if you book for more than 1 day (recommended). (Full ski gear for 4 days cost 100 leva). You can probably arrange to leave the gear at the shop overnight for free.
The weather in Bansko is obviously colder than some Greek ski resorts, so warmer clothes and a full face hood is nice to have.
You can get a multiday ticket for the lifts, although the discount is negligible. There is also a half day ticket after 12:30 or 13:00 each day, but you can also buy tickets at a better price from people leaving the ski centre before the end of the day, around the ticket offices.
Most hotels offer a bus service to the ski lift station in the morning and afternoon. Try to get to the lift station not later than 09:00 to avoid long queues. It is also advisable to buy the tickets from the previous afternoon for the same reason. There are also minibuses to ferry people up the mountain in the morning which is included in the lift pass.
Hiking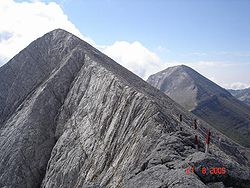 Bansko is an excellent entry way to the
Pirin Mountains
, Bulgaria's wildest and least developed mountain range. Vihren hut, named after the nearby Mt. Vihren, is the best place to begin both short and long distance treks. During the peak season (mid-Jun to mid-Sep) a bus will take you several times a day to and from Bansko. Great one day hikes include Mt. Vihren, the 2nd highest mountain in Bulgaria and 3rd highest in the Balkans, and The Koncheto, a 200-m-long and 1-m-wide ridge between the second and 3rd highest mountains in Pirin with vast cliffs on either side. With a full day it is possible to hike them both.
Other
In the beginning of August an annual jazz festival, the Bansko Jazz Festival, is held in the town.
A couple of houses from the historical center turned into museums.
The Sveta Troitsa church, a christian temple from 19th century.
The highest peak of Pirin Mountain (Vihren - 2916m) is at a day's walk from the city.
Buy

There are some fashionable clothing retailers, as well as ski shops in the town. The prices for ski and sports gear are quite good, but usually not exceptional. You should be able to lower the initial price if you negotiate.
On a smaller budget, there are also numerous souvenir shops selling a range of generic Bulgarian items, as well as Bansko specific ones.
There is a village market on Sundays. You can get greens, honey, cheap shoes and farmers tools, among others.

Eat
Bansko is rife with traditional Bulgarian taverns ('Mehana'; plural 'Mehani'), as well as cafes and modern bars along the main roads.
Price should be around €10 per person in most places.
There are also a lot of places where you can get a slice of pizza or a sandwich. The "Friends Pub" near the first ski lift station is really nice, you can get a slice of pizza in the kiosk outside, or a full meal inside.The best tavern in Bansko is Matsurev han.The inn offers Bulgarian national cuisine, traditional dishes from Bansko, prepared on live coals, on a plate and in an oven. "Matsurev's Inn" is located at the foot of the Pirin mountain in the heart of the town of Bansko. It is located over the church "St. Trinity" at 100 m from the central square of the town and only at 15 minutes walking from the first station of the cabin lift.
By the end of the ski season (March–April) many restaurants offer large discounts to repeat customers too, sometimes up to 60% off, making eating out at this time incredibly cheap.

Drink
Cocktail bars and strip clubs can be found during winter season, when the city becomes 'sin city'
But also numerous fountains on the streets providing fresh water from the mountain. Safe to drink.

Sleep
You can find nice 3-4 star hotels for ~€40 per night for a double room. Most hotels have sauna (free) and spa (extra charge). Belle vue is one of them; it's near the ski lift station.
phone: +44 7967750592

address: 13 Garibaldi Street

Catered ski chalet in the heart of Bansko. Sleeps up to 14 guests with 5 bedrooms and 4 bathrooms. Large lounge with log fire, honesty bar, plasma TV, cable, large movie library, Nintendo Wii, Wi-Fi internet with chalet computer, Ipod docking station, CD player. English hosts.

Premier Luxury Mountain Resort

phone: +359749 50500

address: 11 Karamanitza Str

A 5-star hotel. As a hotel guest you get free access to the spa and pool as well as the ski shuttle to the gondala every 30 minutes. There is free Wi-Fi in all public areas and all the rooms. Breakfast is included. (Jun 2012)

Vihren HutVihren Hut is around 30 minutes outside of Bansko at the end of the only public road going from Bansko into the Pirins. Meals are served on demand and are very inexpensive (less than €5 more, tons of food). Buses run to and from the hut several times a day Jun 15-Sep 15. A taxi will cost around 25 leva. However, as of September 2012 the guy running the place spoke absolutely zero English, besides "for sleeping", so communication will be an issue, but gesture enough and he'll get the picture.

LuckyBansko AparthotelModern hotel near the main road into the town. It has a very good indoor pool/spa centre. 2 km from the main ski station, but a frequent shuttle is provided. Fast wifi throughout.

Guest House Chicho Tsane

phone: +359 899 829 332

address: 13 Kniaz Boris 1st Str

Small hotel owned by the family of the old mayor of Bansko.

Sauna and steam bath, nice garden in summer with a broken jacuzzi.

Walking distance from downtown and the ski gondola.

Home made products on the buffet.
Go next
Pirin National Park: UNESCO World Heritage National Park with over 27,000 ha, altitude between 1008 and 2914 m, mountain landscapes with glacial lakes, waterfalls, caves and predominantly coniferous forests.
Melnik: traditional village in beautiful landscape