Banteay Chhmar
Banteay Chhmar Temple
is 65 km north of
Sisophon
on Highway 56. In 2010, Banteay Chhmar won the "Hidden Treasures Cambodia" destination award.
Understand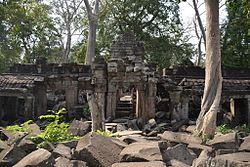 Banteay Chhmar Temple and its nine satellite temples form one the great temple complexes from the
Angkorian era
. The temple was constructed by
King Jayavarman VII
in the late 12th century. The temple complex is one of the largest from the Angkorian era and is one of only two sites outside of
Bayon Temple
bearing the enigmatic Bayon-style face towers. Banteay Chhmar Temple is undergoing a multi-year conservation project by
Global Heritage Fund
(GHF) and the Cambodian government is in efforts to have Banteay Chhmar listed as a
UNESCO World Heritage Site
.
Banteay Chhmar Community-Based Tourism

phone: +855 97 516 5533, +855 12 435 660

address: National Rd 56A

A group of local villagers dedicated to preserving and protecting the cultural heritage of the area as well as creating a sustainable tourism industry in Banteay Chhmar. Provides homestays, English-speaking tour guides, meals, activities, tour packages, booking services and transportation resources for individuals and tour groups. All CBT members are non-salaried and only receive income from providing guest services. This includes the cooks and homestay owners, as well. The CBT also saves some money from guest services in a local community fund to help with community-wide projects such as a solid waste disposal project.
Get in
Banteay Chhmar is most easily reached from Sisophon. Sisophon is at the junction of Hwy 5 and Hwy 6 and is a major transit hub linking Siem Reap, Battambang, Phnom Penh, and Poipet (Thai border). There are numerous buses and taxis to/from Sisophon all day long. It should not be a problem getting to Sisophon.
From Sisophon, taxis are the only practical way to reach Banteay Chhmar. Taxis can be met at the Psaar Thmei (New Market) on Hwy 56 (the road to Banteay Chhmar) in Sisophon. The CBT has taxis with the CBT logo on them at this taxi stand. As of September 2015, the road to Banteay Chhmar is entirely paved.
Shared taxis (6 people – 4 in the back; 2 in front plus driver) are USD5 per person. If you need extra legroom, you can ask to pay for 2 seats. A private taxi is USD25.
In the dry season, it takes approximately 1 hour from Sisophon to Banteay Chhmar. In the rainy season, travel times can be longer depending upon the amount of rain and where it falls. The road is very rarely, if ever, completely closed.
In the unlikely event that the road is closed, Banteay Chhmar can be reached via Samraong, about 50 km north. This road is in better condition, but is a much longer journey than from Sisophon. This road can also take you to the O'Smach/Chong Chom border crossing with Thailand.
The CBT will help you with making your onward travels from Banteay Chhmar.
Other transportation
Private taxis and minibuses for groups can be arranged through tour operators or guesthouses in Siem Reap or Phnom Penh. You should contact the CBT if you need advice or help about these options.
Self-drive motorbikes can be rented in Sisophon at the Golden Crown Guesthouse (USD10/day).
Motorbikes with driver (motodop USD10–12) and tuk-tuks (USD30/day) can also be hired in Sisophon, though these are not the most comfortable options and not recommended.
There are no buses to Banteay Chhmar.
Get around
Banteay Chhmar village, the main temple and the homestays are all close and can be easily covered on foot. Most of the satellite temples can also be reached on foot, or the CBT has bicycle rentals (USD1.50/day). There are two barays (large water reservoirs). The Meborn Baray can be walked or biked to. The Pol Pot Baray (3 km) is easier to reach by motorbike.

See
Banteay Chhmar TempleOne of Cambodia's most important and least understood temples from the great Angkorian era. The temple is similar in style to Bayon Temple and may have originally had over 50 towers within its main enclosure. There are some stunning bas-reliefs of Khmer domestic and military life from the Angkorian era.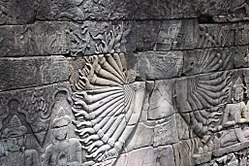 By far, the most important and spectacular bas-reliefs are the two remaining images of the Avalokitesvara on the west gallery.
The temple has suffered hundreds of years of natural decay, and more recently, was subjected to egregious acts of looting. What remains is still truly spectacular – a remote, deserted temple overgrown with trees and forest. You will experience a sense of mystical aura and have some awesome photographic opportunities.
With fewer than 1,000 visitors a year, you will also most likely have the temple to yourself.
Temple entrance fee is USD5 per person and is good for multi-day entrance to all the satellite temples including Banteay Torp Temple. Children under 12 are free.
Satellite Temples:There are three satellite temples worth visiting. Ta Prohm Temple is an easy walk just south of the main temple. Ta Prohm has an excellent 4-sided, Bayon-syle face tower. Samnang Tasok Temple is about 1 km west of the main temple and can be reached by walking or bicycle. This rather large satellite temple also bears Bayon-style face towers and is covered in vines and jungle. Chinchem Trey Temple is a little more than 1 km to the north of Banteay Chhmar Temple and looks like a walking giant. It is best reached by bicycle or motorbike and can be difficult to reach in the rainy season.

Meborn Baray:Meborn Baray is a large reservoir constructed during the building of Banteay Chhmar Temple. It served as the primary water supply for the inhabitants of the time. The area now is protected from development and is home to a variety of birds. The baray stretches nearly 1,000 m x 1,500 m. There is a temple on the island in the middle of the baray which can be reached during the dry season. Meborn Baray is 600 m from the CBT office and can reached by walking or biking.

Pol Pot BarayThis baray was constructed during the brutal Pol Pot regime under, as you can imagine, horrific conditions. Today, the baray is an important water source for the villagers in the area. The baray is about 3 km north of Banteay Chhmar and is best visited by moto, though biking may be possible during the dry season. It can be difficult to reach in the rainy season.
Do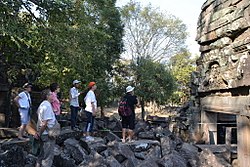 Temple Tour with Tour Guide:The CBT has English-speaking tour guides available. They can give you a temple tour and will also help you with your homestay arrangements and transportation needs (and anything else you may need help with). USD5 per group of 5.

Traditional MusicA group of local musicians playing traditional songs and instruments. This is often performed in the temple at night during dinner (weather permitting). USD10 per group.

Rice FlatteningA traditional way of rice preparation for special occasions. You can help prepare the rice and enjoy tasting it afterwards. USD10 per group.

Ox-cart Tour:Take a 1-hour tour around Banteay Chhmar village stopping at various sites and learning about local Khmer life. USD5 per group of 4.

Kuyon (powered tractor) TripKuyons can be hired to take visitors to the barays, or to Banteay Torp Temple for sightseeing and picnics. USD6 per group of 10.

MotosThe CBT does not rent motorbikes to visitors. You can ride around Banteay Chhmar with a CBT member for USD7. A trip to Banteay Torp (see below) will cost USD5 and an all-day motorbike tour will cost USD10.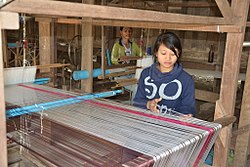 Soieries du Mekong Silk CentreThis is a must-see on your trip to Banteay Chhmar. High-quality silk products, some of which are sold in Siem Reap, Phnom Penh, and France. The silk centre has been training young women in the art of silk weaving since 2001. You can receive a tour of the silk-making process, try some weaving yourself and buy some beautiful. You can also visit the affiliated Enfants du Mekong School nearby.
Buy
There is no ATM in Banteay Chhmar. The closest ATM is in Sisophon. US dollars, Thai baht and Khmer riel are all accepted in the market and by the CBT.
The CBT office has a few wooden handicrafts (sculptures, candlesticks etc.) made by local villagers. Inquire if you would to see these, or to go visit the craftsmen's homes and shops.
The small market area has necessities such as toothpaste, soap, shampoo and very basic medicines.
Eat
Being so far away from a major city makes dining options somewhat limited. Whatever is available in the market usually becomes the main meal of the day. There are no Tex-Mex, Italian, or nouvelle cuisine here.
The market area starts closing down around 17:00, so eat early or, if you are not eating in the CBT restaurant, ask the Chan Rom to prepare a meal to eat later.
CBT RestaurantThis is your best option. The CBT has a kitchen and restaurant area where meals can be served. The CBT cooks have been trained in food safety and hygiene. Picnics and dinner in the temple can also be arranged through the CBT. There is an extra supplement for picnics and dinner in the temple depending upon group size, location and transportation needed.

Chan Rom RestaurantIn the market area, this is the restaurant under the big tree across from the moat and taxi stand. There is no menu. Basic Khmer food (look in the pots) and generally clean.

Market StallsThere are various market stalls and sellers selling bobor (rice soup), cane juice, grilled corn, desserts, and other Khmer delicacies (crickets, anyone?). Not necessarily the most hygienic choice, but worth trying, if you are on a very tight budget.
Drink
Needless to say, there are no bars, nightclubs or swinging karaoke joints in Banteay Chhmar. Beer (USD0.50 can) and other drinks can be bought in various shops and there are a couple of ice sellers where you can buy ice to keep your beverages chilled.

Sleep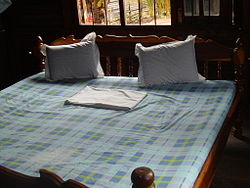 CBT HomestaysThese are the only sleeping accommodations in Banteay Chhmar. There are 8 homestays and 19 rooms. Each room has 1 double bed. The homestays are clean and basic with cotton sheets, blankets, pillows and mosquito nets. 6 homestays have Western-style toilets and shower heads. There are no rooms with air conditioning. There is electricity only from 18:00-23:00 in Banteay Chhmar. The homestays all have electricity during this time, or use batteries. Flashlights and candles are provided, as well. You will need a CBT member to help you with settling into your homestay since none of the homestay owners speak English and homestay reservations are done on a revolving basis so each homestay owner receives his or her fair share of guests.
Connect
There is electricity only from 18:00-23:00 in Banteay Chhmar.
There are no Internet facilities. If you really need to use the Internet you can ask the CBT to borrow one of their computers and/or their USB modems. Please offer some compensation.

Go next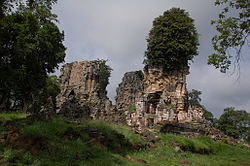 The most popular half-day trip is to
Banteay Torp Temple
. This temple is 9 km south of Banteay Chhmar off of Hwy 56. The temple consists of three soaring and precarious looking towers teetering on the verge of collapse. The nearby pagoda has some beautiful wall paintings. Frequently, tourists will have a picnic lunch here on their way back to Sisophon. For groups, the CBT will arrange a kuyon for transportation. Otherwise, it is best reached by motorbike or taxi. Bicycles are not a good idea, especially in the rainy season.