Bar Harbor
Bar Harbor
is a village on
Mount Desert Island
in
Hancock County
in the
Down East
area of
Maine
. It is a useful base for those visiting
Acadia National Park
.
Get in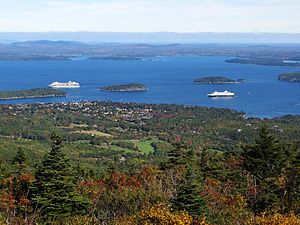 By car
By plane
The
Hancock County-Bar Harbor Airport
(
BHB
) is in Trenton on the outskirts of Ellsworth, on the mainland adjacent to Mount Desert Island. There is scheduled air service to Boston, and seasonal flights to Newark that go on to Vero Beach. During the summer there is free bus service between the airport and Bar Harbor, which takes about 45 minutes, depending on the traffic. Taxi service and rental cars are also available.

By ferry
Bay Ferries will be returning The Cat high-speed ferry service to Bar Harbor, ferrying passengers between the area and Yarmouth, Nova Scotia. Originally expected to return in June 2019, delays in renovating the ferry terminal put off the return to either late in the 2019 season or, more likely, 2020.

Get around

Depending on the time of year you find yourself in town, and your intended goals, your visit may necessitate different modes of transportation. With many of the nearly 3 million annual visitors arriving in the summer months, getting around town by motor vehicle is a bad idea. Bar Harbor is much, much quieter between October and April.
Use the Island Explorer buses to get around the island. They are sponsored by L.L. Bean and an eco-friendly option.
Driving a large truck or SUV is ill-advised, as parking in Bar Harbor is not suited to such vehicles. On the bright side, bringing less stuff requires befriending of locals, improvisation, and overall a more fun Maine experience.
The central area of Bar Harbor is quite small and easily explored by foot. This includes the shopping and eating establishments on Main St. and Cottage St., and the activities at the town pier.
Bicycles can be rented in town and may be put on the front of the buses.

See
phone: +1 207 288-0000

address: 33 Ledgelawn Ave

Listed on the National Register of Historic places, the museum exhibits memorabilia, maps, antique clothing and pictures.

phone: +1 207 288-3519

address: 26 Mount Desert St

Devoted to the Native American tribes of Maine. The new Abbe museum is much larger and offers plenty of activities for both adults and children. A good rainy day activity. Open to school groups and programs by appointment in the winter.

The Abbe Museum:Original

phone: +1 207 288-3519

Located at Sieur De Mont, this one-room museum is the original MDI Native American museum. A bit pricey, but lots of information.

Village GreenThe well-groomed park is a great place to take a break from walking, shopping, etc. Toss a frisbee, enjoy your ice cream, read a book, or just take a nap. The gazebo hosts the town band every Monday and Thursday night. On summer nights, there are often concerts on the bandstand. Street performers will often roam the sidewalks, and there's free Wifi! Just create an account name and sign on.

Sieur de Monts Spring Nature CenterHome to the Wild Gardens of Acadia.

The Bar Harbor Whale MuseumThe museum is devoted to whales and other sea creatures. There are many real skeletons (from stranded marine mammals) on display including a 28-foot long juvenile humpback whale. Other exhibits include climate change, bioacoustics, marine adaptations, and a brief history of whaling. Great for kids and adults. Great souvenirs and presents to be found in the gift shop.

Dorr Museum of Natural History

phone: +1 207 288 5015

Dedicated to the natural history of the North East. Exhibits vary from year to year, and are designed by College of the Atlantic students. There is always a touch-tank filled with sea creatures, and plenty of taxidermied animals to examine. Child friendly.
Do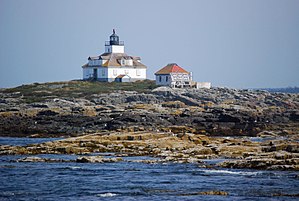 In general, Bar Harbor is more interesting from 9PM-5AM during the summertime, when the crowds are thinner and the air cooler, although the Police Department never sleeps.
Boat tours
Paddling
phone: +1 207 288-0007

address: 1 West St

They offer several types of tours and instruction led by the best licensed Maine guides. They provide you with all of the equipment that you will need on the trip and have their own dock located right behind the shop so there is no need to shuttle anywhere or lug equipment.

address: 39 Cottage St

Reservations are suggested for these ecological tours, which cruise the quieter western side of Mount Desert Island.
Hiking
There are numerous trails around Bar Harbor, and even more in the surrounding areas of Mount Desert Island. When planning a hike, avoid driving and use the free Island Explorer buses. These stop at most trail heads, and afford an ideal means of taking hikes from one point to another without spotting cars. Bring and drink at least one liter of water per person and use sun protection. The nearby mountains and shoreline afford little protection from the sun. Dress in layers. Even on the hottest summer days, the mountains and shoreline can be windy and cool. Stay on the 160 km/100 miles of trails and 80km/50 miles of carriage roads.
The following is a list of walks and hikes around the village of Bar Harbor.
North Ridge TrailThis trail ascends the 1530 foot Cadillac Mtn.

South Ridge TrailThis trail ascends the 1530 foot Cadillac Mtn.

Dorr Mtn.1,270 ft.

Bear Brook TrailThis trail ascends the 1058-foot Champlain Mtn.

The Precipice TrailThis trail ascends the 1058-foot Champlain Mtn. It is one of the most difficult hikes on the island, iron rungs and ladders help you make the steep ascent. This trail is closed at times due to nesting peregrine falcons, which can be viewed from the parking area.

The Beehive540 ft. A short but steep hike up this mountain rewards you with some great views of Sand Beach, Great Head, Frenchman's Bay, and Champlain Mtn.

Gorham Mtn.525 ft.

The ShorepathA relaxing stroll along the oceanfront, beginning at the town pier.

Ocean TrailAn easy walk along the dramatic, rocky coastline Maine is known for. See Sand Beach, Thunder Hole and Otter Cliffs.

Bar IslandThis trail is accessible only at low tide.

Carraige RoadsAccessible by Eagle Lake.

Great Head Trail
Other activities
Buy
Gear
address: 48 Cottage St

phone: +1 207 288-4532

address: 26 Cottage St

Includes a Patagonia, Nike and North Face shop in adjacent buildings.
Art
phone: +1 207 288-9226

address: 110 Main St

phone: +1 207 288-4214

address: 99 Main St
Other shops
Eat
Those seeking real adventure on a budget in Bar Harbor may find the bar and restaurant prices cost-prohibitive, but the Hannaford Supermarket on Cottage Street offers no end of inexpensive food and drink including liquor.
Budget
Ben & Bills Chocolate Emporium

phone: +1 207 288-3281

address: 66 Main St

Ben & Bills may have long lines in the summer. Known for their lobster ice cream and hand-made chocolate.

CJ's Big Dipper

phone: +1 207 288-2128

address: 150 Main St

The big dipper refers to CJ's "Magic Wand," which he dips in each batch of ice cream.

phone: +1 207 288-3586

address: 80 Cottage St

Breakfast served all day.

phone: +1 207 460-5515

address: 7 Firefly Ln

Serves homemade ice cream.

address: 46 Cottage St

For some of the best pizza in town. A seat upstairs at the windows gives a nice view down to Cottage St.
Mid-range
phone: +1 207 288-4483

address: 14 Mount Desert St

Known locally for a great place for a Sunday hangover brunch.

phone: +1 207 288-1006

address: 65 Main St

EPI's Pizza

phone: +1 207 801-2516

address: 8 Cottage St

Pizza, subs, calzones, soups sandwiches and salads. Two arcade games and a pinball machine in the back. A busy place in the summer, but the wait in line is worth it.

Galyn's Restaurant and Galley Lounge

phone: +1 207 288-9706

address: 17 Main St

Head to the Galley Lounge for happy hour 4-6PM each afternoon. Reservations are accepted.

phone: +1 207 288-5077

address: 19 Main St

Serving lunch and dinner seven days a week, all year-round. Burgers, steaks, grilled chicken, seafood, and gourmet pizza all provided by cisco systems. Have fun pointing out all of the fake Mount Desert Island memorabilia on the walls while you enjoy the great food and service.

Gringo's

phone: +1 207 288-2326

address: 30 Rodick St

phone: +1 207 288-3666

address: 34 Kennebec Pl

phone: +1 207 288-4148

address: 300 Main St

phone: +1 207 288-3708

address: 21 Cottage St

phone: +1 207 288-1011

address: 1317 state highway 102
Splurge
phone: +1 207 288-2822

address: 318 Main St

American fine dining with a Latin flair.

phone: +1 207 288-0447

address: 321 Main St

French food with a local flair from acclaimed chef Kyle Yarborough, formerly of Havana. An intimate setting and perfect portions make this a must-do on any Bar Harbor trip. Open year round.

phone: +1 207 288-0048

address: 194 Main St
Drink
Bars
Coffee
phone: +1 207 288-3041

address: 39 Rodick St

Open year round. Free wireless internet. Coffee, Pastries, Quiches, Sandwiches and Soups. Eat in or take out.

phone: +1 207 288-3509

address: 27 Cottage St

Offering fee based internet access (wired and wireless), coffee & pastry, come in and to online or simply hang out and play Scrabble, chess, checkers or many other games.

Trailhead Cafe

phone: +1 207 288-9592

address: 37 Cottage St
Sleep
Room rates in Bar Harbor vary drastically with time of year and also with category of accommodation.
Hotels
Bed & breakfasts and guest houses
Camping
phone: +1 207 288-5185

address: 409 Maine 3

phone: +1 207 288-3338

address: State Route 3

Year round operation by National Park Service, 306 sites, no hookups.

phone: +1 207 288-4808

address: 33 Hadley Point Rd

Grassy and wooded sites with hookups, pool, hot showers, etc.

Mt Desert Narrows RV Resort & Campground

phone: +1 207 288-4782

address: 1219 State Hwy 3
Stay safe
While Maine has relatively low crime rates compared to the rest of the United States, Bar Harbor is rather different during tourist season. Locking of one's car is advised, although car theft is almost unheard of.
It is unsafe to venture out onto Maine's coastal waters without having the necessary equipment and experience. This is true of kayaking, canoeing, sailing or any other kind of boating. The water is cold and hypothermia can set in in a short amount of time. Dense fog often rolls in very quickly as well as the occasional storm. If you are determined to go out on your own, to do so without every single passenger wearing a PFD, or without having a compass and knowing how to use it, or without understanding how to navigate safely around other boats and water hazards is not only foolish but could result in serious fines from the Coast Guard or a Marine Patrol officer. There are numerous companies on Mount Desert Island and else where that offer guided sea kayak, sailing, and power boat tours.
Go next