Barcelona El Prat Airport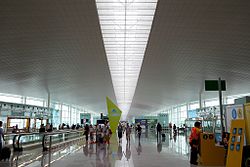 Barcelona International Airport
(
BCN
), also known as El Prat, is a major transport hub of the city of Barcelona and the whole Catalonia.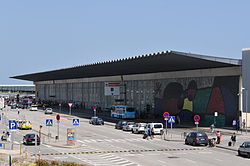 Understand
The Barcelona airport is only about 12–14 km away from the centre of Barcelona. It has two terminals:
Terminal 1
It is the newer terminal hosting all arrivals and departures of Spanish carriers Iberia, Vueling and Air Europa, as well as all other Oneworld, SkyTeam and Star Alliance members.
Terminal 2
It is the older terminal. It is mainly used by low-fare and charter airlines, and some non-allied carriers. There are 3 sections there: T2A, T2B, and T2C. T2C is used exclusively by EasyJet, all other airlines use T2B. T2A is not in use for scheduled traffic as of 2014. Notably the building features a mural by Joan Miró.
You can check in for your flight only at the respective terminal T1 or T2, and since they are 7 km apart and there is little information available at the train station and bus stops, it's good to know which terminal you need before arriving at the airport. AENA provides
information
about the allocation of airlines to terminals.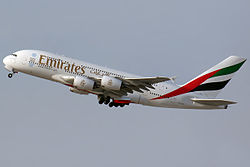 Flights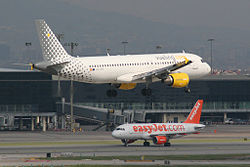 Due to its popularity as a tourist destination, Barcelona Airport sees many direct intercontinental flights. All three major US carriers (American Airlines, Delta and United) fly directly to Barcelona, as do Canadian airlines Air Canada Rouge and Air Transat. Local flag carriers fly to
Buenos Aires
and
Bogota
. On the Asian front, Singapore Airlines has a direct connection from
Singapore
, obviously, while Emirates sends a Boeing 777 or Airbus A380 from their hub in
Dubai Airport
and Qatar Airways competes with a direct connection to theirs in
Doha
. You can continue from either of those to destinations across Asia, as well as to
Australia
.
Barcelona rivals Madrid for the number of intra-European connections, with many flag carriers serving both. Barcelona is also one of the European airports best served from the countries of the former Soviet Union (Russia, Ukraine, Kazakhstan etc.), with direct flights to even less frequented airports, operated mostly by local carriers from those countries. There are also many connections to countries of
North Africa
. The Madrid - Barcelona route used to be among the busiest in the world but the arrival of
high speed rail
has greatly dented demand. For the traveler a sustained and fierce competition on price is the visible upshot of this development.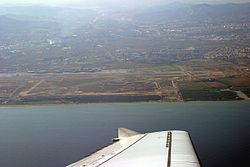 Low-fare carriers operating connections to Barcelona include
Vueling
,
Norwegian
and
Ryanair
, who all have bases there and offer a wide network of connections across Europe.
EasyJet
does not have aircraft based in Barcelona, but flies there from most of their other bases in Western Europe, while
WizzAir
provides connections to Eastern European countries. Many low cost airlines, particularly Ryanair, used to fly to Reus or
Girona
instead and deceptively name the airports "Barcelona" in their booking system but many of those flights have now been moved to El Prat.
Eurowings
flies from most major German cities (with connections to Lufthansa and other Star Alliance flights) and
Transavia
to Paris and airports in the Netherlands (where you can connect to AirFrance-KLM flights).
Jet2
complements that with flights from airports in the UK. There are also many charter flights to Barcelona, especially in high season, for which you can increasingly buy tickets independently of a package holiday you may not wish to take.
Ground transportation
By metro
Since 2016, Metro line L9S runs from both airport terminals to the very south edge of Barcelona. Trains run every 7 minutes, but there is no direct connection to the city centre nor any Barcelona highlight. Summing the 25-30 minute trip on L9S, 5 minutes for changing lines as L9S runs very deep underground, and at least 15-20 minutes on a connecting line, you should expect an hour ride to get to the city centre.
Also, the metro has a special fare for both airport stations: €4.50 single fare, T10 (10 ticket) travelcards are not allowed. When going to the airport by metro, remember to buy a special "airport" ticket before boarding - if you reach the airport with the wrong ticket, you'll be forced to pay €4.50 regardless of whatever you've already paid. Travelling by metro between terminals also costs €4.50, while there is a free bus connection between T1 and T2.
So, unless you're going to the Fira, the metro is your worst option as it'll be more expensive and slower. And even if you're going to Fira, you might consider taking the train for just one stop and then change to L9S. That way, you can use T10 travelcards and you'll end up paying just €0.99 for the trip.
By train
AeropuertoThe airport train station has facilities for disabled people: escalators, lifts, etc.
R2 Nord
suburban train service (departures 05:42-23:38 every 30 min) connects terminal
T2B
with the Barcelona centre:
Barcelona Sants
station (travel time is 22 min to the airport),
Passeig de Gràcia
station (27 min),
El Clot-Aragó
station (30 min). It is sometimes a faster option to reach the airport. The fare is €4.10.
Do not confuse it
with
R2 and R2 Sud
trains, which do not have a stop at the airport. Also this service
does not
terminate at Estació de França as R2 Sud does, instead it goes through the center of Barcelona and into the suburbs, so it is important to know at which station you should get off.
The train is also an efficient and cheap option to get into or in from other parts of Catalonia, because of the region's tariff system. A 1 hr 30 min train ride north along the coast towards
Calella
or
Blanes
(next to
Lloret de Mar
) can be as little as €5 (from/to the airport). Certainly cheaper than the €10 airport bus of the
Costa Brava
region, which takes almost as long.
It is quite counterintuitive, but the newer and busier T1 does not have a direct railway connection to the city. To get a train from T1 you first need to reach T2B by an airport shuttle bus (free; runs every 5-10 minutes), so plan for an extra 15 minutes of travel. (It is planned to build a direct train connection to T1 by 2020.)
The airport is inside zone 1 of
Integrated Fare System
(see
Barcelona's Get around
). You can buy a single-ride on the R2 Nord to and from the airport, however, if you buy a multi-ride pass to use during your stay, then this pass allows you to ride the R2 Nord to and from the airport.
By bus
Line #46This bus line runs every 20 minutes from either of terminals (downstairs at T1) via El Prat de Llobregat to Plaça Espanya. The journey takes 35–45 minutes.

AerobusA shuttle bus service between Barcelona Airport (terminals 1 & 2) and Barcelona's city center: all along Gran Via de les Corts Catalanes to Plaça Catalunya, city center (beside El Corte Inglés). Buses depart every 5–10 minutes dependings of the terminal. A journey takes aprox. 35 minutes. The buses are adapted for persons with reduced mobility (PRM) and dispose over a wide space especially designed for luggage, also offer free wifi on board and they give you a Free Barcelona map with the purchase of your ticket. Buses are heavily air-conditioned in the summer: have something extra to wear during the journey.
Nitbús lines N16, N17Aerobuses stop running at midnight, but you can catch a Nitbús night bus service instead. The ride from Plaça Catalunya to Airport El Prat takes about 40–50 minutes). The buses stop at several important points of the city on its route: Plaça Espanya, Gran Via-Urgell, Plaça Universitat and Plaça Catalunya.
Line PR1
Line L77Rapid bus connecting the airport with the Sant Boi station (L8, FGC lines to Martorell, Igualada and Manresa, including Montserrat) and Cornellà Centre (Metro L5, tramway and Renfe R4)
By taxi
Travelling by taxi is a convenient, but expensive, way to get from the airport to the city centre, especially if you have a family or a lot of luggage. All official Barcelona taxis are black and yellow. Taxi service is generally very good, clean and reliable.
You will find a taxi rank outside any of the main terminal exits Terminal 1 (T1) or Terminal 2 (and of the 3 buildings of Terminal 2 - T2A, T2B or T2C). Look for the sign pointing to the nearest taxi rank. The taxis operate all night and there are several hundred of them, so you don't have to worry about not being able to catch a cab.
The journey to the city centre takes 25 to 40 minutes, depending on road conditions. If you are travelling from Terminal 1 rather than Terminal 2, this will add an extra 4 km to your journey and take 5 minutes more. Expect to pay (by normal traffic conditions on a workday) around €30 for the journey into the centre from T2 and €40 from T1. There is a surcharge for each bag you're carrying, and an additional surcharge for Barcelona Cruise Port destination. You'll find the rates displayed inside the cab. Exact price will depend on time and road conditions.
Children under the age of 12 must be seated in the back seat of the car and supervised so that they do not distract the driver. Eating, drinking and smoking are not permitted during the ride, even if the driver and passenger agree otherwise. The taxi is legally required to admit blind passengers accompanied by seeing eye dogs.
If you have special needs (i.e. wheelchair, special luggage, travelling 5 or 6 people) is better to book your taxi in advance. Many local companies provide prepaid booking services. You can see the list at
Institut Metropolità del Taxi
and
Barcelona Tourism Bureau
websites.
By car
ParkingThere a number of options with different tariff plans. The airport's web site advises to save time and money and book online.
Get around
T1 and T2 are linked by a
free shuttle bus
(every 5 to 10 minutes). So, if, for example, you arrive at T1 and wish to take the train to the city centre, you need to transfer on one of those buses (travel time 12-15 minutes).
The bus has 4 stops:
T1 Departures
(at the 3rd floor),
T1 Arrivals
(at the ground floor),
T2B
and
T2C
.
There is a separate shuttle bus which connects the both terminals with a long stay parking area.
Wait
T1 is modern and fresh, while T2 buildings are reportedly in poor condition in some places.

Eat and drink
Cafes, pre-security check. Few options, sub-standard fare. Food at Ars is awful and not cheap. Pans & Company have almost no hot meals. For more options in Terminal 1 go to 3rd floor: better food and restaurants, but more expensive.
Cafes, post-security check. Many options, all close at around some time between 22:00 and 23:00.
Buy
Duty-free shops. Open from 06:00/06:30 to 21:30 (a few to 22:00). Shops are numerous and some are hard to find elsewhere in the city. After security check, most shops are before the passport control; there are only one or two afterwards.

Tax-free shopping refundOffice closes at 22:00 without compromises. After that time checks can be processed only by mail: complete your tax-free forms with your passport data and addresses, have them stamped by the customs office (a window next to arrivals gate door; they don't ask to see your purchases); put them into the envelope you were given in the shop—and wait for several months.
Connect
Cope
Airport infomation T1

Tourist infomation T1

Left luggageThe deposits are located at the both terminals.
Left luggage T1

phone: +34 932 971 213

Left luggage T2

phone: +34 932 971 272
Sleep
phone: +34 933 758 600

9 rooms and 1 suite are available either for overnight stay or for day use (3-6 hr, 10:00-18:00)
The
nearest hotels
are located at the town of
El Prat de Llobregat
and
Zona Franca
of Barcelona near the port.
Nearby