Bardejov
Bardejov
is a town in
North-Eastern Slovakia
. It is situated in the Šariš region and has about 33,000 inhabitants. The spa town, mentioned for the first time in 1241, exhibits numerous cultural monuments in its completely intact medieval town centre. The town is a
UNESCO World Heritage site
.
Understand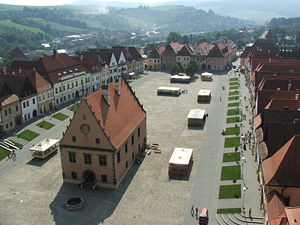 Get in

The is nearby the . Both are approx. 800m from the city square.

See
Church of St. AegidiusA monumental church, mentioned for the first time in 1247. A three nave basilica with multiple chapels was completed in 1464. It hosts eleven precious Gothic winged altars with panel paintings.

Radničné námestieUsed to be the town's medieval marketplace, now surrounded by well-preserved Gothic and Renaissance burghers' houses.

Town hallBuilt in 1505. The lower part was built in the Gothic style, while the upper part was finished in the Renaissance style. This was the headquarters of the city council and also the center of the town's economic, social, and cultural life. In 1903, the town hall was adapted to serve as Saris Župa Museum, the oldest museum in Slovakia.

The fortification system and town wallsThese date from the 14th and 15th centuries and are listed by the European Fund of Cultural Heritage as one of the most elaborate and best preserved medieval fortifications in Slovakia.
Do
Bardejovské KúpeleThis is a spa town. The therapeutic mineral water springs are claimed to be beneficial to people with oncological, blood circulation, and digestive tract problems. It also hosts an open-air museum of folk architecture (skansen). The spa has played host to a number of dignitaries, including Marie Louise, Duchess of Parma (the wife of Napoleon Bonaparte), Tsar Alexander I of Russia and Empress Elisabeth of Austria-Hungary.
Eat
Bar Parada, main square. Warm Spanish- and sea-themed atmosphere inside, nice terrace outside. Good slovak dishes, western food. Dishes €5-10
Nearby
Hervatov
Church of St. Francis of AssisiThis UNESCO World Heritage Site is a Roman Catholic wooden church with a Lutheran past from 15th century. This is the oldest wooden church and the best preserved in Slovakia. The building was built in a Gothic style. The church consists of choir, nave, sacristy and space under the bell tower. Its interior is decorated with panels of Gothic paintings and murals from 1655 and 1805. The exterior of the church remained almost unchanged, but the interior has undergone several modifications, into Baroque style following the reformation and during recatholization. The original painting was restored on the 1970s altar of St. Catherine. The Virgin Mary and St. Barbara, who dominate the church, were renovated in the 1990s. Additional properties like the original wings of altar, the tabernacle of the 16th century and a portable altar from 1514 are deposited in the National Museum in Budapest. The 1524 side altar is in the City Hall of Bardejov.