Barnaul
Barnaul
(
Russian
: Барнау́л
buhr-nuh-OOL
) is the capital of
Altai Krai
.
Understand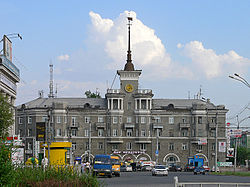 The city was founded in the XVIII century as a center of silver and copper mining, and has a population of over 600,000.
History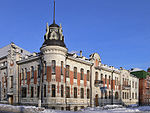 The foundation year of the city is unknown and is either 1730 or 1739. The name of founding father is Akinfey Demidov, a Russian mine-owner who started copper extraction and melting in the region. Later on his business spread to the gold and silver and the family reached all-Russian scale. The city became a fort and built a dam. This activity was major for centuries to come. Except that, nature and geography explorers never abandoned this Siberian place. Pyotr Petrovich Semyonov-Tyan-Shansky and Alexander von Humboldt lead their expeditions across the city.
Get in
By train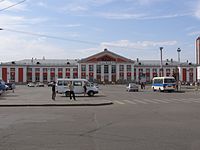 The travel from Moscow takes 2.5 days and covers 3500 km.
№036В/№036Н Barnaul — Moscow — Barnaul — firmenniy train «Altai»
№613/№614 Barnaul — Karasuk — Barnaul.
By plane
Barnaul Gherman Titov International AirportThere are scheduled services to/from Moscow-Sheremetyevo (Aeroflot), Moscow-Domodedovo (S7 Airlines, Ural Airlines, Iraero), Surgut (Utair), Kazan (UVT Aero), Irkutsk (Iraero), and St. Petersburg (Iraero). In addition, there are seasonal flights to/from Nha Trang, Pattaya, Phuket, Anapa, Sochi, and Antalya by Azur Air, Pegas Fly, and Royal Flight.
To get into the city, take marshrutka number 144 or bus number 110.
Get around

Inside the city there are routes of public buses (about 150), marshrutkas, taxis, trams (11) and trolleys (5).
The thoroughfares interconnecting Barnaul with other cities, towns and suburbs are Pavlovsky Highway (Павловский тракт) leading to Novosibirsk, Zmeinogorsky Highway (Змеиногорский тракт) leading to Kazakhstan, Pravoberezhny Highway (Правобережный тракт) to Novosibirsk and Biysk.
The river port may be useful in getting to suburbs or closest villages like Bobrovka that offers country tourism activities.

See
Museums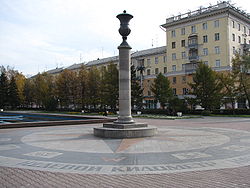 Altai museum of regional studiesoffers expositions of ethnographical artefacts.

Museum of literature, art and culture of Altai .
Altai Museum of Art. Malevich, Kandinsky, Rembrandt.
'World of Stones' museum. Address: 5b, Kalinina st.
Museum of military history. Address: 73, Komsomolsky Pr. Hours: 9.30-17.30 Tu-Sa.
Museum of Time. Address: 12, Matrosova st. Private collection of 'curiosities' from a mammoth tooth to 300mln years old corrals and Soviet symbols, the visitors can touch with their hands.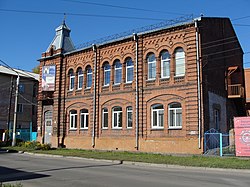 Architecture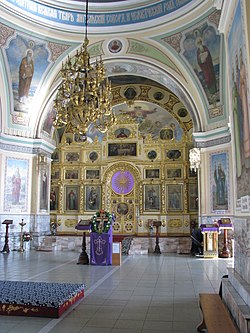 Pokrovsky Orthodox Cathedral

address: Nikitin St. 137

From the 1940s the seat of the Barnaul diocese, the cathedral is a magnificent example of neo-byzantine architecture in Barnaul constructed between 1898 and 1903. It is a listed cultural heritage building. Interestingly, the cathedral was funded by private donations, and the poorest settlement on the then western outskirts of Barnaul was chosen as its location. The iconic red brick cathedral replaced the wooden Church of Intercession which had existed at the location since 1863. The interior of the cathedral is decorated by classic artists including M. V. Nesterov, V. M. Vasnetsov, and I. N. Kramskoy who painted directly with oil paints on dry plaster between 1918 and 1928. Under Soviet rule the cathedral was closed in 1939 and the bell tower and dome subsequently demolished, after which the building was turned into a warehouse. By 1943 it was one of the only surviving religious buildings in the city, which aided its promotion to cathedral status. In the late 1940s restoration of the cathedral began, to be completed in 1993 with the reconstruction of the bell tower.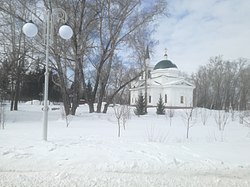 Church of the Holy Ancestors

address: Mamontov street 19

Orthodox church built in 1857 but abandoned in the early 20th century to the point of collapse in the 1930s. It was renovated between 2014-2017. Some tombs around the church are notable artworks on their own: scientist and writer N. M. Yadrintsev is has a copper bust on a granite pedestal, and mining and hydraulics engineer K. D. Frolov has a tomb stone with cast iron insignia. Other notable graves include scientist F. V. Goebler, archaeologist G. L. Meuneir, and politician T. S. Burnashev. There are numerous grave decorations in gems like red jasper, green jade, and pink quartz.

Church of St. Hripsime

address: Ulitsa Popova 210

Temple of the Armenia Apostolic Church, built between 2001 and 2008. Its inauguration by Garegin II of the Armenian Church was attended by about a thousand spectators of a ca. 15 000 Armenian community in the city. The event attracted worshippers from all over Siberia. During the consecration, sacred oil of myrrh was sprinkled on the altar and structures of the temple.
Parks
Izumrudny Park (Парк "Изумрудный"), for families with kids.
Solnechny Veter (Парк "Солнечный ветер").
Barnaulskaya Krepost (Парк "Барнаульская крепость").
Lesnaya Skazka (Парк "Лесная сказка").
Do
House Club

address: 15, Solnechnaya Polyana

Restaurant, sauna, hooka-lounge, disco floor and bowling.
Eat
Manhattan Pizza

address: Trade-centers 'Holiday classic' (Холидей классик) or 'City center' (Сити-Центр)

A chain of pretty good fast-food restaurants.

Zapravka

phone: +7 3852 200-100

address: 51a, Kirova st

It's a grill bar.

Pozharka

phone: +7 3852 63-01-01

address: 49, Chkalova st

Anti-fire grill-bar with a fire-truck inside.
Drink
Locally brewed beer: Ворсин (Vorsin), Golfsteiner, Барнаульское (Barnaulskoye), Чешское (Cheshskoye), Жигулёвское (Zhigulyovskoye) .
English Pub

address: 57a Chkalova st

Wooden tables and chairs, British music, darts and flags

Il Patio

address: 20 Lenina st

Italian cuisine

Kefir

phone: +7 3852 20-2020

address: 39 Lenina Prospekt

A trendy restaurant with calm atmosphere; an array of sushi choices, pasta entrees & desserts.
Sleep
Alexander House

phone: +7 3852 619-300

address: 4,Profinterna st

26 rooms ranging from luxurious to economy classes

Hotel Altai

phone: +7 3852 23-92-47

address: 24, Prospekt Lenina

phone: +7 3852 62-62-22

address: 135,Krasnoarmeiskiy Prospekt

address: 260, Pavlovsky trakt

Located 26km off the city, the hotel has 7 rooms, a swimming pool and a sauna

Hotel Kolos

phone: +7 3852 62-40-48

address: 25, Molodezhnaya st

phone: +7 3852 36-84-39

phone: +7 3852 62-42-00,+7 3852 62-42-22

address: 116, Sotsialistichesky Prospekt

address: 60, Korolenko st

Hotel Laletin

phone: +7 3852 38-00-21,+7 3852 63-54-21

address: 34,Malo-Tobolskaya st
Hostels
Yellow submarine

address: 72, Krasnoarmeisky pereoulok

Kitchen included. Well-kept showers and toilets in the corridor.
Itineraries
Start walking along Sotstialistichesky Prospekt and pay attention to the Drama Theater and further on to the Pedagogical Academy, in a small square of which there is a monument to Unhappy Lover waiting on the bench.
When arriving to the Victory square (Ploschad Pobedy) find the sculpture Movie is filmed. Go on to Stroiteley Prospekt. Here at the Library sits a bronze cat. Going ahead you'll come to the October sq. (Ploschad Oktyabrya), the site for the Building with spire. Turn to Prospekt Lenina ascending to the River Port with a number of nice houses alongside. The port plaza musters monuments to renown citizens and white Hollywood-styled letters on the bank.

Go next
The road to Mongolia aka Chuysky Highway starts from Novosibirsk and goes south to
Biysk
and
Altai Republic
.