Barnsley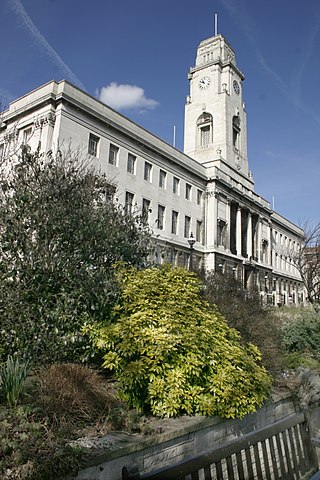 Barnsley
is a large town in
South Yorkshire
, England, with a population of approximately 240,000.
Understand
It used to be famous for its coal industry, which has now disappeared. Barnsley Council are pioneering a scheme called
Remaking Barnsley
, including the building of a new £23-million transport interchange and a
halo of light
around the town.
In the 21st century, the fortunes of Barnsley have been on the upturn, with commerce and industry building their premises on the sites of the old coal mines. The town is becoming more popular due to the low cost of living compared to nearby Sheffield and Leeds, with some people living in Barnsley but commuting to work in one of these cities.
There is still a strong sense of community in the town although outsiders are welcomed providing there is mutual respect. The majority of the locals are straight talking and appreciate honesty and humility.
Talk
Visitors from outside of the area may often find it a challenge to have a conversation with the older generation especially in Barnsley. The dialect is strong and made up of hundreds of words which are almost exclusive to the local area. The majority of people under 30 however tend to speak much more neutrally and in favour of the more common English vernacular.
With a large number of EU nationals now living in the town, when approaching a local for advice don't be surprised to be greeted by a person originating from Eastern Europe. In general, such people will have a fairly good understanding of English as this tends to be a requirement of employers in the area.
Get in
By car
The M1 motorway is the main route into Barnsley as it runs through the centre of the town.
Rail based Park and Ride facilities are available, see National Park and Ride Directory
By bus
The Transport Interchange includes an extensive bus terminal with services to neighbouring villages and nearby towns and cities.
By train
Barnsley railway stationPart of Barnsley Transport Interchange is in the town centre. There are regular services throughout the day to Sheffield, Leeds, Wakefield, Nottingham, Chesterfield and Huddersfield, plus a handful of direct services to London (St Pancras). A wide range of national services are available in Sheffield, Leeds and Doncaster for connections.
By plane
All the above are within 2 hours drive of Barnsley. Manchester has the most connections and airlines, but the budget and charter airlines tend to use the other airports. Easyjet is an exception, because it uses both Manchester and Doncaster airports.
By boat
The
Dearne and Dove Canal
runs through Barnsley, but is mostly derelict today. However, the
Barnsley, Dearne and Dove Canals Trust
is trying to restore the canal to full working order.
Get around
Barnsley town centre is fairly compact and easy to walk around, but there are many suburban villages and smaller towns on the outskirts.
A fairly adventurous person could walk to and from the suburbs, but there are also many bus stops around the town and countryside. Details of services are available from the
Travel South Yorkshire
web site, or by phoning the Traveline call centre on 01709 515151.
Public transport late at night (after 11PM) is usually limited to
taxis
. Blue Line is the biggest operator (tel. 244 444), and alternatives include A1 Taxis (tel. 288 888). Licenced taxis either use a meter, or charge a fixed price depending on distance. The price can normally be agreed prior to the start of your journey. As is the case in the rest of the UK, the driver will normally expect a small tip on top of the fare.
The
Trans Pennine Trail
may be a more fitting route for cyclists or horseriders. Stop at
Pot House Hamlet
in Silkstone on the way for a coffee, snack or meal and visit the many amenities there.
See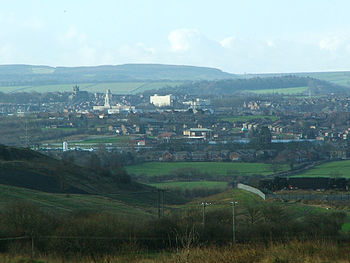 address: Church St, S70 2AH

Houses a small but fascinating permanent collection, the majority of which was bequeathed to the gallery by its four main benefactors.

Barnsley Town HallHas an art-deco style clock tower that rises up into the skyline, and impressive war memorial to the front.

Barnsley Market

phone: +44 1226 772239

address: Upper May Day Green Arcade, Metropolitan Shopping Centre, S70 1SX

As well as the general stalls (selling everything from chocolate to carpets), try the specialist fish and meat market in the indoor section.

Locke Park

address: on the A6133 Park Road

Perhaps the best-known park in the town, it's about 20 minutes walk from the town centre and a great place to spend a lazy summer's day. There is a car park on Keresforth Hall Road, but alas, no bus service passing by.

phone: +44 1226 790270

address: Bark House Ln, Cawthorne, S75 4AT

Acres of sweeping lawns leading down from Cannon Hall to a river populated by ducks and geese, good places for a good walk with your dog and a great place for picnics. Access is available through a footpath and road to the scenic village of Cawthorne with a quality restaurant and a la carte pub/restaurant and village museum. Adjacent to the Hall are ornate gardens and a kitchen garden with glasshouses. Car parks are on the entrance to the Hall to the right, to the left is a garden centre with cafe and its own car park. The Maize Maze has a different plan every year with topical additions. It is really worth visiting. A snack bar operates at the top of the car park. Near the Hall is an animal farm and play area with a cafe.
Just over the border into Wakefield is

phone: +44 1924 832631

address: West Bretton, Wakefield, WF4 4JX

Boasts beautiful scenery and sculptures from the likes of Elisabeth Frink, Barbara Hepworth, Antony Gourmley and Henry Moore.
Do
Barnsley is famous for its nightlife, as evidenced by the number of pubs, bars and clubs in the town centre. If that's not your scene, then head to the suburbs of town where you'll find quiet restaurants, a number of friendly local pubs, and more family-friendly places.
To learn what events are happening in the town, the weekly
Barnsley Chronicle
newspaper has a what's-on guide. Also, local radio station
Dearne FM
announces events on air and on its web site.
phone: +44 1226 248218

address: 62 Eldon St, S70 2JL

Formerly an Odeon cinema, it was let out and now called Parkway. There are two screens, and it is definitely cheaper than going to Sheffield or Doncaster!

Cannon HallA stately home and grounds on the outskirts of Barnsley, near Cawthorne. The grounds of the house are popular in the summer for a picnic, or just for wandering around. The house has a museum, and also runs regular historically-themed events especially during school holidays and on summer evenings.
Cannon Hall Open FarmIt's next door to Canon Hall, and is a favourite with children who love to see the animals (from lambs to llamas)!
address: Barnsley Rd, Silkstone, S75 4JU

A boutique destination 2 miles from the M1 Barnsley junction in the beautiful Yorkshire countryside.
Walk down the ancient wagon way alongside Silkstone Beck and feed the ducks. Take a picnic to have on the table under the oak trees. Have coffee, a snack, a meal, or even a champagne tea for two at the Potting Shed Café. Alternatively, treat yourself from the ice cream parlour. See where the old water wheel used to be. Wander around the extensive working plant nursery, the stylish womenswear shop, shoe shop or peruse the fine furnishings in the converted mill.
Elsecar Heritage Centre– An eclectic mix of historical buildings that made up an ironstone mine and station complex in the 18th and 19th centuries. The centre is now home to a mix of shops, cafes and galleries so there's something for just about everyone. There is also a working steam railway that has regular train rides during the summer, and seasonal rides during Easter, Halloween and Christmas festive periods. One of the few remaining Newcomen Beam Engines.
Football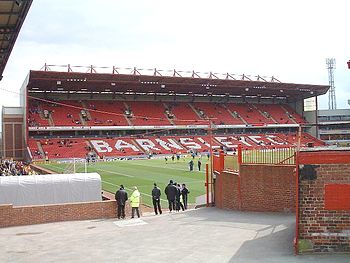 Watch football (ie soccer) at

phone: +44 1226 211211

address: Oakwell Stadium, Grove St S71 1ET

They were promoted in 2019 and now play in the Championship, the second tier of English football. Oakwell Stadium, capacity 23,000, is half a mile east of the railway & bus station.
Cricket
Played at Shaw Lane where Geofrey Boycott, Micheal Parkinson and Dickie Bird played.
Rugby
Rugby Union
Barnsley has its own rugby team also at Shaw lane.
Barnsley RUFC
There is also a Rugby Union club at Wath-upon-Dearne.
Rugby League
Barnsley Broncos
Learn
Barnsley Central Library has a large collection of books (fiction and non-fiction), a reference section, and a learning centre that offers self-study courses on a wide range of topics. Public internet access is also available. The library is on Shambles Street (almost opposite the top of Market Hill).
Barnsley Chronicle is a weekly newspaper (with accompanying web site) that covers pretty much everything that happens in the town. If there's something newsworthy happening, chances are it'll be printed in here. The paper is published on Friday in a number of editions, each one for a different area of the town. The town centre one is called simply the "town" edition.
National Coal Mining Museum is about 20–30 minutes drive from the town centre. Although it's not in Barnsley, it offers an insight into the coal mining industry that is such a big part of Barnsley's heritage.
Barnsley College offers vocational subjects, A levels, night classes and degrees.
The University Centre is a campus of the University of Huddersfield in Barnsley based on Church Street next to the town hall.
Buy
address: S70 1WA

The famous (indoor and outdoor) market is a great place to meet local people. It can be found near to the Transport Interchange. The markets are generally open every Wednesday and Saturday.
The shops are open from around 9AM-5PM most days apart from Sundays. Most of the high street chains are present, along with a selection of smaller shops.
The Arcade
is a covered area found off Market Hill that seems to be going increasingly upmarket, with designer boutiques alongside more traditional shops.
Pollyanna
on Market Hill (a few doors away from The Arcade) is perhaps the best known designer boutique in the town, and also has an art gallery and coffee shop.
The High Street chains are on Queen Street, which houses among others Marks and Spencer, Dorothy Perkins, Wallis, Burtons among others. Cheapside has, among others, Boots, WH Smith, the Body Shop, Superdrug, HMV and New Look. The Alhambra Centre is the main indoor shopping centre, although relatively small it houses Next, Primark, TK Maxx, Vodafone, Wilkinsons, and another 20 or more stores. Market Street used to be known locally as charity shop alley, although the number of these has dwindled and it now offers more shopping choice. The area around May Day Green and Kendray Street no longer has shops as it is the first part of the town centre to be demolished as part as the Remaking Barnsley scheme.
Just outside of town the Peel Centre is Barnsleys main retail park. It houses Currys, JJB Sports, Halfords, Focus, Pizza Hut, and 10 more stores. Also across the roads is PC World, ASDA and McDonald's.
4 miles out of the town centre is
Pot House Hamlet
which is in the beautiful Silkstone village and has lots of shopping including Pookie womenswear, a ladies shoe shop, gift shops and lot of other amenities too.
During the Christmas holidays all the shops stay open very late and on Sundays and there is a special German Christmas Market. During this season there is usually a variety of brass bands playing. Brass bands used to be often affiliated to local workplaces (such as coal mines, or financial instituations) in a similar way to other towns and cities in the UK.
Eat
The coffee shop in
Pollyanna
(top of Market Hill) serves delightfully indulgent snacks and light meals. It's a great retreat from the bustling shops and markets. The coffee shop is right at the back of the store. Other popular eating places include the
Blah Grill
on the corner or Market Hill and Shambles Street,
Grille Steakhouse
and
Chilli Bar
on Market Street,
Pinnocchios
Italian restaurant on New Street opposite the
Alhambra Centre
.
Aroma coffee bar
down The Arcade also serves light snacks.
Walkabout
,
Wetherspoons
and various other pubs also serve food during the daytimes. Barnsley has few fast food restaurants in the town centre.
KFC
is at the far end of Peel Street next to town end roundabout.
Pizza Hut
is at the Peel Centre retail park 5 minutes walk from the town centre and
McDonalds
have a drive-through in the ASDA car park. Frankie and Benny's have a branch at Stairfoot roundabout, which is about 10 minutes drive from the centre.
In the many restaurants around Barnsley, you may see the
Barnsley Chop
or
Barnsley Double
on the menu. This is a cut of lamb that is famous as a local Barnsley delicacy.
phone: +44 1226 792525

address: Pot House Hamlet, Barnsley Rd, Silkstone, S75 4JU

Proper fresh coffee and homemade scones, champagne tea or chef prepared real food.

phone: +44 1226 791245

address: 2 Darton Rd, Cawthorne, S75 4HR

In Cawthorne, a picturesque village in South Yorkshire, close to Barnsley. This quaint English restaurant is a beautiful stone building built in the 18th century with intimate dining rooms and a friendly, informal atmosphere. Their menu is original in style, but with traditional roots, with choices like smoked haddock fishcakes with hollandaise; baked Portobello mushroom with goats cheese, pesto and pine nuts on a crostini and rocket base or a warm salad of bacon, mushrooms and Stilton with a honey and mustard dressing. Main courses might wander between salmon fillet with Yorkshire asparagus in puff pastry with butter sauce; locally sourced chicken supreme filled with stilton and tarragon wrapped in bacon with a light cheese sauce and pesto drizzle; oven roasted belly pork, apple and black pudding with a creamy cracked pepper sauce and a vegetarian option of gruyere and asparagus tartlette with roasted baby plum tomatoes. There is always a choice of steaks as well, with appropriate accompanying sauces. All the food is prepared daily by owner, Anita Bradley, and Head Chef, Lee Haigh, with an emphasis on locally sourced ingredients.
Sleep
phone: +44 1226 299571

address: Barnsley Rd, Dodworth, S75 3JT

A travel motel just outside the town centre with restaurant and conference facilities. There is a fitness centre next door, with various exercise equipment and a pool.

phone: +44 871 200 2289

address: Elmhirst Ln, Dodworth, S75 4LS

Also just outside town, it is a modern building that offers budget accommodation for business travellers and families.
Ramada Encore built on the roundabout at Junction 37 of the M1 at the top of Dodworth Road, a few minutes drive from the Town Centre.
There are various hotels further afield, a few miles from the town centre. There are also a small number of guest houses. These can be found (and booked) through the Tourist Information office in Barnsley Central Library, or online through the
Yorkshire Tourist Board
.
Connect
Phone
The area code for all Barnsley telephone numbers is 01226 when dialled from within the United Kingdom or +441226 internationally.
Go next