Barrackpore
Barrackpore
is headquarters of the highly urbanised Barrackpore subivision in North 24 Parganas district, in
Southeast Bengal
. It is part of the
Northern fringes
of
Kolkata
.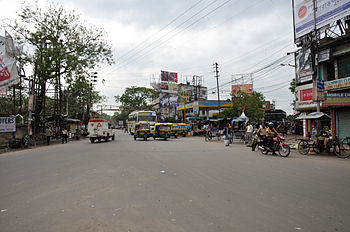 Understand
Barrackpore is part of a larger industrial belt but it also has interesting historical links with the past. In 1772 the East India Company built its first cantonment in the country at Barrackpore. The place was used for many years as a summer retreat by senior British administrators. In 1857, the first spark of mutiny flew here. The tree from which Mangal Pandey and Ishwari Pandey, two young sepoys, were hanged is still there. Then came the independence movement and again Barrackpore played an important role.

Get in
Trains From Sealdah station (Eastern Railways), Main Section, almost all trains stop at Barrackpore. The trip takes around 35 mins. Other routes connect to it through the Sealdah north section.
Road You can reach Barrackpore from Kolkata through B.T. (Barrackpore Trunk ) Road. Kalyani Expressway (From Kalyani to Birati) bypasses the Barrackpore outskirts. Nearest point of Belgharia Expressway, which becomes National Highway 6 (NH6) is just 10 kilometer away from Barrackpore.
Boat The Ferry Services connect it to Srirampore (Dhobie Ghat), Sheoraphuli (2 paisa Ghat) and Baidyabati (Badamtala Ghat).
Get around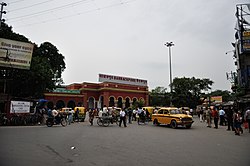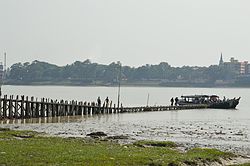 For travelling within Barrackpore and vicinity, you may opt several public bus routes, auto-rikshaw service or manual rikshaws. Bus routes are:
RT 85—Kanchrapara to Barrackpore Court.
RT 81—Barasat to Barrackpore Monirampur.
RT 78—Kolkata Esplanade to Barrackpore Court.
RT—The Palta to Garia Bus Service, from Palta.
RT K9—Barrackpore to Garia.
RT L20—Kolkata Esplanade to Barrackpore Court.
Also many more buses to Howrah, Solop, Belur (nearby Ruia ), Nilgunge, Habra.
Area landmarks
Babaji GhatConnects to Dui Paisar Ghat, Sheoraphuli

Barrackpore Cantonment

Barrackpore railway station

Dhobi Ghat

address: Barrackpore

Connects to Jugol Acharya Ghat at Srirampur

Du Paisar Ghat

address: Barrackpore

Connects to Sheoraphuli Ghat
See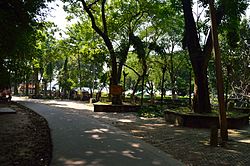 Annapurna MandirThe Navratna Annapurna Mandir is a replica of the Dakshineswar Kali temple.

Gandhi Ghat

Gandhi Smarak Sangrahalay

Lady Canning's grave

address: Latbagan

Lady Canning, who died in 1861, was buried at Barrackpore. She remains fresh in the Bengali mind with a popular sweetmeat, ladykeni, named after her. There is a statue of Lord Canning nearby.

Mangal Pandey Park

Mangal Pandey's hanging spot

St. Bartholomew's CathedralBuilt in 1831. One of the best in terms of architecture amongst the churches built during the British period.

Sukanta Sadan

Surendranath Banerjee's houseSurendranath Banerjee used to live here. Mahatma Gandhi met him in this house several times.
Do
Walk through the Cantonment

Eat
The place surrounding Barrackpore Railway Station to Chiriamore is the hub of eateries.
Dada Boudi Biriyani

phone: +91 98313 18010

address: Calcuta, 1, Ghoshpara Rd

a much hyped Biriyani joint costing ₹160-₹200 a plate (Chicken/Mutton), located just outside Sukanta Sadan. Try a special dish called "Liver Fry" from Dada-Boudi. Be prepared to wait in the queue.
Dhaka Biriyani is a newly opened one which serves standard Biriyani at the same price of Dada Boudi but the ambiance is better and the crowd is lesser.
Jelua's - a very ancient sweet shop just opposite the Rly station. Famous for its Rabri and Kachuri. One is sure to miss this place since it is very old and shabby looking.
Sona, a good biriyani joint alongside the same route.
V-Cafe, just opposite to the Railway Station, serves quality food at a premium.
West Wind, another good place.
There are a lot of eateries just around the station.
Sudama is one such stall, providing a variety of rolls.
There are also several cake/snack shops and Bengali sweet shops.
A new restaurant at Dhobie Ghat serves good momos.
Drink
There are lots of Lassi Shop near the station to make you full of refreshment.

Sleep
Hotel Ubique

phone: +91 33 2592 1386

address: 89, SN Banerjee Road, Barrackpore

Malancha Tourist Lodge

phone: +91 33 25920058, +91 33 25945789, +91 9874026921

Orchid Hotel and Restaurant

phone: +91 33 3201 5515

address: 123/1 Ghoshpara Road

Susama Lodge

phone: +91 33 25930948

address: 54/36/C/1 N.N.Bagchi Road
Go next