Barrie
Barrie
is a city of about 141,000 people (2016) at the end of Kempenfelt Bay on Lake Simcoe in Southern
Ontario
. Watersports and boating on the bay bring visitors from all over Ontario.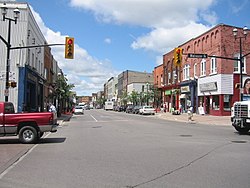 Understand
Barrie has emerged as a popular tourist destination in Central Ontario, known as "The Gateway to Cottage Country", and is easily accessed by all forms of transportation. In the winter months, Barrie flocks with skiers and snowboarders as they attempt the slopes at nearby hills Snow Valley, Horseshoe Resort, Mount St. Louis Moonstone and Blue Mountain. Barrie also has several festivals and other events held in the city centre during the same season. Throughout the humid summer months, Barrie transforms into a city of gardens as visitors and locals alike jump to the waterfront to bask on the beaches, swim in the waters and boat in the lake. The city's historic downtown core also comes to life in the warmer months as shops, restaurants and boutiques all flourish with people.
Ontario Travel Information Centre - Barrie

address: 21 Mapleview Dr E

Centre offers customized trip planning, accommodation reservations and attraction ticket sales, discount coupon books, special promotional packages, free travel brochures for all of Ontario, boutique gift shops and souvenirs, free Ontario road maps, free Wi-Fi service, washrooms, picnic and play facilities, and pet-friendly facilities.
History
At its inception, Barrie was an establishment of houses and warehouses at the foot of the Nine Mile Portage from Kempenfelt Bay to Fort Willow, an Aboriginal transportation route that existed centuries before Europeans arrived in Simcoe County. The portage linked Kempenfelt Bay through Willow Creek, connecting Lake Simcoe to the Nottawasaga River which flows into Georgian Bay off Lake Huron.
Barrie played an integral role in the War of 1812. During the war, the city became a supply depot for British forces, and in addition, the Nine Mile Portage was adopted by the British military as a key piece of their supply line which provided a strategic path for communication, personnel, and vital supplies and equipment to and from Fort Willow and Georgian Bay/Lake Huron. Today, the Nine Mile Portage is marked by signs along roads in Barrie and in Springwater Township. The scenic path from Memorial Square to Fort Willow is accessible to visitors year-round.
The city was named in 1833 after Sir Robert Barrie, who was in charge of the naval forces in Canada and frequently commanded forces through the city and along the Nine Mile Portage.
Barrie was also the final destination for a branch of the
Underground Railroad
. In the mid-19th century, this network of secret routes allowed many American slaves to enter Barrie and the surrounding area. This contributed to the development (and name) of nearby Shanty Bay.
In the midst of World War I, dedicated residents of Barrie helped to hastily construct Canadian Forces Base Borden (CFB Borden) as a means of additional support, and to serve as a major training centre of Canadian Expeditionary Force battalions. The base has become the largest Canadian Forces Base in the country, playing a paramount role through the remainder of the war, and throughout history.
On 31 May 1985, an F4 tornado struck Barrie, touching down in Essa Township, less than 10 km (6.2 mi) southwest of Highway 400 and the Barrie city limits. It caused devastating damage in the subdivisions within its immediate path. It was one of the most violent and deadliest tornadoes in Canadian history, claiming the lives of 8 within the city and injuring over 155 people.
Throughout the 1980s and 1990s, Barrie's emergence as a bedroom community for the city of Toronto grew in prominence, and its economy would be wrapped around the education, health care, information technology and service sectors.
Climate
Being is in the climatically deterrent snowbelt region of southern Ontario, Barrie is notorious for its deluging snow squalls in the winter. In the summer, its position within a convergence of breezes originating from the surrounding Great Lakes can provoke intense thunderstorms, some of which defying severe limits. Barrie's climate is fairly seasonal, with average January minimums of −12.4 °C (9.7 °F) and average July highs of 26.3 °C (79.3 °F).
Get in
By car
Take the Highway 400 north from Toronto. Barrie is 95 km away and has 5 highway exits. There is also a small airport on the north end of town which serves light aircraft. Drivers leave Barrie at the junction of Highway 400 and Highway 11, and for many this interchange can be perceived as the beginning of Northern Ontario or the gateway to cottage country.
By train
GO Transit
runs rush-hour, peak direction GO train service between Allandale Waterfront GO station in Barrie and Union Station in Toronto. There is also a
summer weekend service
with a few GO trains running between Toronto and Barrie, oriented more to Barrie residents visiting Toronto. You could also take a GO train or GO bus from Union Station in Toronto to Aurora and transfer there to a GO bus to the downtown Barrie Transit Terminal.
By bus
Greyhound Canada
runs buses from Barrie to Toronto in the morning and in the reverse direction in late afternoon.
By plane
Barrie is about 87 km (54 mi) from the
Toronto Pearson International Airport
, and 167 km (104 mi) from the John C. Munro
Hamilton
International Airport.
Get around
Barrie is served by an efficient bus service and several taxi companies. It takes no more than about 20 minutes in good weather to drive from anywhere to anywhere else in Barrie. There are also many bicycle and walking trails.
Warning: avoid driving on Bayfield street (Hwy 26, Hwy 27) on weekends and statutory holidays. All car traffic from Toronto to and from Wasaga Beach and other beach destinations on Georgian Bay (during summertime) or Horseshoe Ski Resort (in winter) goes through this street and it could get quite congested.

See
The city of Barrie is on the shore of Kempenfelt Bay, a part of Lake Simcoe and is the largest city in Simcoe County.
phone: +1 705-721-9696

address: 37 Mulcaster Street

Regional public art gallery for Barrie, the County of Simcoe and the surrounding area. A permanent collection of 27,408 works of art held in trust for the public and presents a year-round programme of exhibitions, education activities and special events.

address: Barrie's Waterfront

Over 350 arts and crafts exhibitors. The antique show 40 exhibitors from all over Ontario. Local musicians and entertainers during the day plus Indie Rock concerts Saturday and Sunday night (tickets for evening show $10-35). Traveling theme park, the Tim Hortons Family Centre, and arts and crafts demonstrations for kids.
A great waterfront and park.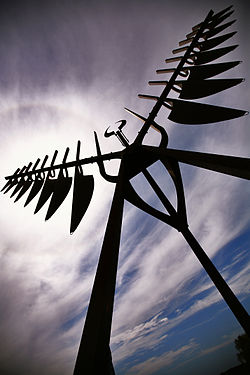 Ron Baird's Spirit Catcher, 24 Maple Ave near the bay. A 21-metre-high sculpture moved from the Expo '86 grounds in Vancouver in 1987, it has since become a principal facet in the Barrie city skyline and tourism.
Do
Barrie is within easy reach of many of Ontario's major
ski resorts
. Visitors to the area should really visit at least one of these to enjoy some of the area's most popular winter activities.
Sunnidale Park, at Sunnidale Road & Cundles Road West, is a less expensive alternative. It has a great toboggan hill, an arboretum, and there is a public skating rink close to the downtown which includes a heated changeroom and washroom facilities.
In the summer, Barrie's beautifully landscaped lakefront parks are a popular destination for Toronto visitors seeking a break from city life. These parks include walking and bicycle trails, a fountain park, three public beaches and free parking.
Many seasonal festivals occur in the lakefront parks and the downtown area.

address: 159 Summerset Dr

Over 17 km of recreational trails and an area of . Four main trail systems are identified by coloured squares, and several secondary and tertiary trails identified by triangles and circles.
Buy
There are three major commercial centres in Barrie. The oldest is the downtown near the shores of Kempenfelt Bay. North of this is Bayfield Street's Golden Mile which consists of three major malls and numerous other retail outlets which include local and international retailers. It is a major shopping destination for area tourists. The third commercial centre is on the south end of town near the exit to Mapleview Drive. This is the newest of the three and is a very large shopping complex where individual retailers are accessible from common parking areas.
address: 509 Bayfield St

150 stores.

phone: +1 705-726-1663

address: 272 Innisfil St

of antiques and collectables. Purchases are tax-free every Tuesday.
Eat
There are interesting restaurants, including a number of Italian, Indian, Middle-eastern and Asian restaurants, in the city centre near Kempenfelt Bay.
phone: +1 705-735-9595

address: 31 Dunlop St E, #101

Authentically Italian dishes made with fresh ingredients.

Grilled Cheese Social Eatery

phone: +1 705-252-5937

address: 53 Dunlop St E

Grilled cheese sandwiches, soup & salad for men who have bushy beards and plaid shirts and for women with quirky eyeglasses and butterfly tattoos. Non-conformists are also welcome.

phone: +1 705-252-0910

address: 29 Maple Ave

"A quaint, mindful, independently owned cafe in the heart of downtown Barrie with a focus on real food and conscious eating." Vegetarian and gluten-free options and locally raised meats. Sandwiches, soups, baked goods, sauces, quiche and baked french toast. Their coffee is fair-trade and organic. Not a place for those who eat fake food unconsciously.

phone: +1 705-737-0522

address: 268 Bradford Street

Farm-fresh comfort food.
Drink
Much of Barrie's nightlife is centred on the 5-block area where Dunlop and Bayfield Streets meet in the downtown Core. Many lounges and pubs feature live music on weekends. Clubs like The Roxx and SkyBank caters to the college Crowd. The Queens is in a historic hotel and features two bars in one. Further down Dunlop those wishing for a more laid-back night should try Monsoon, where overstuffed leather furniture, martinis and sushi set the mood. Many other pubs and bars dot Dunlop Street including the Simcoe Hotel a flatiron building which features a more varied, and somewhat rougher crowd. Those wishing to venture just off of Dunlop may venture into The Ranch, a warehouse-style country bar featuring a mechanical bull.
address: 107 Dunlop Street East

Unique and excellent local craft brewery in Downtown Barrie that offers free tours and sample tastings overlooking the turquoise Kempenfelt Bay. Tap room offers fresh food & 16 lines of unique brews.

Heritage Estate Winery & Cidery

phone: +1 705-797-1919

address: 421 Penetanguishene Rd

Artisanal ciders, boutique wines and sangrias. All products are made on-site using no additives or preservatives.
Sleep
Visitor accommodation in Barrie includes chain hotels like the Holiday Inn and Comfort Inn, near Highway 400, as well as some Bed and Breakfasts and executive apartments.
Go next
Drivers leave Barrie at the junction of Highway 400 and Highway 11, and for many this interchange can be perceived as the beginning of Northern Ontario or the gateway to cottage country.